Another rainbow leads us out of Alaska on "Top Of The World Road"!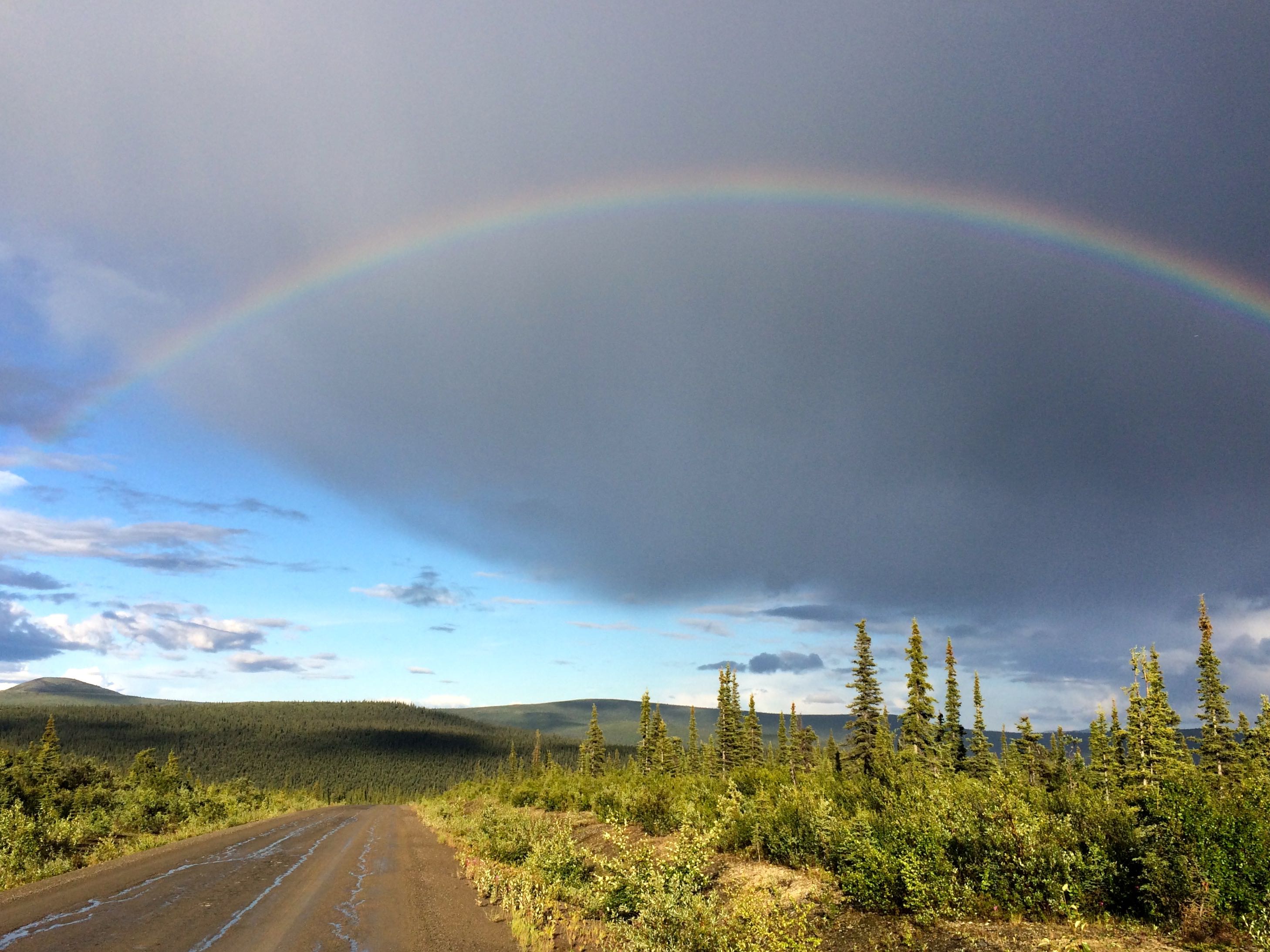 What a year this has been!
We were out traveling & playing music for just over 14 months.
We drove over 30,000 miles.
We camped much of this time en route to our performances.
We found some awesome places, hikes, hot springs and beautiful campsites along the way.
We have met great folks everywhere.
We still think librarians are the best people on earth!
We did not miss one performance. ( over 100 )
We still cannot believe this tour went so well, without a "hitch"!
As we were leaving Alaska in late July, we still did not know where we would ultimately land.
We planned to take some time off the road @ Ghost Ranch in New Mexico in October to help us figure this out.
The Caribou seem to be heading in the same direction as us, another good sign perhaps?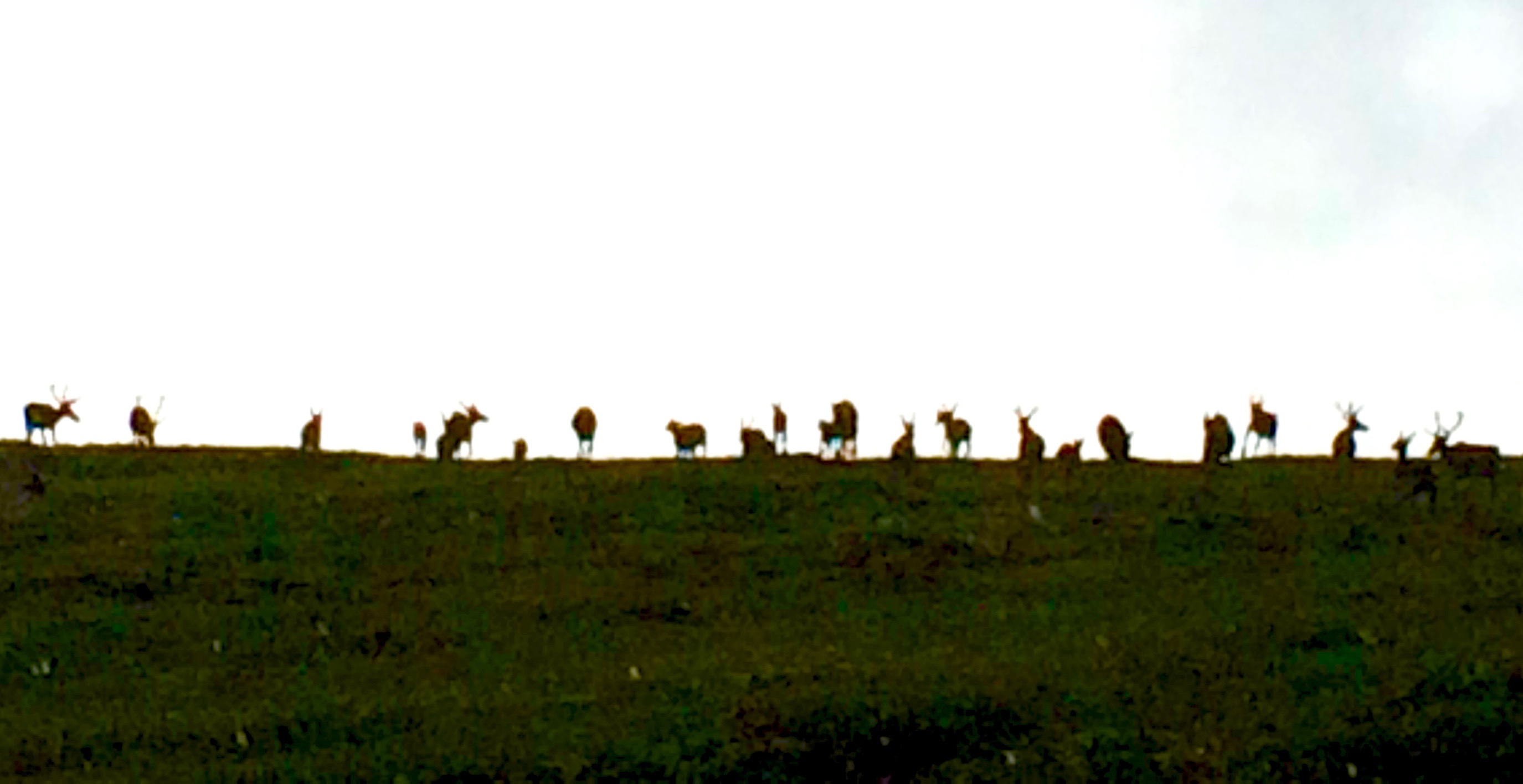 We head into the Yukon and cross the Yukon River by Ferry as there are no bridges in this area.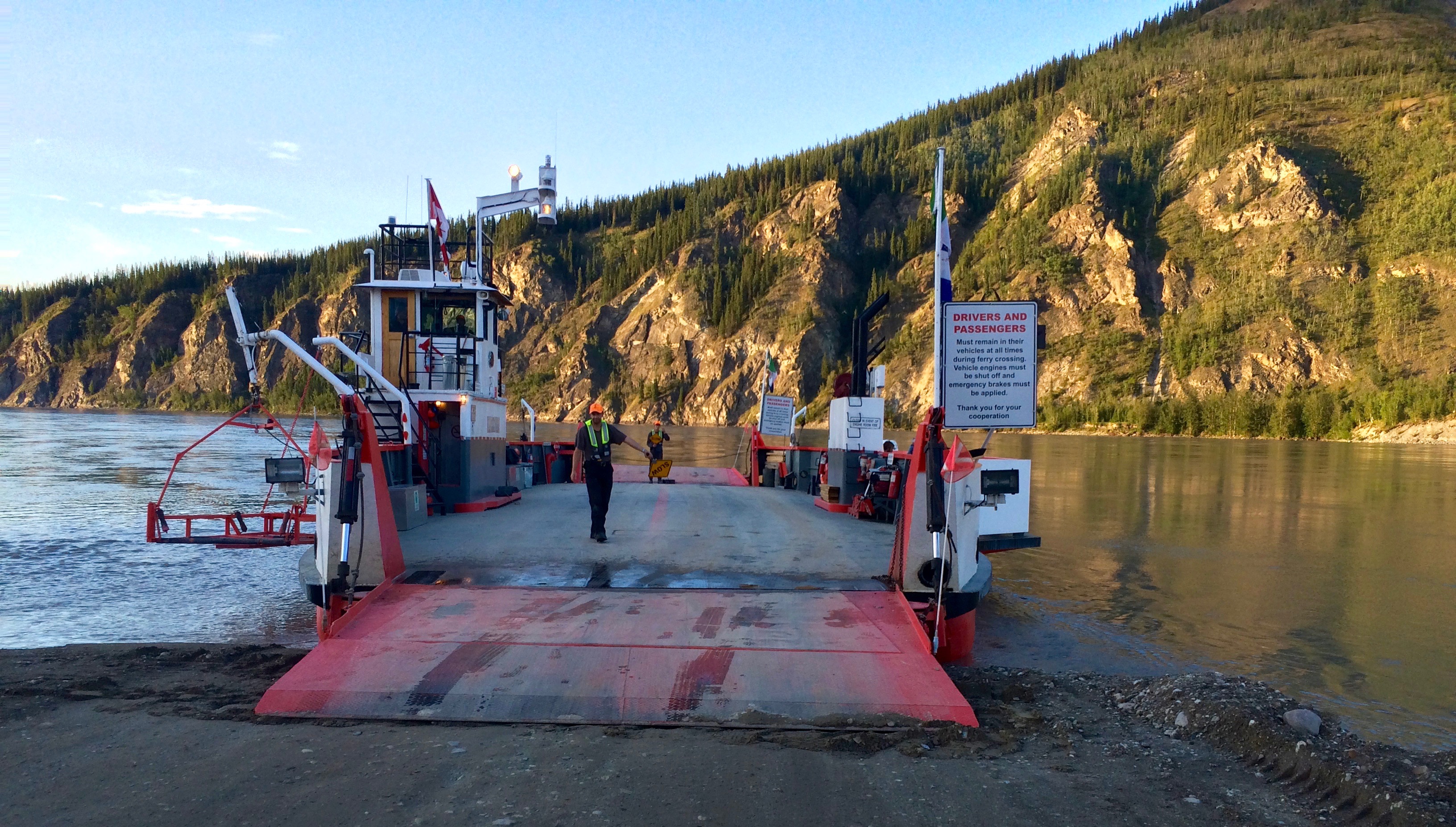 The Yukon River is a beauty & flows fast.
The river originates in BC, flows through the Yukon and Alaska and empties into the Bering Sea.
It's area of drainage is 25% larger than the Province of Alberta and the State of Texas.
We follow the Yukon River heading south along her eastern shore.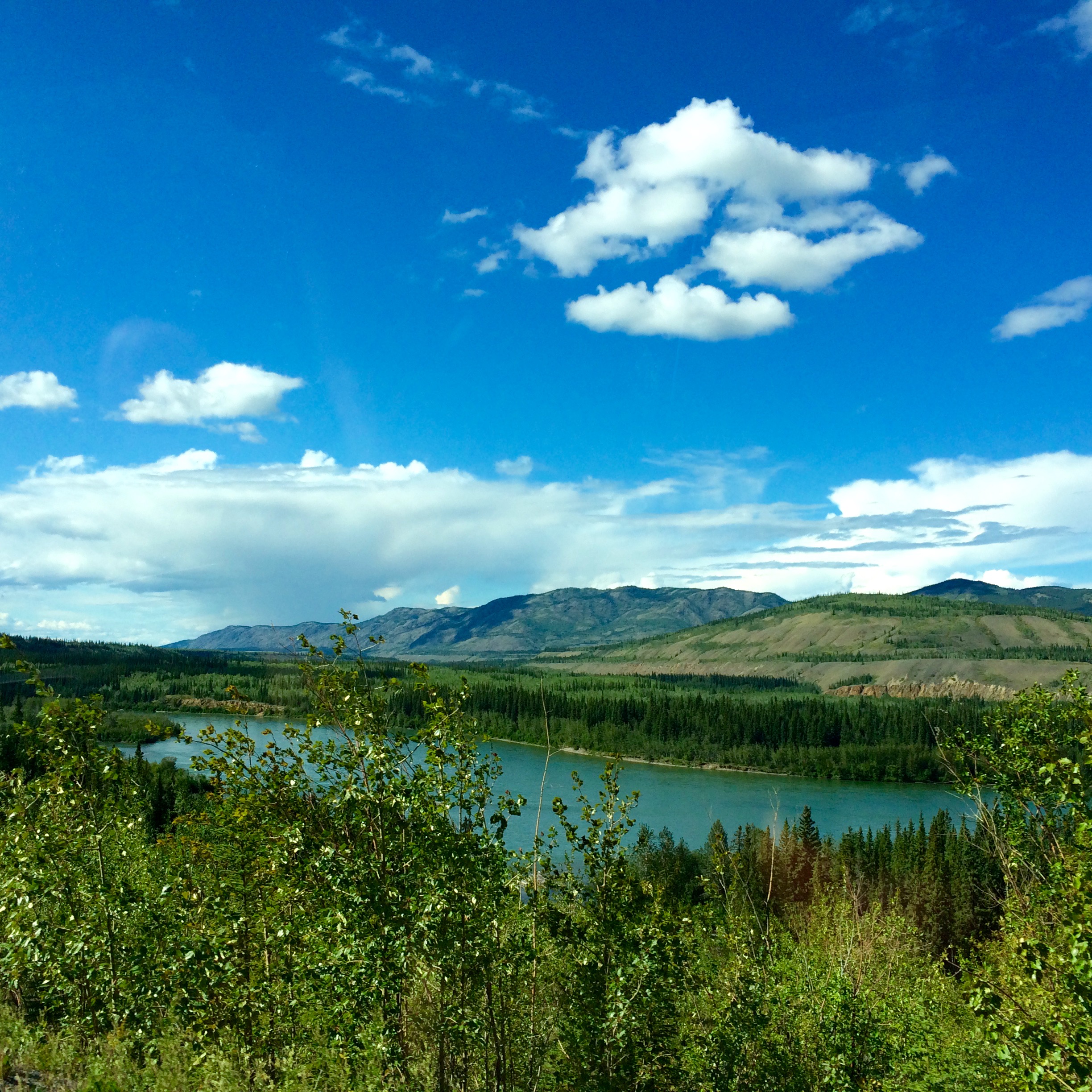 We found  a lovely hot springs just north of Whitehorse, Yukon called Takhini Hot Springs.
After driving over 1000 miles in 2 days, we decided to camp here for a couple of days and soak in the hot springs.
They have a very nice quaint restaurant serving excellent local organic food.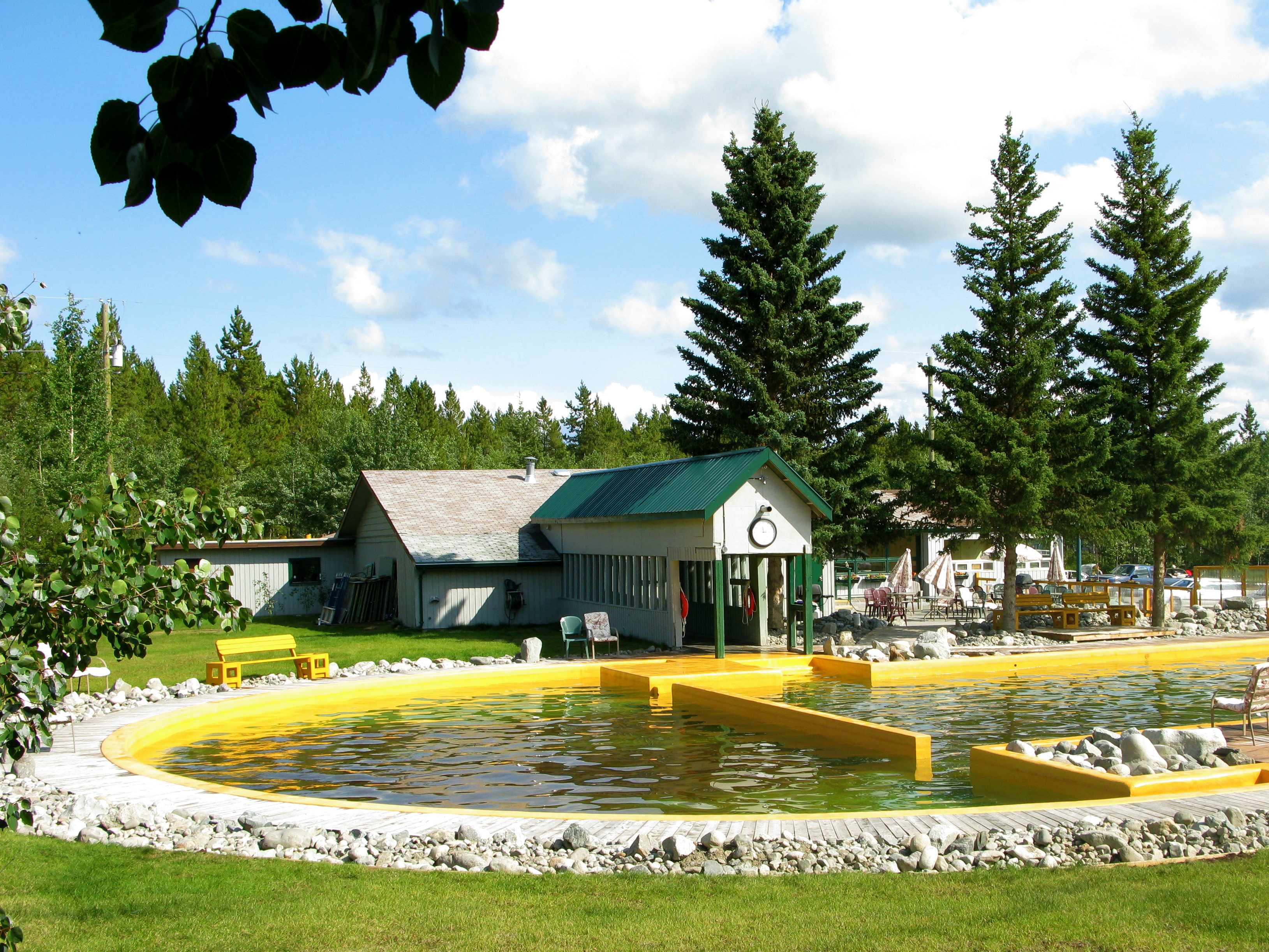 From here, we decided to take the Cassiar Highway back through Northern BC because it is spectacularly beautiful,  more adventurous, sparsely populated ( except for the bears )  and less traveled....of course!
The Cassiar Highway starts just east of Whitehorse and is an alternative and more primitive route going south through NW BC.
It is also the shorter route traveling back to the states versus taking the Alcan Highway.
We camped at one of the most beautiful lakes we have seen on our travels, Boya Lake.
This is the view from our camp.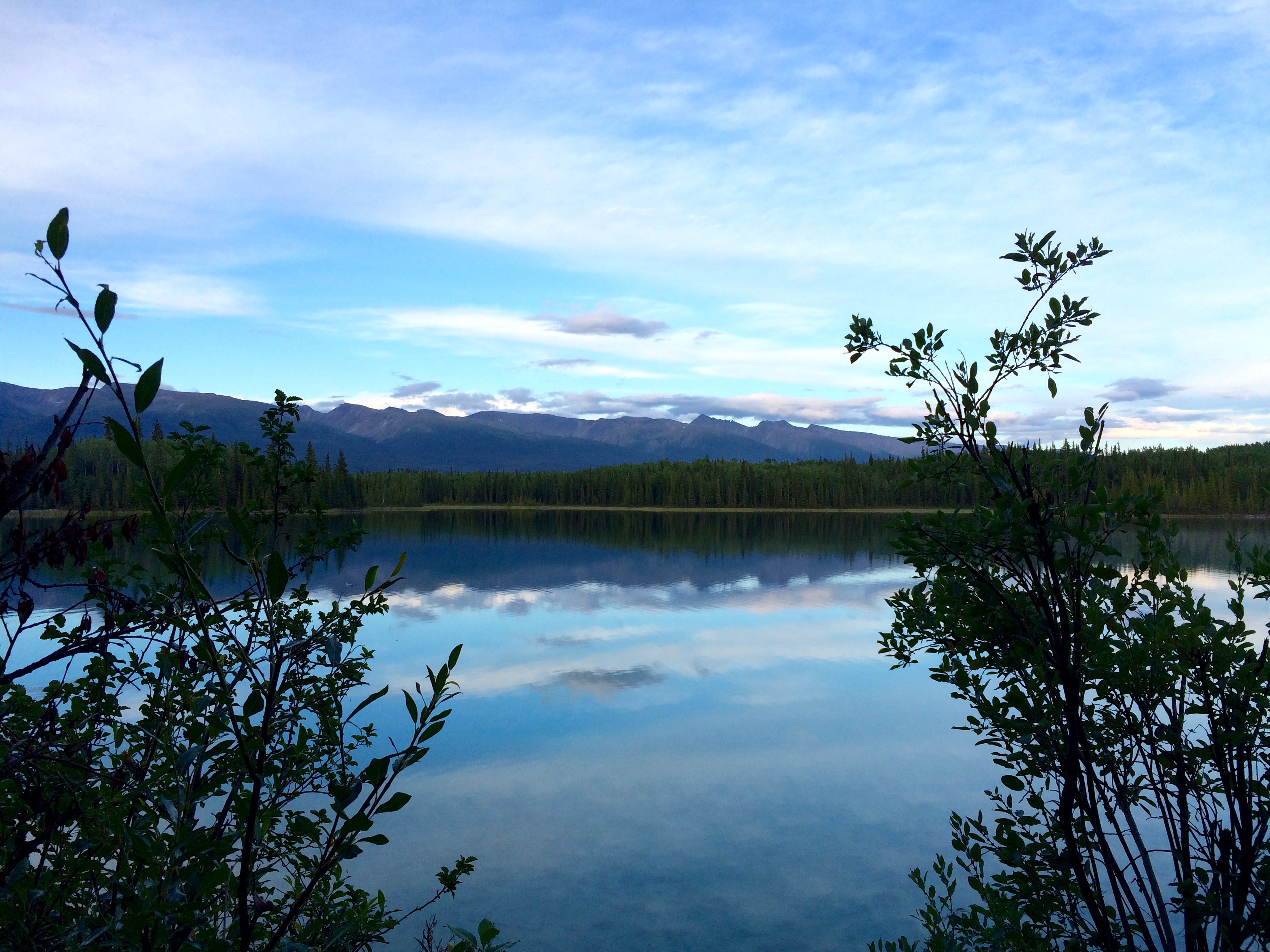 Boya Lake is situated on the Liard Plain, an area carved out by glaciers 20,000 years ago.
It is one of the few lakes in the north that is warm enough for swimming.
The park rents out canoes and kayaks to explore the seemingly limitless bays and islands.
The lake is noted for its colour and clarity.
The bottom is composed of marl, a mixture of silt and shell fragments.
The crystal clear waters and aqua-marine lake color are a result of the light reflecting from the marl bottom.
This is truly an awesome lake!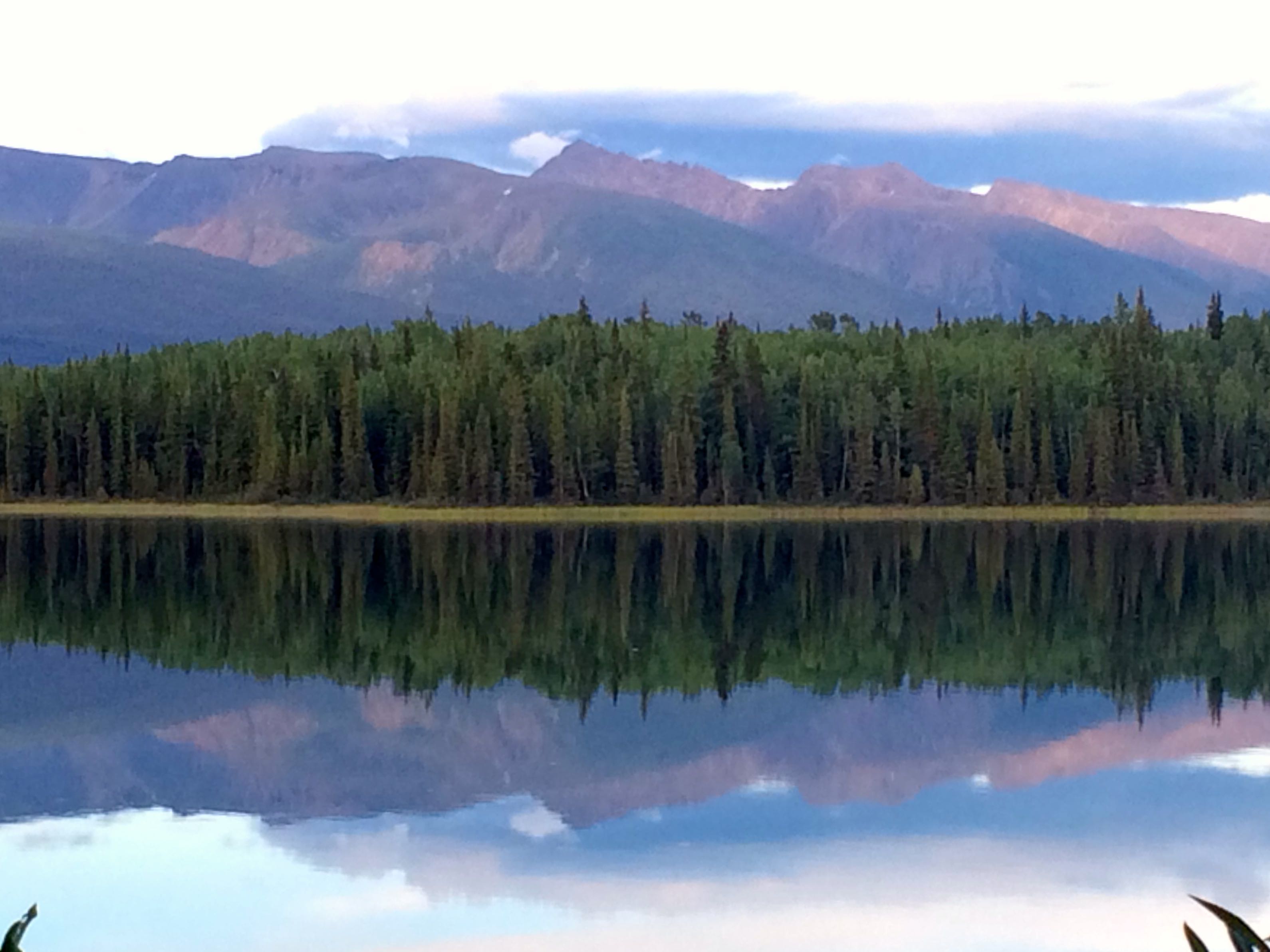 Towards the southern end of the Cassiar Hwy, we decided to explore the only area in SE Alaska which is accessible by road, Hyder Alaska.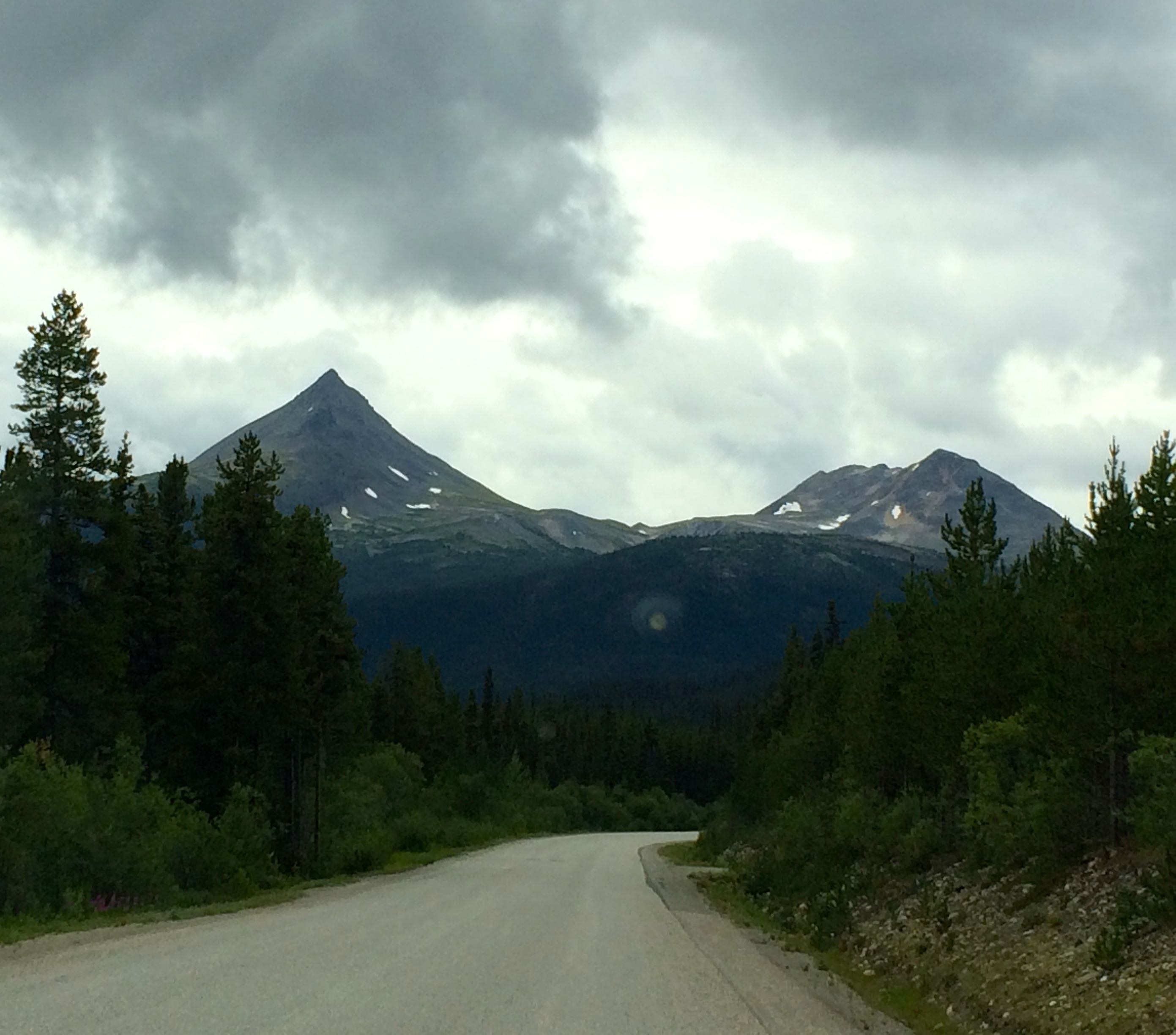 We head west on a most awesome road with over 50 Avalanche Shoots.
We are thankful that our travels are at this time of year (August) but one of area local's told us it was no problem for them to drive out in the winter as long as they called the Avalanche Crew ahead of time!!
Hyder is on the eastern fringe of Misty Fjords National Monument, at the head of Portland Canal, a town that may be in Alaska but identifies more closely with its Canadian neighbors just across the border in Stewart, British Columbia.
Estuary @ end of  70 mile long Portland Canal -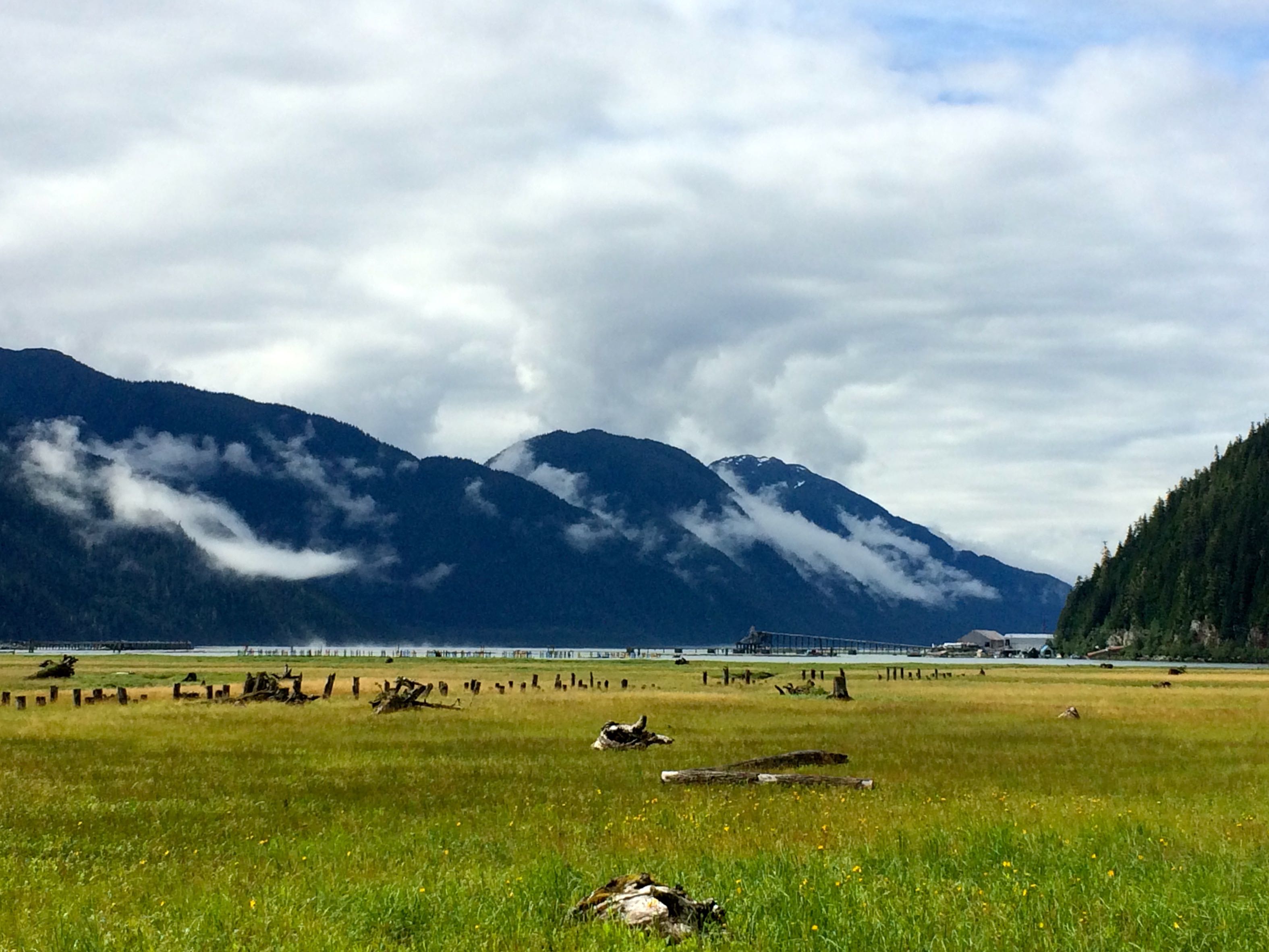 Even though Hyder has mainland road access, the town is so isolated from the rest of Alaska its 72 residents are almost totally dependent on larger Stewart (pop. 700), just across the Canadian border.
Hyder's residents use Canadian money, set their watches to Pacific Standard Time (not Alaska Standard Time), use Stewart's area code and send their children to Canadian schools.
When there's trouble, the famed Canadian Mounties step in.
All this can make a side trip here something of an international affair.
Along the road to Salmon Glacier-North of Hyder -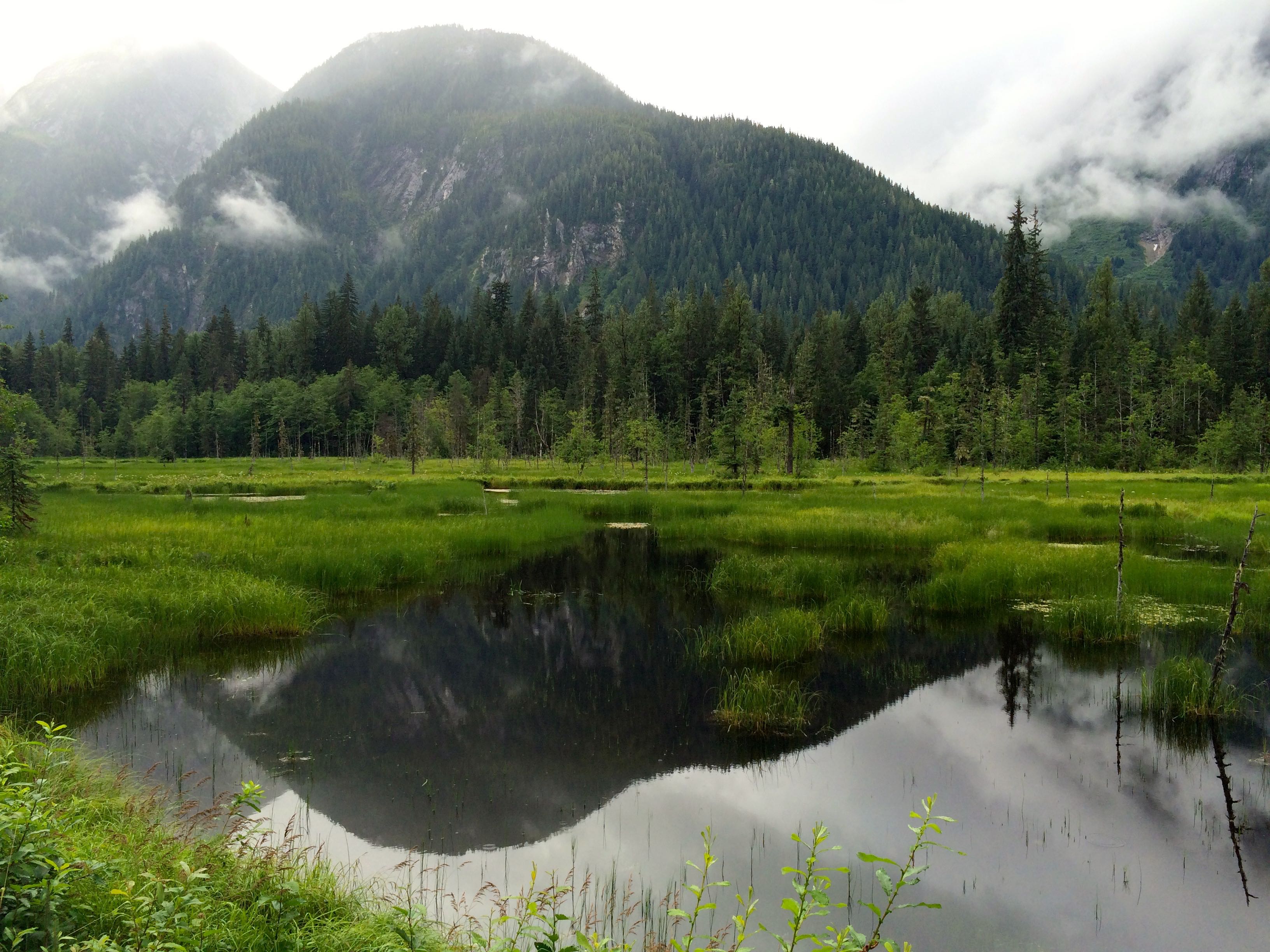 Almost to the top of the pass, wow!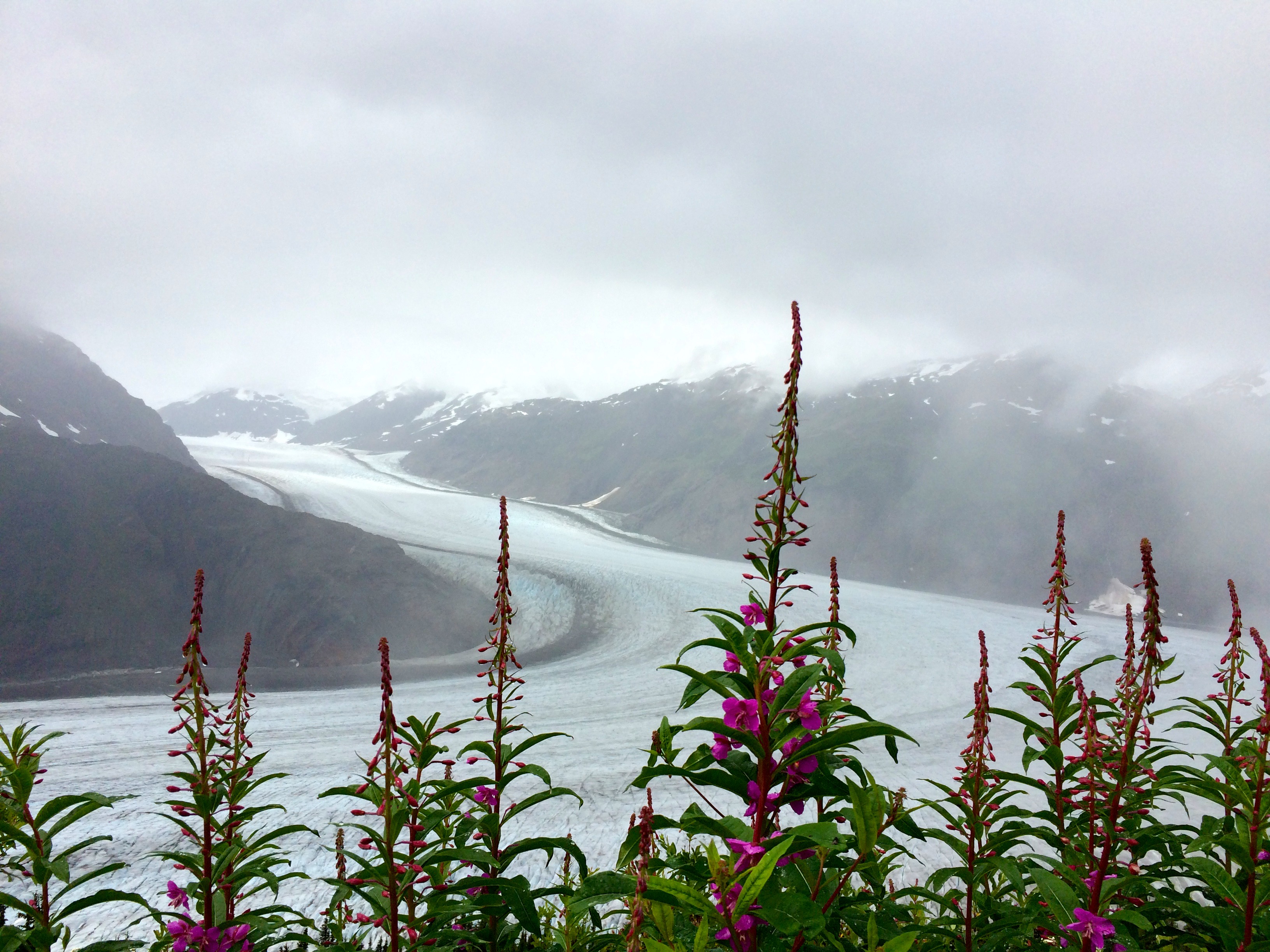 Top of the pass looking over the Glacier!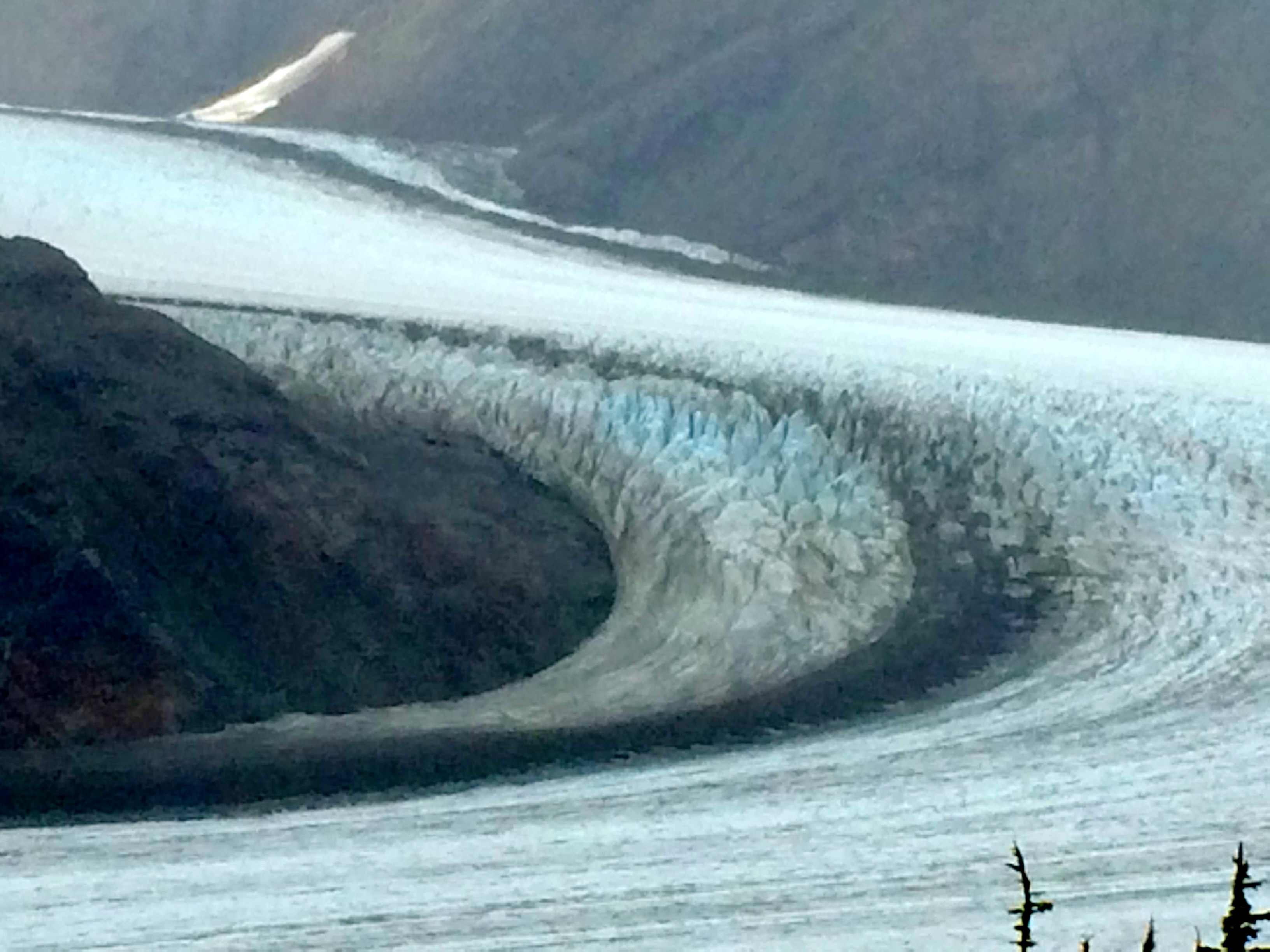 At this  pass we met Keith "Bear Man" Scott.
Keith has been coming to this area from Newfoundland every summer for decades to study the bears and to take  photos of the bears, glaciers, ice caves and other places he has explored in the area.
He camps out here from May through September in a tent.
This day was chilly, with intermittent rain and fog which initially obscured our view of the glacier.
He told us to "wait a little while, 20 minutes max, and the fog would lift and we could get a good picture" and just like he said, the fog lifted within 20 minutes.
Keith with Colleen below -
Keith loves nature and bears in particular.
During the winter, he shares his knowledge with kids in school programs with the intent of creating more awareness about the interconnection of all things with nature and the importance of protecting nature for the bears and for all of us.
He has had very close contact with bears including grizzlies, black bear and has also photographed and studied the lesser known "Spirit Bears" or Kermode Bear.
This is one of Keith's pictures of the Spirit Bear below.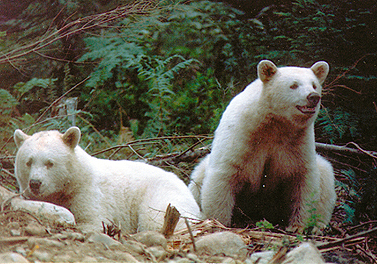 Keith says the following about these bears.
They are basically black "white" bears and they are less aggressive than their cousins.
He confirmed that these bears are not white because of living around the glaciers, but because of a genetic difference from the black bear.
The Kermode bears can show a range of color, from white, to blue white ( Glacier Bear )  to "rainbow" ie from white, blue to brown. ( Rainbow Bear )
Keith convinced us to stay one more day and go back to the platform in the early morning or just around sunset to view the bears.
He was right when he said waiting one more day would be well worth our time.
In fact, it was one of the highlights of all our travels!!
"Goin Fishin"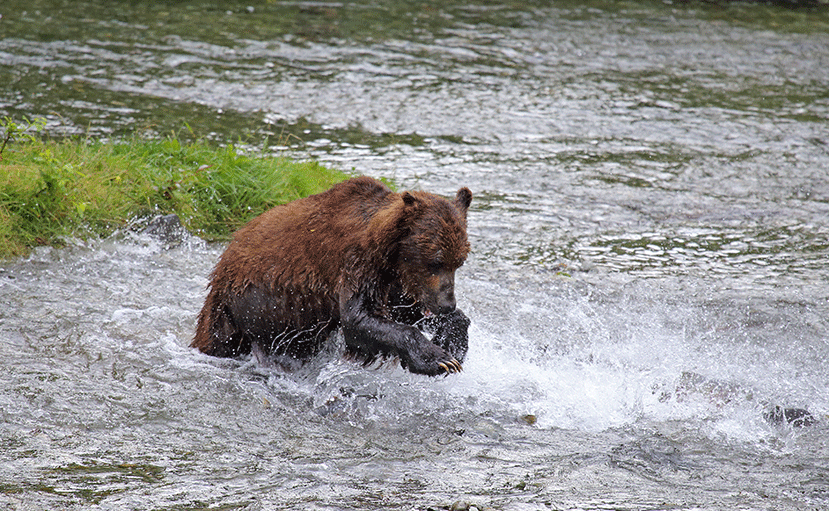 We headed back to the Cassiar Highway then south, back to "civilization" on the Trans-Canada Yellowhead Highway 16.
We take the Icefield Parkway Road off the Yellowhead Hwy which heads south from Jasper Alberta down the spine of the Rockies to Banff.
This is one of the most spectacular drives in the world with abundant wildlife!
Ah, there is nothing like the Canadian Rockies and her turquoise & green rivers & streams!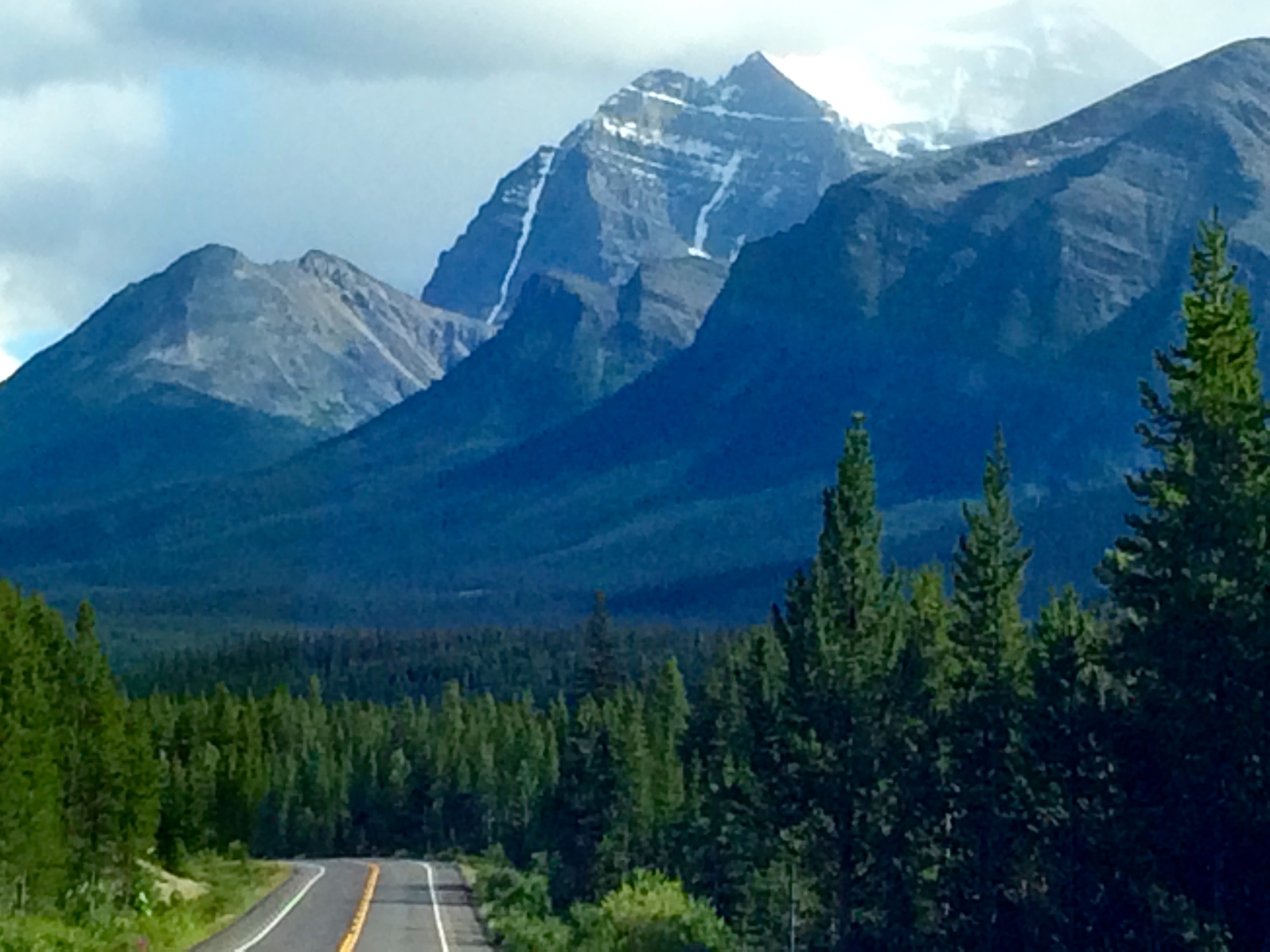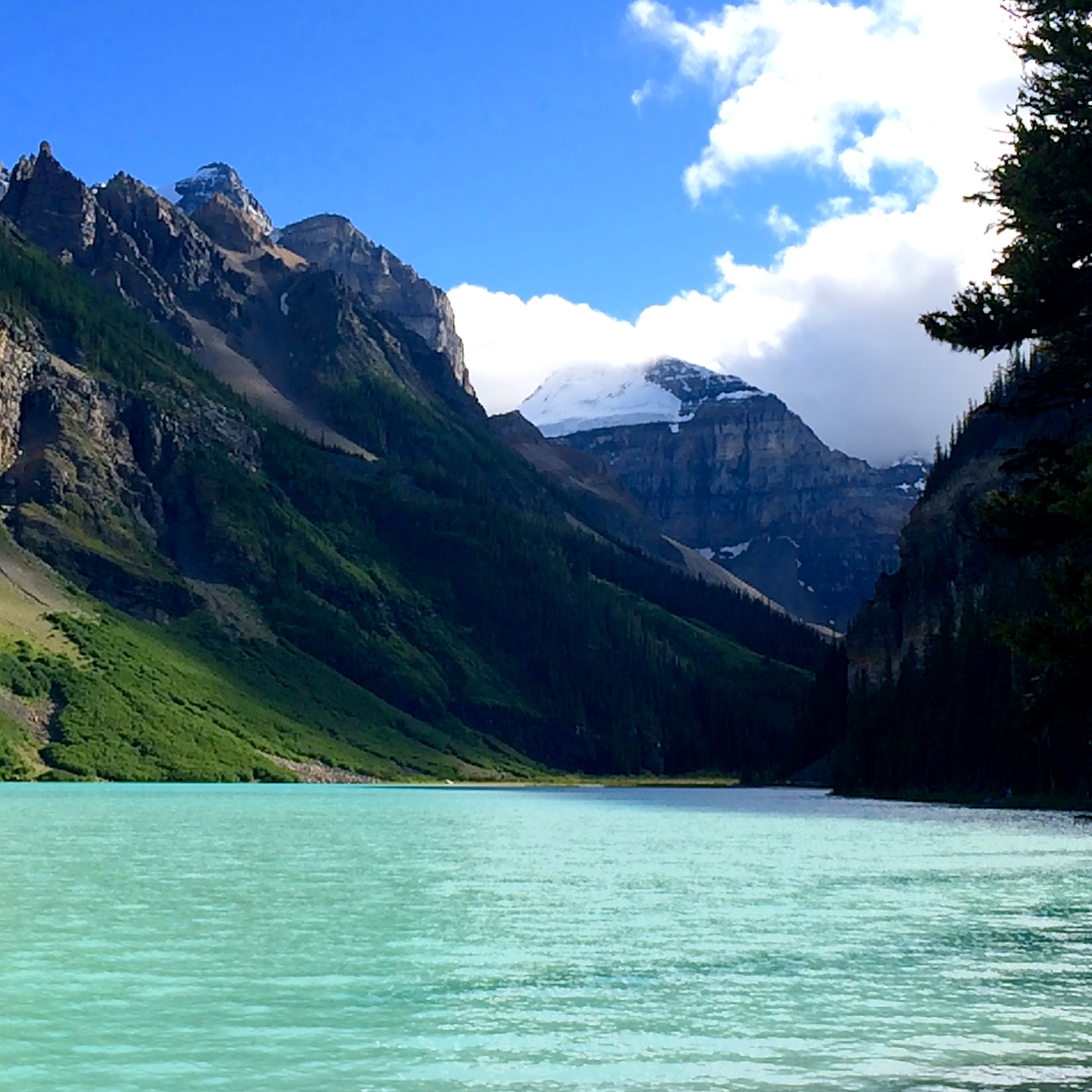 Time to head back into USA.
Our first performance in Montana is in Kalispell.
We love the rivers in Montana and we lucked out finding a great camp site right on the Flathead River near town.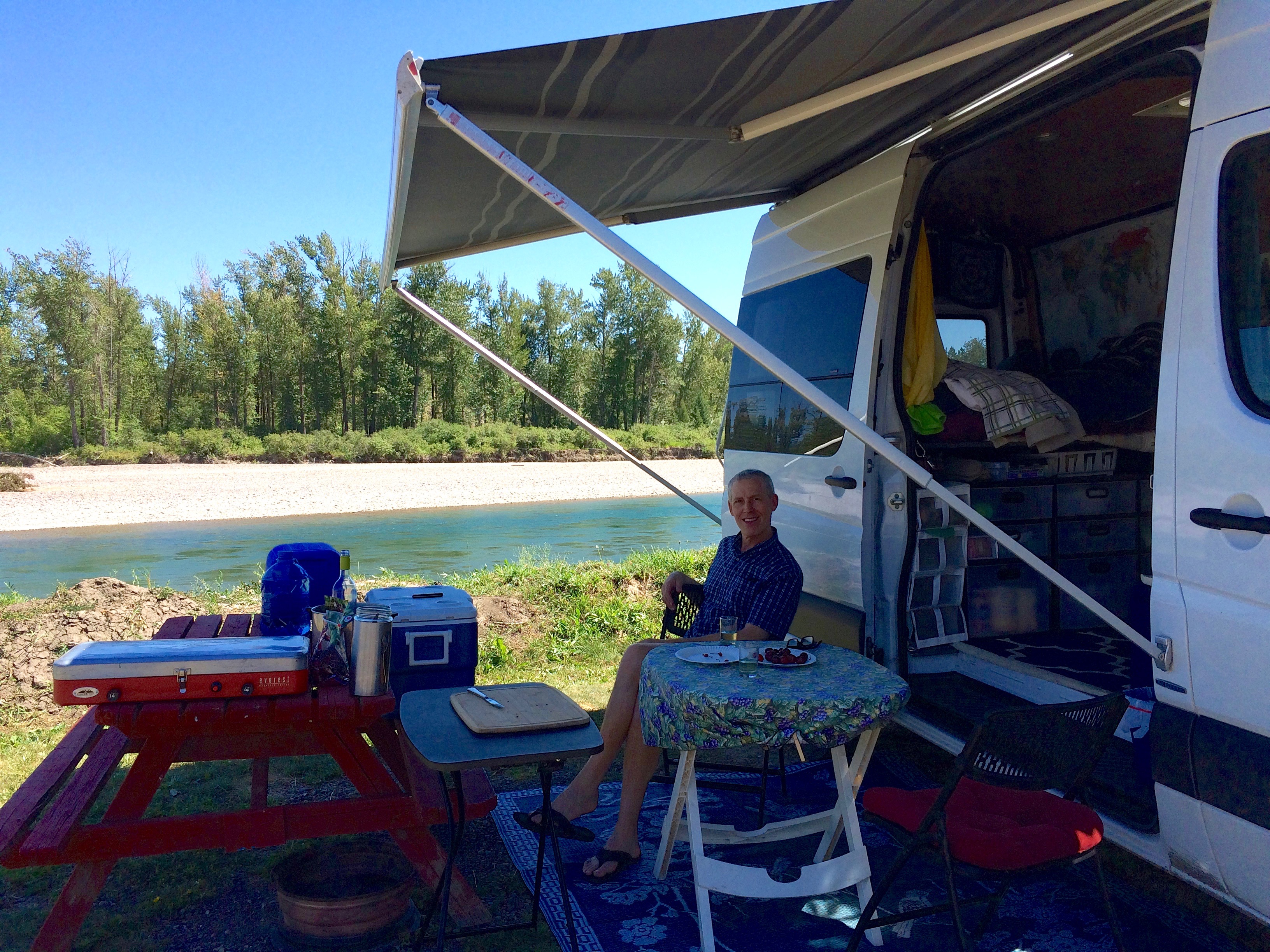 Look who wants to come for dinner?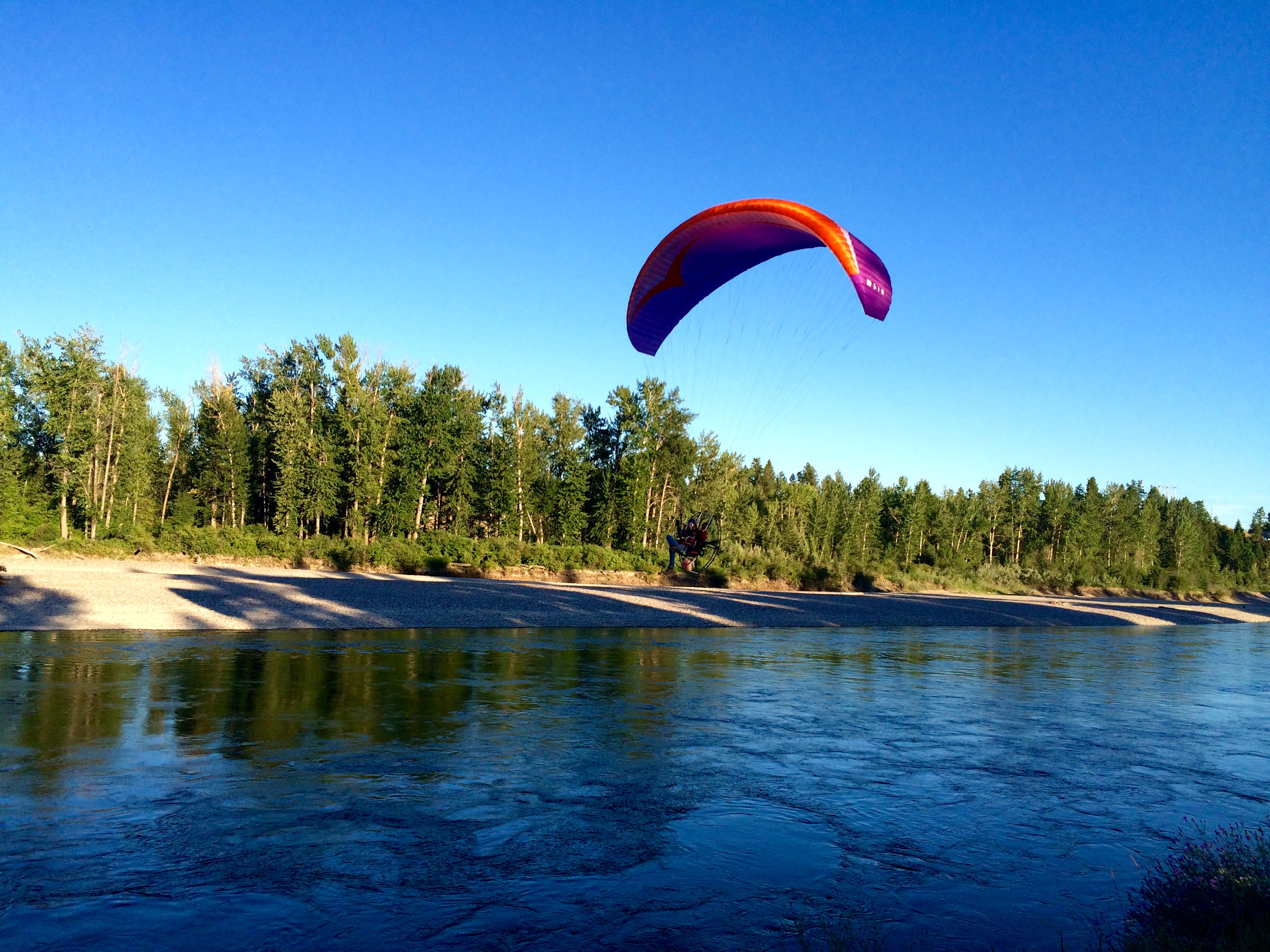 This night, The Blue Moon rises over the Flathead River!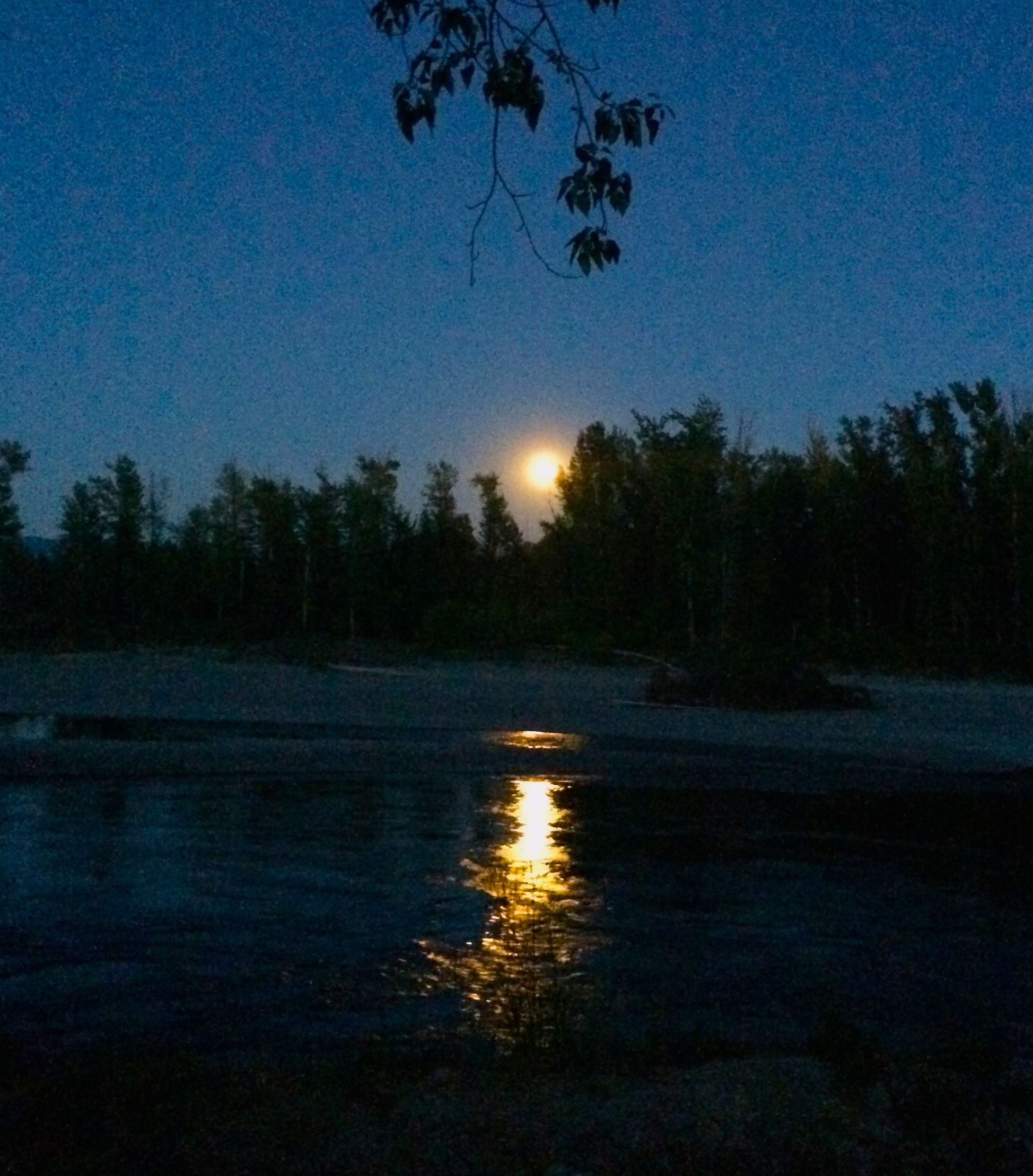 Kalispell Library -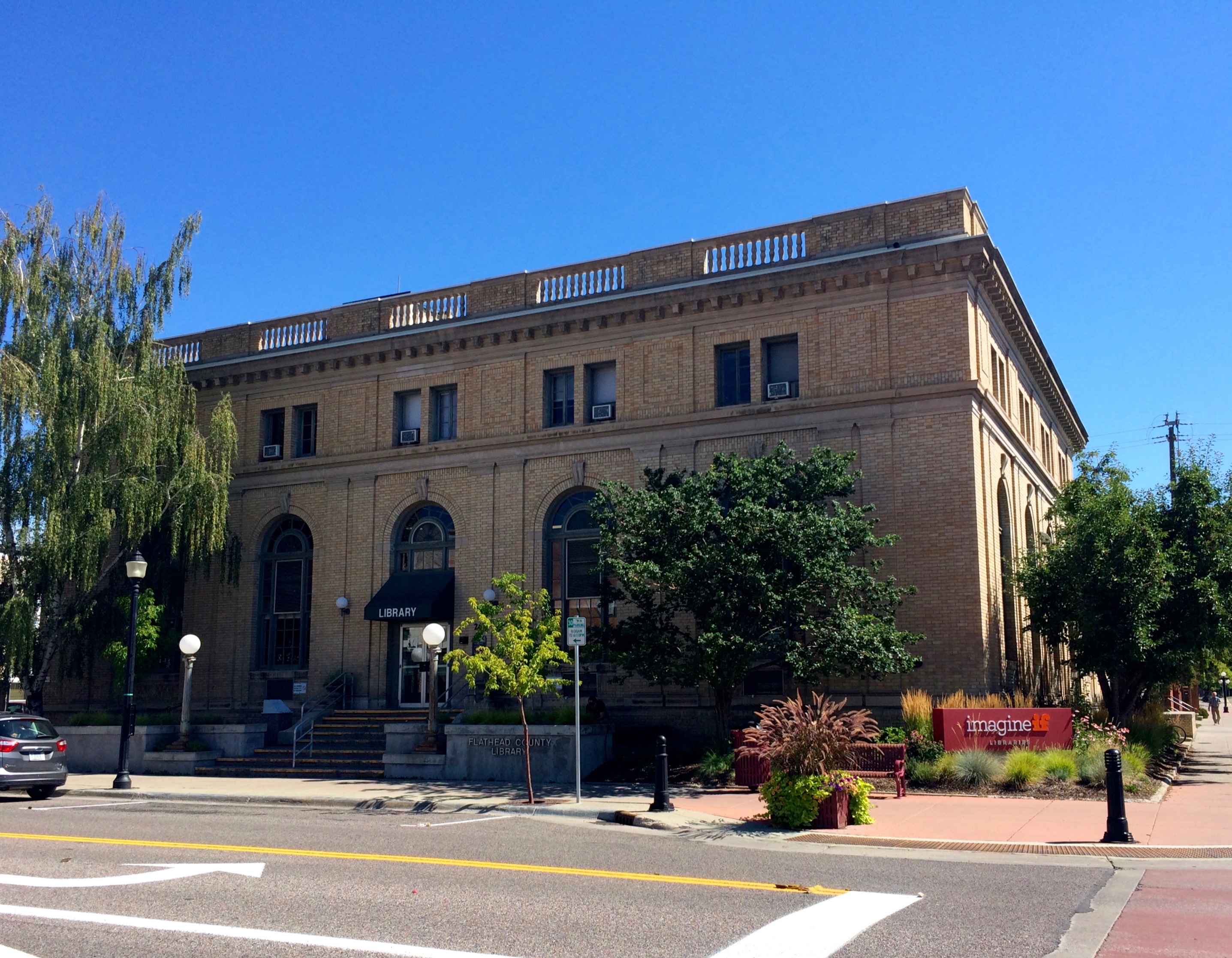 It was a very hot the day we played @ the Kalispell Library.
Our librarian went above and beyond the usual great treatment we get from librarians and made us a couple lemonades before our performance.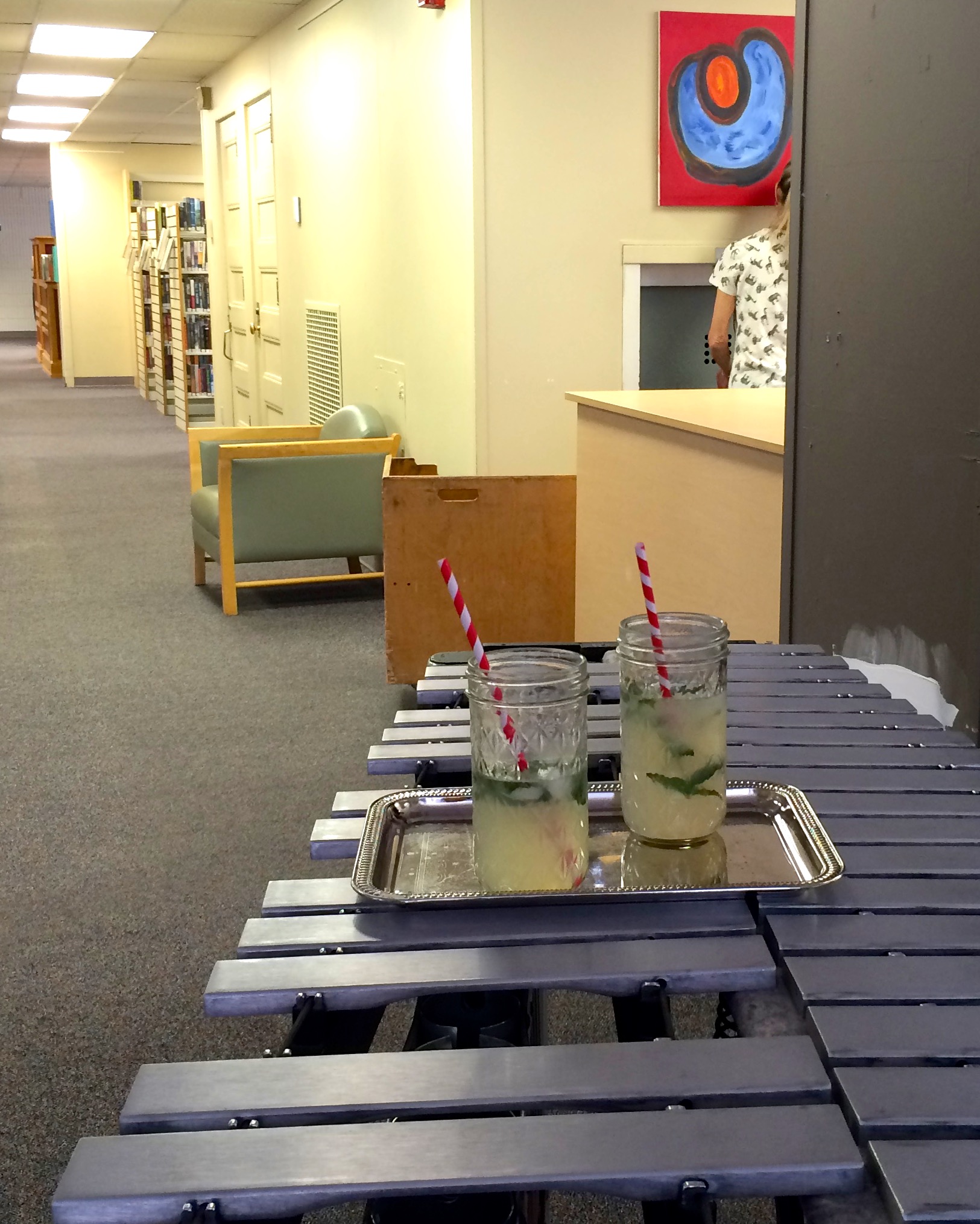 On to Helena!
Helena Montana is one of our favorite small cities in the west!
Helena has a look of a European city with her grand cathedral close to downtown.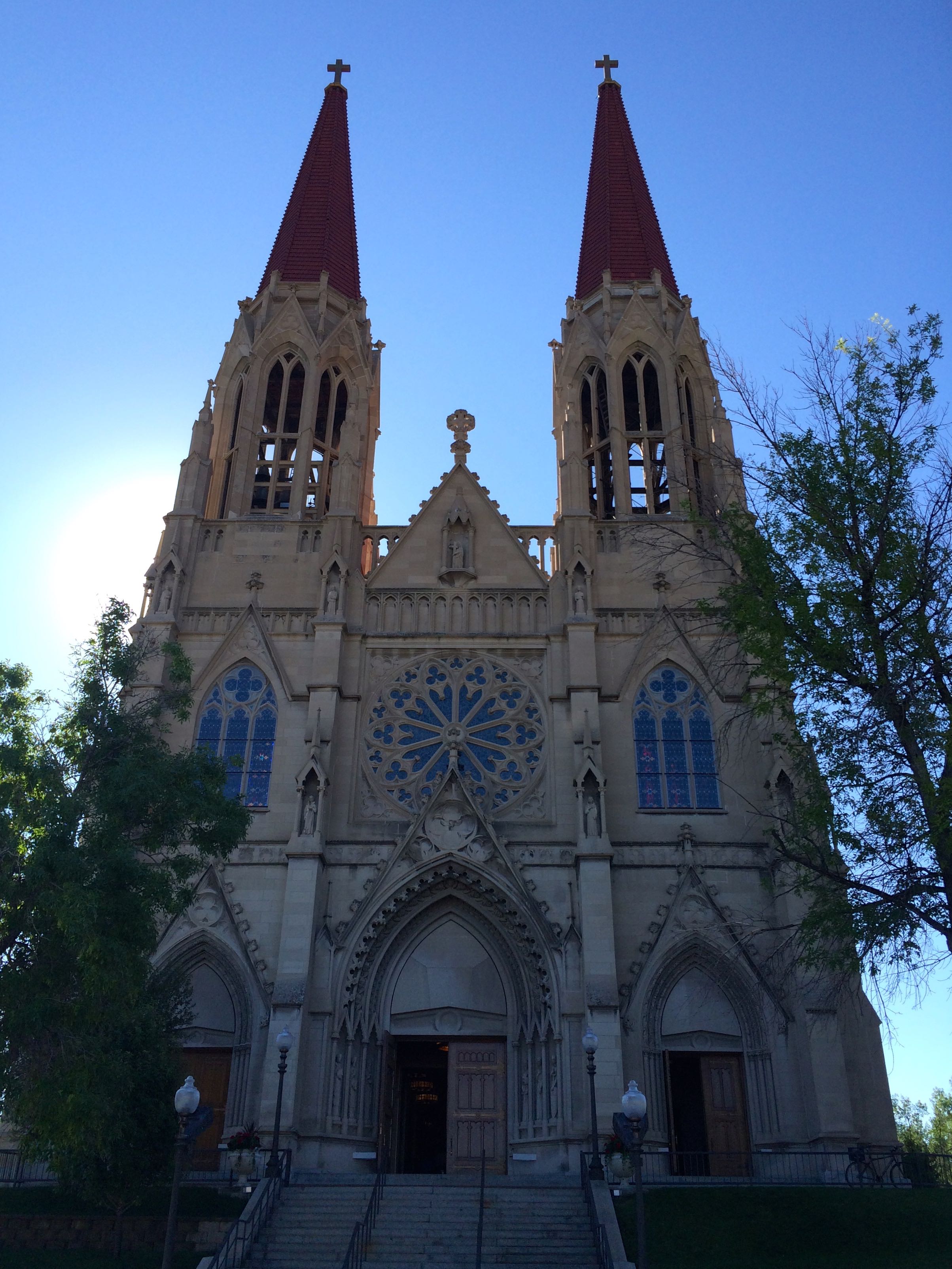 We have 2 library performances in this area & one performance @ the Chaucer Street Quarry.
The Quarry is one of our favorite venues.
We had camped here last year at the beginning of the tour and we were invited to play in the Quarry if we came back through the area.
What a beautiful evening it was.
MJ Williams  joined us for a few pieces.
MJ is a wonderful jazz vocalist, trombonist & composer.
We love her music and we love playing music with her!
The acoustics are fantastic in the quarry!
We all had a great time!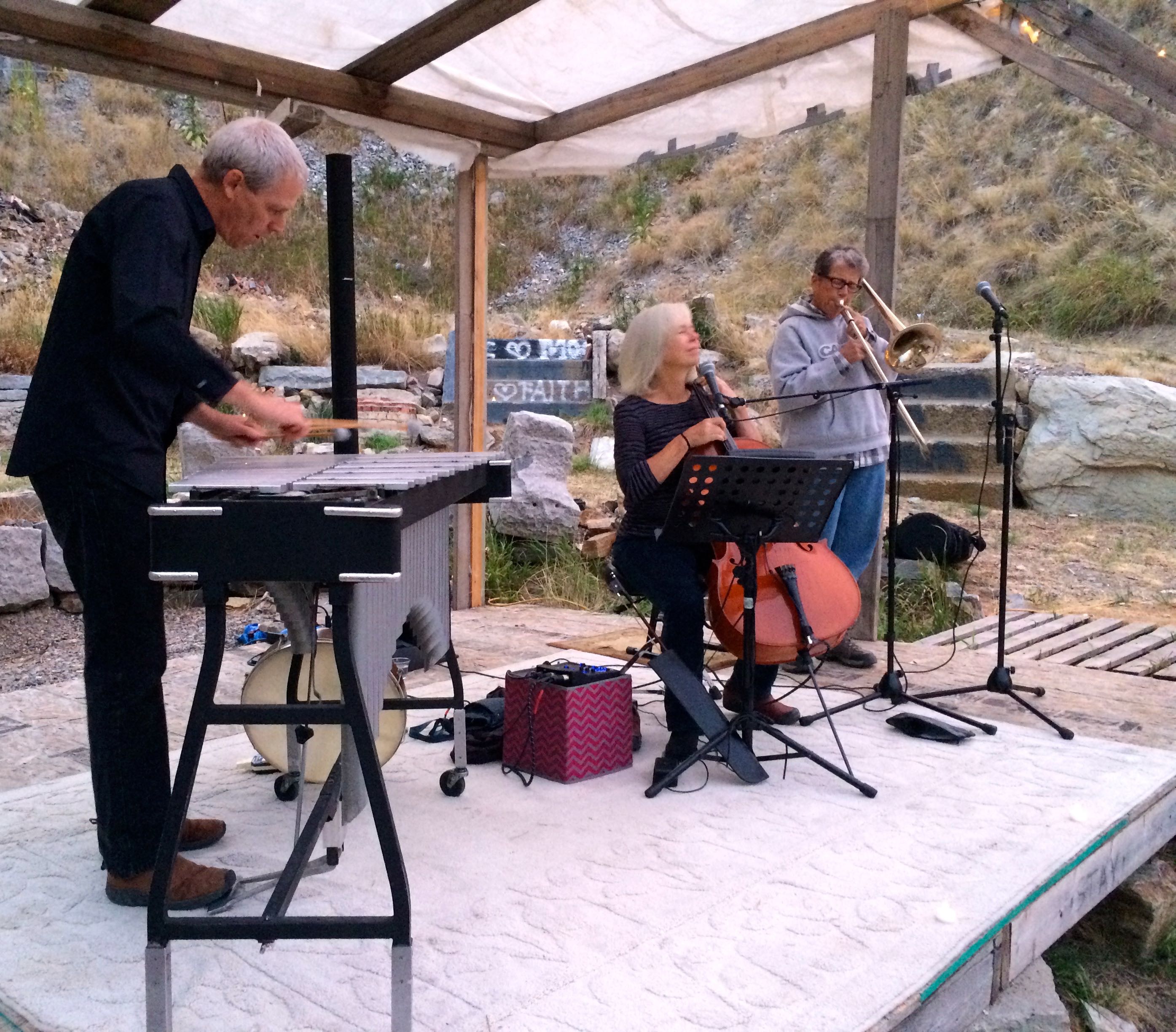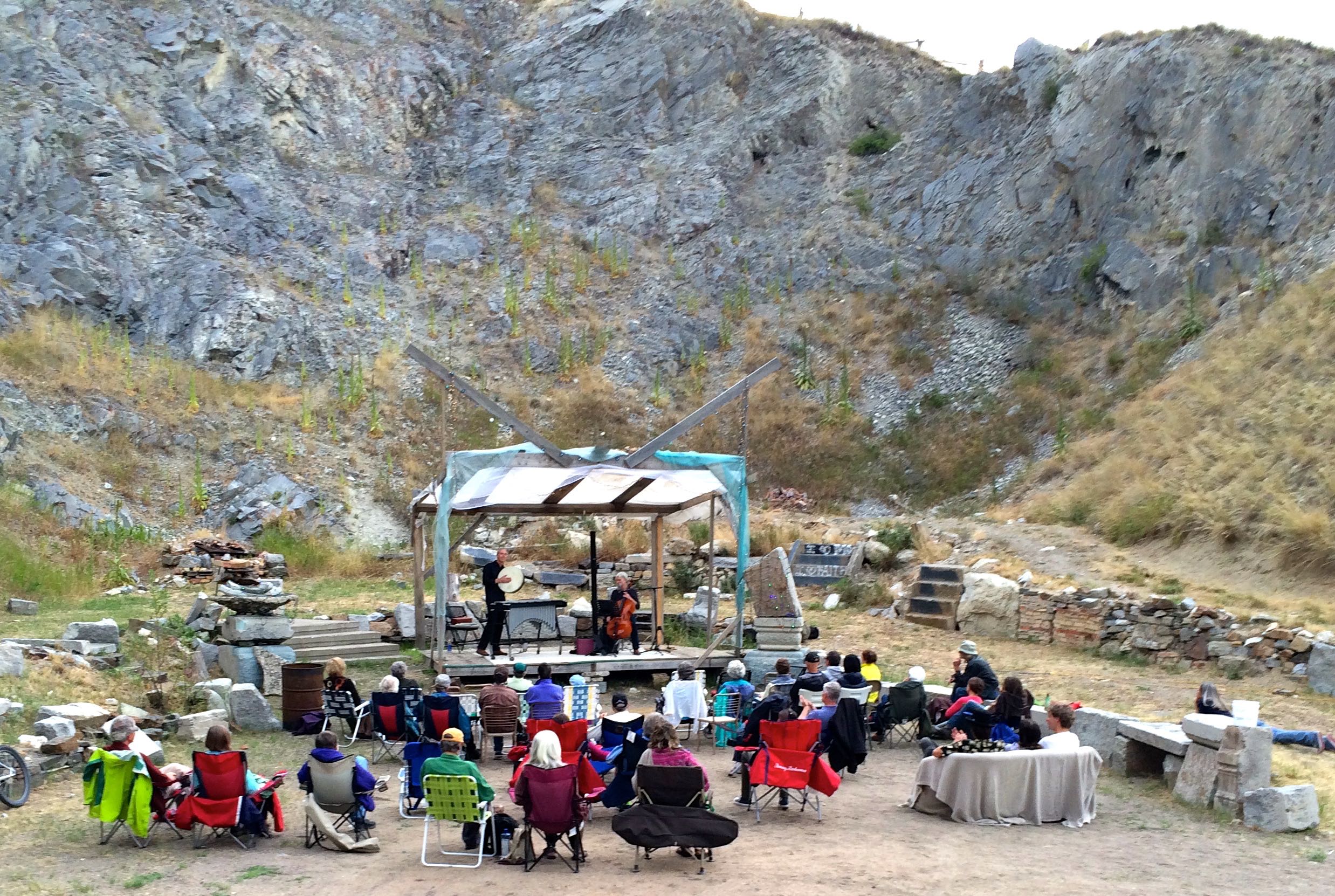 At this point, we have come full circle in this tour as we had gone through Helena at the beginning of our tour and towards the end of our tour, one year later.
We played about 6 more performances in Colorado and Utah in September before we made it to Ghost Ranch towards the end of September.
Ghost Ranch is an awesome place and staying there for even a short while gave us a chance to consider what was next for us.
The great magnet moves in mysterious ways and we are pulled back to Portland for now.
We look forward to reconnecting with family, old friends and all the wonderful musicians in this area.
We'd like to thank all who supported us on our tour & thank all the librarians who invited us into their libraries and communities!
We are at the end of the road.....for now!
"Stay Tuned!"