Wild horses could not stop us from our PoetryMusic tour through California in February!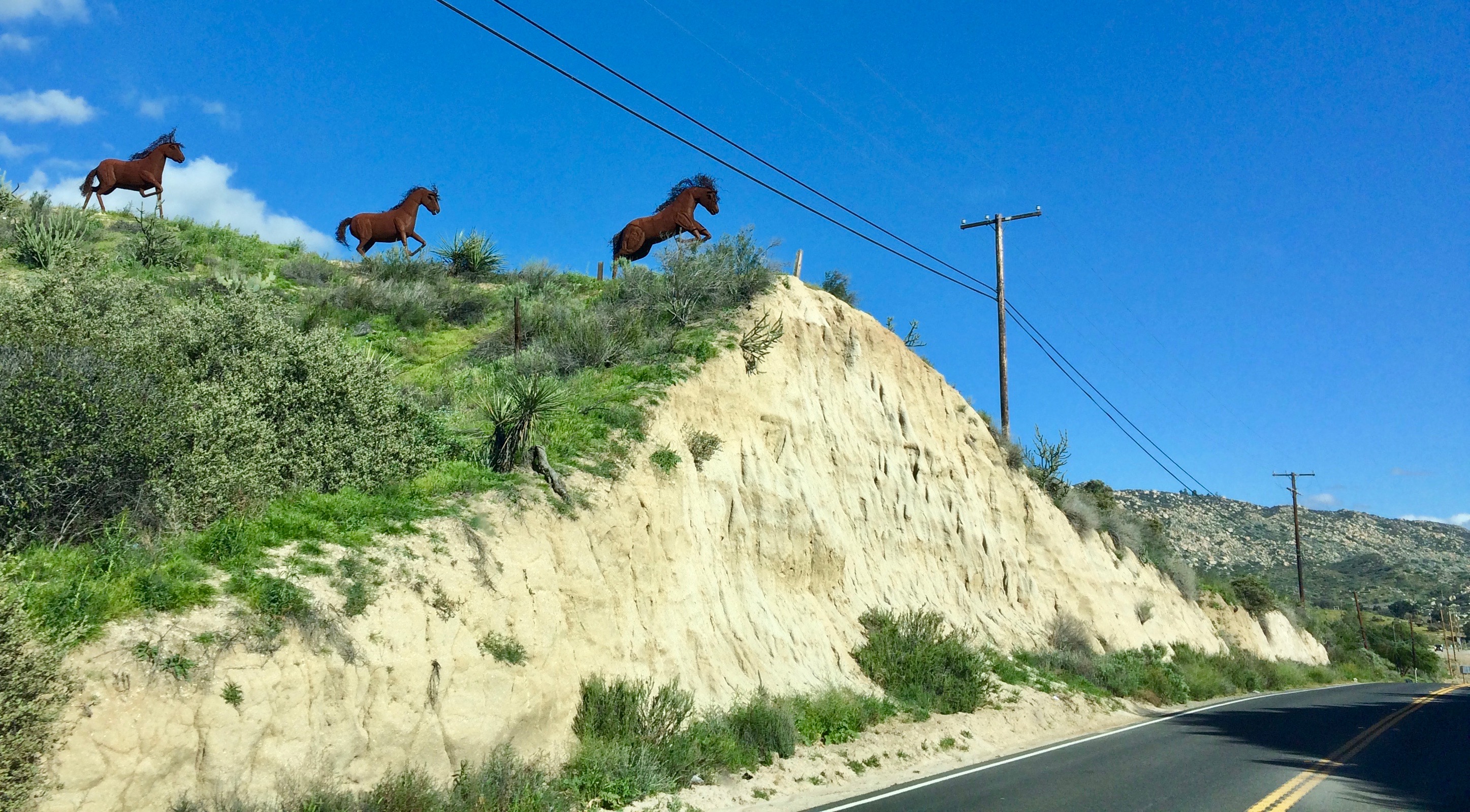 We made it around and through the weather, mudslides, floods & all potential obstacles in California. 

THE SHOW MUST GO ON!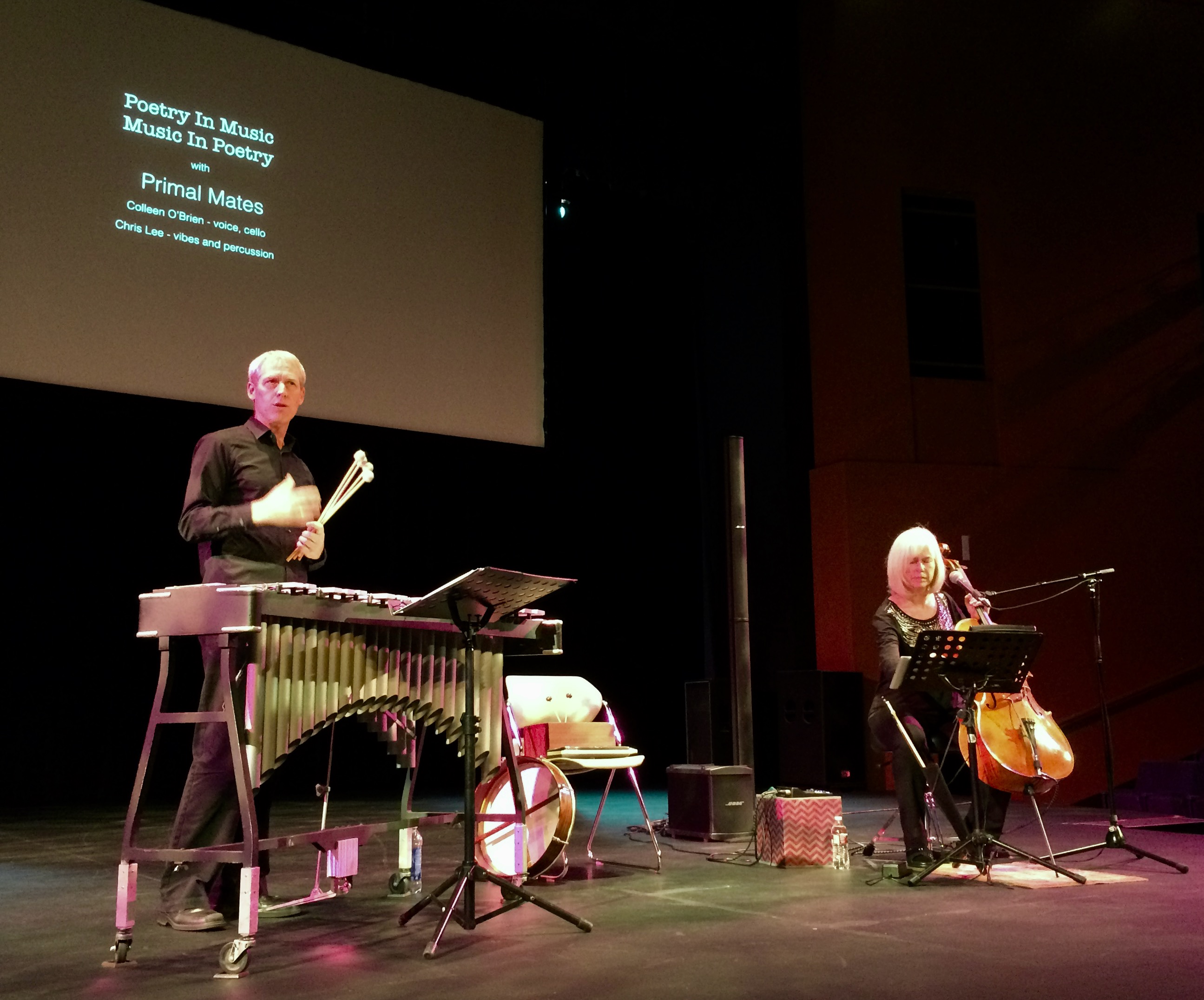 We are so grateful for the chance to travel and play PoetryMusic in libraries.   
We have now been presenting this program for over 2 1/2 years with over 45,000 miles of travel around the US and we look forward to continuing this journey which seems to be taking us forward.  
Libraries & librarians are the best of what our society has to offer us.  
In a time of budget cuts and divisive politics, people still love their libraries and support them. 
Librarians continue to find so many creative ways to serve their communities.  
Maybe libraries will even help us through the political upheavals as they are developing resource bases for verifiable information and critical thinking skills in the age of "fake news" including our mainstream media. 
We'd like to thank all of them for the great work they do.  
We wish we could feature all the librarians we have met. 
Circumstances did not allow for pictures of everyone, but we were able to get a few pics. 

Round Valley Library in Covelo, California was our first stop, we were not yet in picture taking mode, but your library gets the prize for most enthusiastic listeners!  

And we'd like to thank our Covelo hosts Michael & Sharon Mills for the overnight stay in their beautiful home.  We really enjoyed meeting you and sharing travel & camping stories across the SW.  Meet you in the desert someday soon!
Ukiah - Mendocino County Library Rocks! 
Poet Librarian Melissa Eleftherian Carr was responsible for bringing us to Mendocino County. 
We enjoyed playing @ all three libraries in Mendocino County. ( Covelo, Fort Bragg & Ukiah )  
Melissa was willing to pose for us next to James Madison & the Bill of Rights. 
Check out her poems @ https://apoetlibrarian.wordpress.com/published-poetry-2/.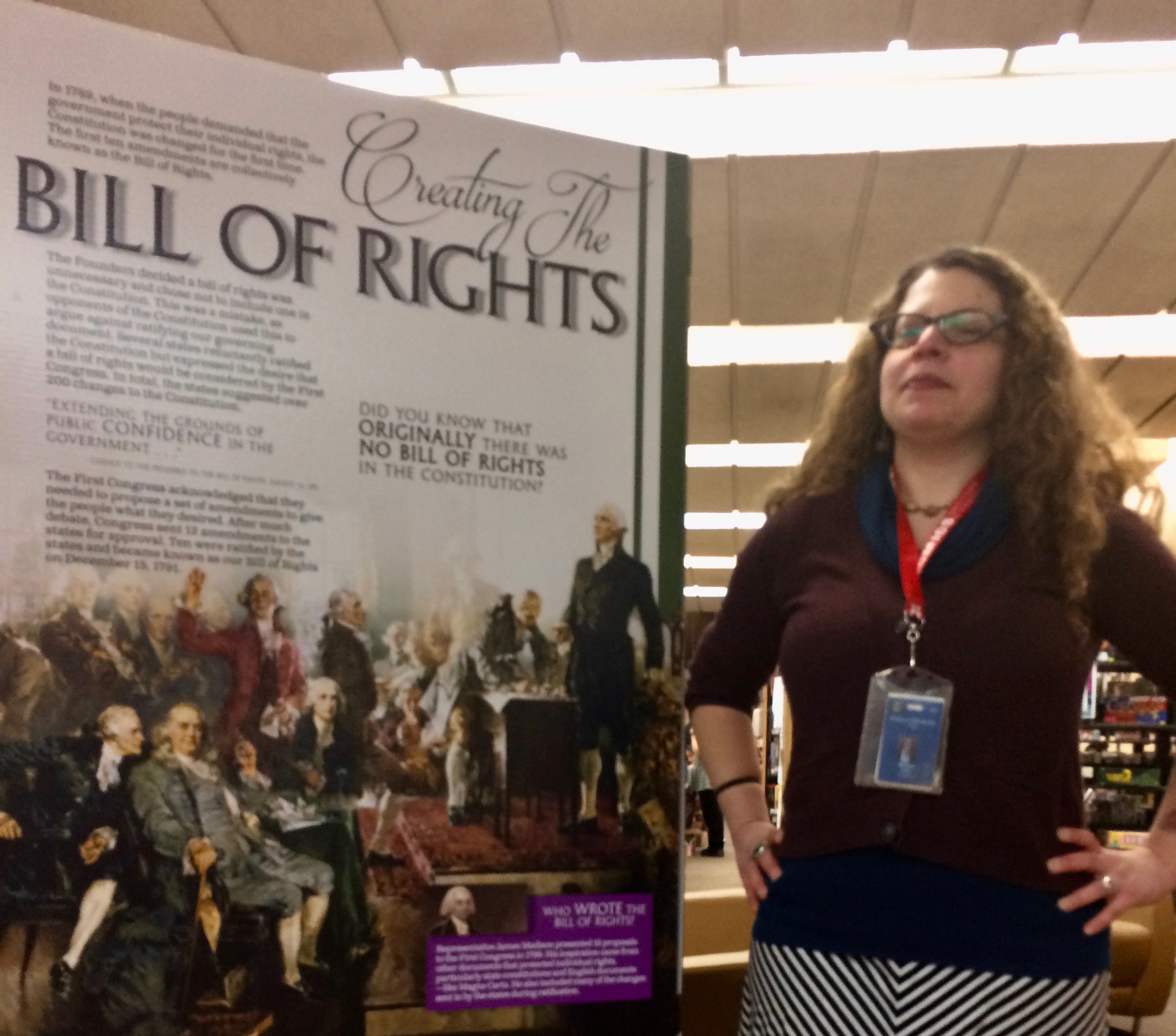 We move on to the Bay Area as the winter storms continue to hit the coast.

Fortunately we were invited for home stays during the worst parts of the rainstorm in the Bay Area. 

The first performances in this area were in Belmont, Moraga & Menlo Park.

A couple weeks before leaving on this tour, we received a call from Dave Karlin who teaches a music appreciation class in Belmont California.  He had seen that we were playing at the Belmont Library and asked if we would consider playing for his class during the time we were in the area.  We were able to add this performance to the calendar & Dave graciously asked us if we would like to stay with him at his home in Half Moon Bay for a couple nights before the performance.

We accepted this generous offer as the weather at this point was cold & rainy, and originally we were going to camp along the coast near Half Moon Bay.  

Wow, what can we say, but having a warm, comfortable and beautiful place to stay with close access to the beach.
And best of all....the most fabulous hosts!

A walk on the beach -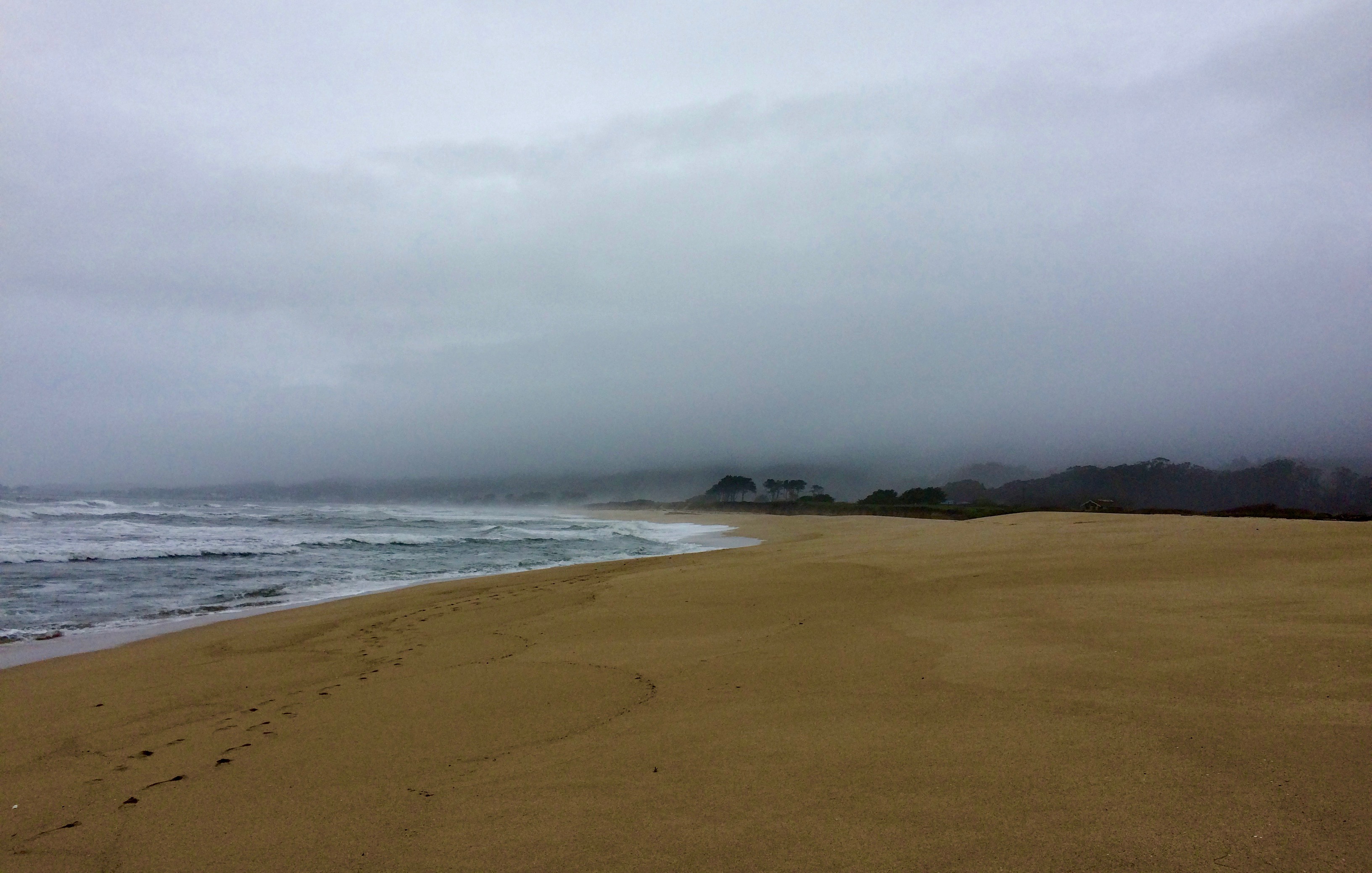 We cannot thank Dave & Barb Karlin enough for hosting us.
It was a real pleasure to spend some time with you and we appreciated all the delicious food and wine you served us & thankful we did not need to camp in the rain:)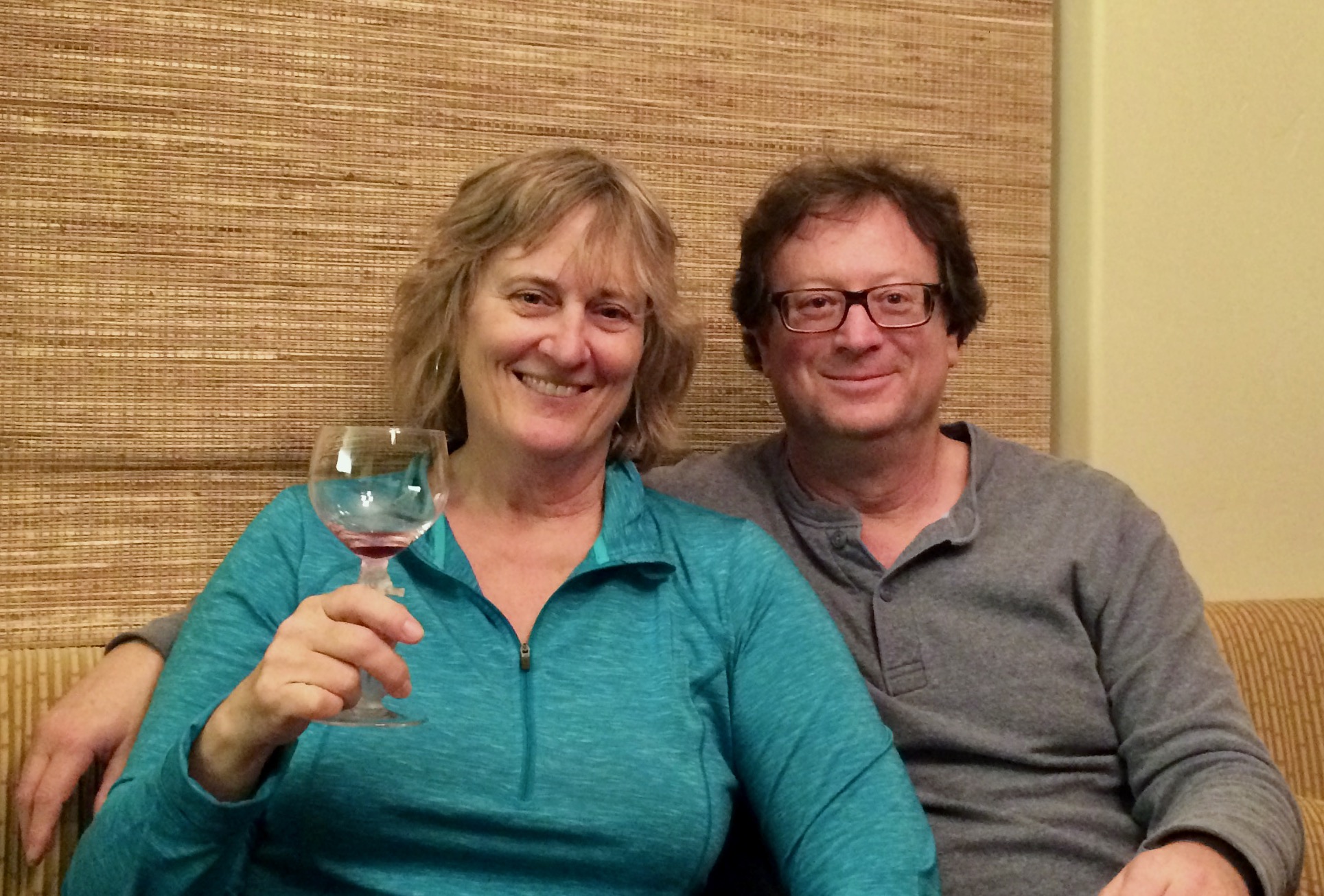 On the morning we left for Dave's class in Belmont, the worst part of the storm was hitting the Bay Area.
We headed out following Dave and we immediately are in stop and go traffic on Hwy 1.  - We needed to take a detour as the road to Belmont had been partially closed with a mud slide. ..we followed Dave north...are we going t make it????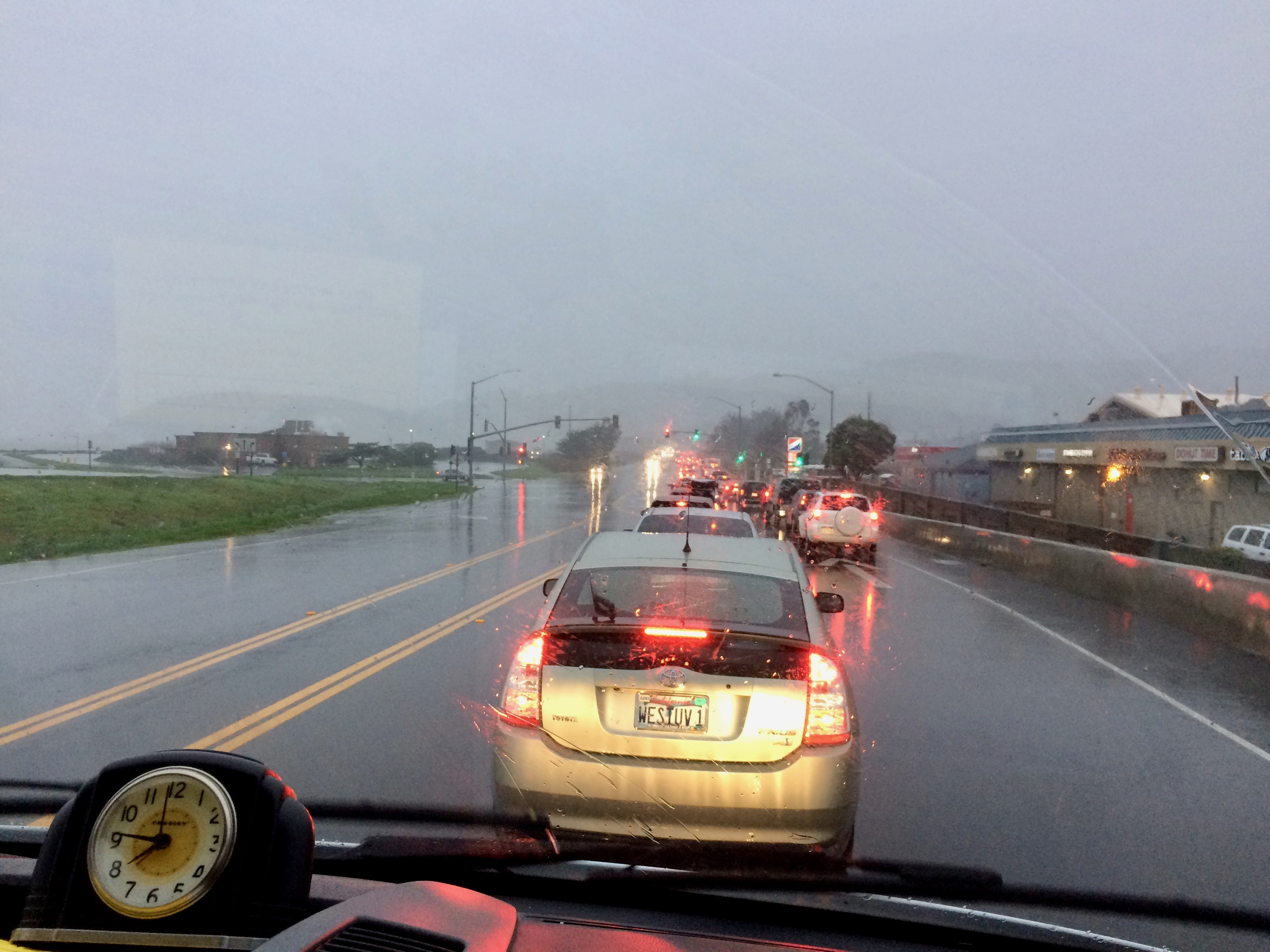 We did make it, but It was our shortest set up time ever for PoetryMusic! 

-----------------------------------------------------------------------------------------------------------------------------

Then over the next few days on to more libraries in Morago, Atherton &  Menlo Park . 

Atherton Library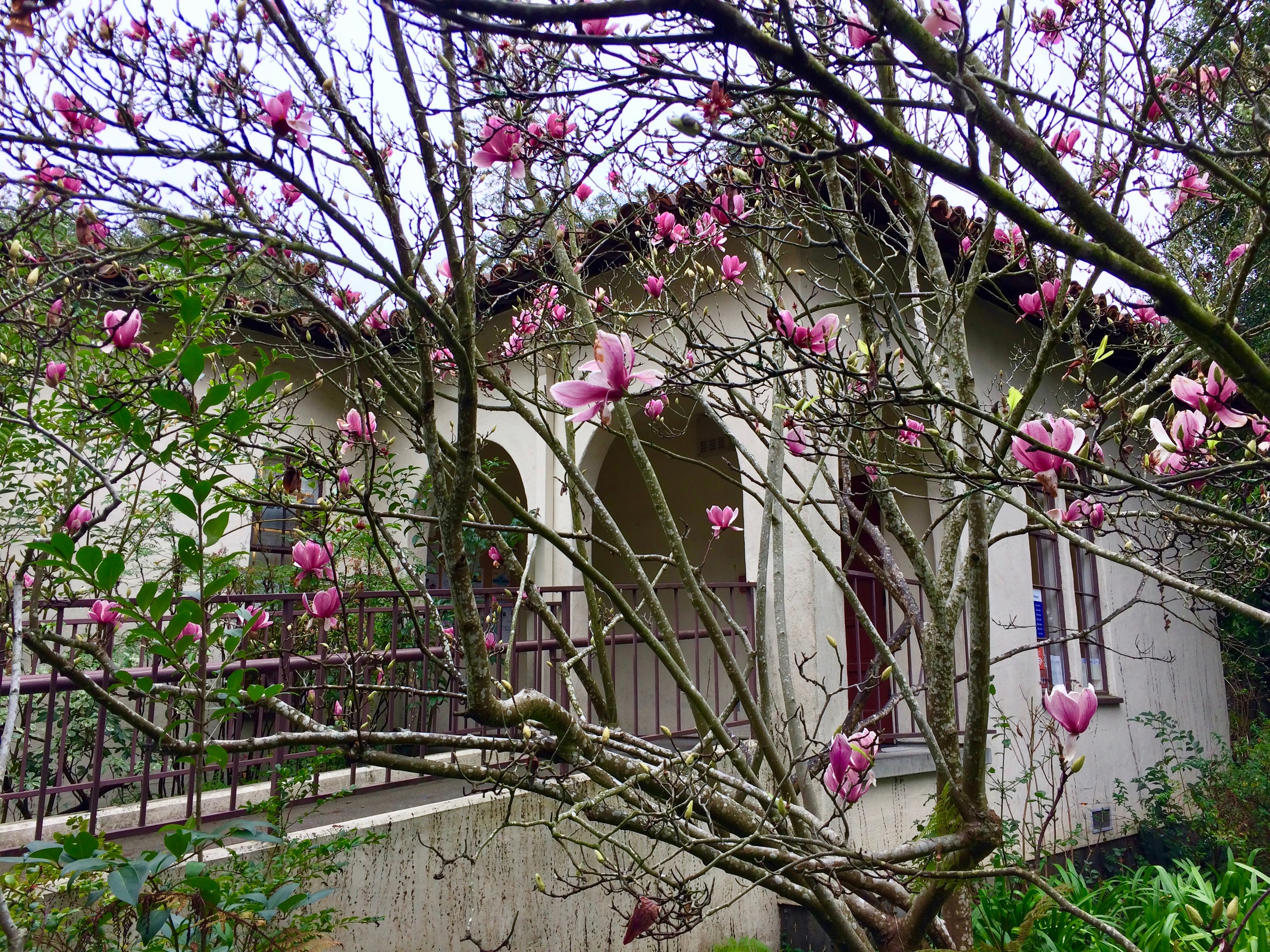 Menlo Park is one of the larger libraries we played in. 
They have a significant number of ongoing programs and excellent staff support for their programs!
The library is filled with people everywhere we look.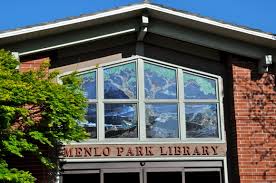 The best part of this performance was that Colleen's cousin Karen & her husband Robin came to see us play. 

We were invited to stay with Karen & Robin after the performance at a time we needed another warm, dry indoor setting.  

We had developed a leak in the back door of the van which soaked our bed. ( human error:)

Robin helped us to dry out all our bedding by building a nice hot fire and we spread out our mattress, pillows & bedding taking up the whole front room living area.  Everything dried out and we were thankful that the bedding prevented the instruments & equipment from getting wet underneath the bed. 

Karen & Robin were so gracious, then served us food and wine - wow, what great hospitality. 

Thanks Dear Cousins - it was so great to catch up!

Karen & Robin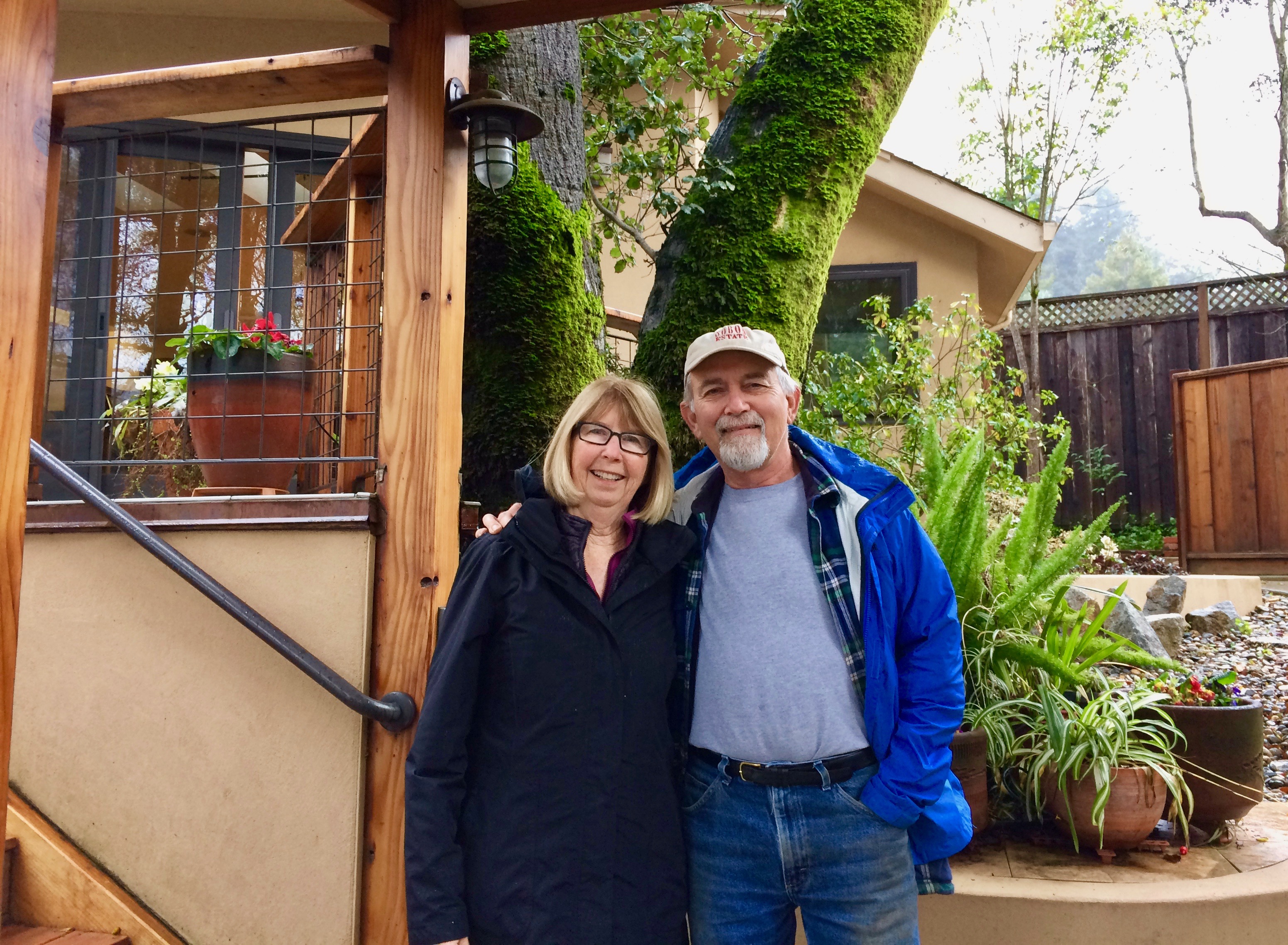 --------------------------------------------------------------------------------------------------------------------------------------------------------------
At this point we are headed South to LA & San Diego County area libraries. 

The weather is still cold & rainy, and we planned to camp enroute, so of course we needed to find a camp site with hot springs to warm up in.   

We are always on the look-out for new hot springs en-route, sure enough, Mercey Hot Springs pops up on the radar.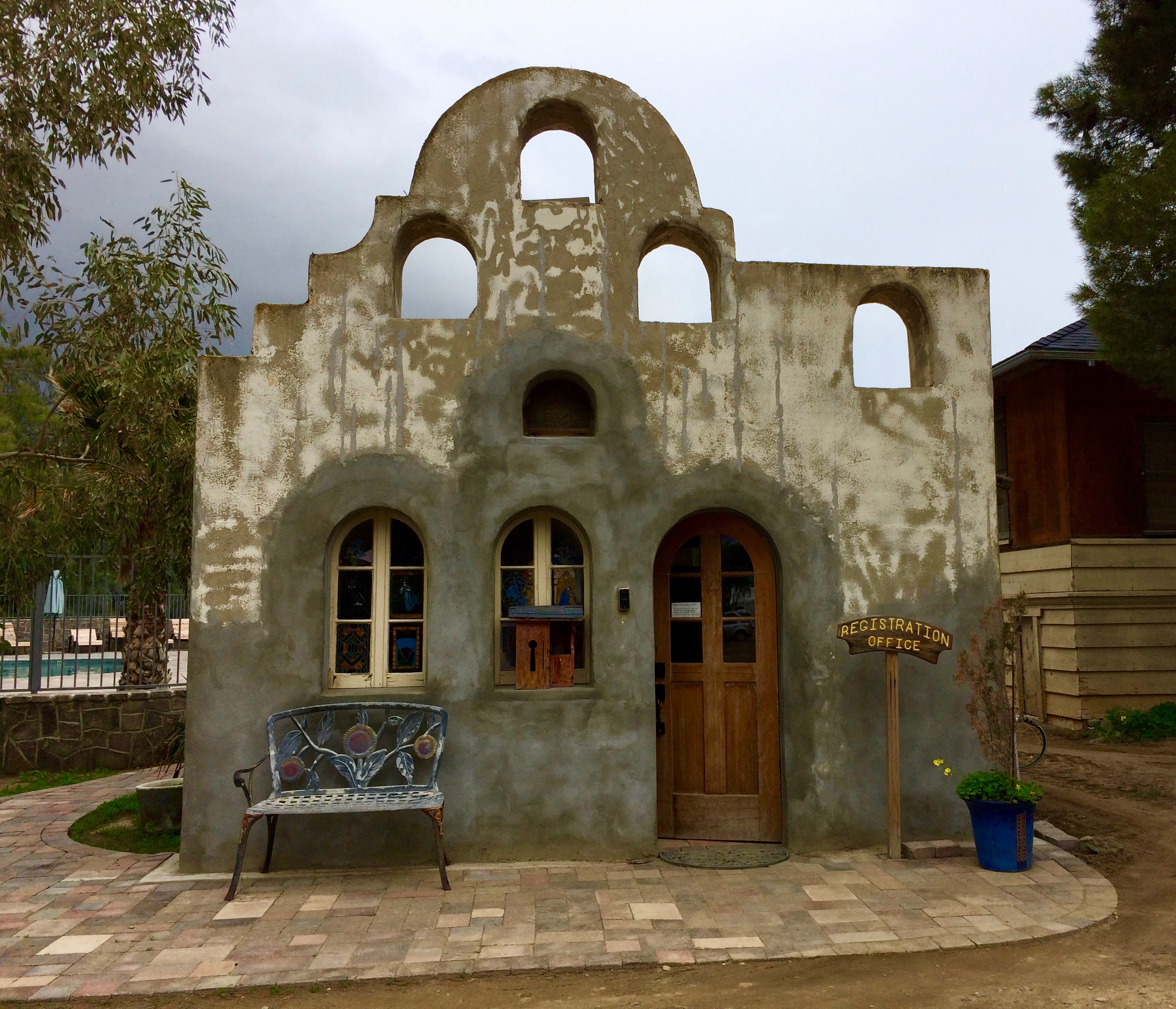 Ahhhh - beautiful spot & great water.  

We hiked up into the hills above the Mercey Hot Springs - the hills are GREEN!
2 years ago when we last came to California,  Californians were in the midst of a multiple year drought. The reservoirs were almost empty, rivers and streams with minimal flows or dry and trees very dry and stressed. 
This time, the reservoirs and streams are full.  Some rivers were flooding. 

Sometimes the green hills of California reminded us of Ireland. 

Picture taken from atop the hill overlooking Mercey Hot Spring cabins.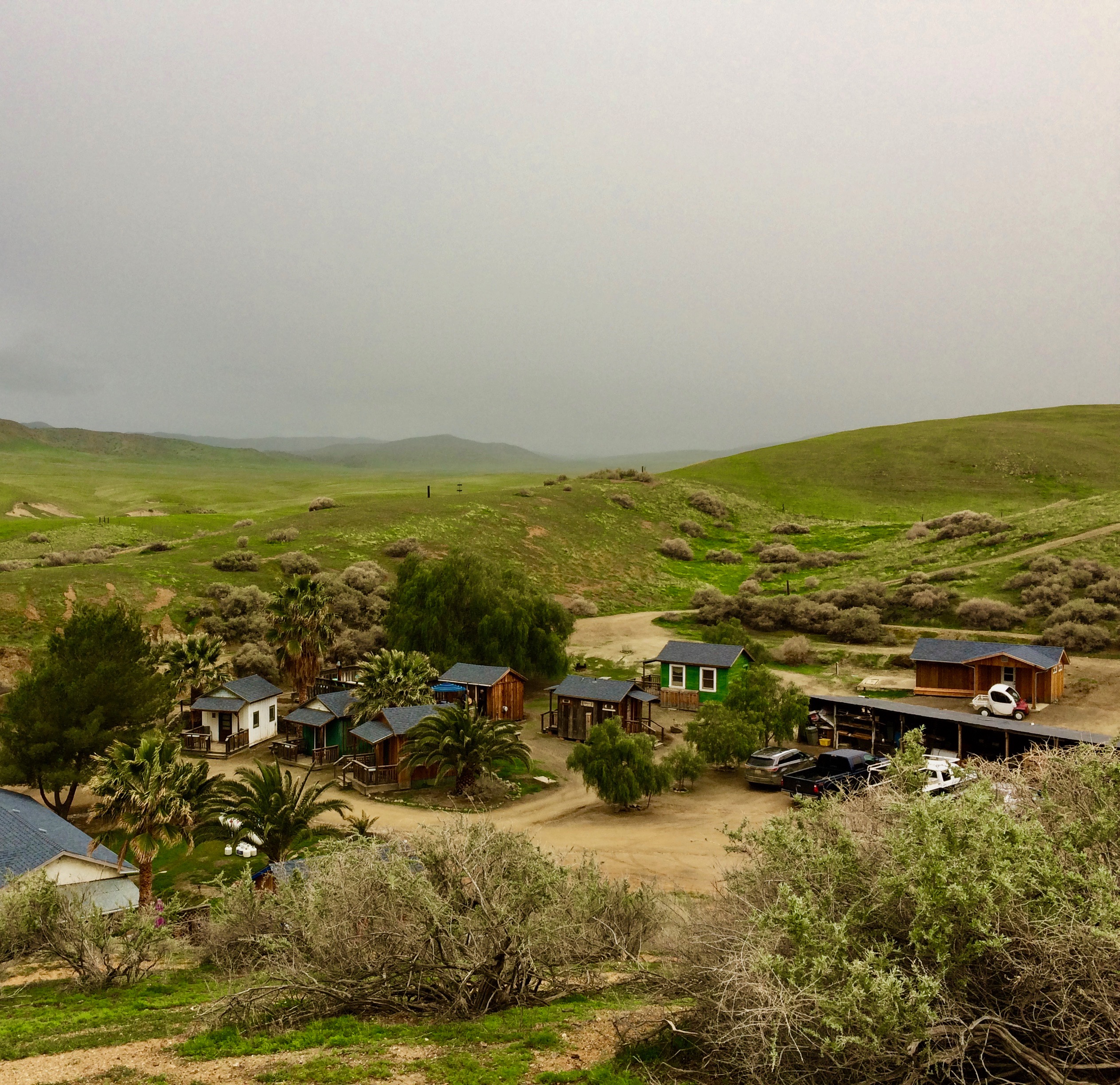 We make our way down to Southern California where it is a little drier and warmer and are happy to go back to play in Menifee CA @ the Sun City Library.

Shirley Wible is the program Librarian and has a keen interest in Poetry.  
She offers a Poetry class for her community and her class and this program are well attended.
It was great to see Shirley again and have a chance to catch up with her community and library news.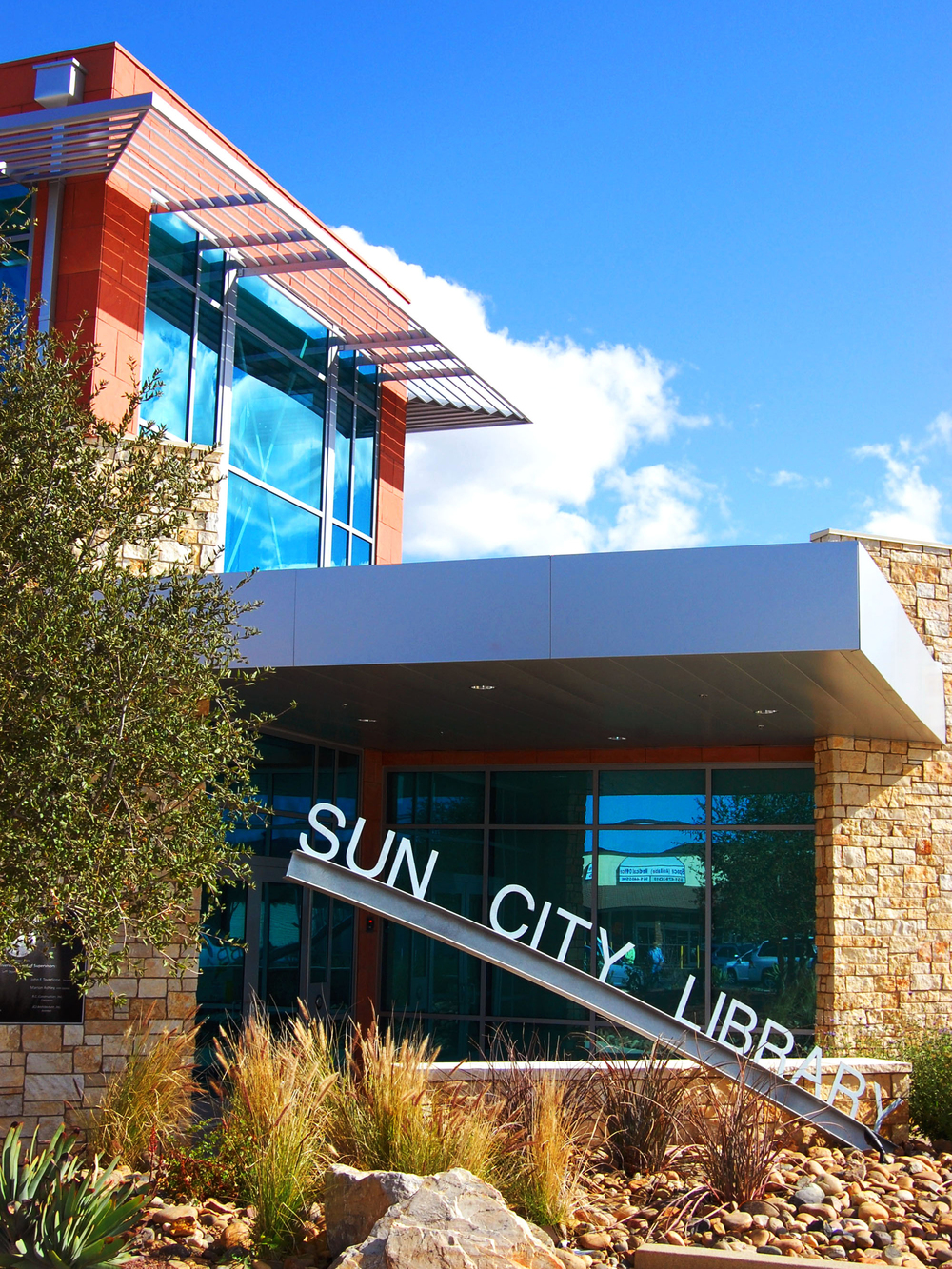 --------------------------------------------------------------------------------------------------------------------------------------------------------------

One of the most beautiful modern libraries we have played at is in the hills of San Diego County in Fallbrook, CA,
The history of this library includes an arson fire which completely destroyed the building and all of its contents in 1985.
According to the Los Angeles Times, the fire caused about $1 million in damage and destroyed 30,000 books.
Irreplaceable historical records and original artwork were also destroyed.

Look what eventually came out of that - wow, a beautiful state of the art building,( eco-conscious)  a room with a grand piano for performances and programs with great acoustics, a roof made up of succulent plants & beautiful artwork around the library.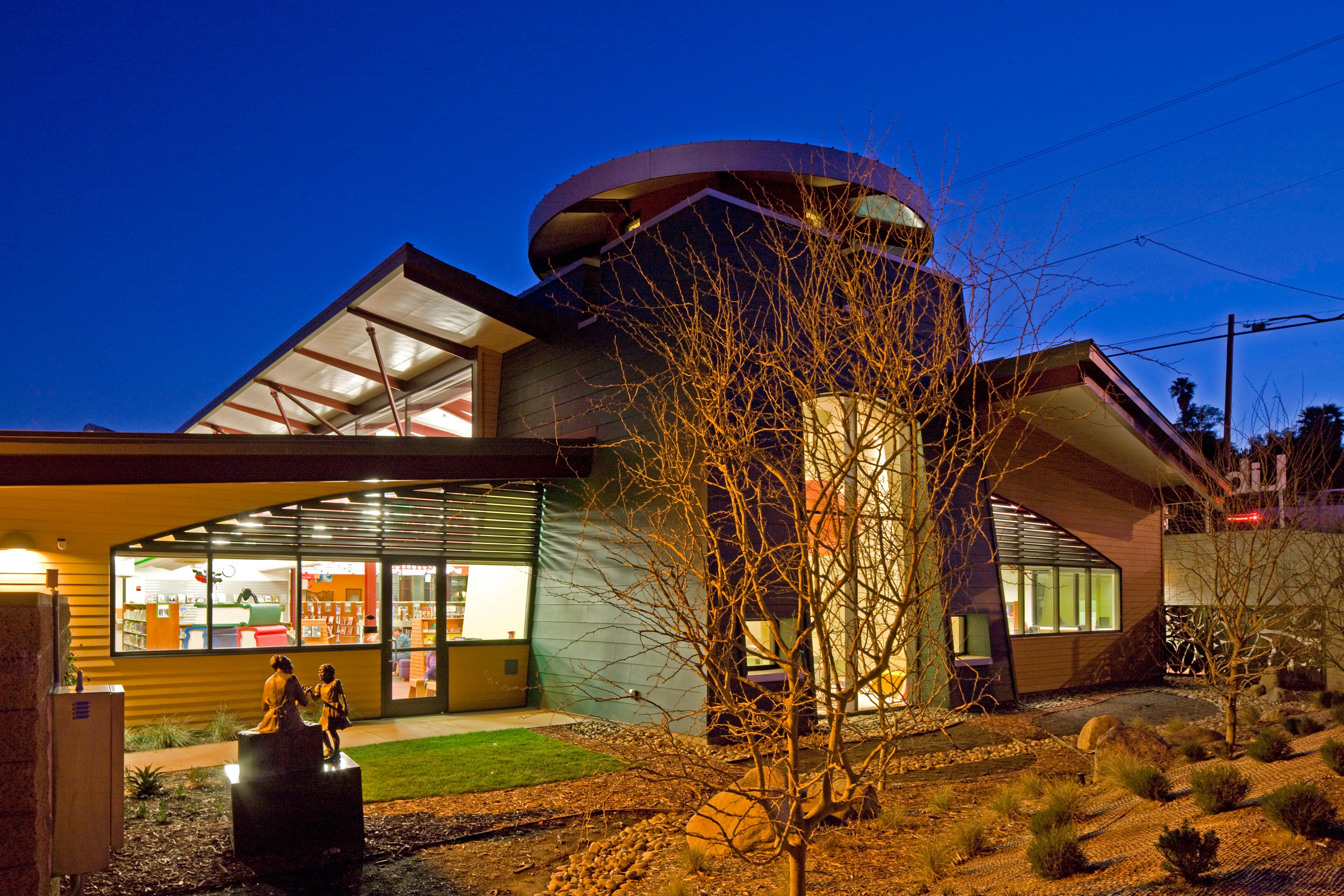 The weather was still quite chilly in southern California at this point and yet aother storm was moving in.  
We decided forgo camping this night and instead stay in an Air B & B.  We found the best one we have ever found for the best price ever!  Andee & Drew were great hosts, plus they had a beautiful backyard spa paradise.

We'd like to thank them as they truly offer kindness, hospitality & affordability which was beyond any B & B we've stayed at.
( If anyone would like to stay with them in Fallbrook, go to Airbnb and look under Andree & Andrew, a Primal Mates pick:)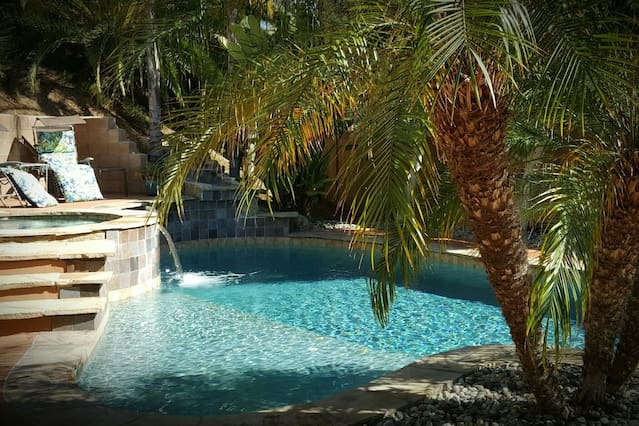 On to Laguna Beach, we love this coastline in the Laguna Beach area and enjoy this town.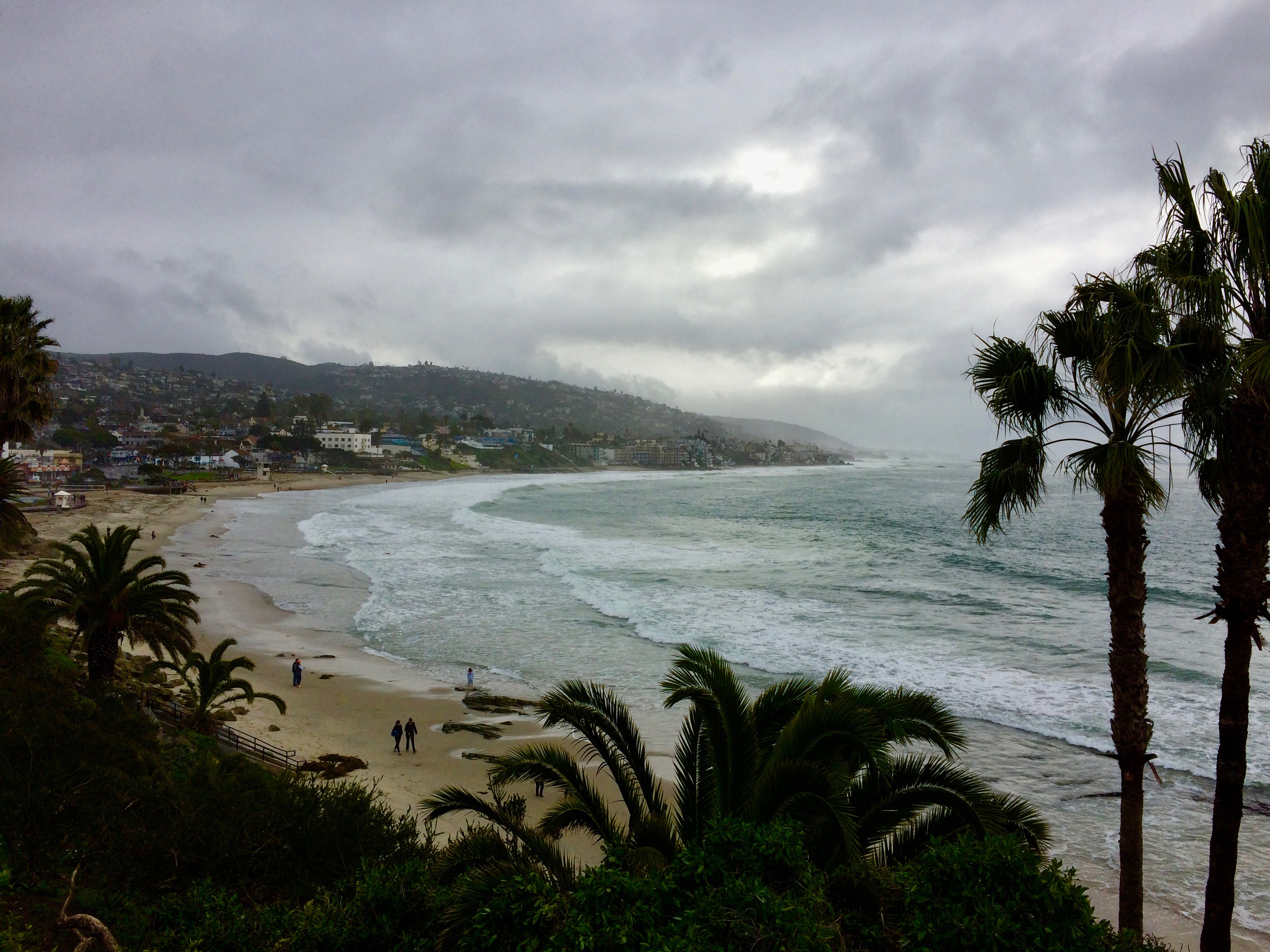 We played here 2 years ago and we were so happy to be invited back by librarian Jon Giliam.  
This community seems to especially love poetry & on top of that,  it's Valentine's Day!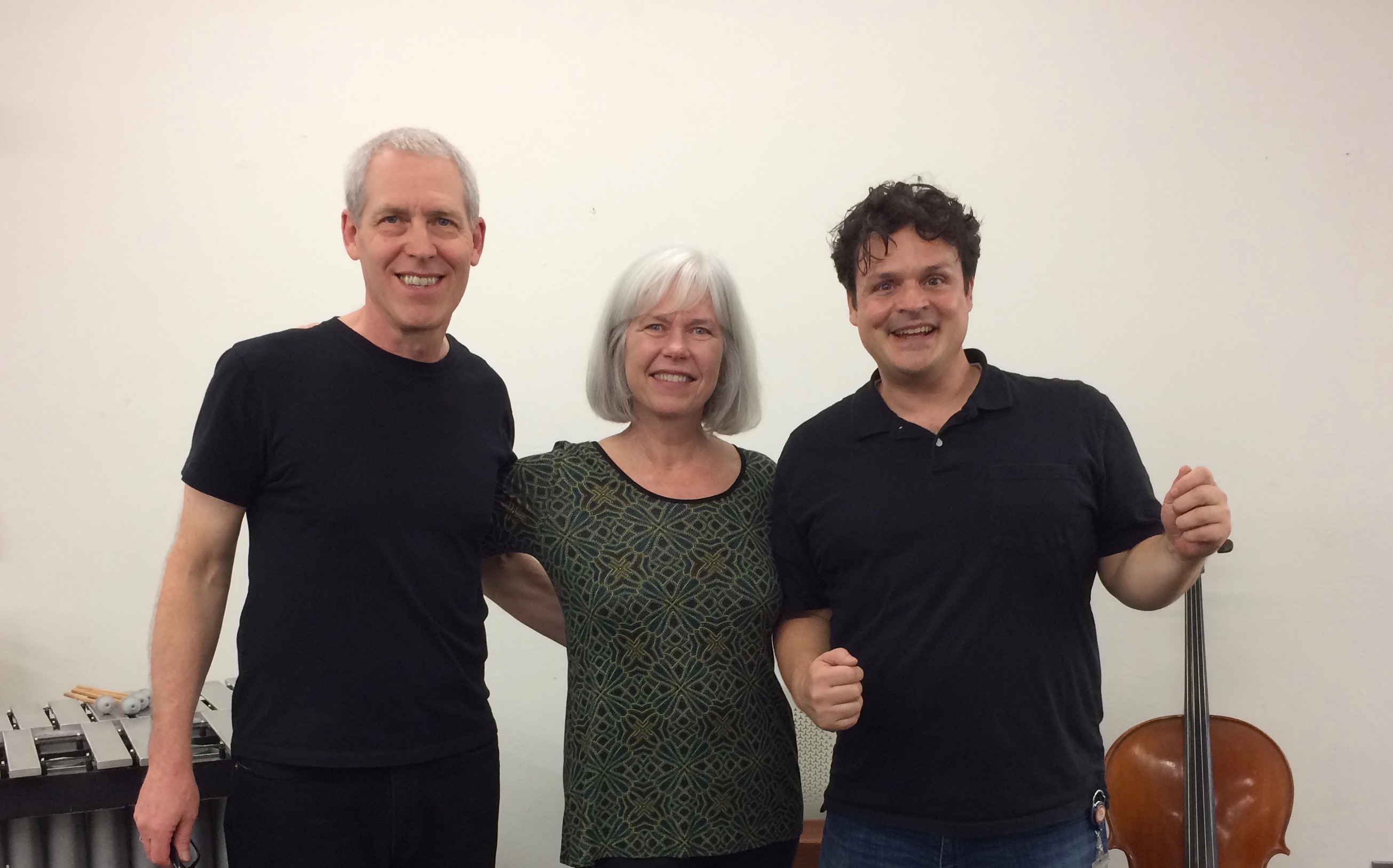 Jon recommended a place to eat  dinner after our performance- and it was so delicious with great ambience and service!  
We think it's called Nick's, but not certain - it definitely is a Primal Mate Pick! 
We did not eat out like this usually, but we celebrate this occasion with great appreciation for the excellent food and wine!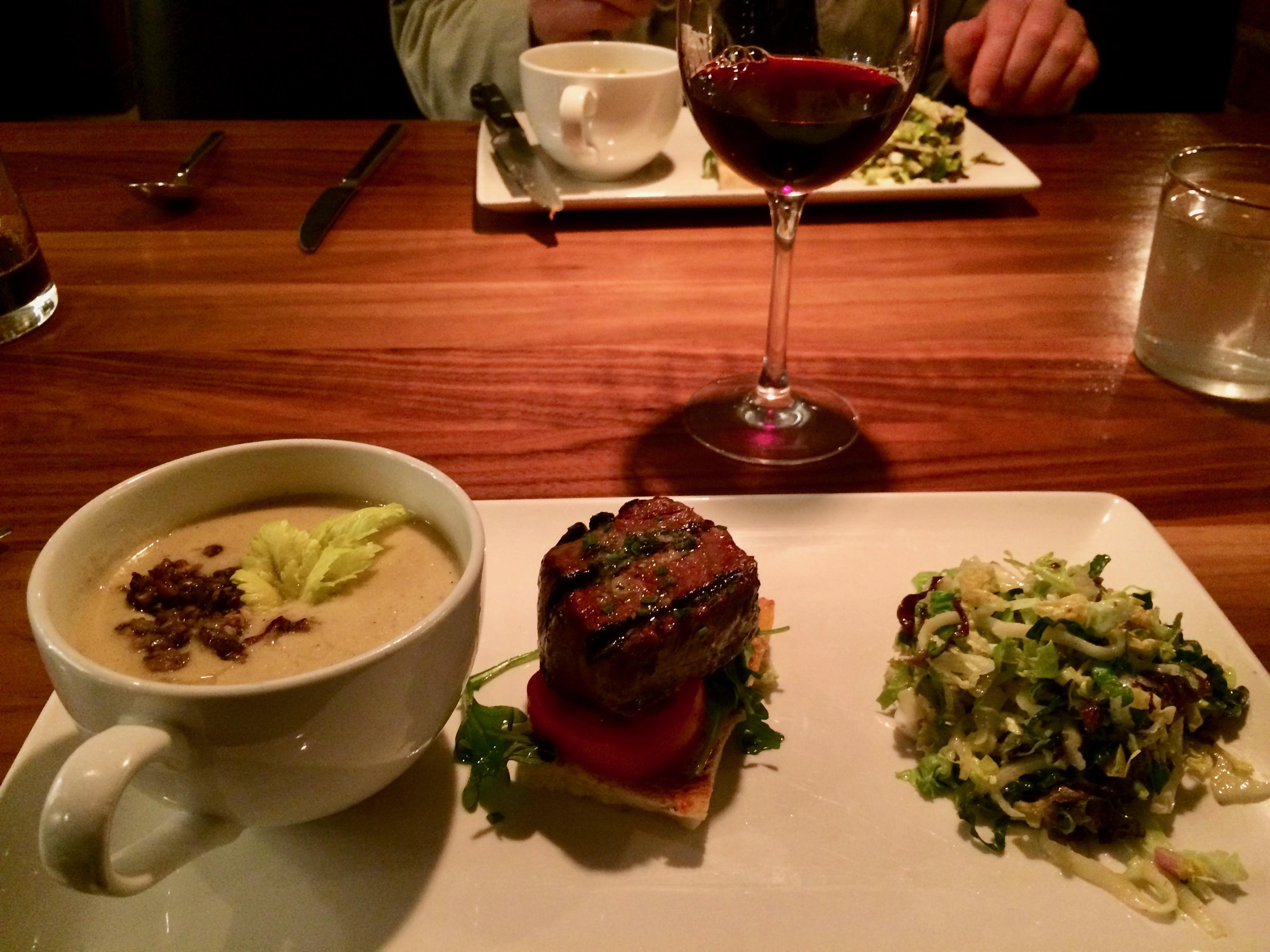 The weather is starting to improve and warm up a little. We found a great place to camp just north of Laguna Beach.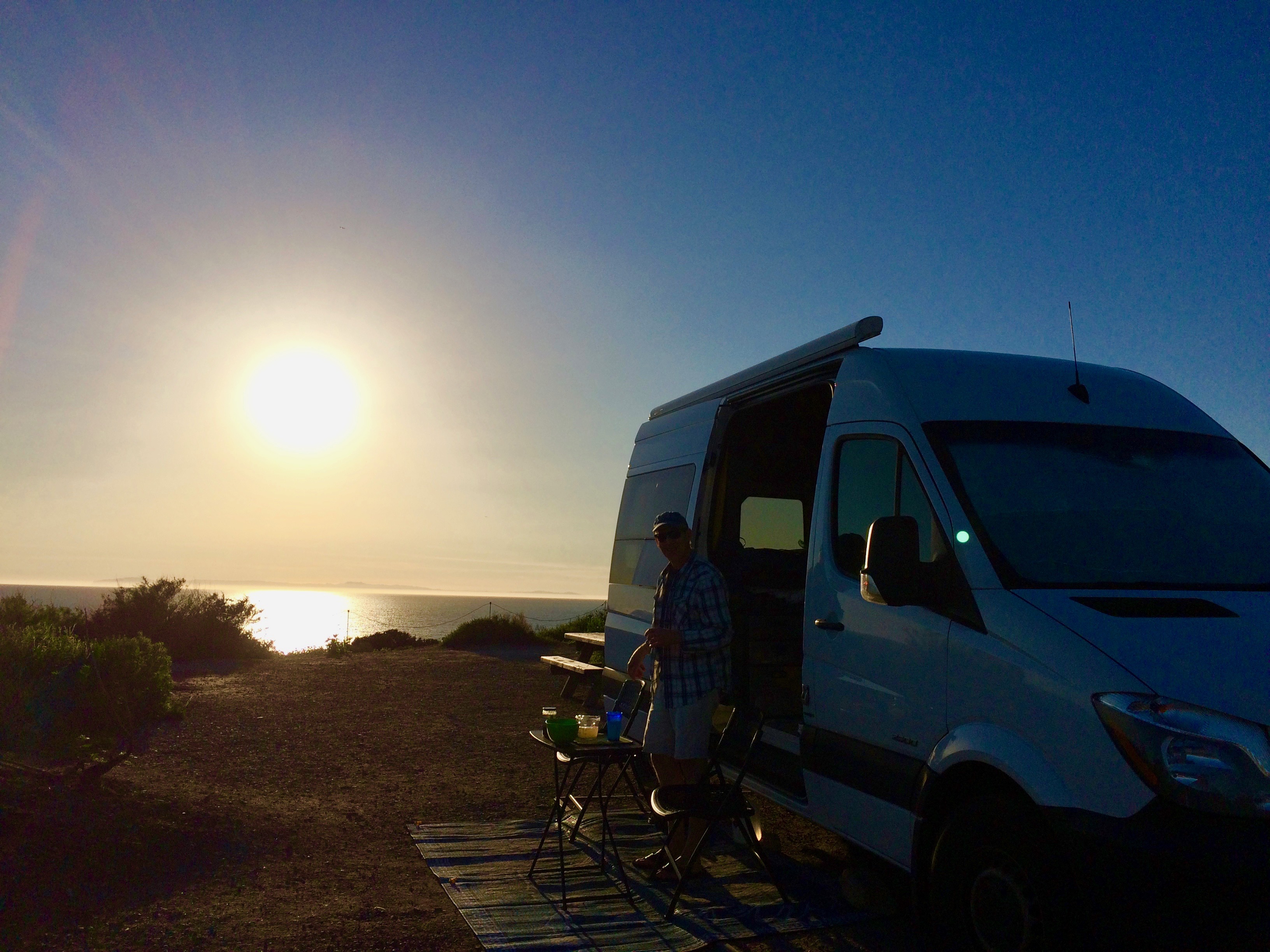 We camped here 2 different times as the access to several performances around this area were so convenient and this spot is particularly beautiful.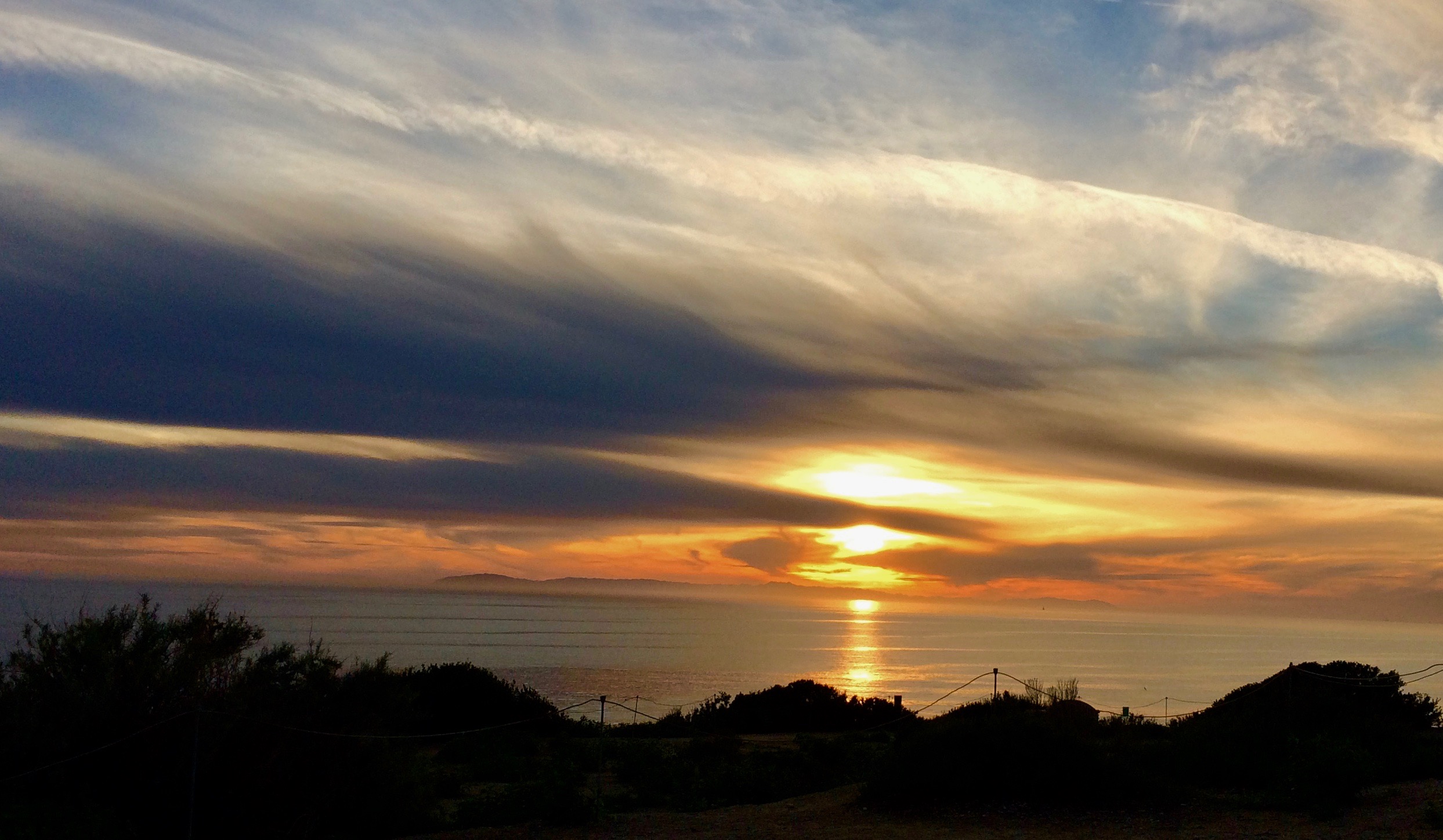 We have time to walk to Crystal Cove Beach.

Surfers waiting to catch a wave -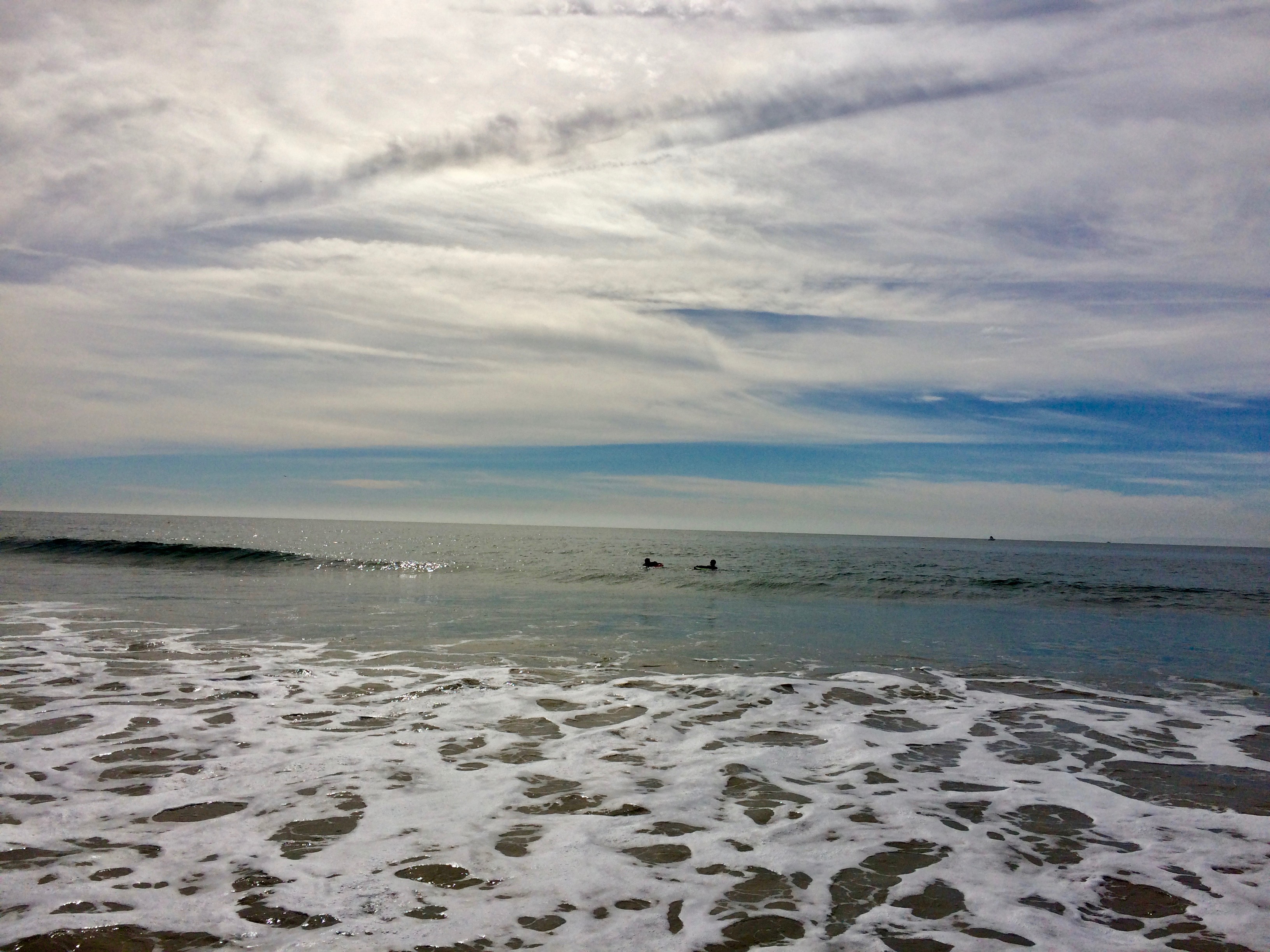 In the visitor center, we saw this poem by a 4th grader -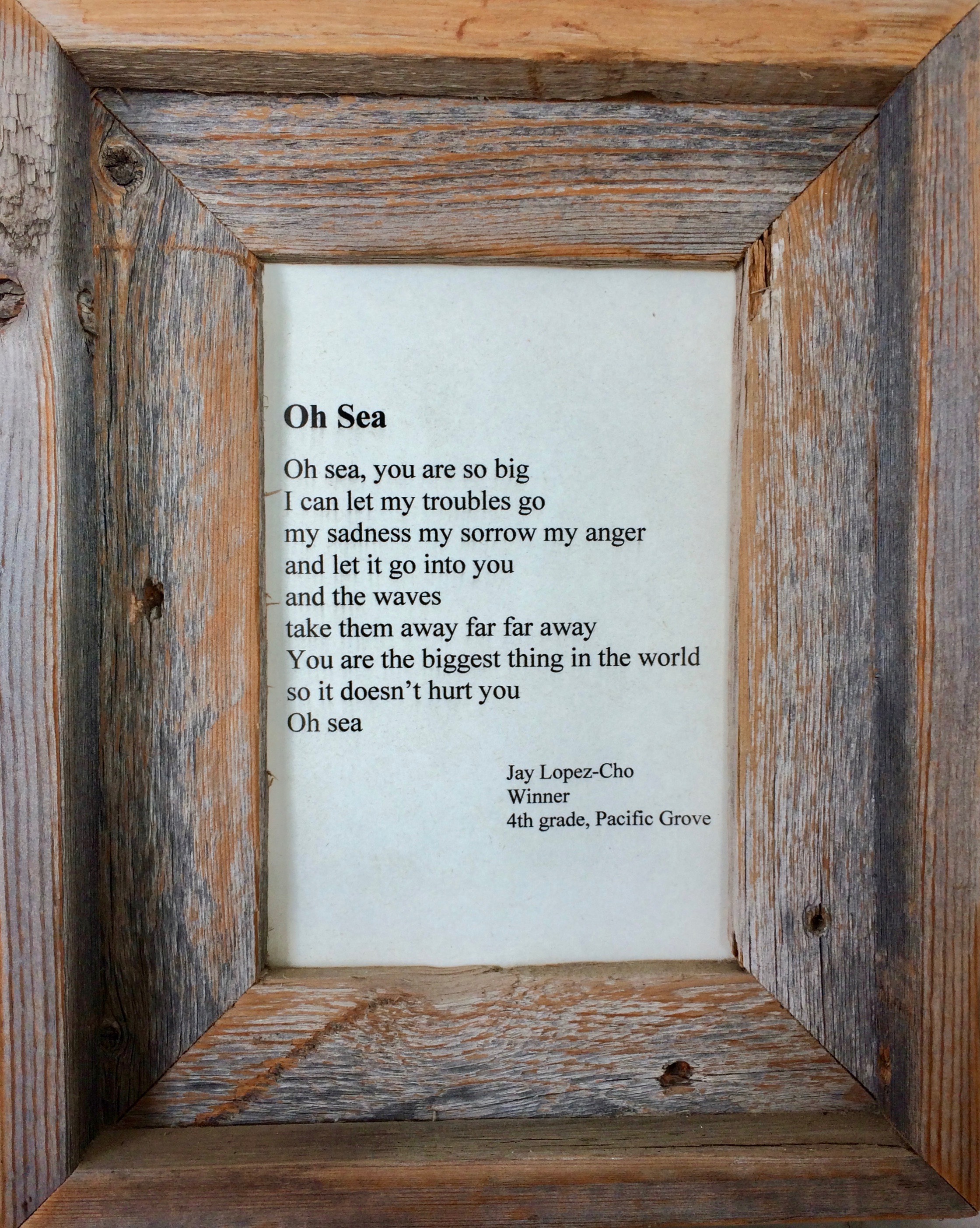 We were transfixed by the sea, beach and beauty of this area - and especially enjoying this warm day in particular. 

But .....too soon, another storm is moving into southern California as we head south of LA to play our next performance at Fountain Valley Library.  We find a motel just before the heavens let loose of incredible amounts of water and some flooding which we fortunately avoided. 

The rain does let up the next day and we leave early to have lunch with Chris' nephew Sam at a delicious small Turkish restaurant, Mr. Kebap, a Primal Mates pick for sure!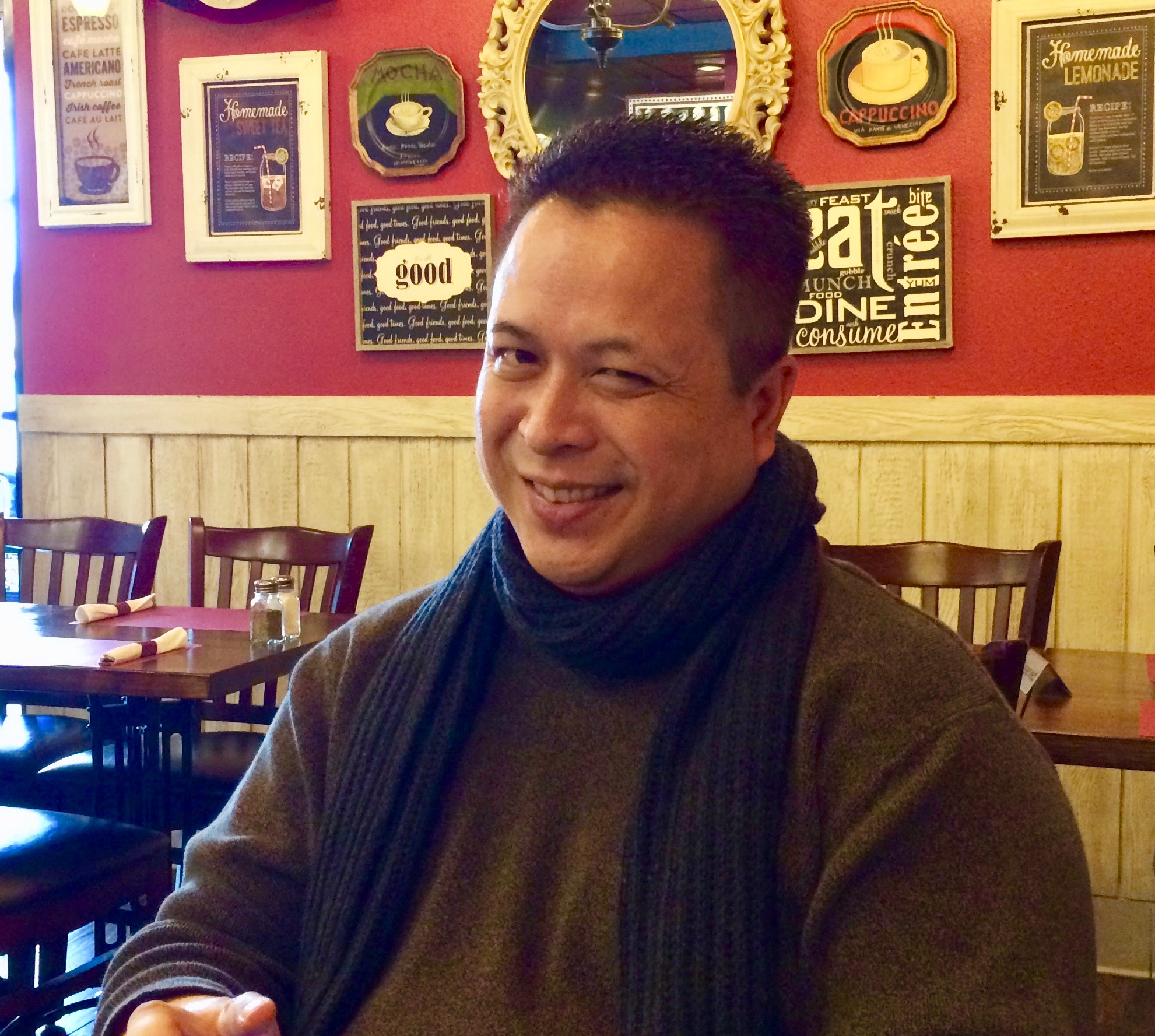 We are so happy to see Sam again as it has been many years since we've seen each other, we had a lot to catch up on.

After lunch we head over to Fountain Valley Library.
Emi Wong is the Librarian and the turnout is mostly young people around high school age.
On this tour especially, we have seen many young people attend the program - we love their interest, enthusiasm and questions. 

Emi Wong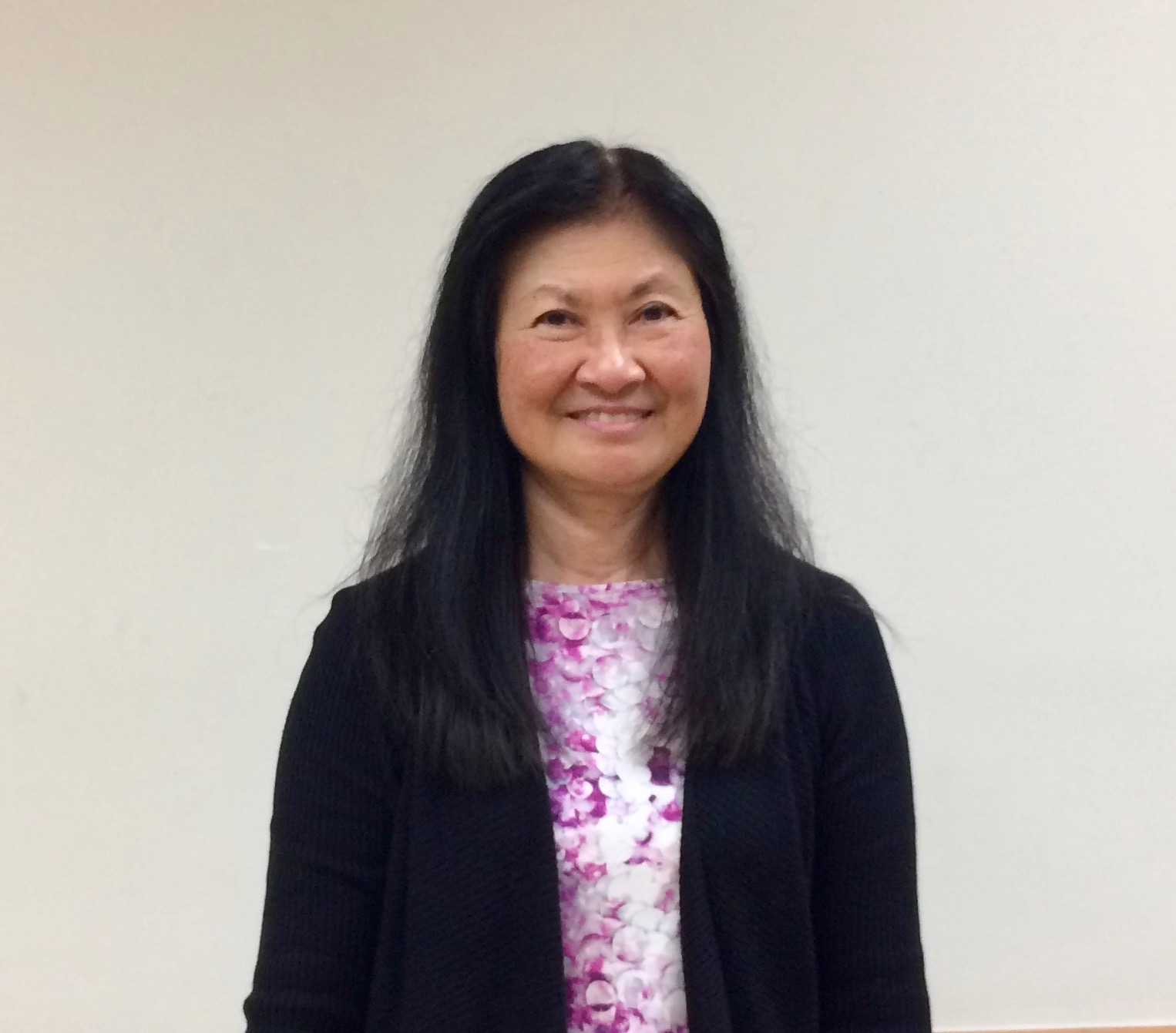 The best part of this day's performance is that our musician friend & composer / trombonist Michael Vlatkovich joined us to play on a few pieces.  

We always look forward to seeing Michael! 

He is a wonderful player and a has a great sense of humor and wit & we had a good time hanging out with him after the performance over dinner.   Yes we ate well on this particular day!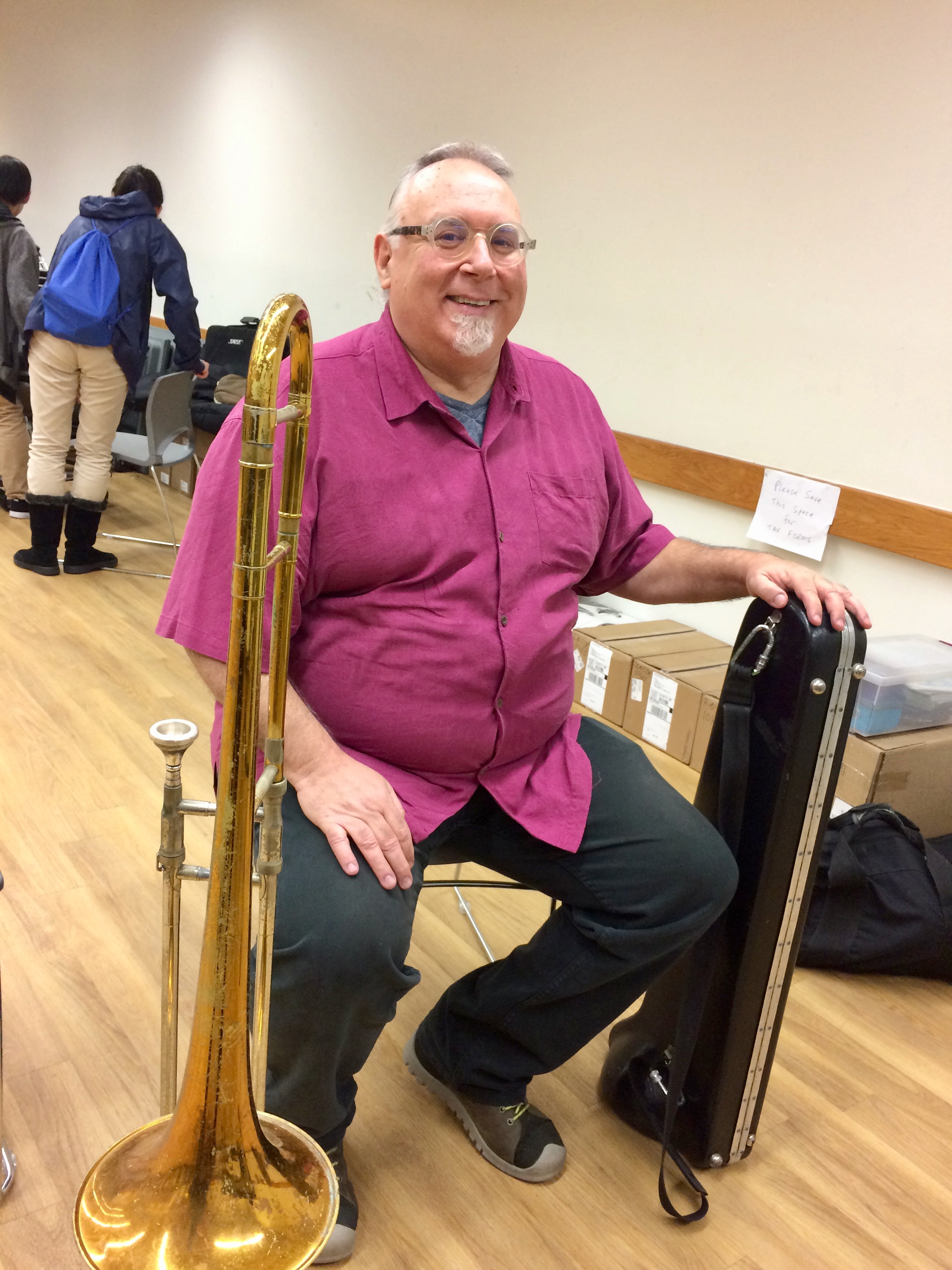 OK, at this point we have a little time off before our next performance, so we head to a place where we think we will be out of the rain, and it just may be warmer, a place in the Anza Borrego.  This part of the desert a remote section in Southern San Diego County,  not very far from the Mexican Border. 

Along the way, the landscape changes as we head inland and south, we leave the traffic behind.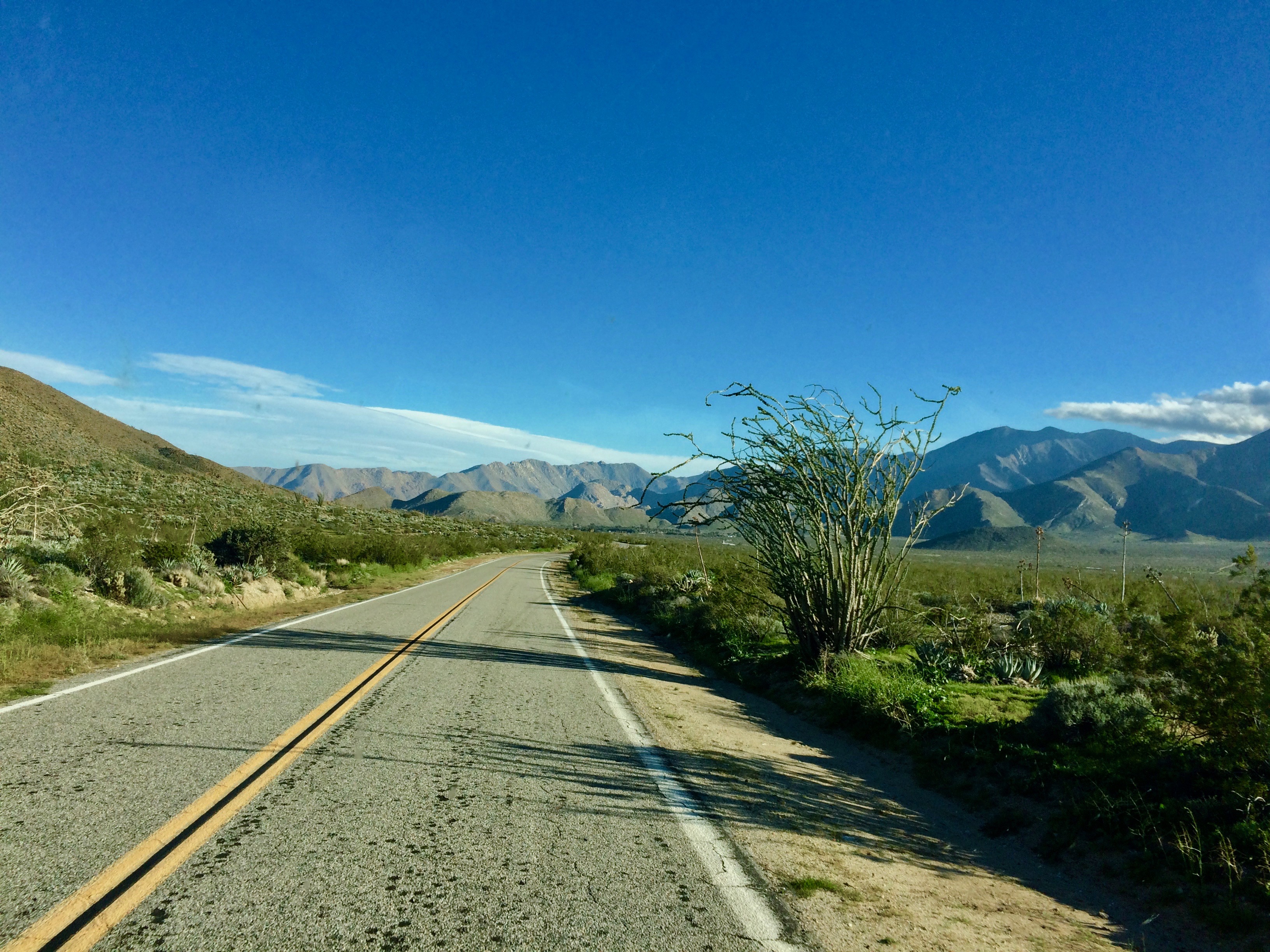 And yes it IS getting warmer and we are looking for our turn-off....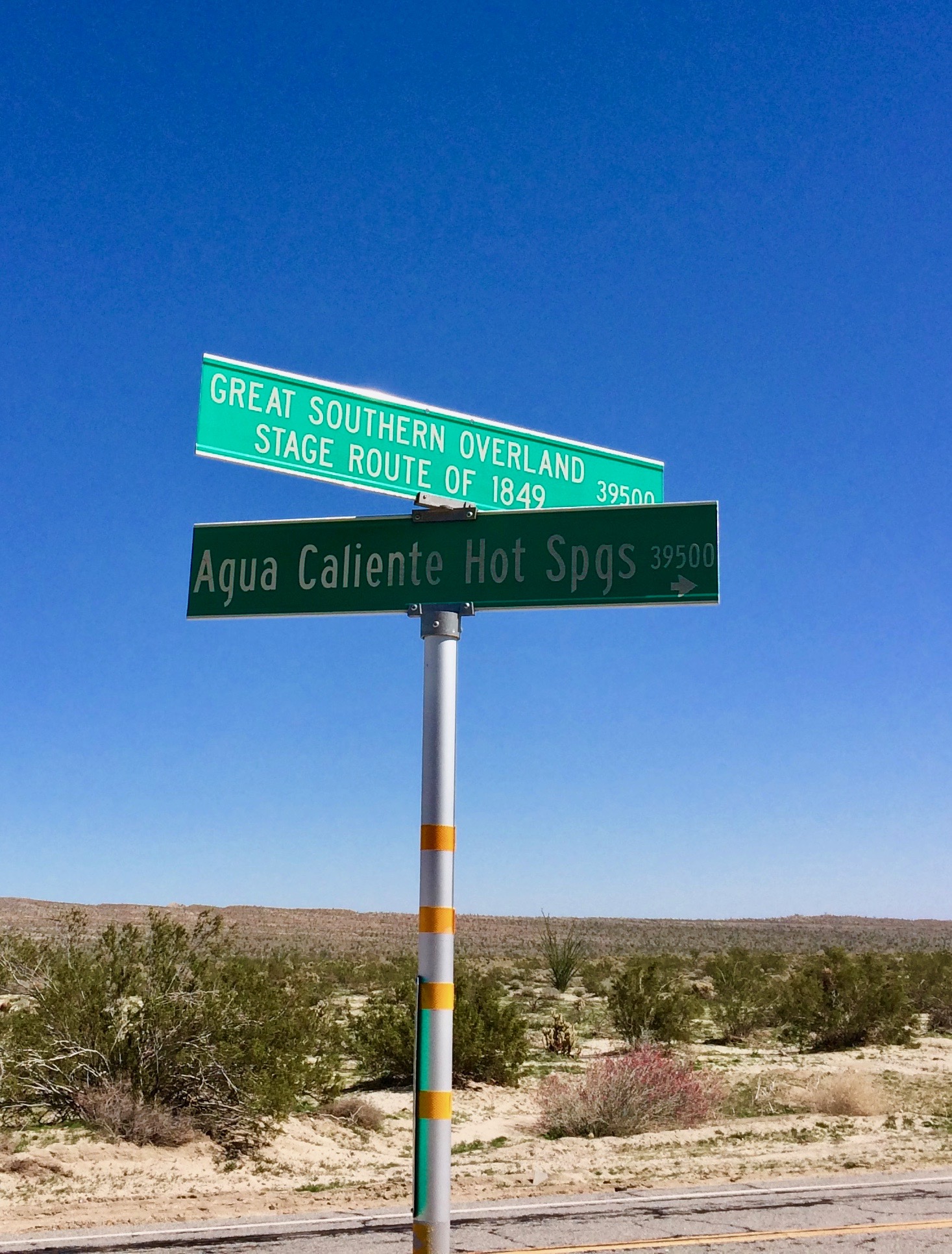 Ahhh, Agua Caliente, a lovely place to camp in the desert with few people and a nice county park with Hot Springs ( yay )  & trails.  
We can have a camp fire here, listen to cowboy music, gaze at the starts & howl at the moon and Chris can play his Melodica:)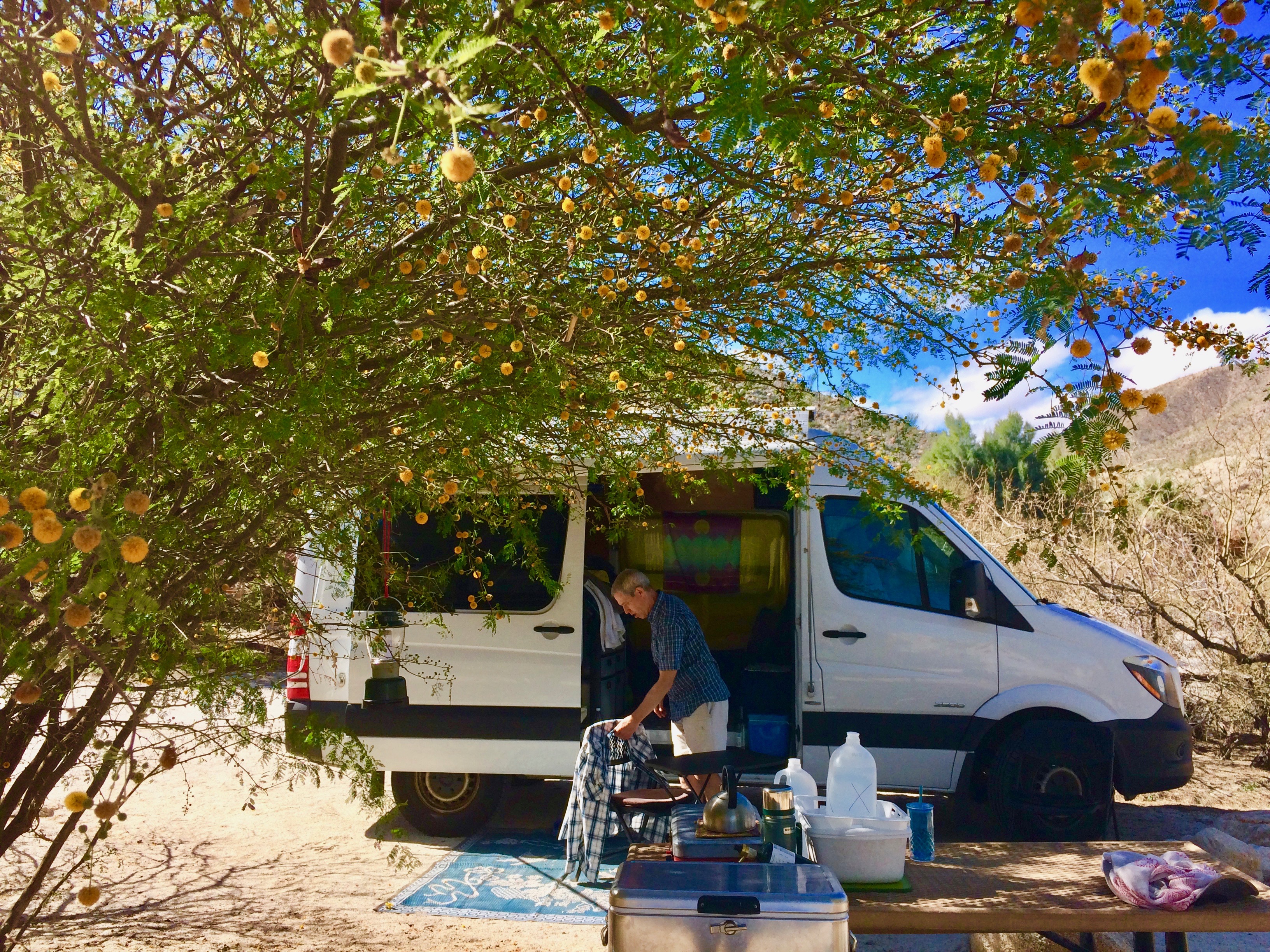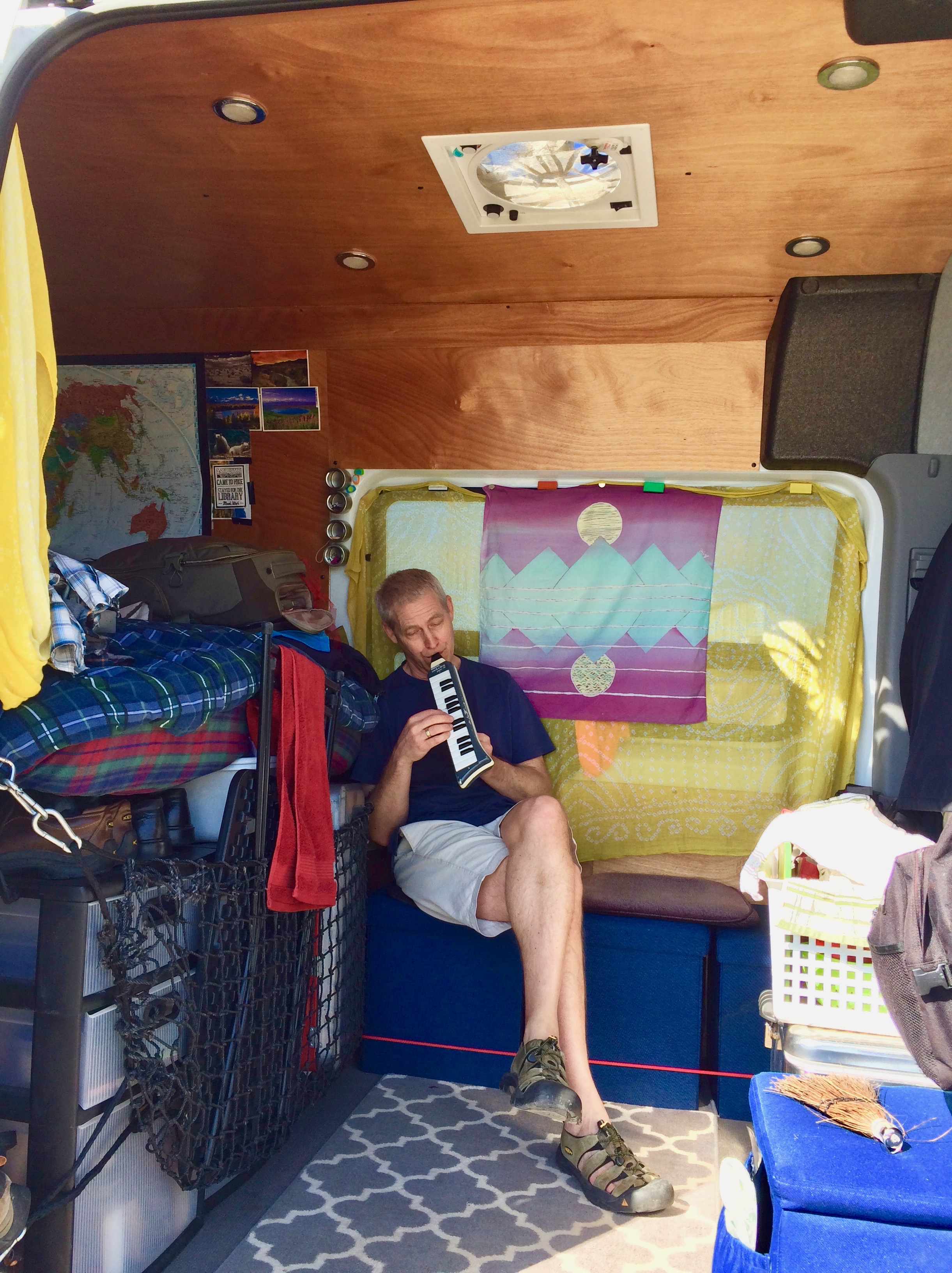 This landscape & desert "inhabitants" are like no other, some mystical electric world of it's own, as if we are on another planet.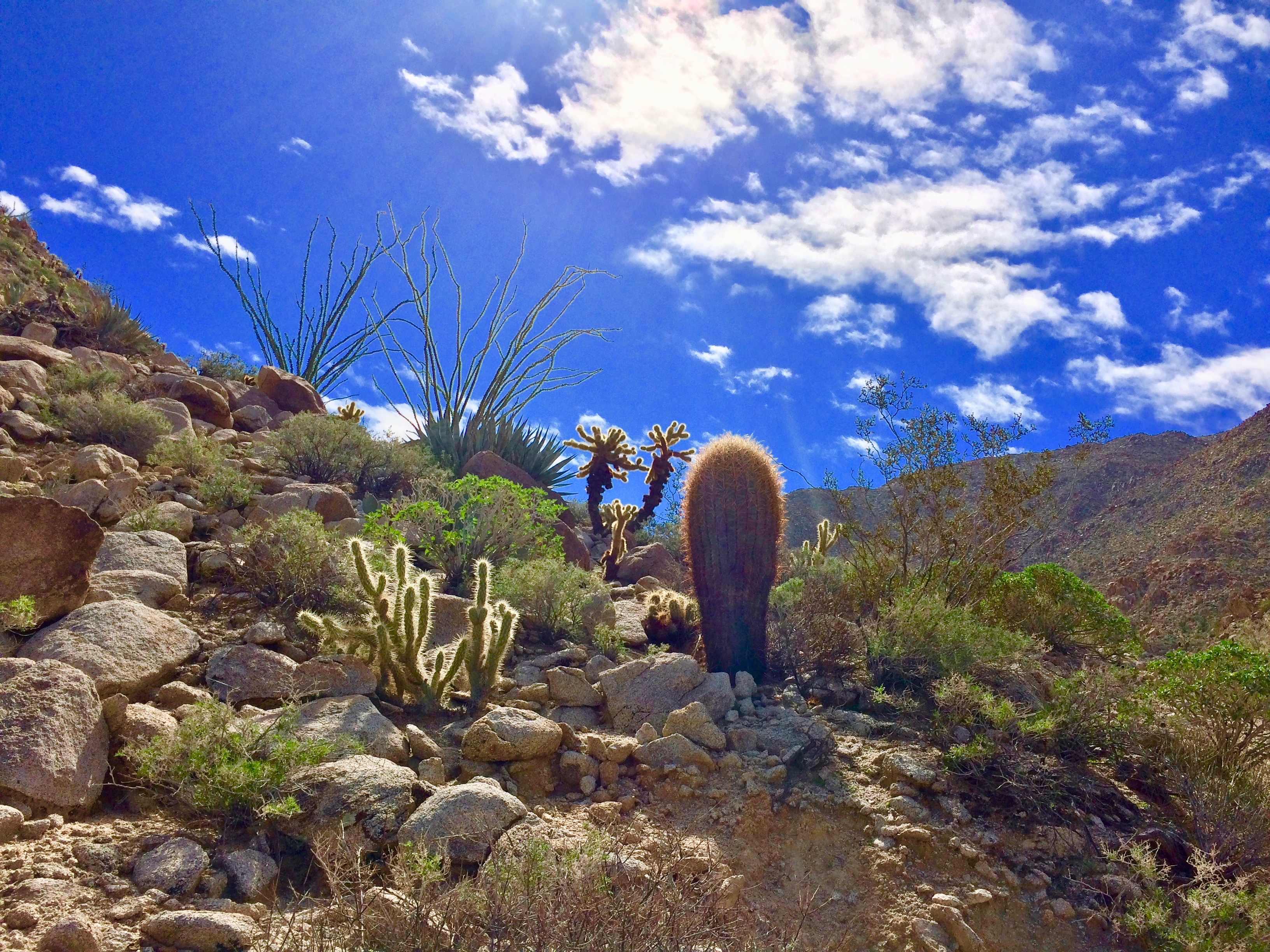 After R & R in the Anza Borrego Desert, we are officially heading north for the rest of our tour.
Our next library performance is not too far away from  Agua Caliente, maybe 2 1/2 hours North. 
One of the most beautiful & oldest library ( circa 1894 ) we have played in on the West Coast is the A.K. Smiley Library in Redlands, CA.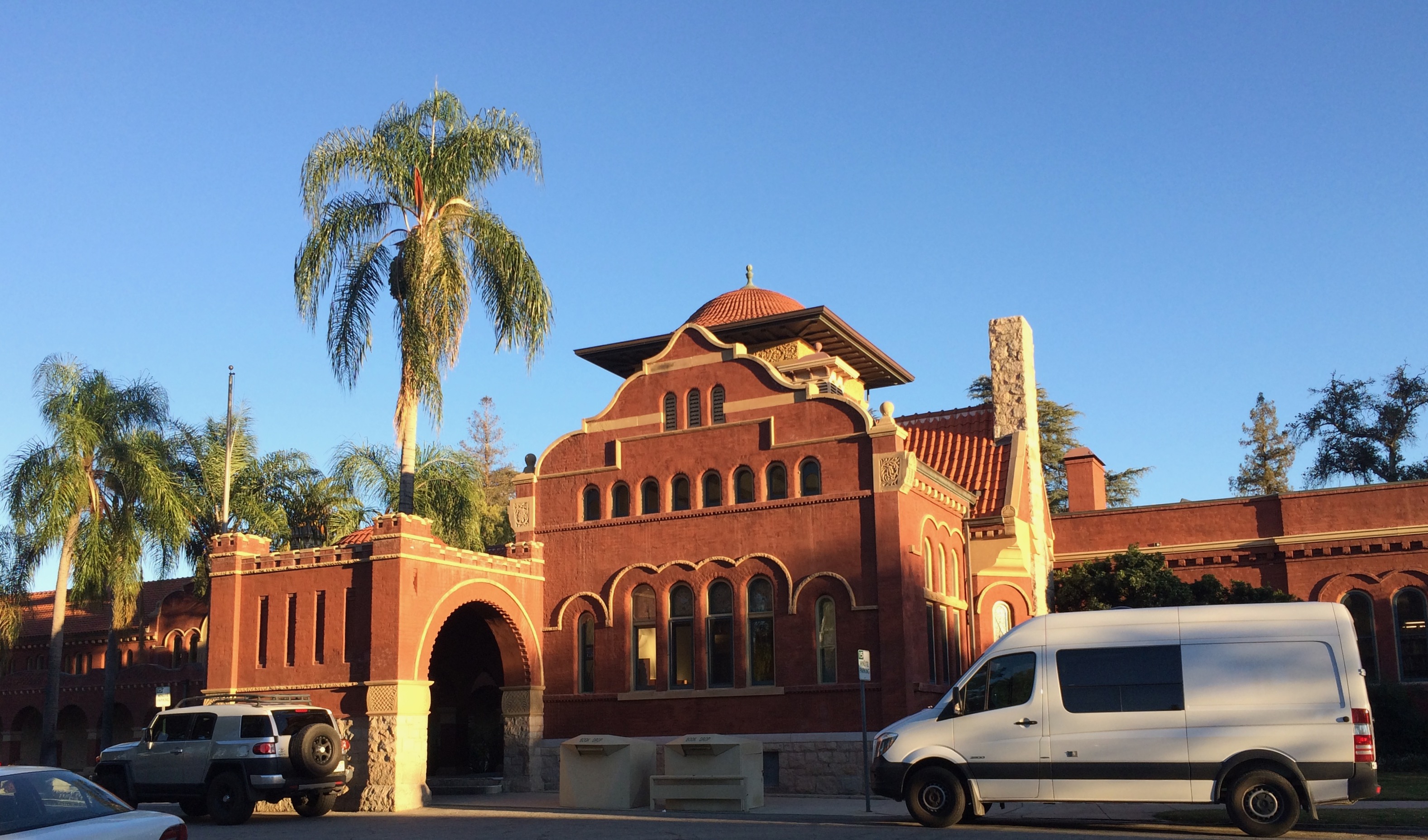 This is probably our most favorite library we have played in. 

Exploring the inside of this library reveals nooks and crannies, tower, outdoor garden courtyard, artwork throughout, beautiful woodwork and architecture and across a grassy park- like area behind the library is one of the oldest Lincoln Memorials West of the Mississippi. 
Daniel Slota, Librarian, ( below ) next to the Smiley Brothers. ( puppets )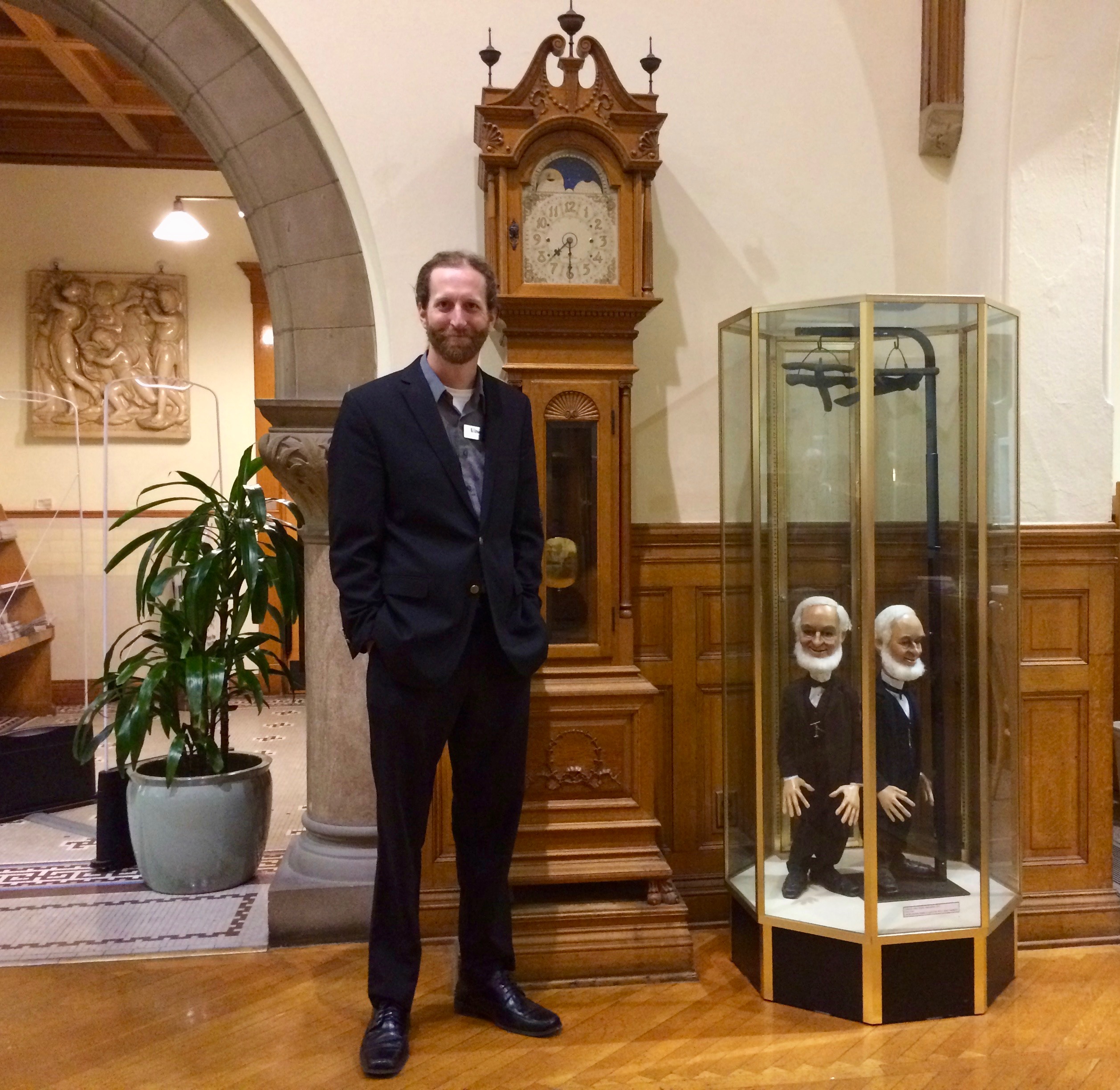 Daniel told us that a little while ago he was concerned that libraries would not survive the current direction of funding cuts for libraries. Presently, he is encouraged to see the outpouring of support and he specifically knew of a community which saw it's library close down, but now re-opened after the community came together to find ways to fund their library.  

Redlands is fortunate because they have always been well funded from the start. 
For anyone traveling through Redlands, CA, it is more than worth the time to visit this library and learn about it's history.
For more info: http://www.akspl.org/about-akspl/.


We made it back to the Bay Area for 3 more performances @ the San Carlos, Walnut Creek & Foster City libraries. 

Bitian Zhang was our contact person @ San Carlos Library & she was very interested in our program and helped us set up. 

We enjoyed talking with Bitian about Amherst Massachusetts as she had gone to college there.  

She was very interested in the Emily Dickinson poems in the program and very happy we had been able to present this program at the Amherst MA library last fall. 

Chris & Bitian


We enjoyed our time in Walnut Creek and their beautiful library there.  
They have a nice room for performances and programs. 
The artwork is modern, unique and interesting.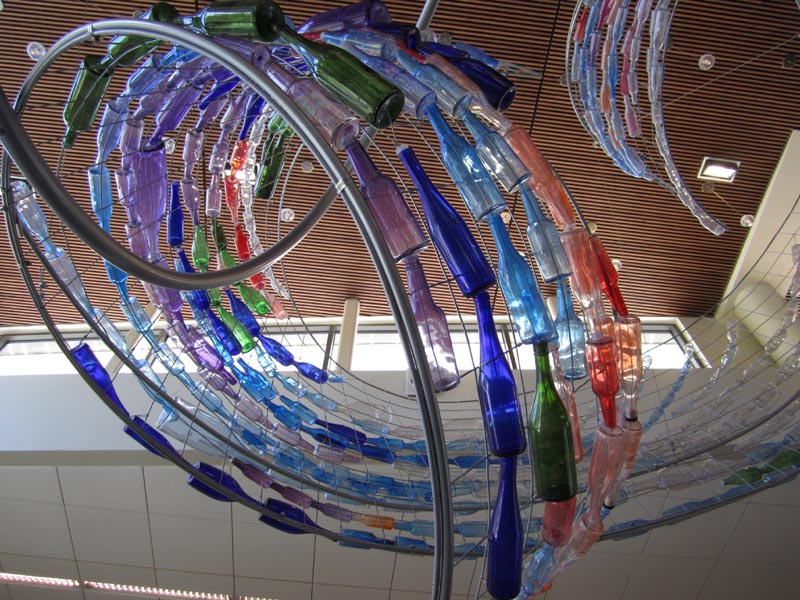 Our last performance in the Bay Area was @ Foster City Library.  
We really enjoyed performing here 2 years ago and impressed with the turn-outs they have for their performances.  
Could it partly be the wine and cheese they serve before the show??  
We'd like to think PoetryMusic was the main draw:)

After we packed up and ready to load our equipment out of the library, one of the librarians offered Colleen a spin around the library on their Library Bicycle Cart -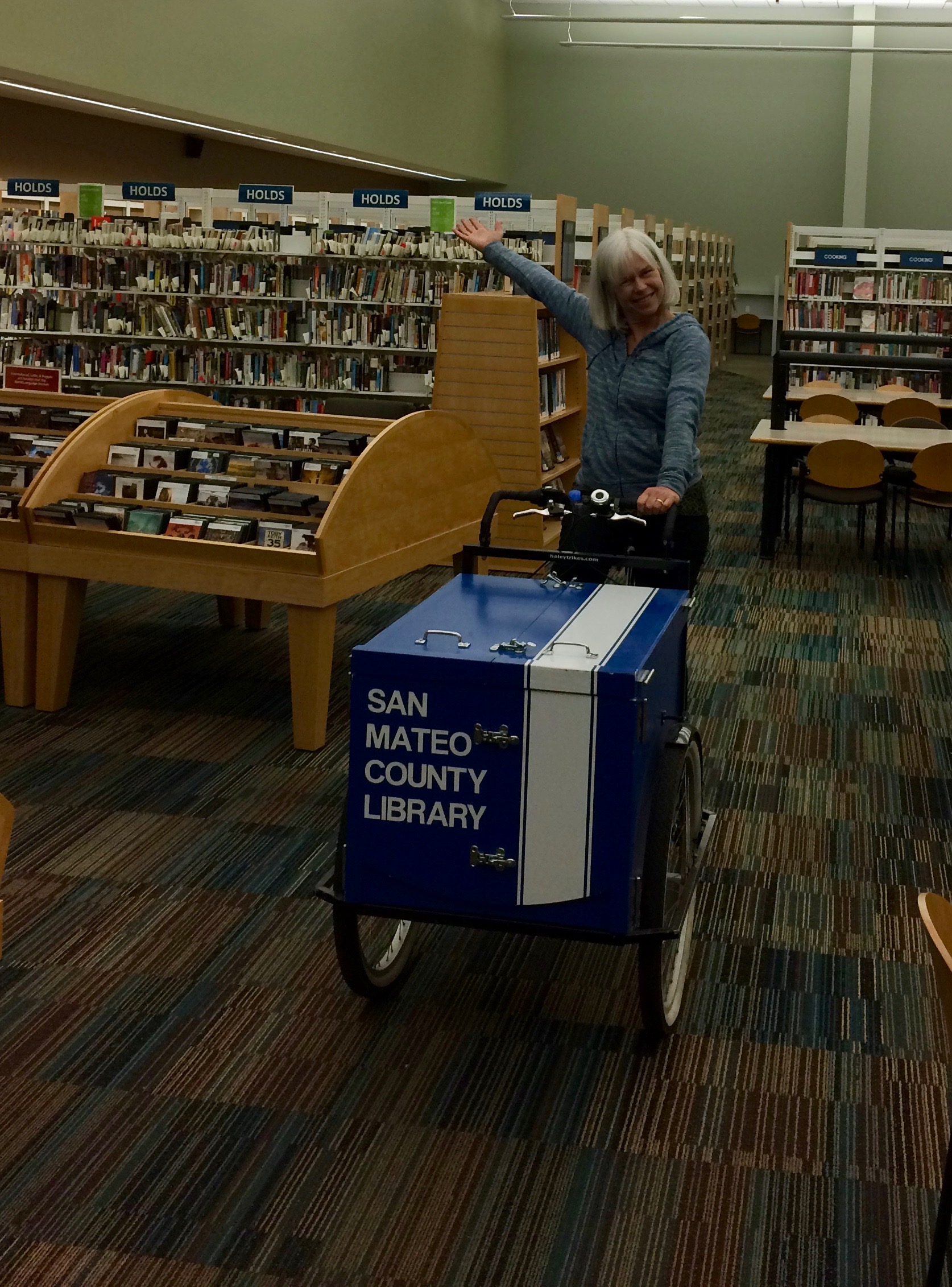 We'd like to thank our friends Jim & Linda Hudak for inviting us to stay with them during this part of our tour.  
Great hospitality folks and always great to see you, thanks for being a part of our PoetryMusic support team!!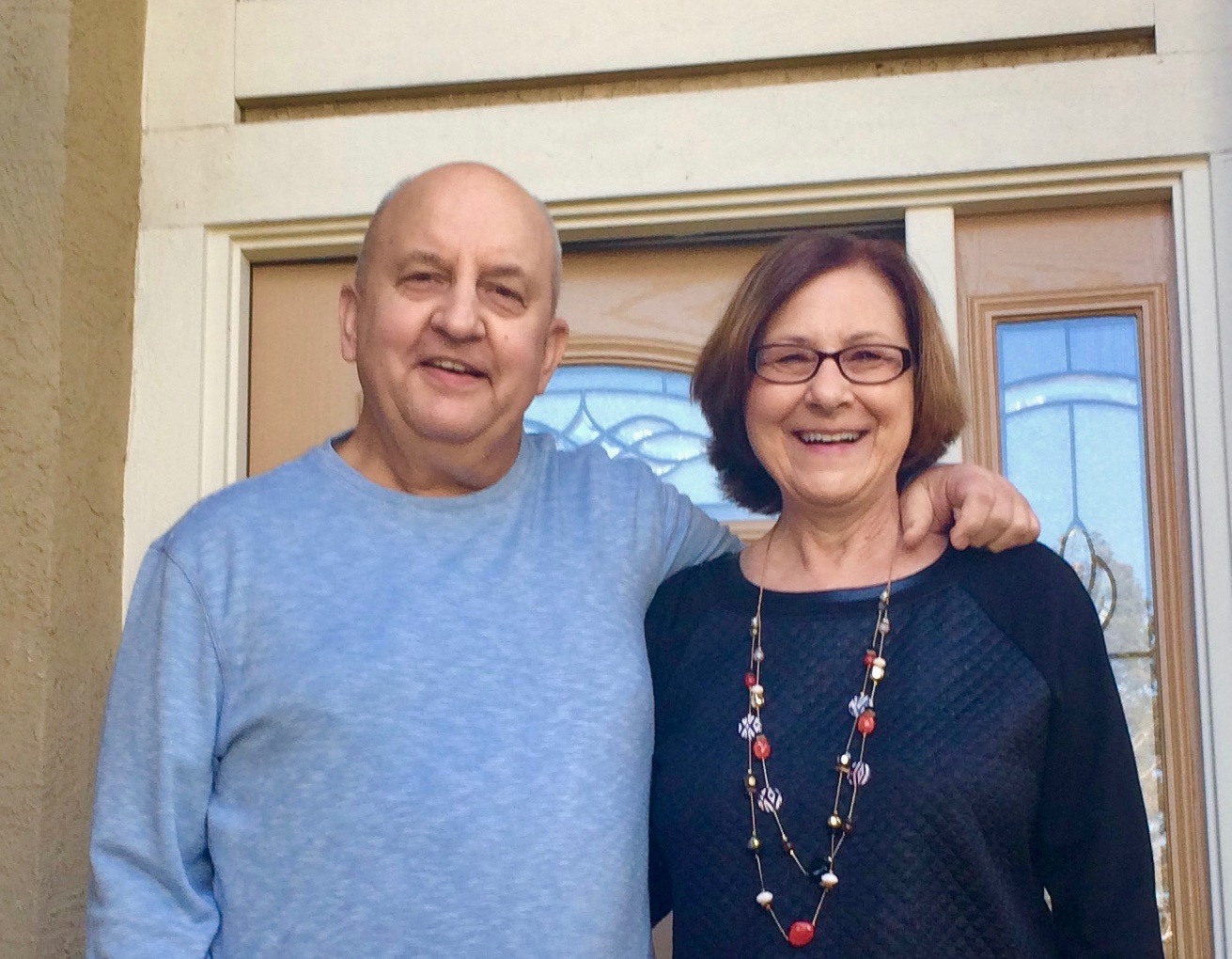 We were fortunate to spend a few days in Bolinas California with our good friend Jim Bohman and to present a home concert for Jim's friends. What a great night that was!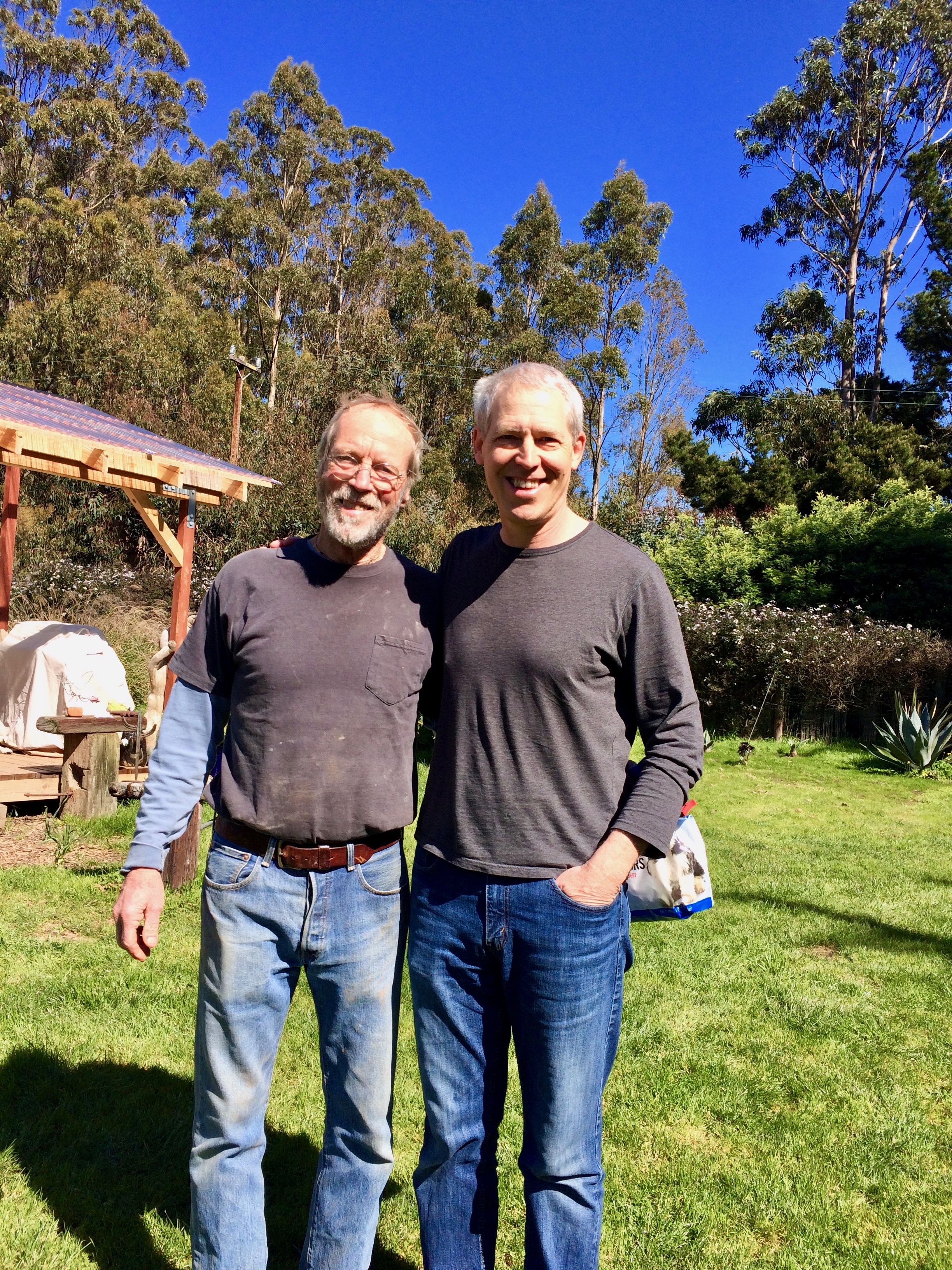 Bolinas is a rare, unique & beautiful place on the planet.  We took many pictures a couple years ago when we were able to spend even more time in Bolinas.
If interested check out our blog 2014-2015 for more pics of Bolinas and everywhere else:)
But, here's one more....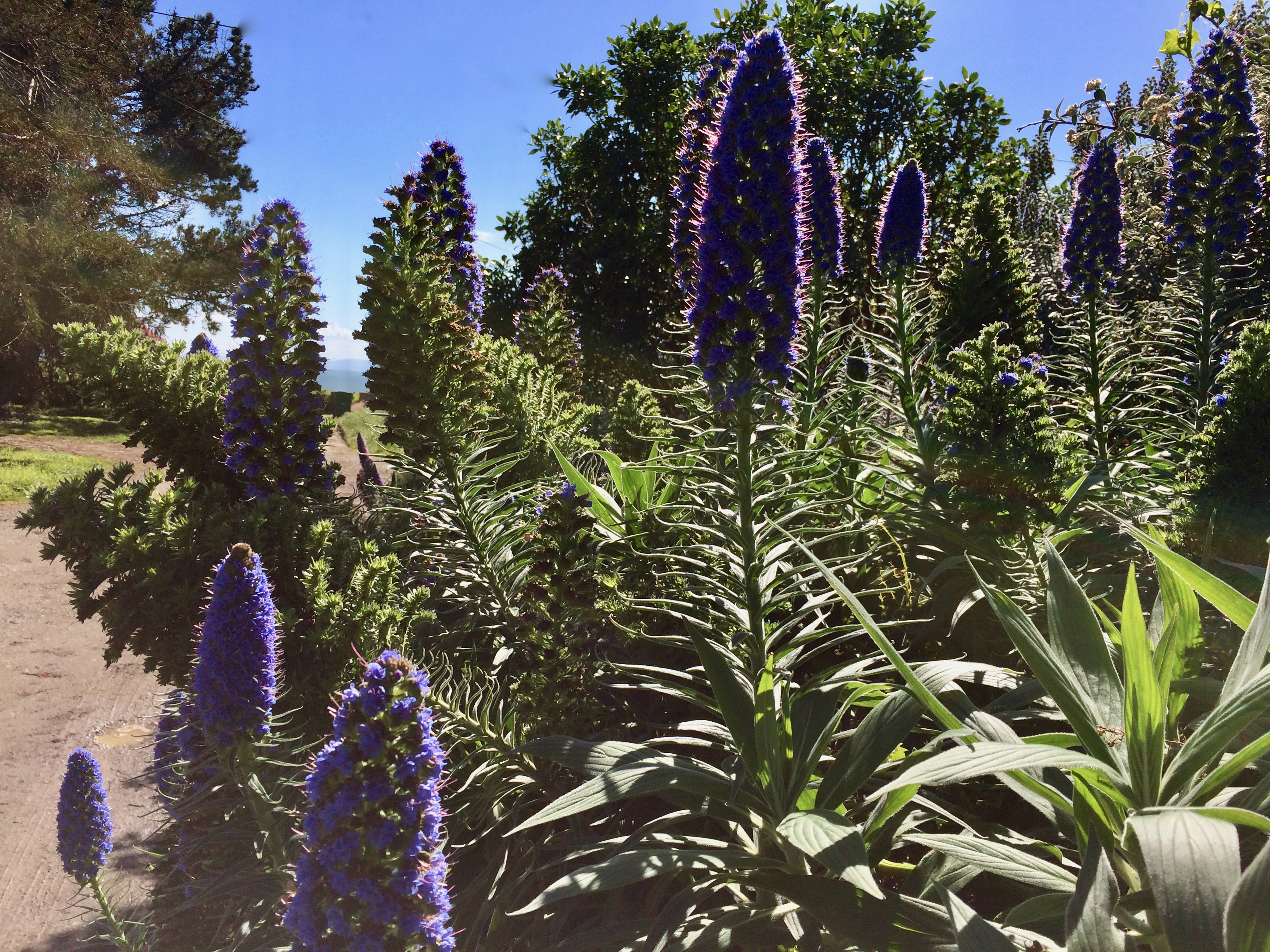 ...... because the flowers are so gorgeous in Bolinas!

2 more libraries to play before heading back home in Healdsburg & Sonoma. 

On of our all time favorite musicians Paul Mc Candless lives in Healdsburg, CA.  We also consider Paul one of our musical mentors.  Many years ago, we recorded a CD Album called "Something Forgotten Remembered" in San Francisco with Paul on woodwinds, Art Lande - piano & Bill Douglas on bass - it was a great experience to play with musicians at such a high level of artistic / musical caliber.
To listen to this recording, go to http://www.nimbitmusic.com/chrisleecolleenobrien

We played @ Healdsburg and Sonoma on the last day of our tour - a busy last day, but how wonderful to have Paul join us in Healdsburg to play several PoetryMusic pieces with us.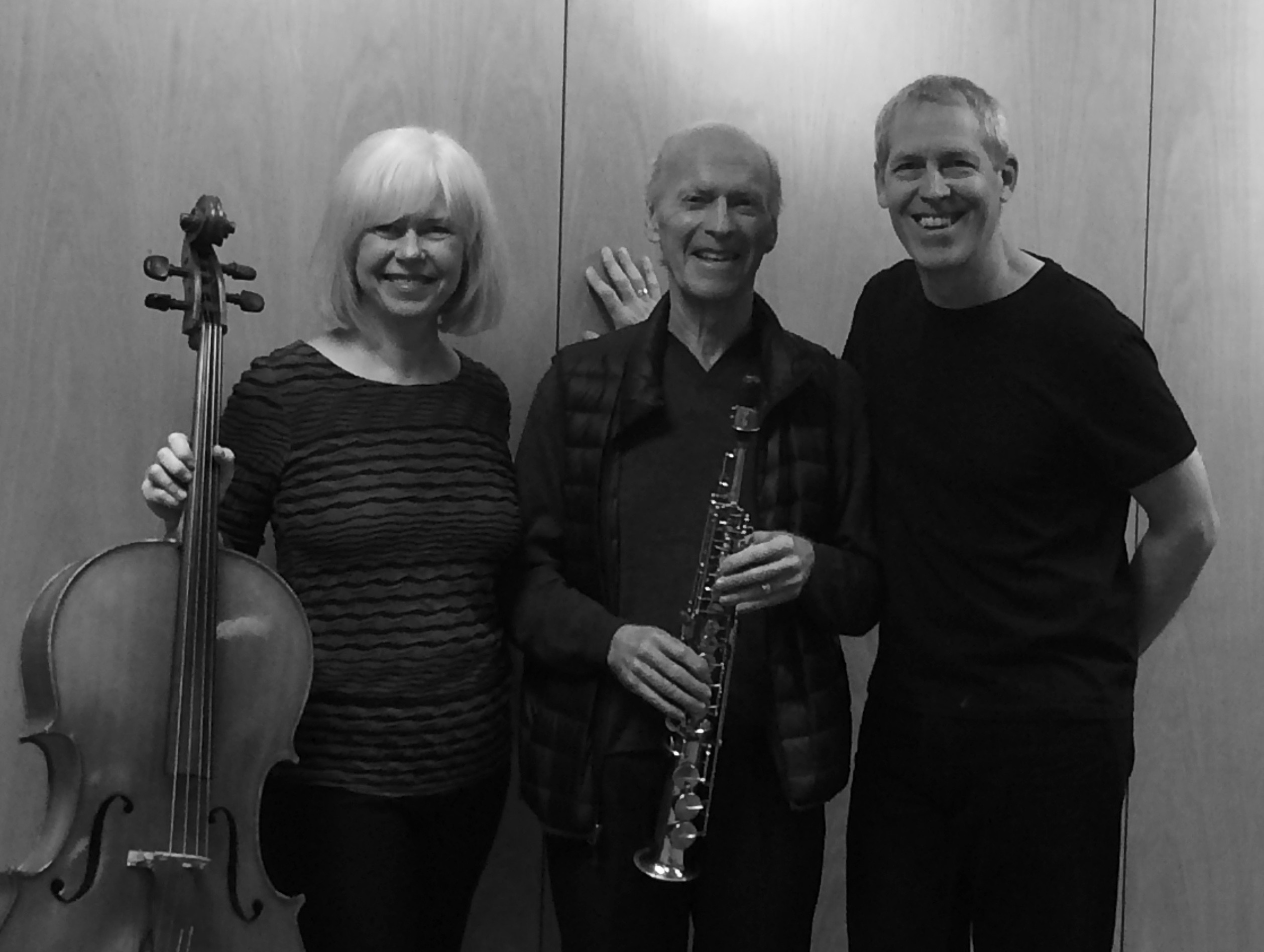 We'd like to thank Paul & Joan for the great hang, dinner and conversation the night before this performance. 

So, at this point we are headed back to Port Angeles, WA, we drive up 101 and spend a night at Vichy Hot Springs in Ukiah, this was a bit of a splurge, but we thought a deserved one since we worked so hard on our last day. 

Then on to Gold Beach, OR where our long-time friends Tim & Laura Gratehead take us in for another night.  
We consider Tim & Laura honorary PoetryMusic ( & Primal Mates )  members as they have taken us in many times on our travels up and down the coast during our many tours over the years.  
We do not have a picture of them for this post, but here is  a picture one of Tim's wonderful paintings.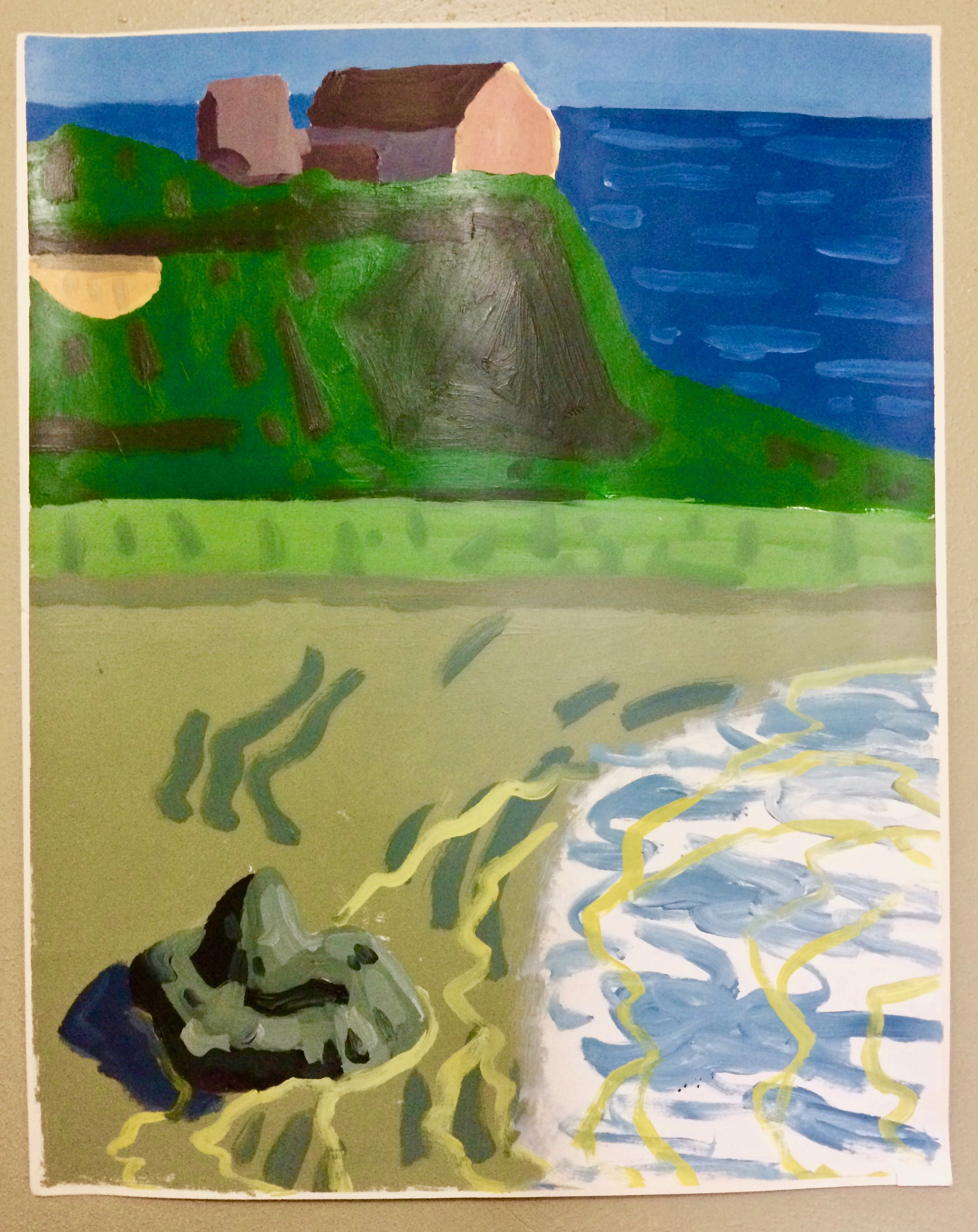 So ends another PoetryMusic tour:)