From Juneau we set sail for Skagway and begin the journey NW to the mainland of Alaska.
Alaska is such a huge area, it is still difficult to comprehend this immense land that encompasses the state of Alaska, even after driving to the mainland and back out again.
You could fit Texas into Alaska 2 times!
One-fifth the size of the Lower 48, Alaska is bigger than Texas, California, and Montana combined!
Alaska is also far-flung: 3.1 times wider (east to west) and 1.9 times taller (north to south) than Texas.
From north to south, Alaska measures 1420 miles, the distance from Denver to Mexico City, and east to west 2500 miles, the distance from Savannah, GA to Santa Barbara, CA.
Alaska also has the most northern point (Point Barrow) and the most western point (Cape Wrangell, Alaska -- further west than Hawaii) in the U.S.
Wow!
What can we say, except we still cannot fathom the distance. 
Especially since most of the driving can only be done in a small area of the mainland, you need a boat or plane to get to most areas of Alaska.
So Skagway is a northern point of the inside passage in SE Alaska, the most northern, though you could also get off the ferry in Haines, but we chose Skagway because we have a library performance there!!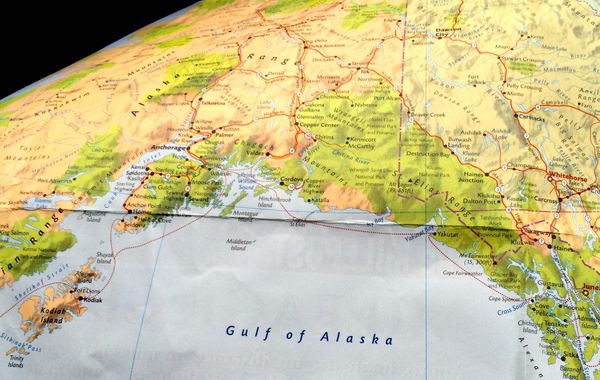 At this point, we are headed to Anchorage and then to Homer Alaska.
To give another idea of the distances and how far west Alaska goes, Homer, Alaska on the southern tip of the Kenai Peninsula is north of Hawaii.
The drive from Skagway to Homer is about 1000 miles.
The skies become smokier the further north we go from the fires in Canada & Alaska.
This picture is taken after entering the Yukon.
There are several massive sized lakes in the Yukon, a vast, beautiful and unpopulated land.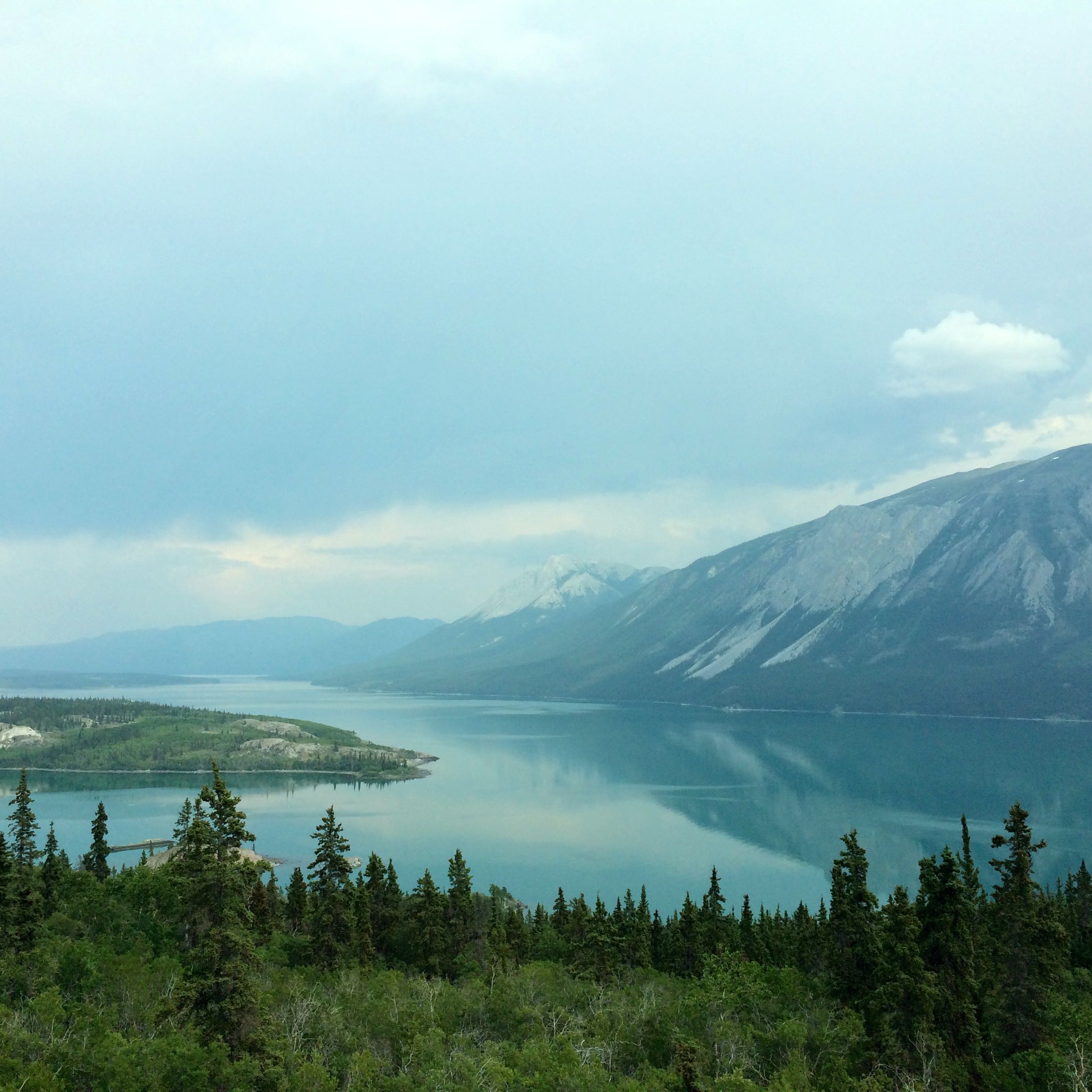 We make our way to Anchorage over 3-4 days of driving to play in 2 uniquely different libraries in the area, the Loussac and Girdwood libraries
The picture below is taken with The Girdwood Librarian, Helen Wood -
We had a great time playing & meeting folks at both libraries!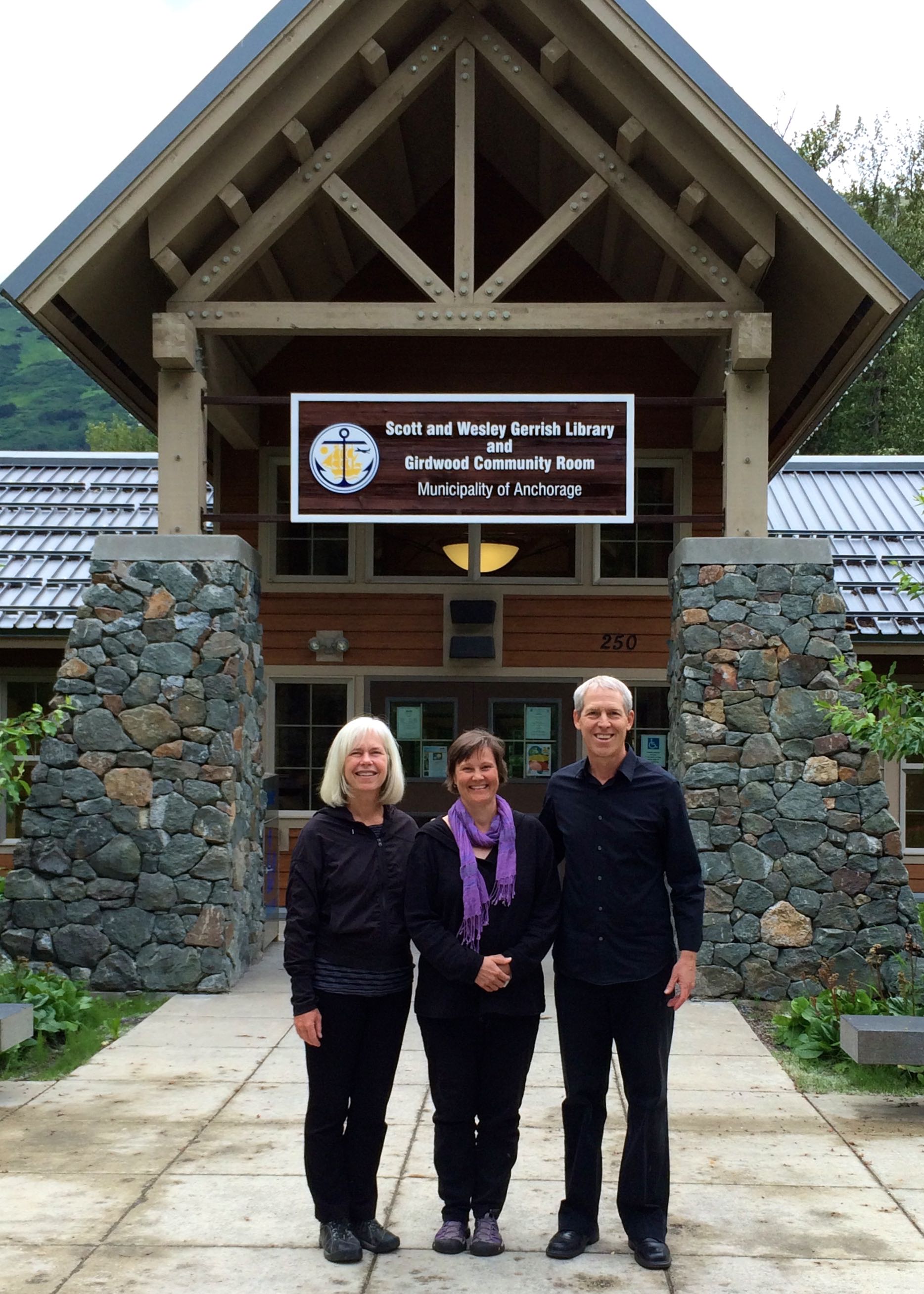 We were very excited to head down the Kenai Peninsula to Homer Alaska, a place we called home for one of the most incredible years of our lives  when our son Eric was 3 years old in 1985 & 1986.
30 years ago, we traveled around the bend in the road and saw this: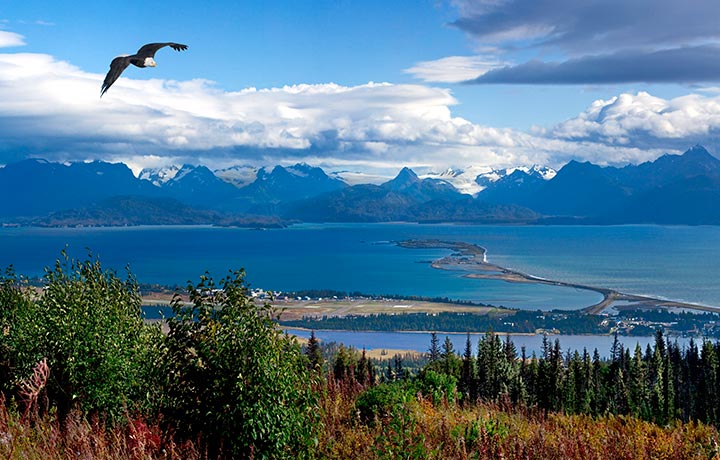 (disclamier, not our picture, our camera cannot capture the totality of this:)
We turned on the local community radio station and listened to great music coming over the airwaves from KBBI Homer.
All range of styles, but great quality and selection of material.
We saw posters on bulletin boards of all the community happenings, and for a town this size, we were impressed and thought this is the place for us!
Chris had a jazz show on KBBI Homer broadcasting his show in town & out over the water with fishermen picking up the airwaves and calling in to comment on the program.
This is the year we started to develop our duo of voice, vibes and cello.
Prior to this time, we had played in bands, ie quartets, quintets with Chris on drums and Colleen singing.
This journey to Homer has brought us full circle to the place our duo began.
Our family life was the best this year as we had lots of time to spend with our son Eric in our beautiful cozy cabin.
We loved Homer and our life there, and this was the beginning of a new life for us in so many ways.
Now it is 30 years later and we are able to meet up with our dear friends from that time who graciously invited us to stay with them and to host a home concert for us.
Peter & Wendy asked us to play in their home 30 years ago for one of our first gigs as a duo - Life is Good!!
The other part of our meeting up this time with Wendy & Peter is that they both love and write thoughtful & beautiful poetry!
We were and still are amazed at how they live and lived their lives.
They built their own home which is one of the most warm and beautiful homes we have ever been in.
Homer has a reputation for supporting the arts, and both Wendy & Peter have contributed greatly to a range of art happenings & projects, from comedy improv to dance and writing and much more.  They are also world travelers and continue to do good works for those in need.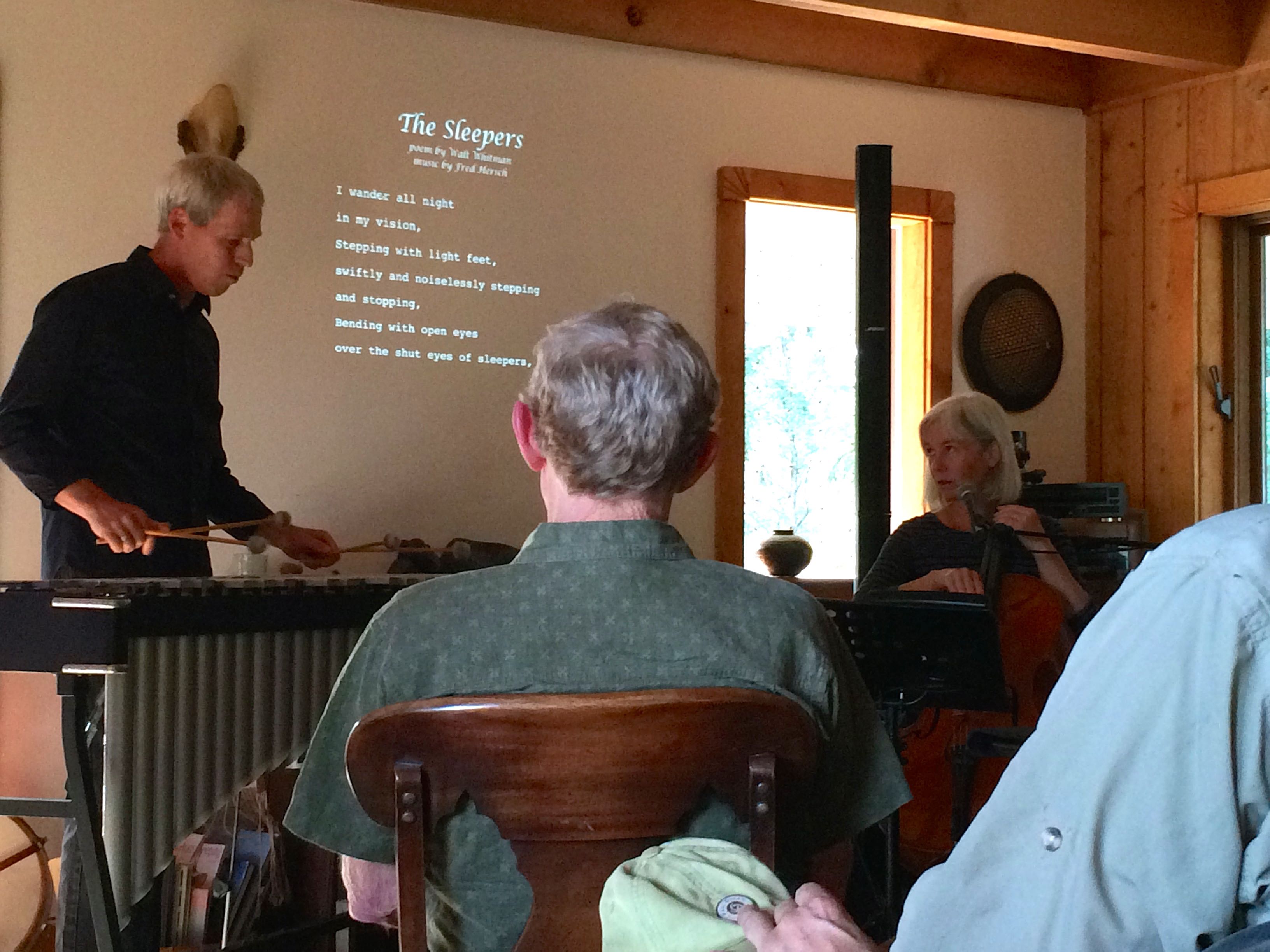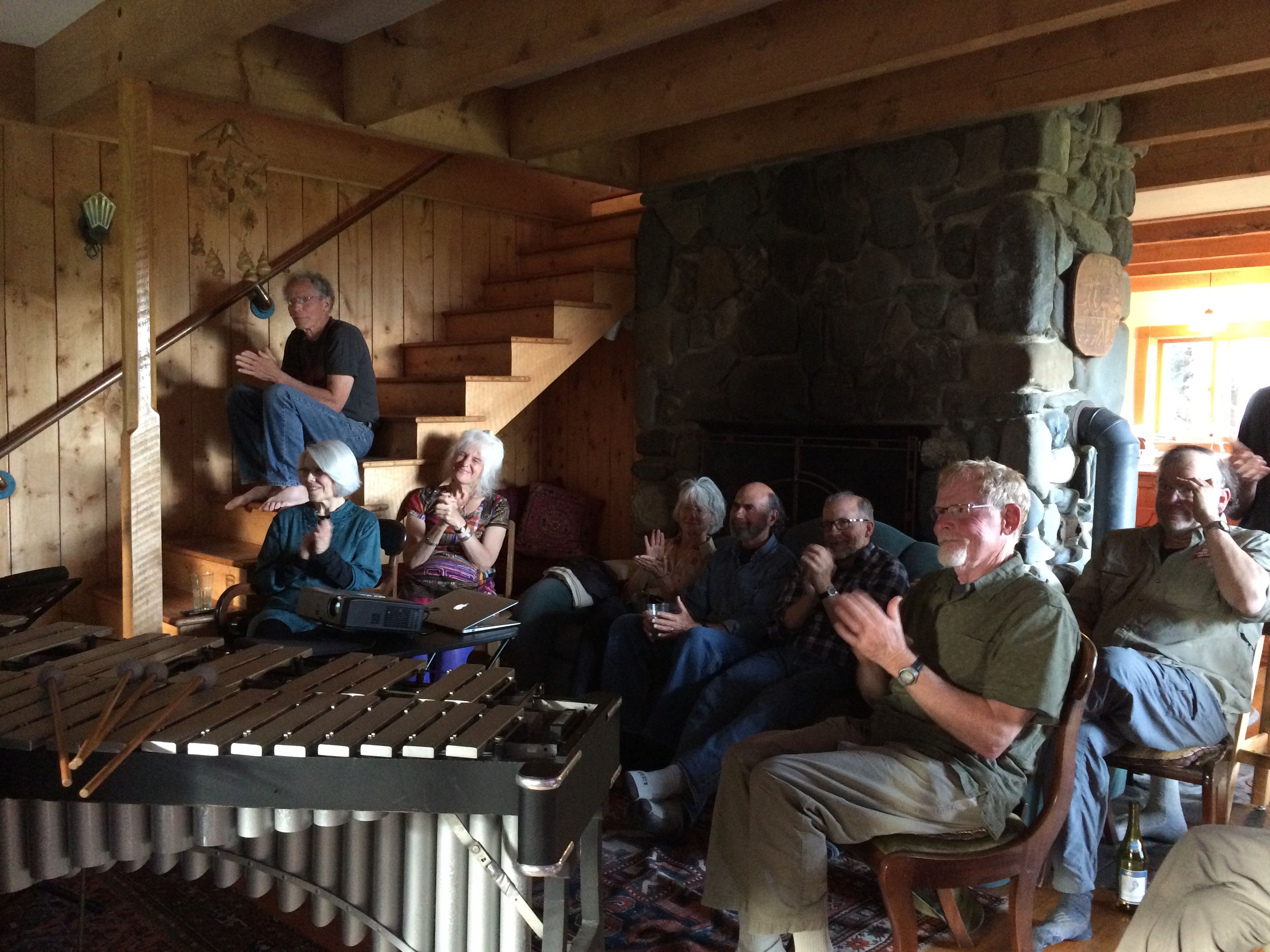 As we sat around the table catching up on 30 years of life, we all realized then & now, we are kindred spirits in this world!
Thank you Wendy & Peter for the most wonderful, gracious stay in Homer!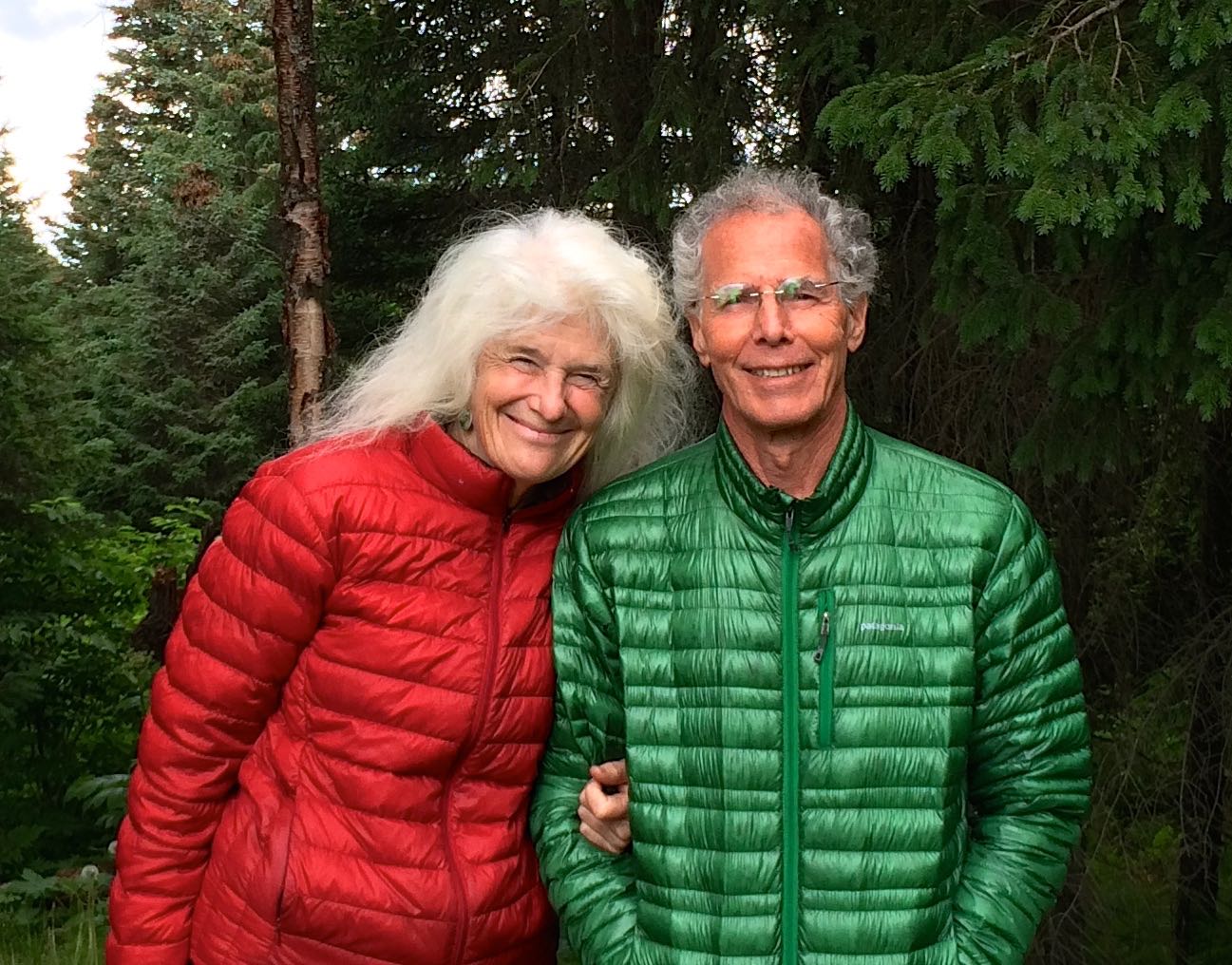 North to Denali.
We have met up with our good friend and neighbor Kathy from Eldorado Springs, Colorado on this portion of our journey.
Initially meeting up in Anchorage we parted to meet again in Homer and at this point, we  meet up in one of the most amazing places on earth, Denali NP!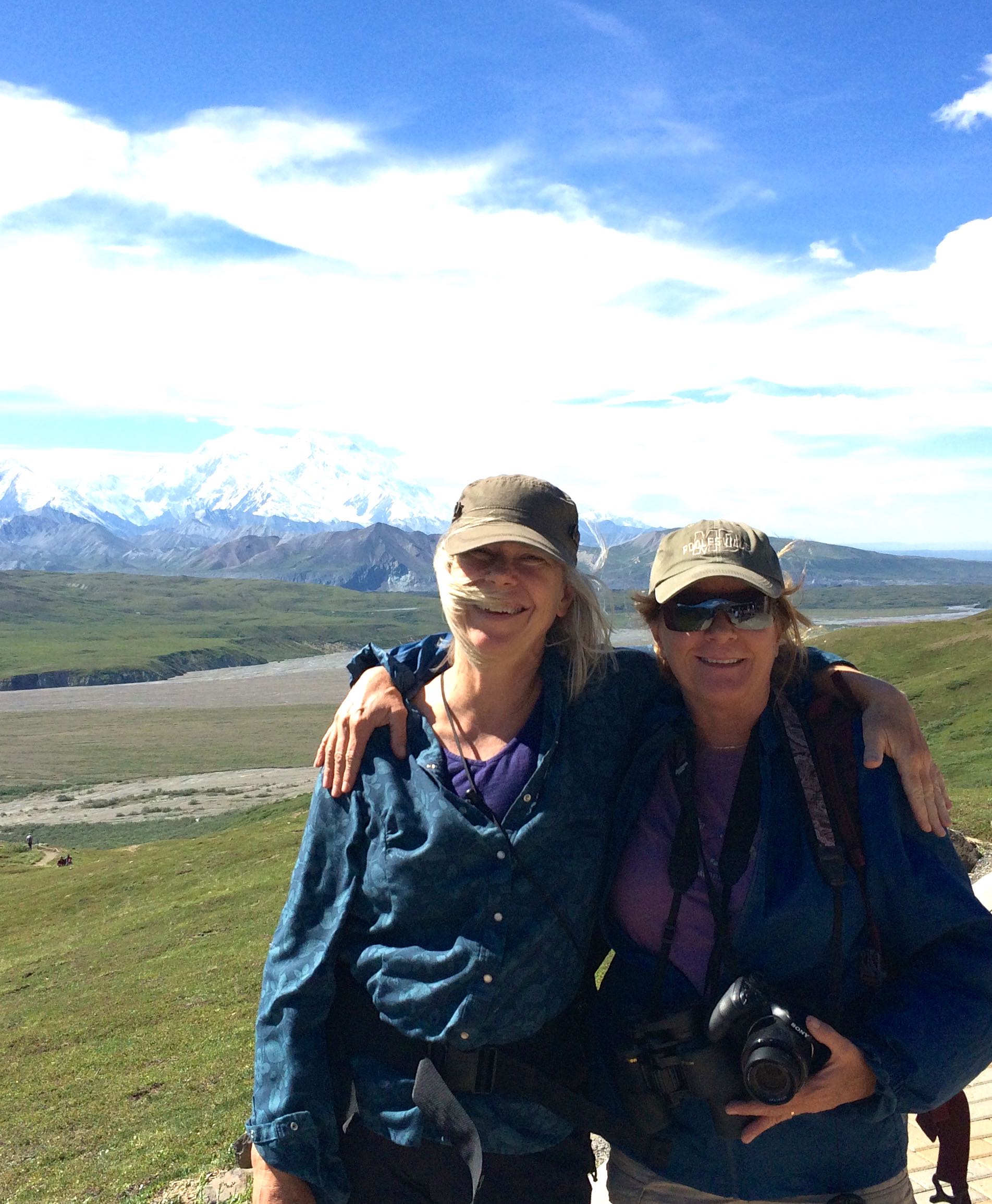 We are more than lucky, because much of our time in Denali NP is with mostly clear skies and warm weather.
"The Great One" is out in full glory for us to gaze upon her immense beauty!!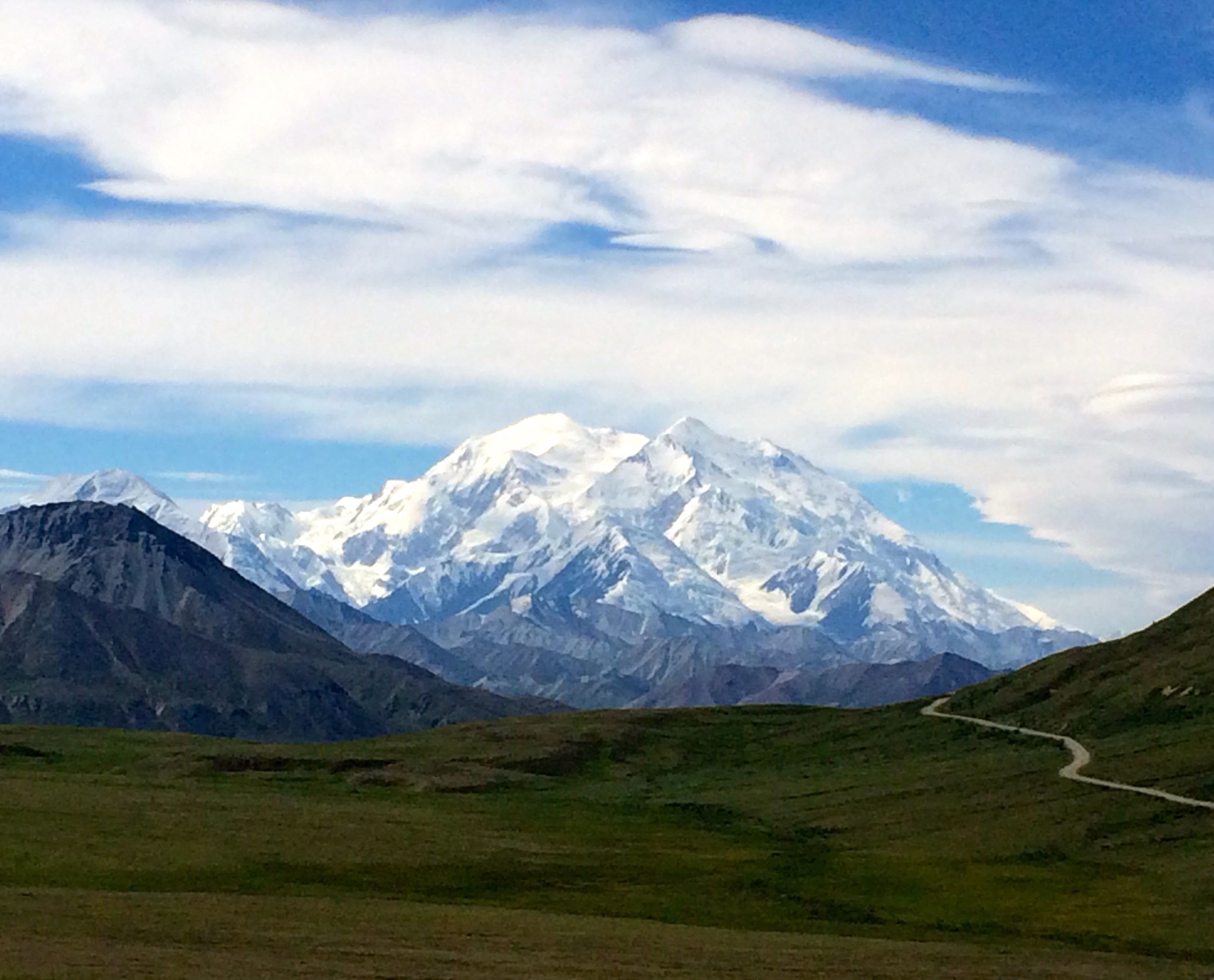 Denali is the mountain with the highest base-to-summit vertical rise above sea level in the world (just over 18,000 feet, or 5,486 meters),  (20,320 ft; 6,193 m.).
Many folks think this would be Mt. Everest, but Everest starts at a much higher altitude from base to top.
We hiked across the tundra and made noises and kept our eyes on the surrounding area to watch-out for Grizzly Bears!
Knowing that we are visitors in bear country makes us hyper alert & aware of our surroundings.
Kathy brought along bear spray, but it is a little breezy the day we take this hike, so it makes us think twice about the unlikely possibility of needing to use it.
Of course we all know & agree that our most pressing risks or dangers are not bears, but somehow bears remain in our Psyche as something more dangerous than anything else.
It makes our hike & stay in Denali all the more exciting.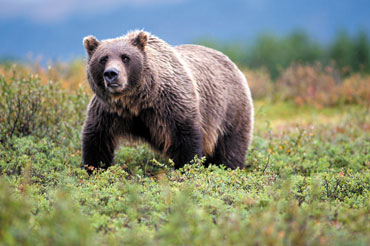 Disclaimer, our friend Kathy was able to get pictures of Denali bears like the above with her keen eye and great camera - this is not our photo - as we observed the 300 yard rule in Denali, picking out a Grizz with our i-phone looks more like the following picture.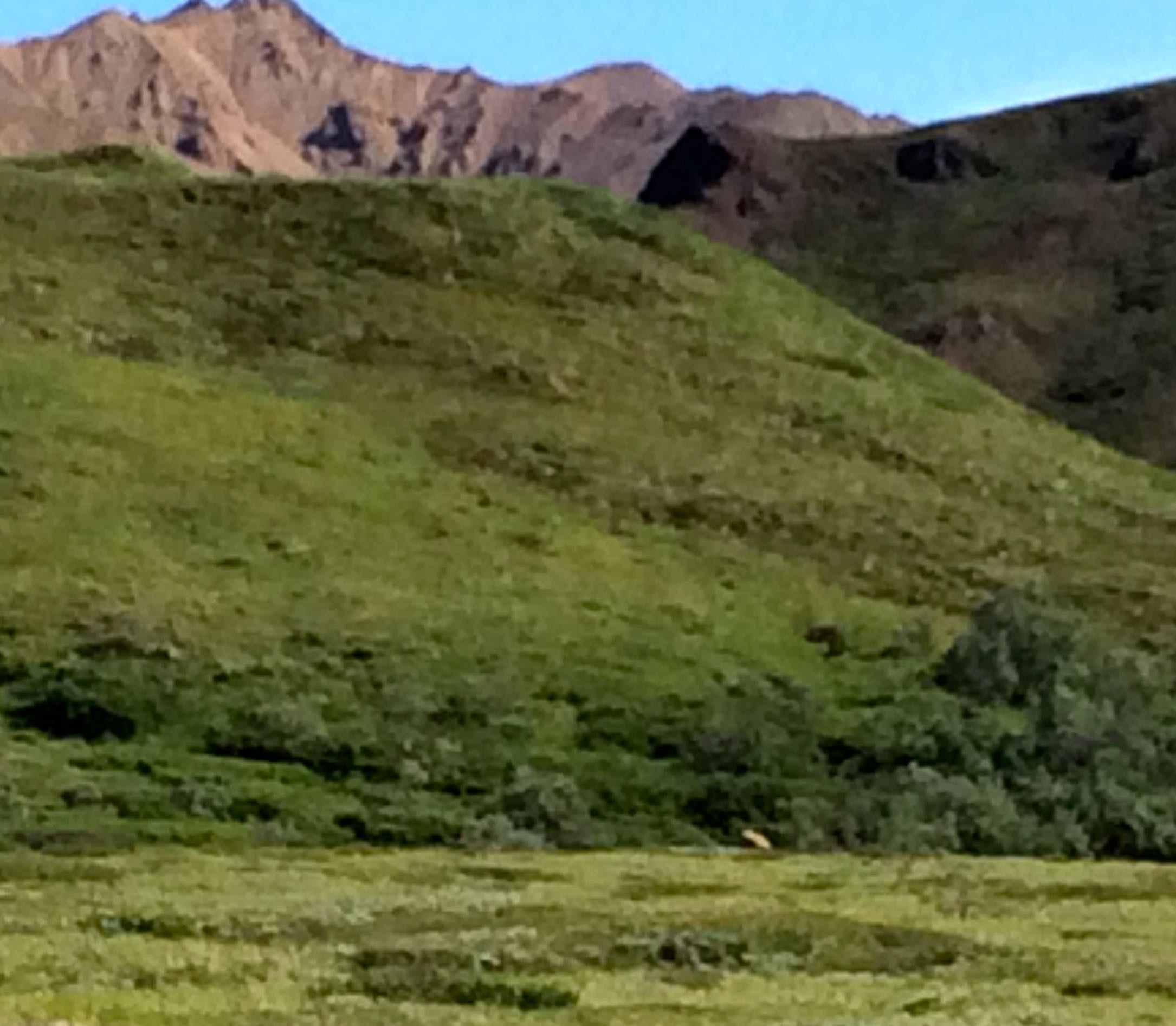 Later in our journey we came much closer to black & grizzly bears like the previous picture of the "big grizz" - on our next post - near Hyder Alaska.
"Stay Tuned"!
So, now we make our way back to Base Camp.
Our bus driver deftly takes us over this pass and tells us that they are required to have many hours of training driving on this road.
In fact, at this spot, they need to be able to back up and turn around when confronted with an oncoming bus.
( The road is narrow and just to the left of this cliff, this picture is taken from inside the bus looking out and down! )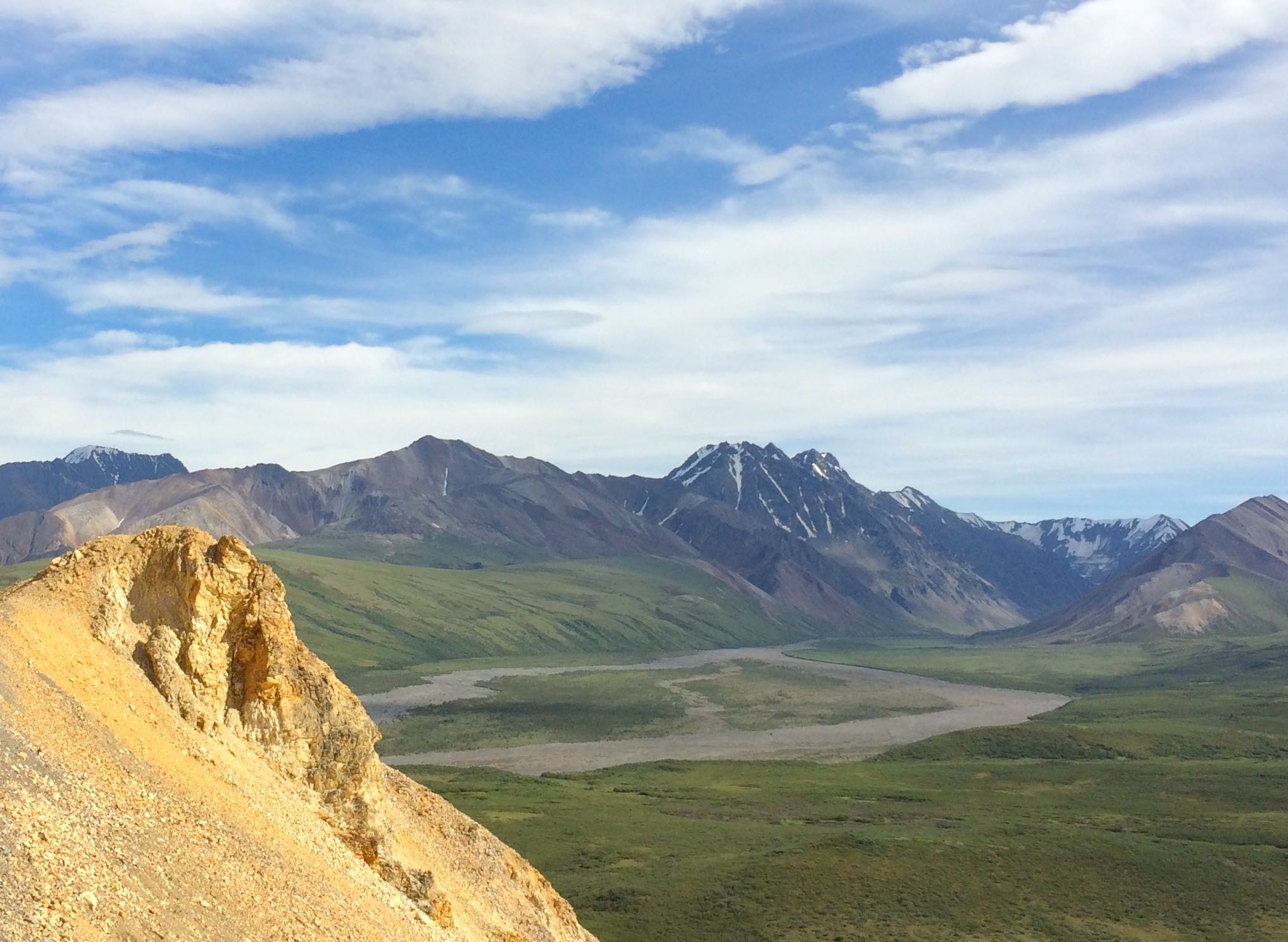 We were happy to get over the pass safely, and on the way back to base camp our friendly bus driver stopped for us to take pictures of this Caribou close to the road.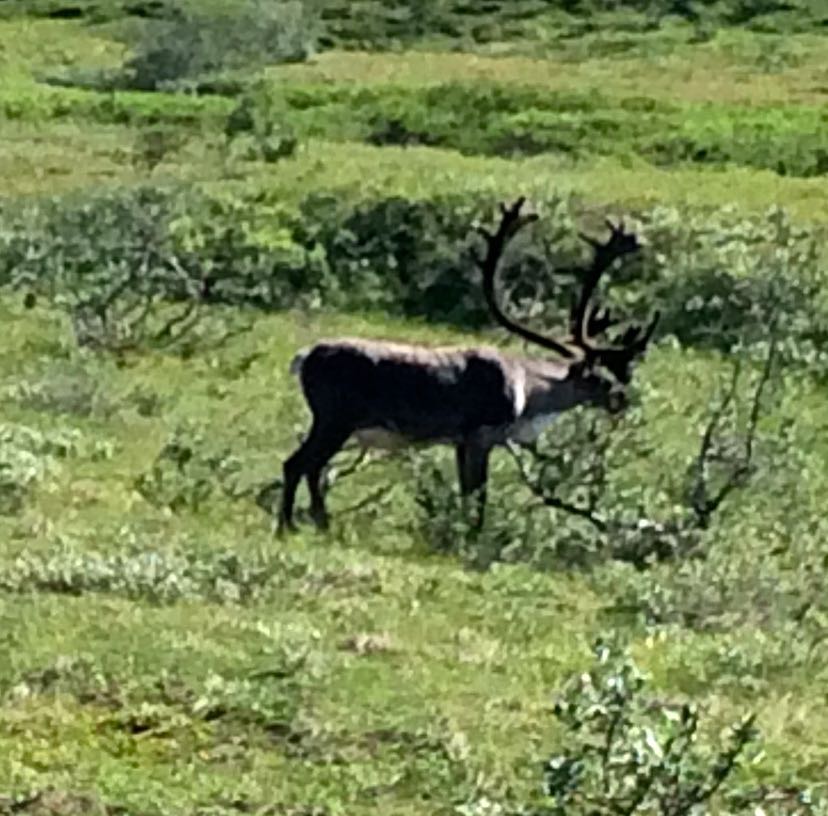 We found out the trees in Denali NP are displacing the tundra due to global warming, so the Caribou are being displaced from their former range and now need to go higher or further north to forage. The moose are moving in to Caribou's former territory in the park.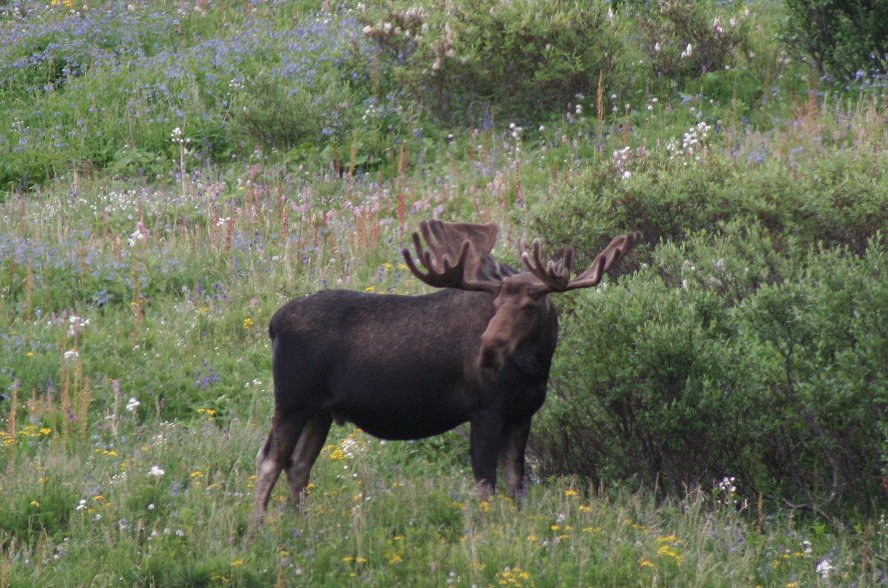 Back at base camp, we enjoy a delicious King Crab dinner!  Guess we are not thinking too much of the bears at this point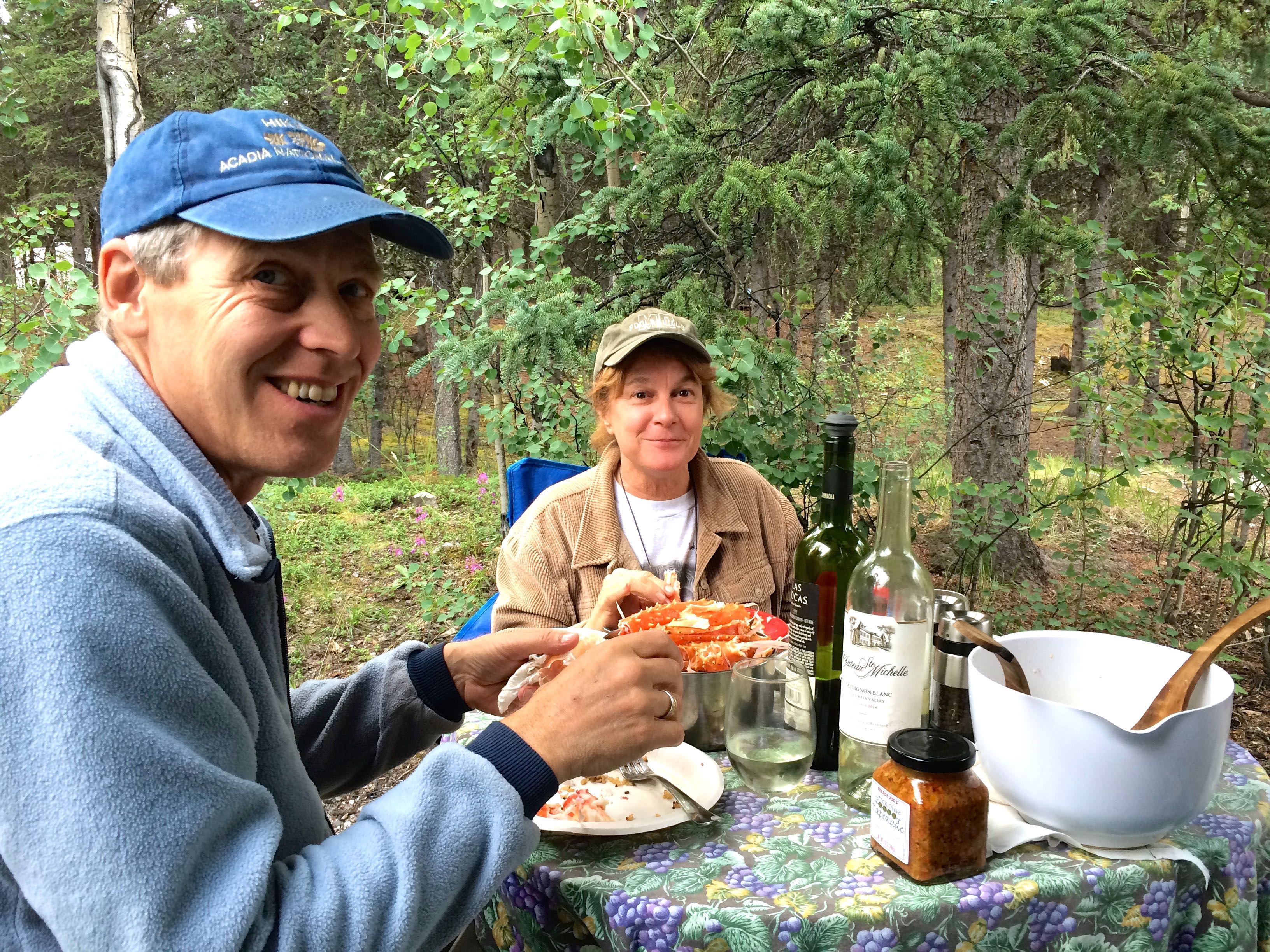 It's time to head North through Fairbanks and west to make way to our next performance in Delta Junction.
Just north of Denali the skies become very smoky.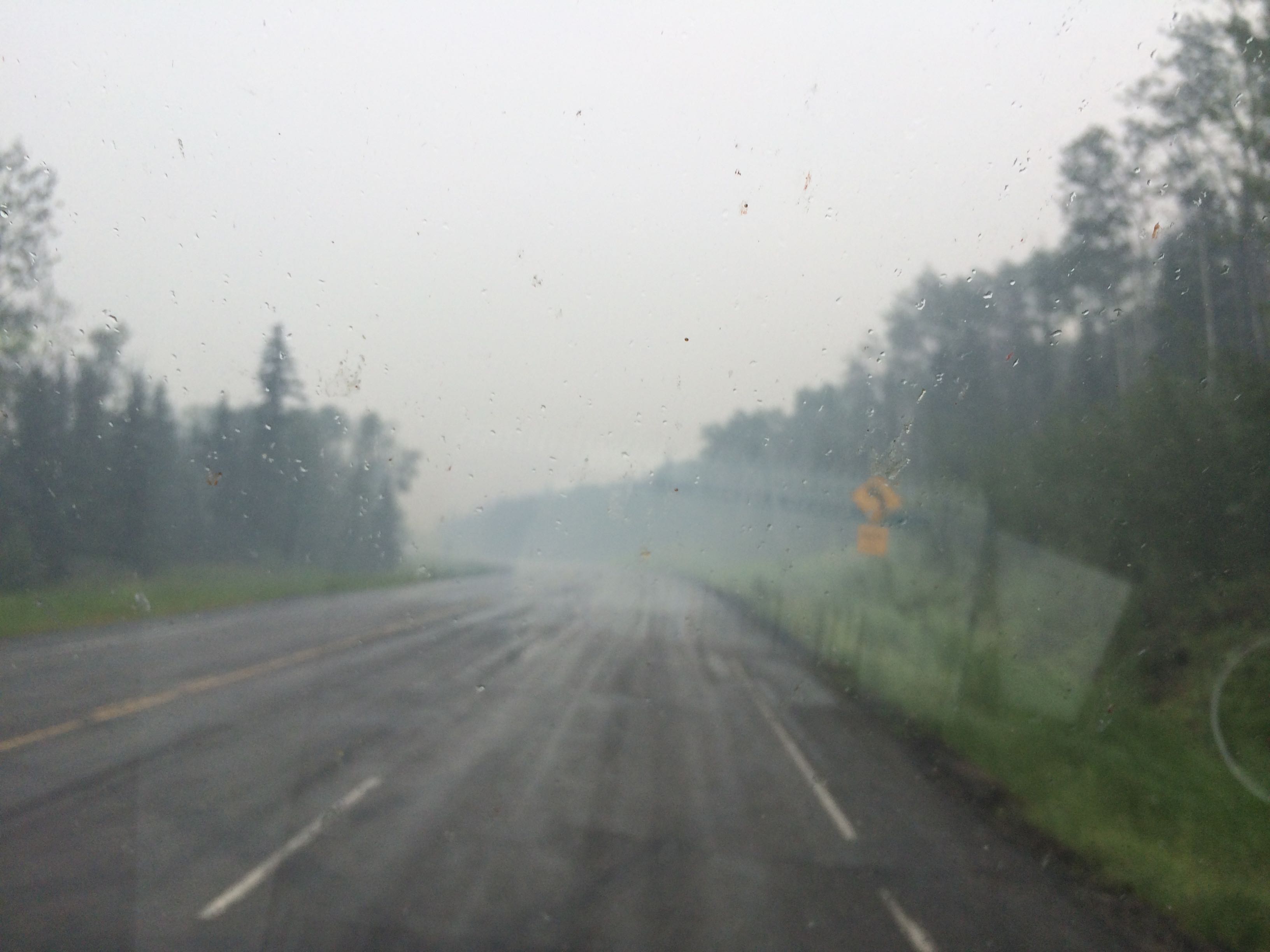 There are fires in many areas but the smoke seems to be coming from the west.
It gets thicker and starts to become alarming as it begins to cause throat, eye and lung irritation.
By the time we get to Nenana, we stop at the visitor center to see if we should turn around, but we hear the smoke has come in behind us too.
The radio station from Fairbanks said that the air quality was extreme and hazardous and told folks to stay indoors.
We decided to keep going and hoped that if we headed east from Fairbanks, the air quality would improve, and thankfully it did improve a little!
It made us think of how people and animals are impacted by all these fires, and this year in particular is a bad fire year for all of the west, from California, thru Oregon, Washington, British Columbia and even in the SE Alaska  rain forests, they are seeing fires for the first time.
But the interior of Alaska seems to be experiencing the worst of the fires in Alaska.
We made it to Delta Junction to play @ Delta Community Library. 
We have been in touch with librarian Joyce McCombs over many months and we're looking forward to meeting her as she has given us great information and support for our program.
Joyce with Chris below.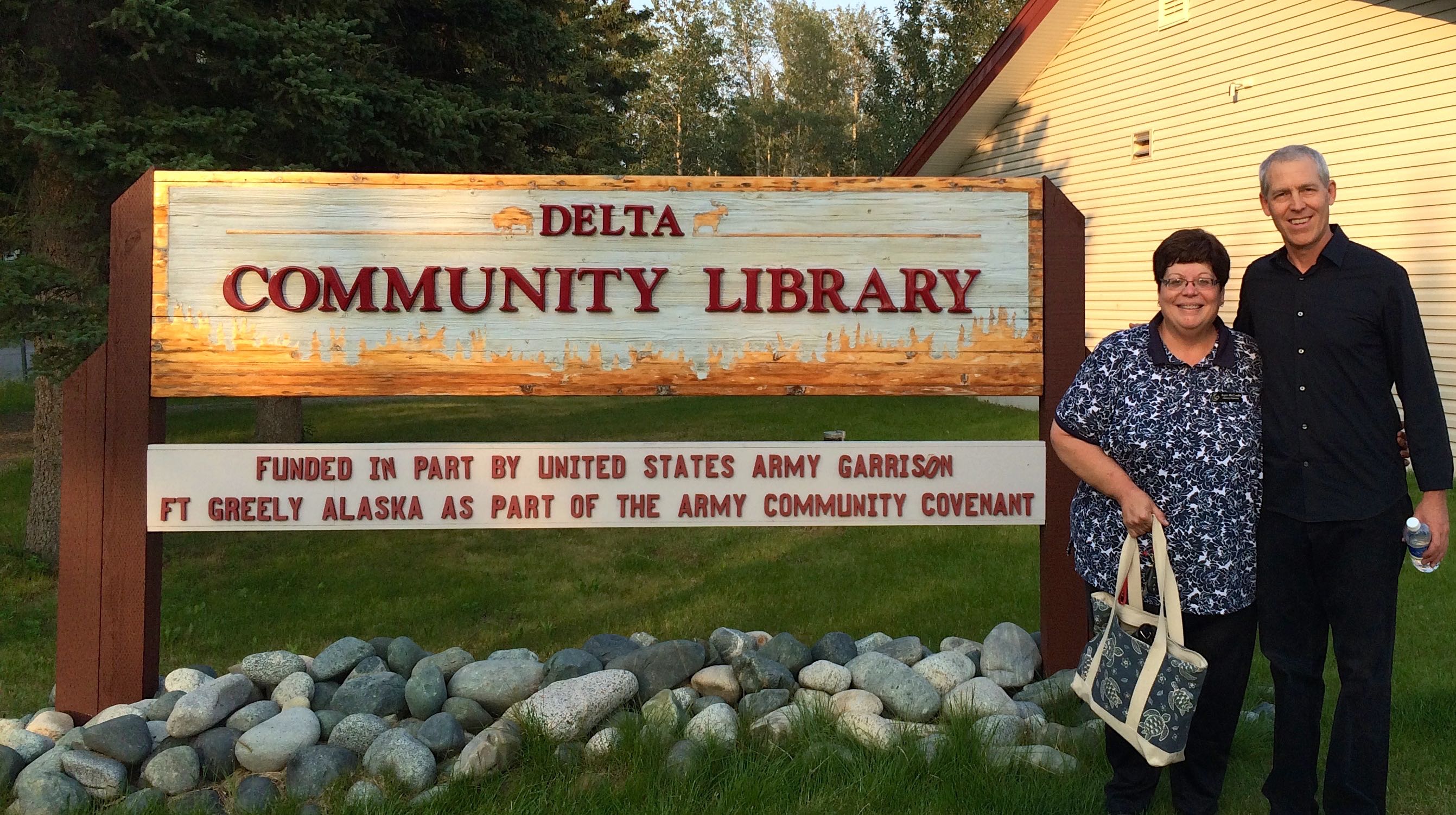 There was a good turnout & enthusiasm for our concert was wonderful!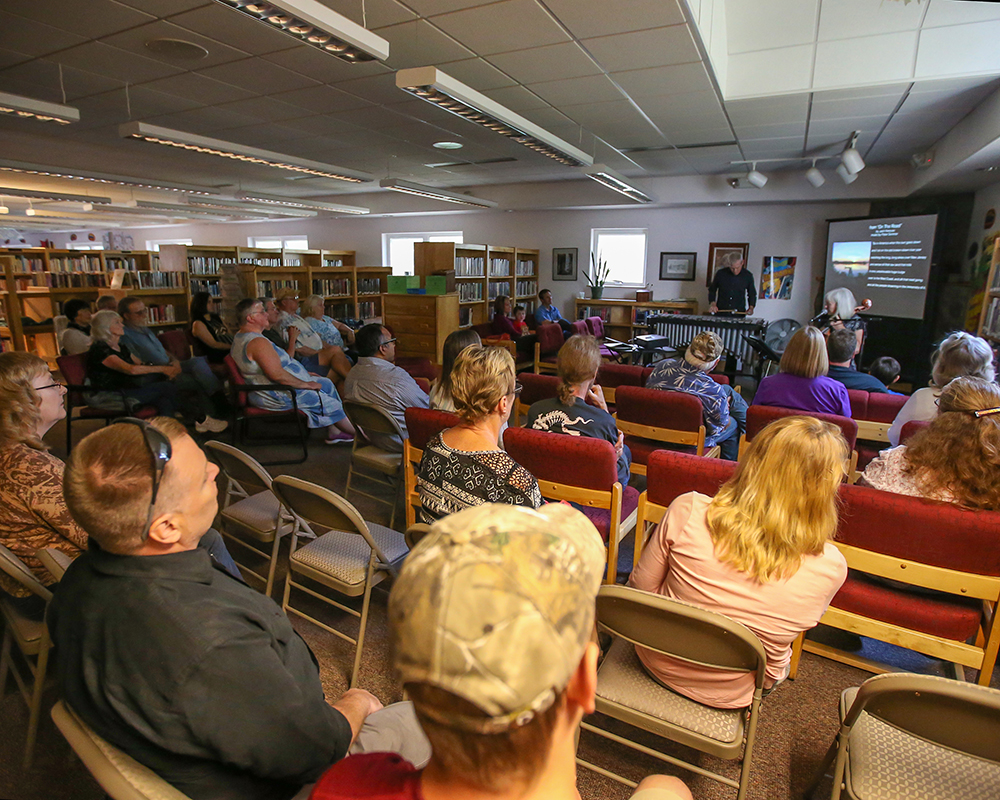 Now our journey to McCarthy Alaska and Kenicott Mine begins!
We take the Richardson Highway south for our 276 mile journey to McCarthy.
The last 60 miles takes us about 5 hours over a gravel road with many washboards.
We do not want to discourage anyone from taking this road, because it is more than worth the time & effort and it's basically a good road, with washboards.
And for most, it would take about 2.5 to 3 hours, but we needed to go slower to protect all our "gear" instruments, PA etc.
The Richardson Highway is a beautiful drive south from Delta Junction and follows the Alaska pipeline much of the way.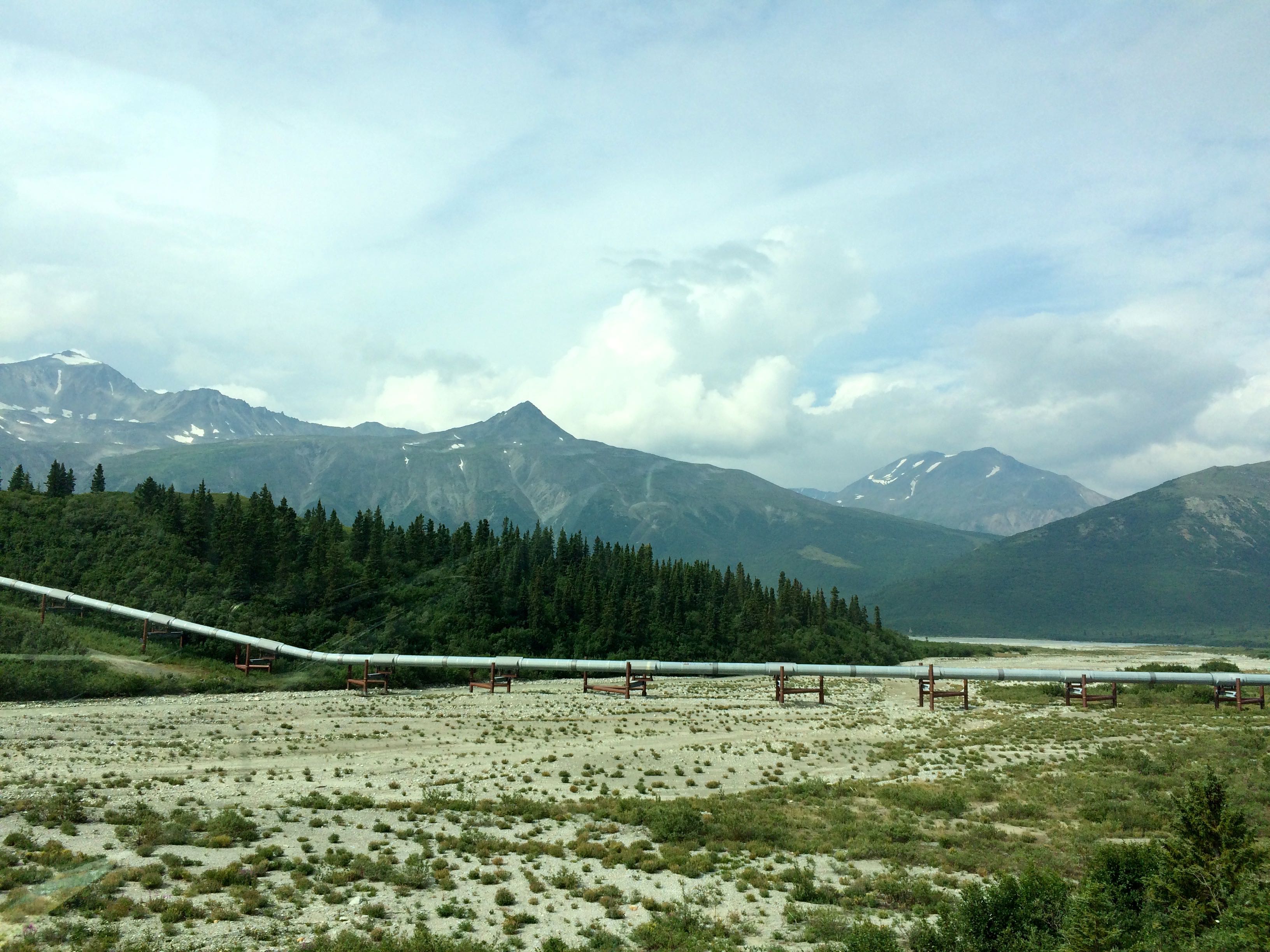 Fireweed was out in full bloom - wow!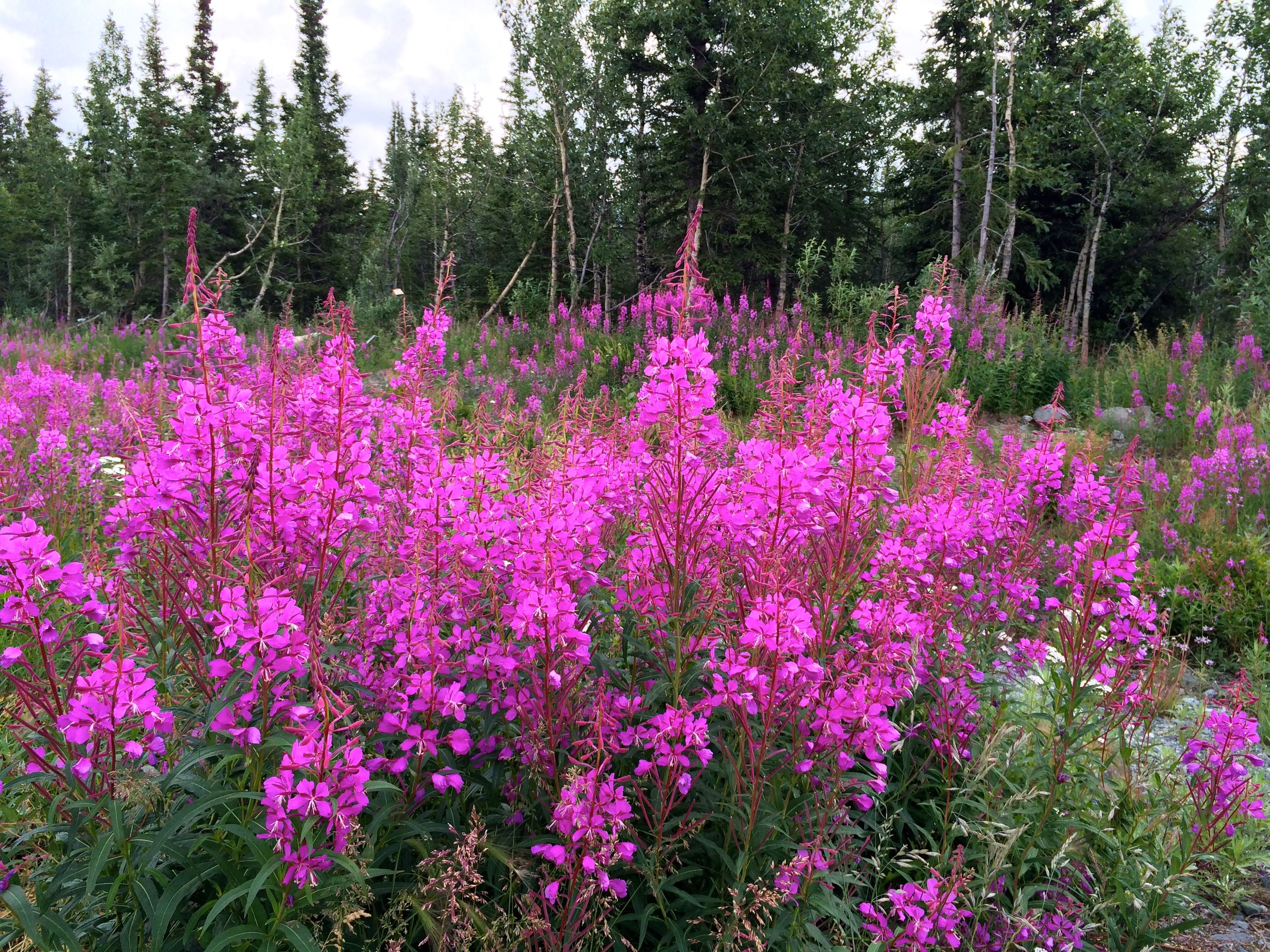 McCarthy and Kennicott Mine 
We turned off the Richardson Highway and headed east to the road to McCarthy.
We follow the Copper River much of the way.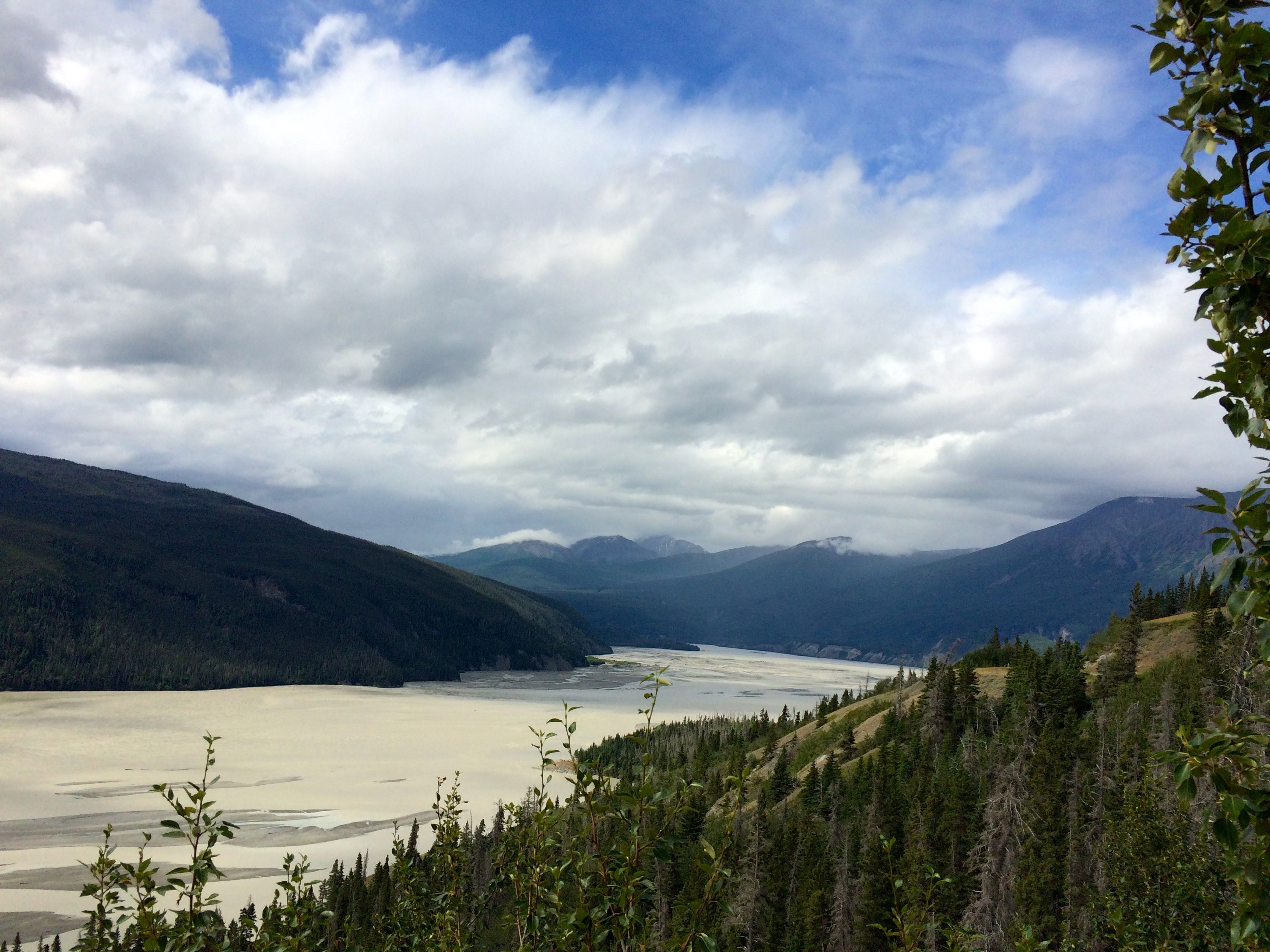 We cross other rivers too and drive past many beautiful lakes.
This river crosses a gorge and the bridge is single lane, so we stop for a moment to make sure no one is coming from the other side.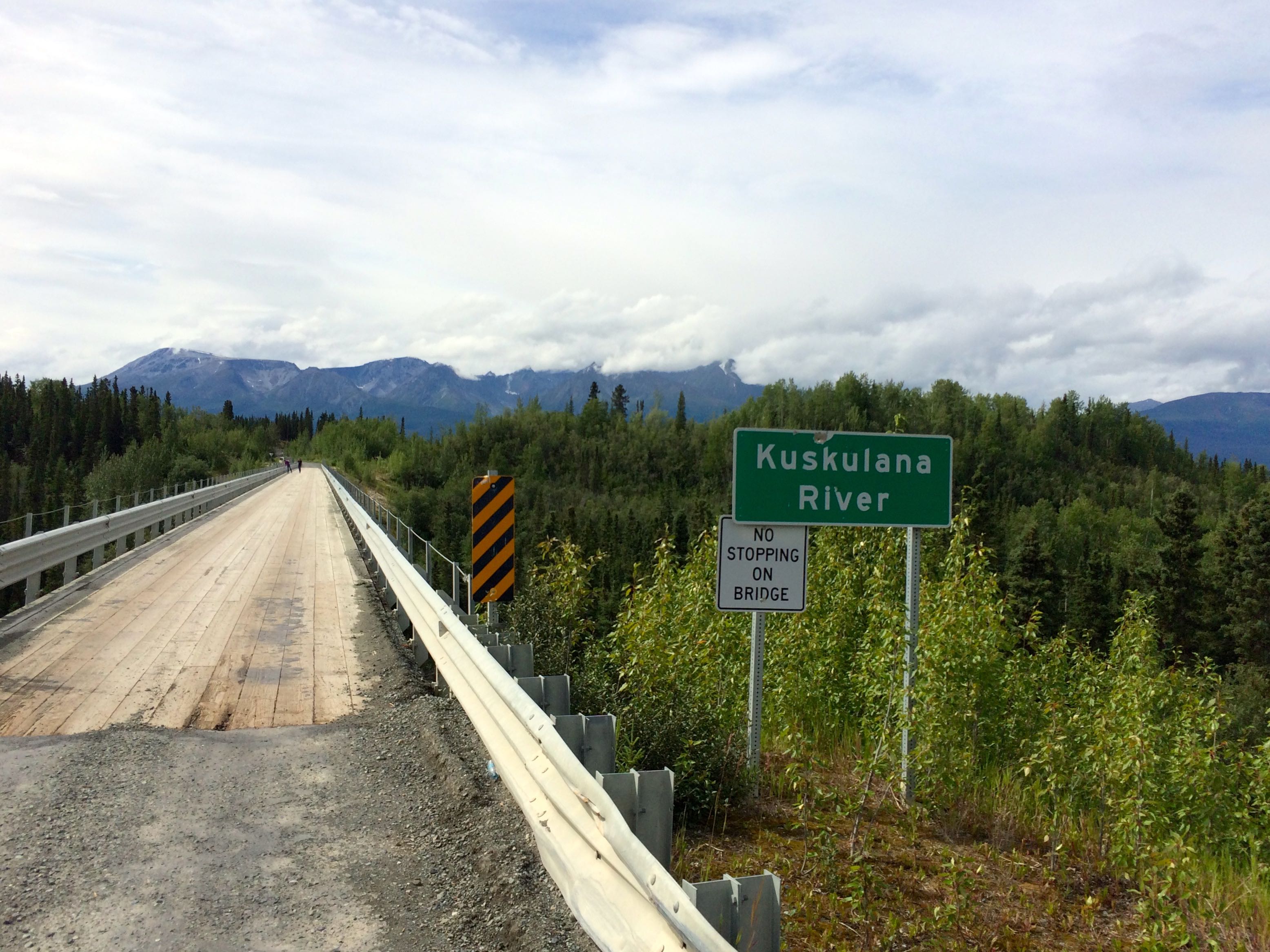 The Kuskulana River looks like a milky light chocolate color.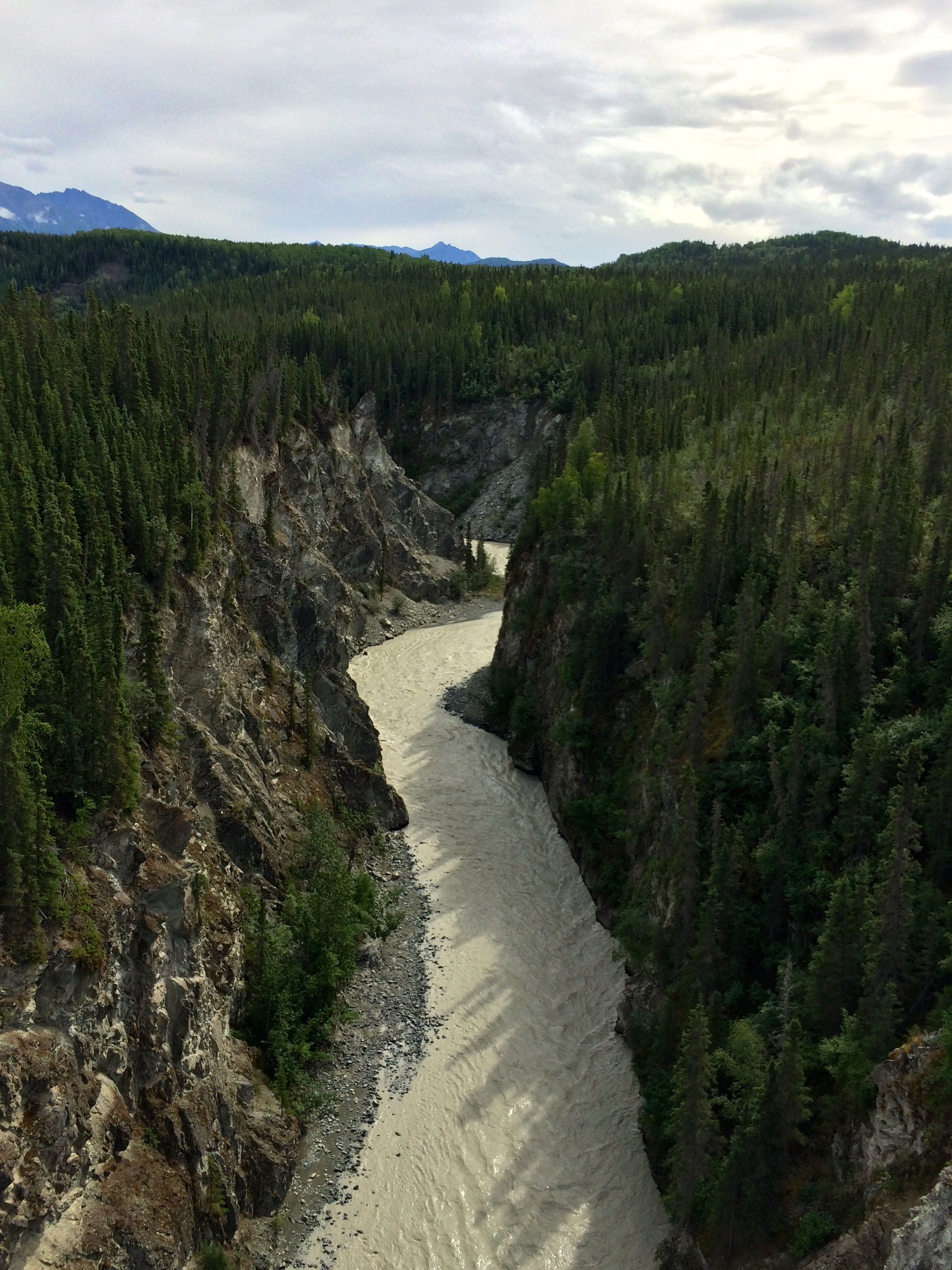 Rock flour, or glacial flour, consists of fine-grained, silt-sized particles of rock, generated by mechanical grinding of bedrock by glacial erosion or by artificial grinding to a similar size. Because the material is very small, it becomes suspended in melt water making the water appear cloudy, which is sometimes known as glacial milk.
Hmmm, do we want to drink this water? We figure we could get lots of minerals from this water, maybe some we don't want!
We pass over a few more rivers, the road starts to narrow a bit.
This picture shows the road in good condition, but the small washboards cause our van to bump and shake more unless we reduce our speed to about 10 mph or even less in some places.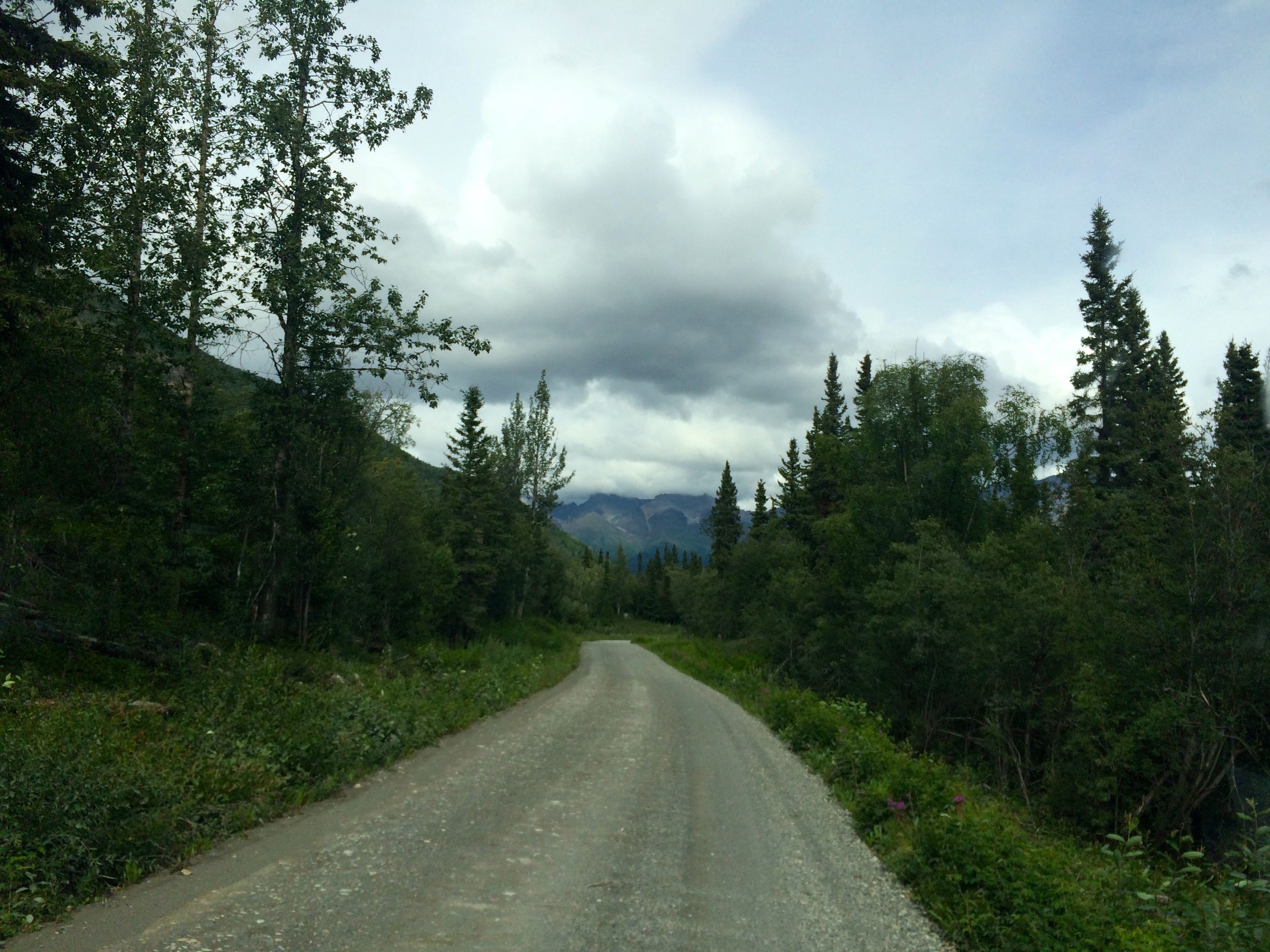 We finally come to the end of the McCarthy Road, just across the river from McCarthy. 
We are able to cross the river in the van, but there is a foot bridge over the river we can walk across.
Many years ago, Colleen crossed this river in a basket pulling herself over using a pully system.
We find our camp site before venturing across the river - we still have another day before our performance to explore this area & walk into town.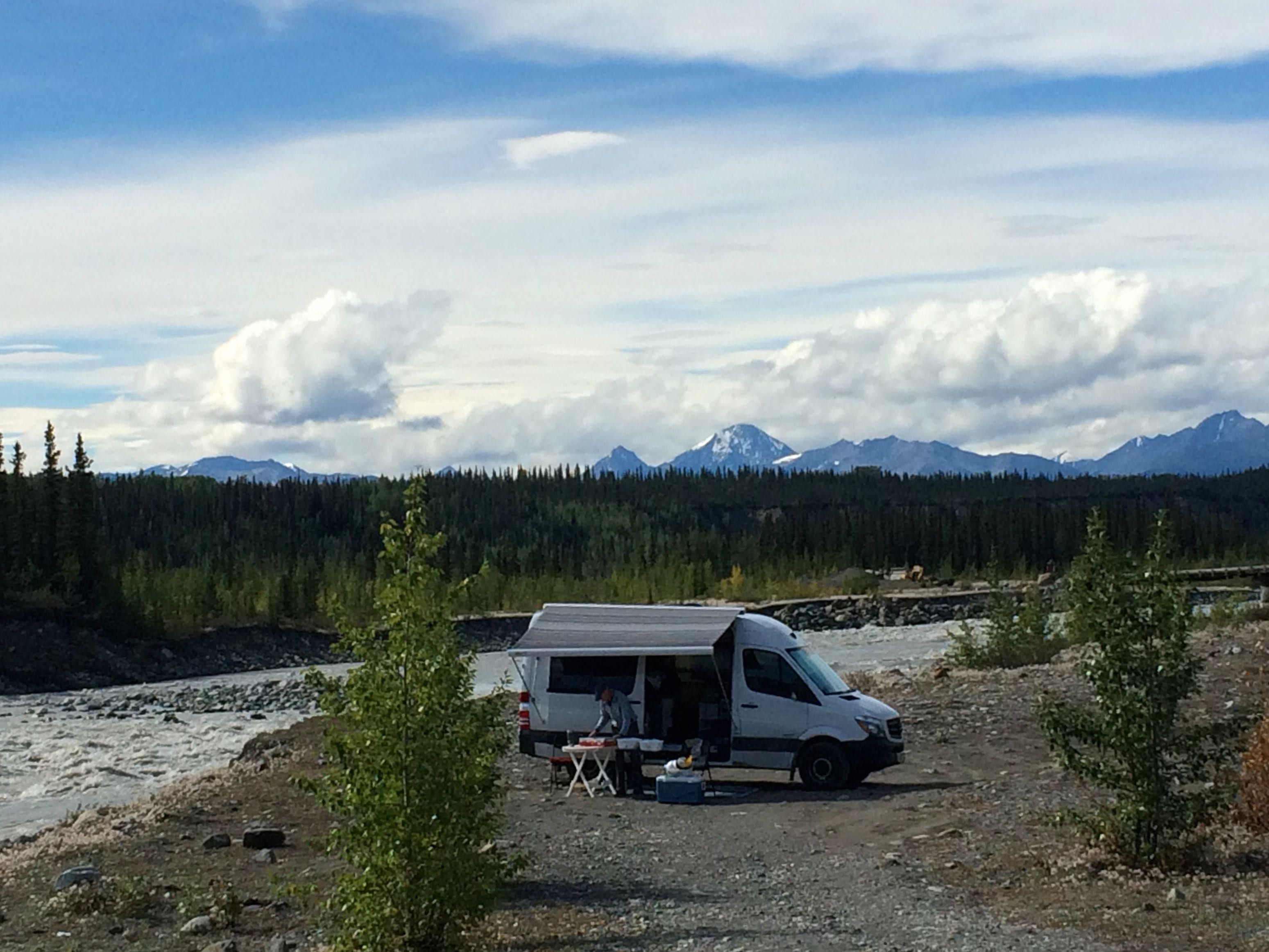 The next picture is looking up river from our campsite towards Kennicott Glacier.  ( Folks dispute whether Kennicott is spelled with an i or an e )
You can't see it in the picture, but we spot a bear above the banks of the river within the trees, close to the other end of this camping area.
We are happy to be down-river from this bear, though folks up there are on higher ground.
We learned after we set up camp that the glacier has a river running under it which turns into the Copper River.
Ice damns build up and occasionally the ice dams break releasing huge quantities of water downstream. 
We did hear the river roar a bit louder the night we camped here and several times looked out the window to see if the water was rising.
It did a bit, but not enough to sweep us downstream.
Not a great nights sleep!
We were happy that we had a room in town the day of our performance ON THE 2nd FLOOR!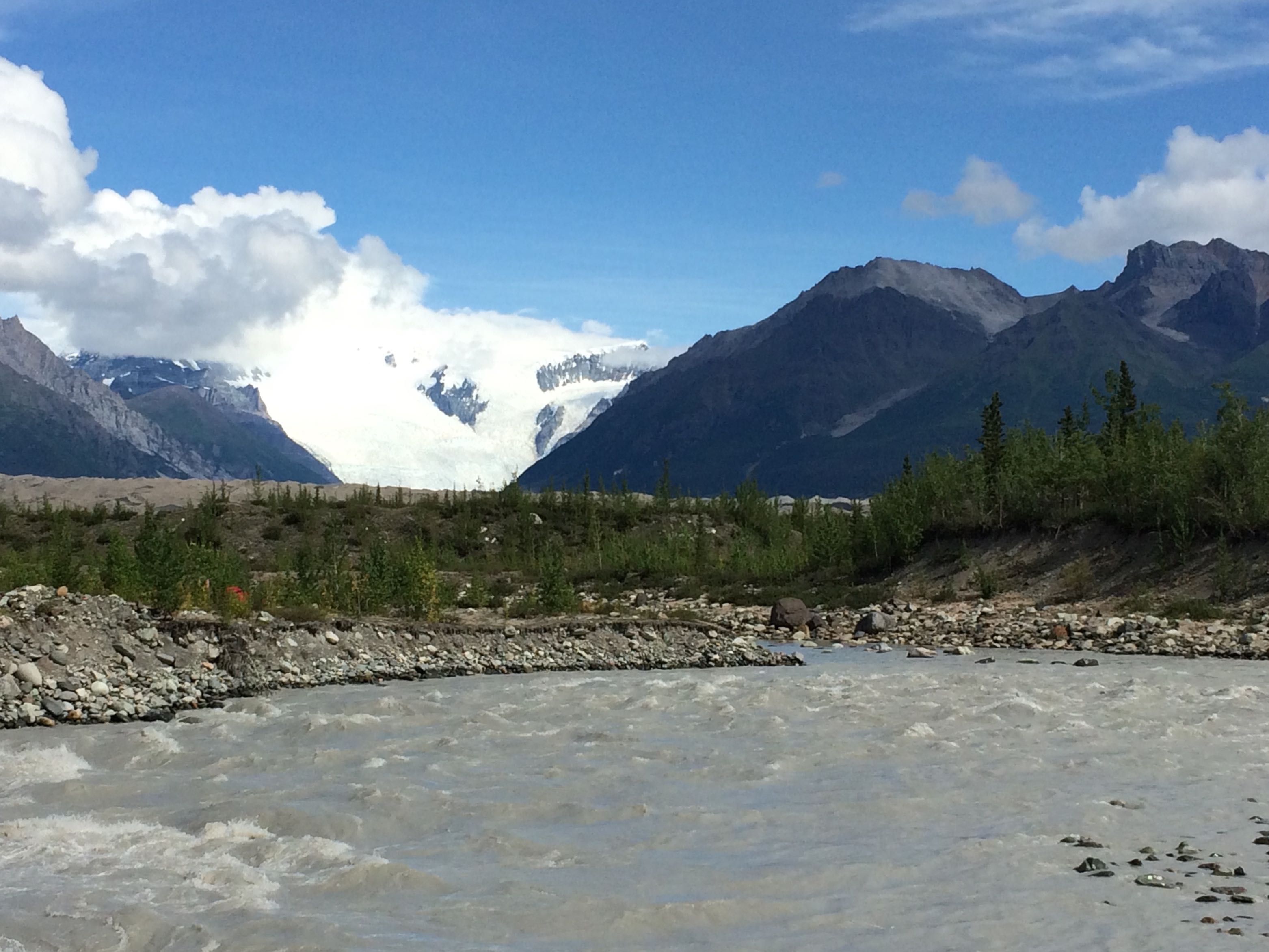 Another picture of this view about midnight!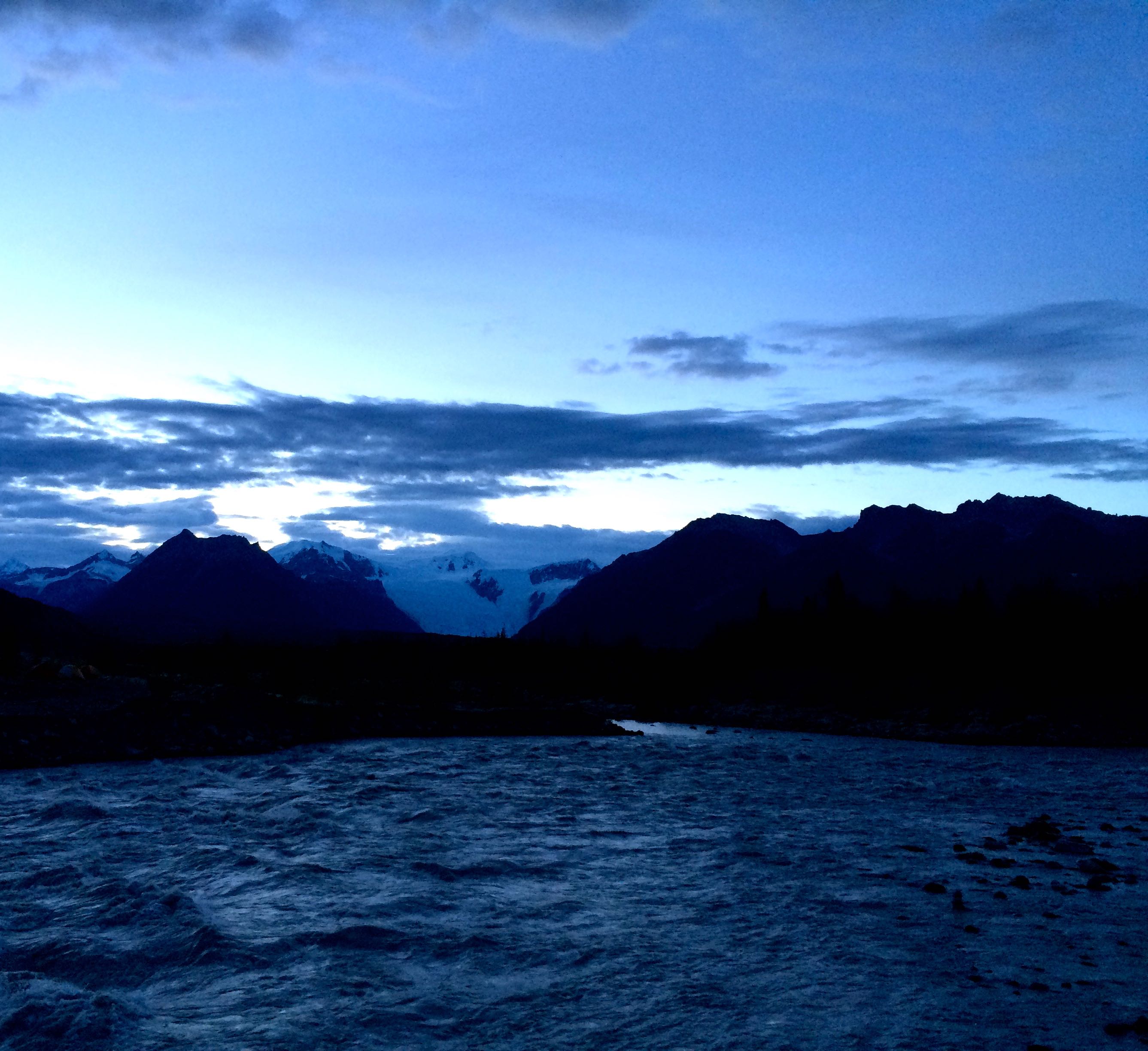 The next day, we break camp and get ready to go cross the river and make our way to Kennicott Mine.
Chris unloading our instruments and gear onto our carts for the river crossing!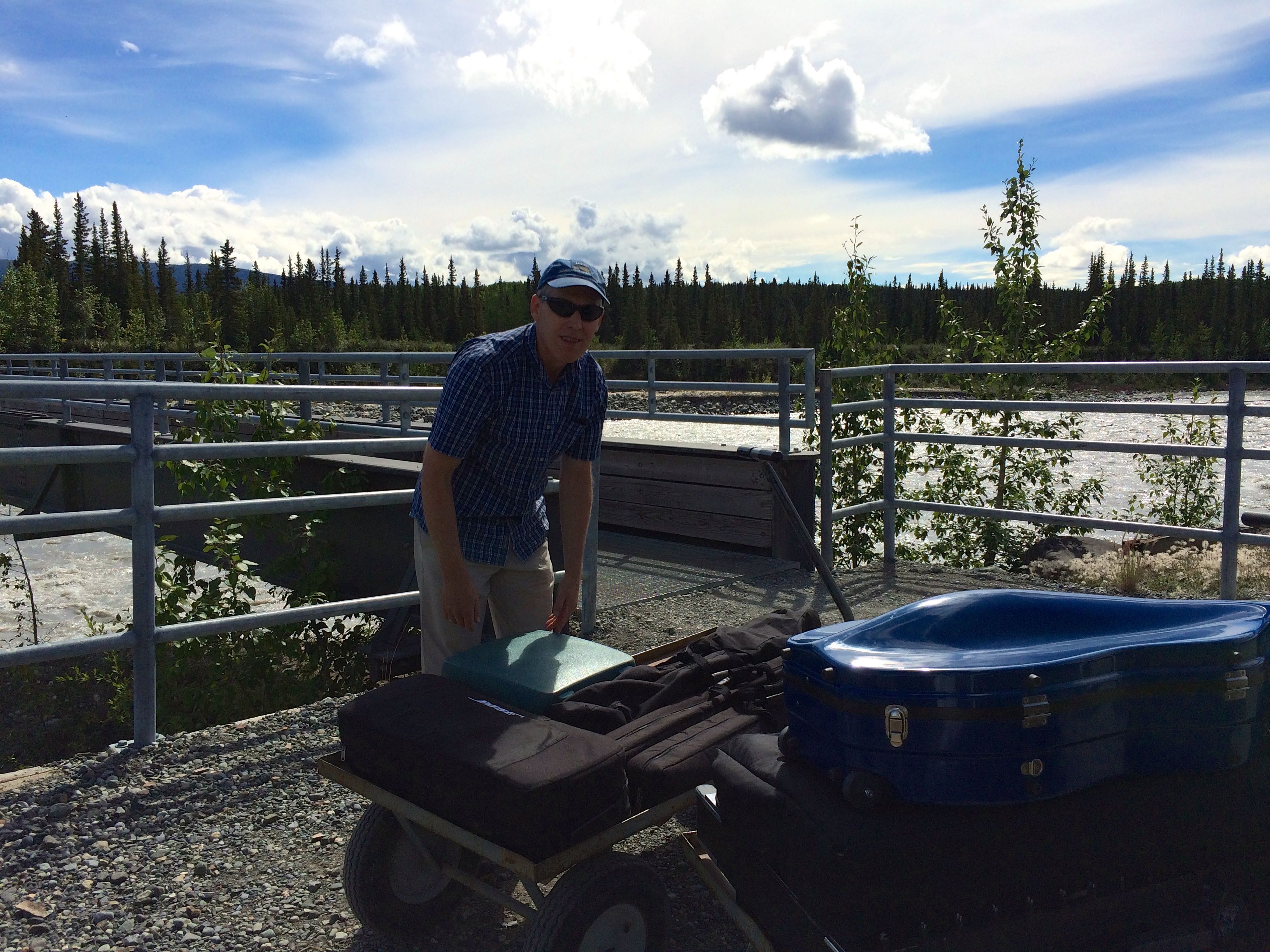 Colleen heads across the river -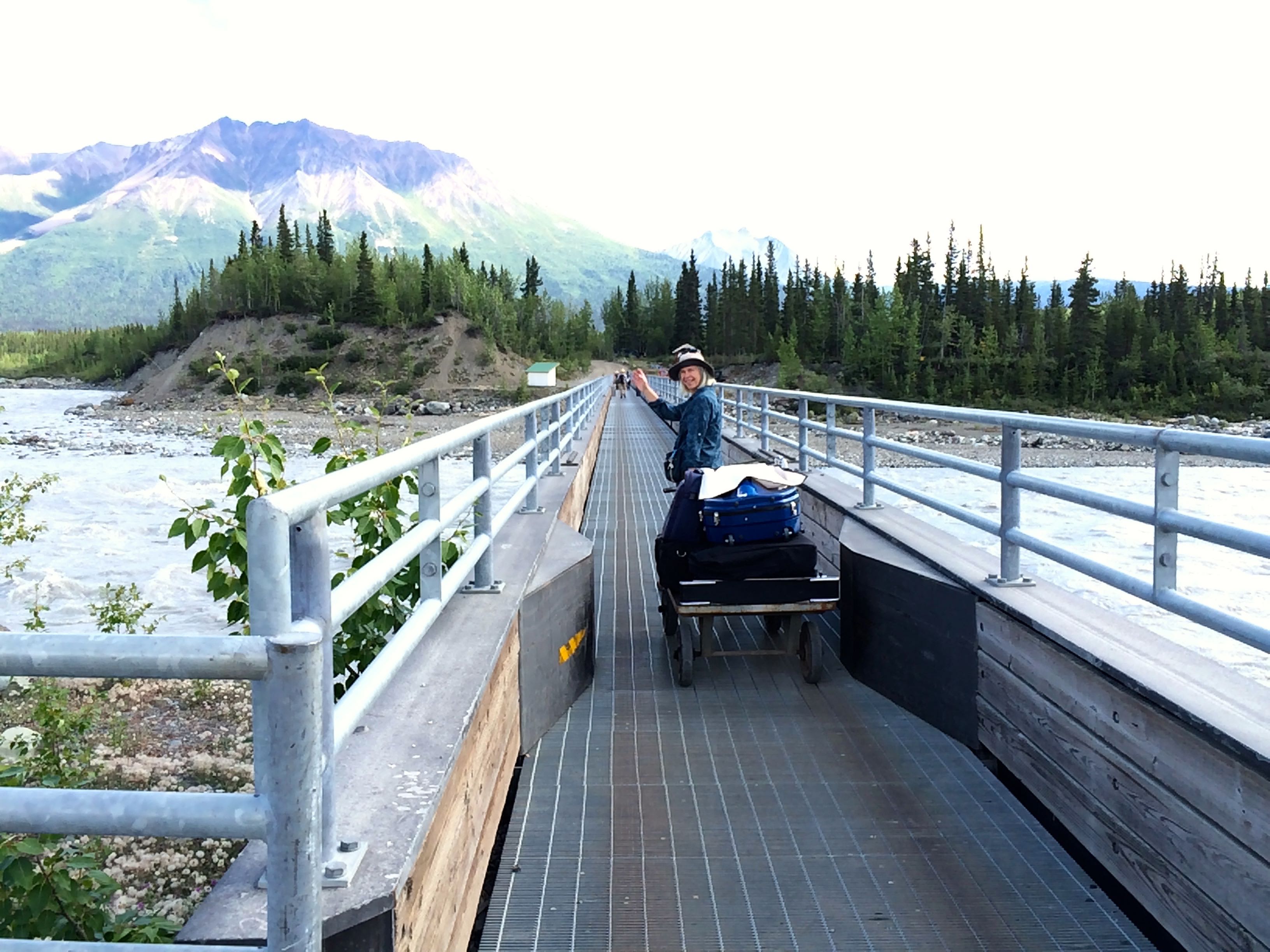 On the other side, our loaner Toyota pick-up truck will take us up to Kenicott Mine.  ( Check out the left front tire....will we make it? )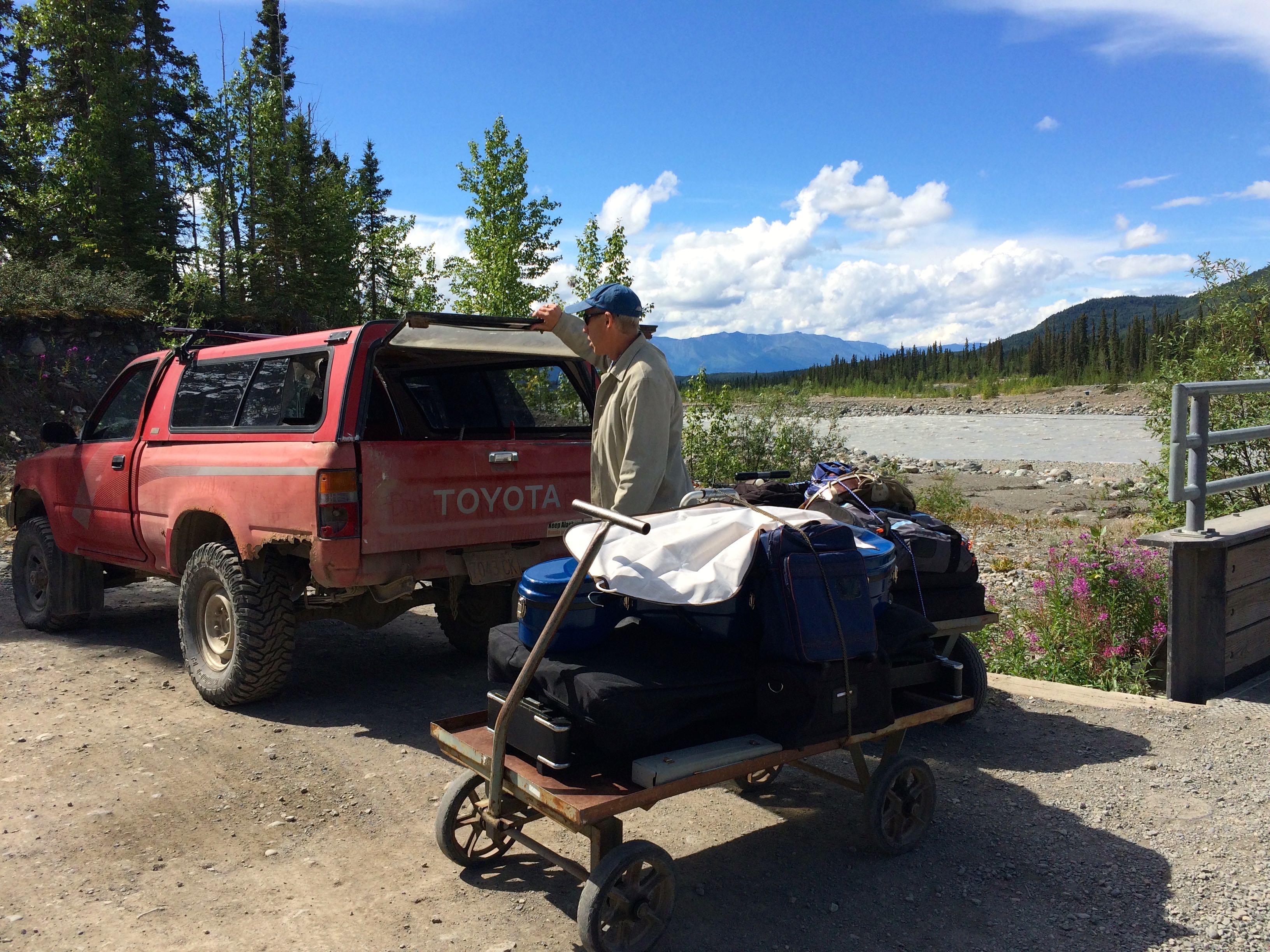 On the road to Kennicott Mine!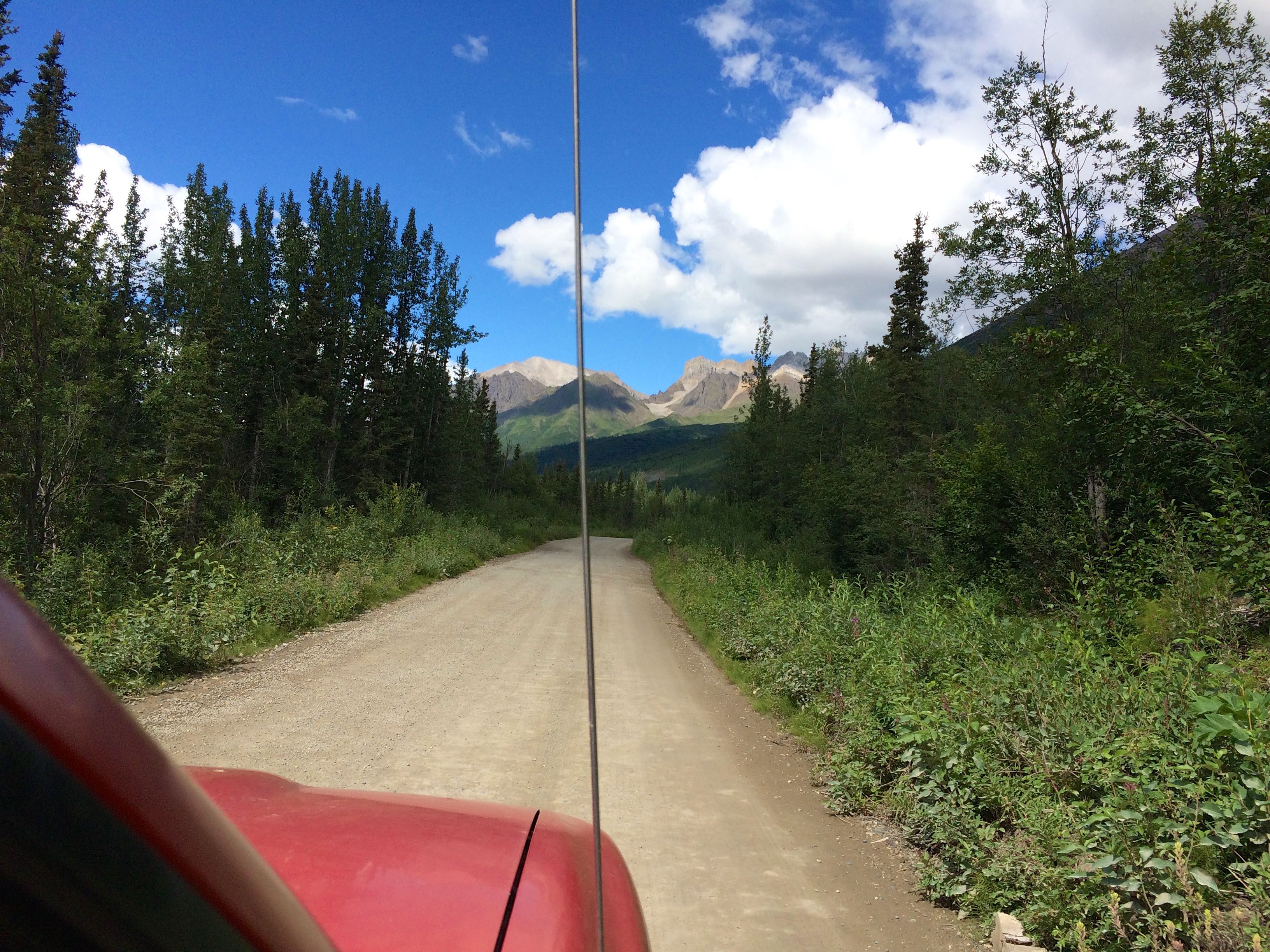 Kennicott Mine is a fascinating place and the location in a remote setting.
Kennicott Mine sits just inside of one of the largest protected places on earth, the Wrangell - St. Elias NP which is a shared NP with Canada.
Wrangell St. Elias contains the tallest mountains in North America ( besides Denali )  both in number ie several over 15,000 feet and a few 18.000 to 20,000 plus feet setting.
There are ice-fields above Kennicott and glaciers spill out from the ice fields.
Those who have traveled to the interior of this park say there are a few "Yosemite" like valleys with granite walls higher than those found in Yosemite.
For one to travel any distance into this park, it would take expedition type planning due to the size and remoteness of this area.
It is possible to hike easily from Kennicott for shorter hikes, and even walk onto one of the glaciers.
The Kennicott mine is being "stabilized" as the park service calls it.
The new paint on the buildings are the original color of the buildings.
The original members of this community were a tight knit group who mainly worked for the mine or to support the families of the miners.
They had a school, gardens, and a recreation hall with all sorts of activities including performances and dances.
Some pics of the mine, buildings & surrounding landscape from different perspectives.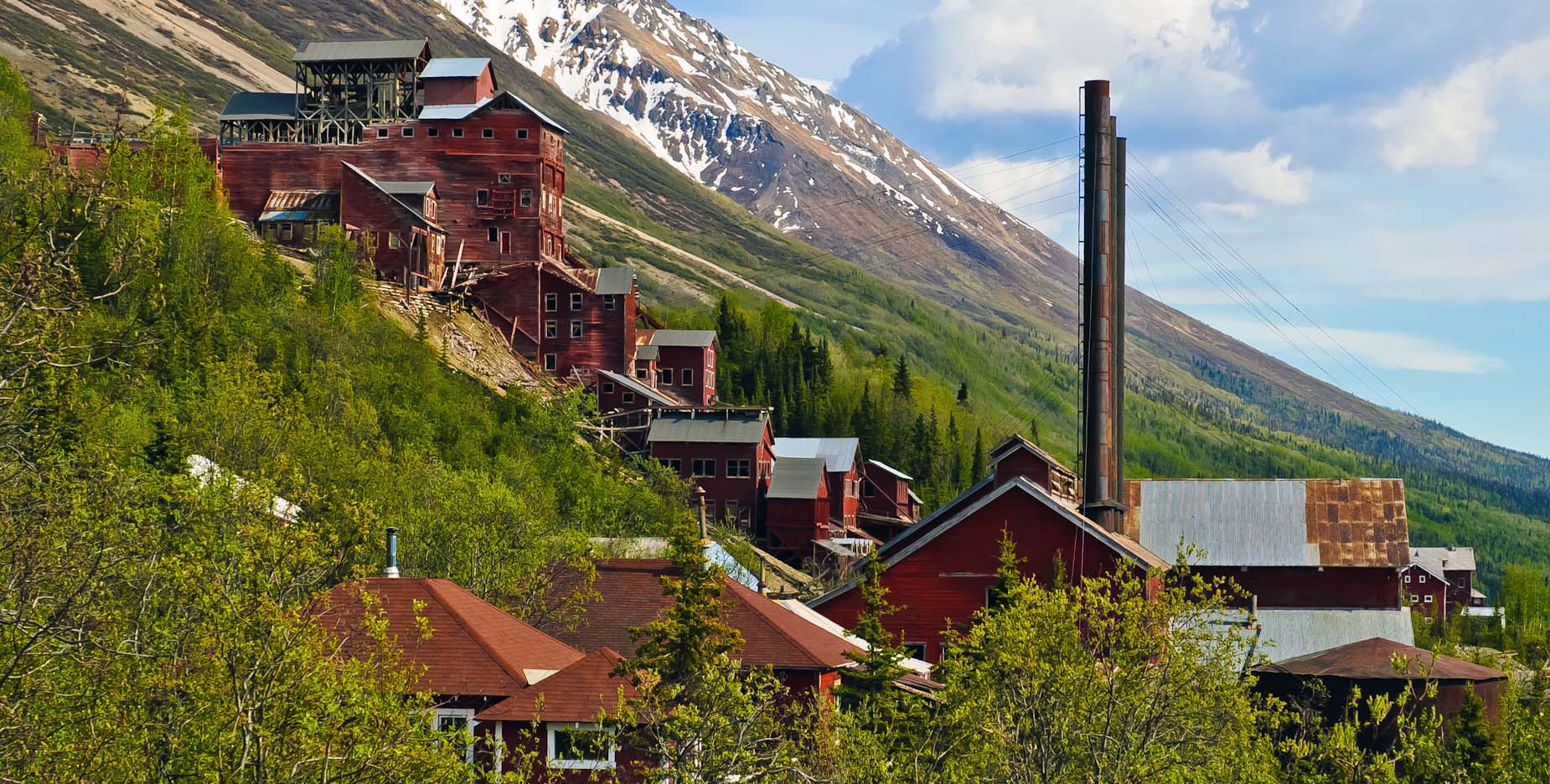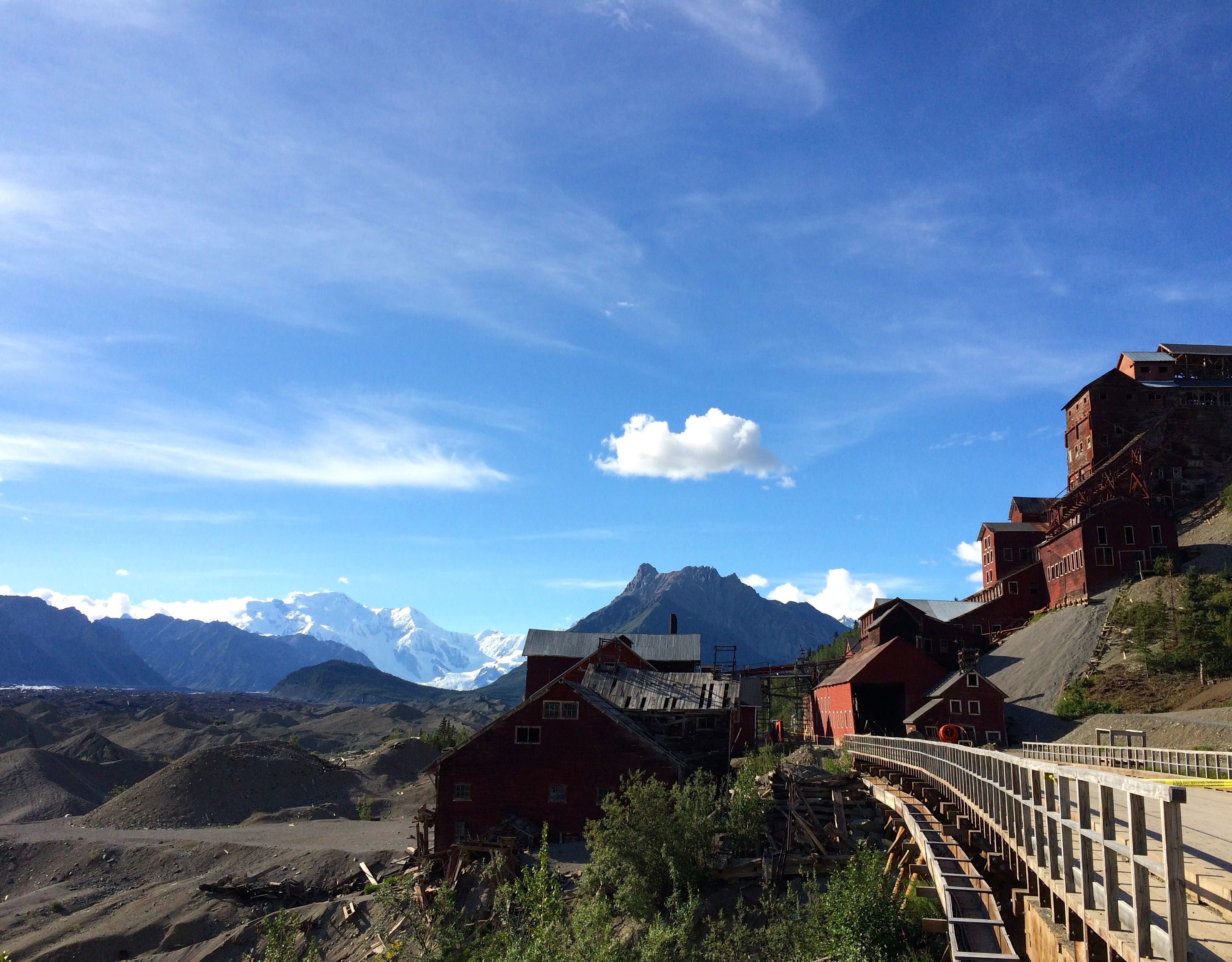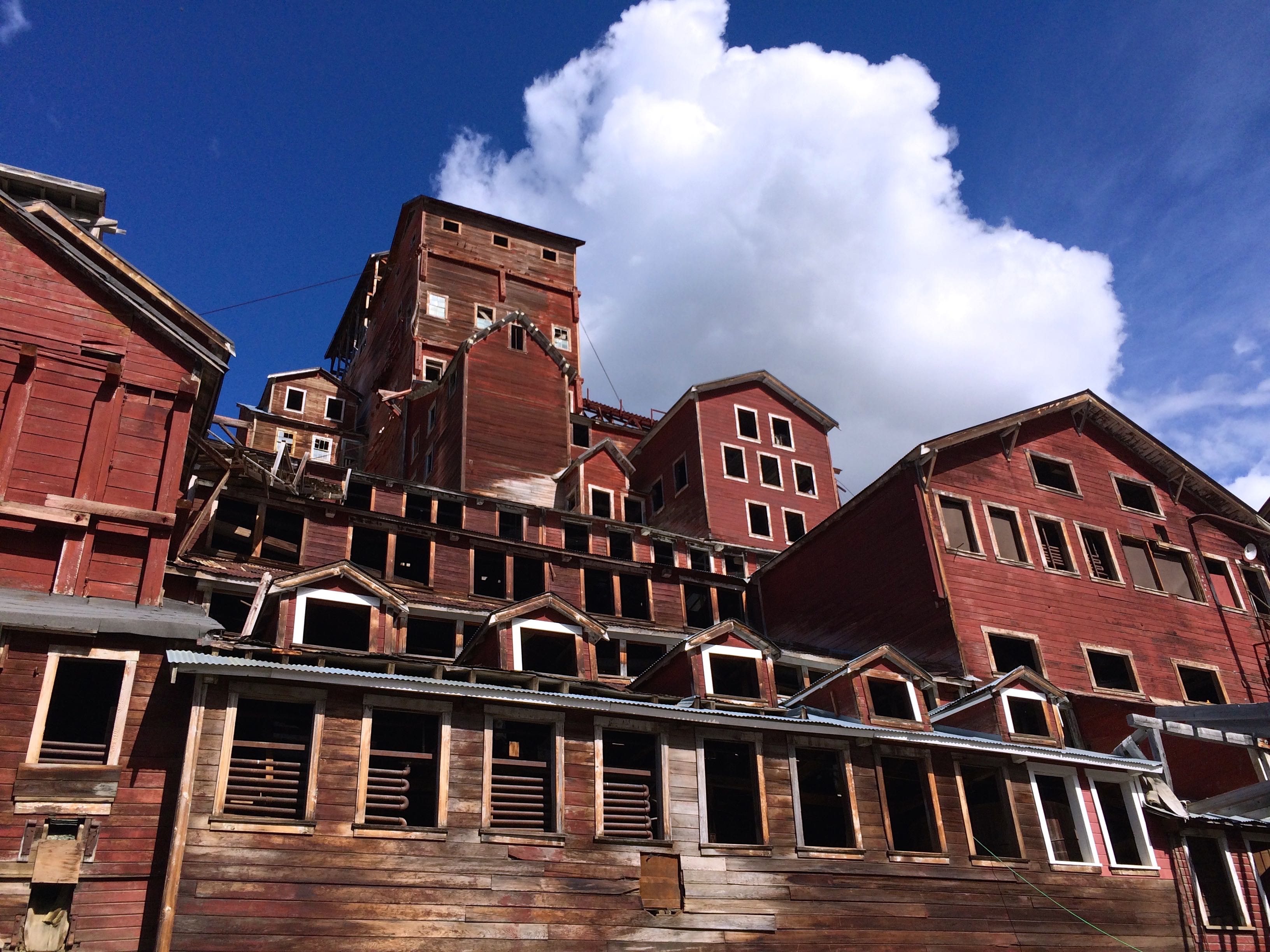 Refurbished buildings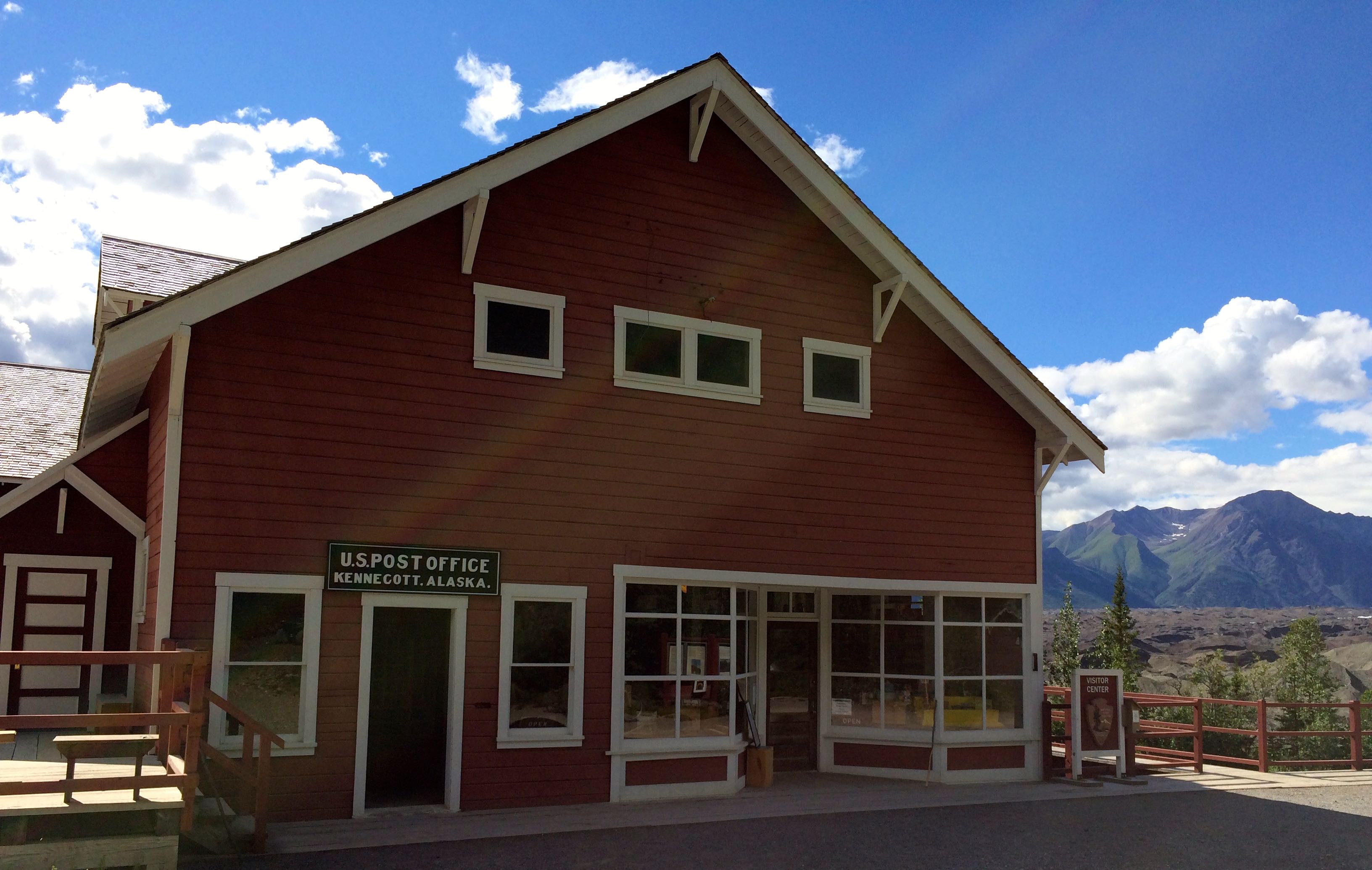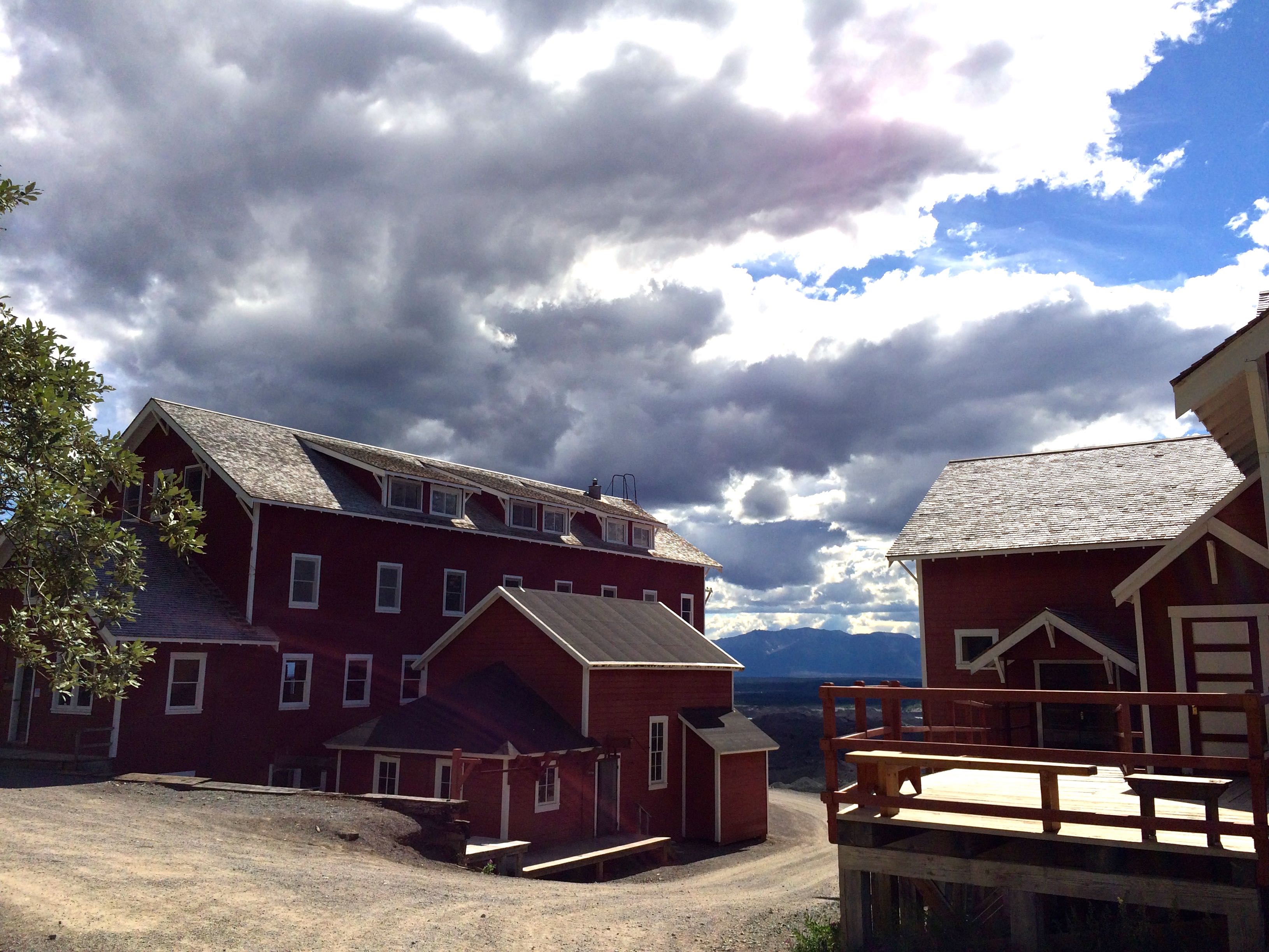 Boiler Room - making electricity for Kennicott and the mine.
This boiler room contained 8 huge Babcock and Wilcox Boilers which provided electricity to power the mine and the town of Kennicott.
Those working in the boiler "room" were happy to work there in the winter!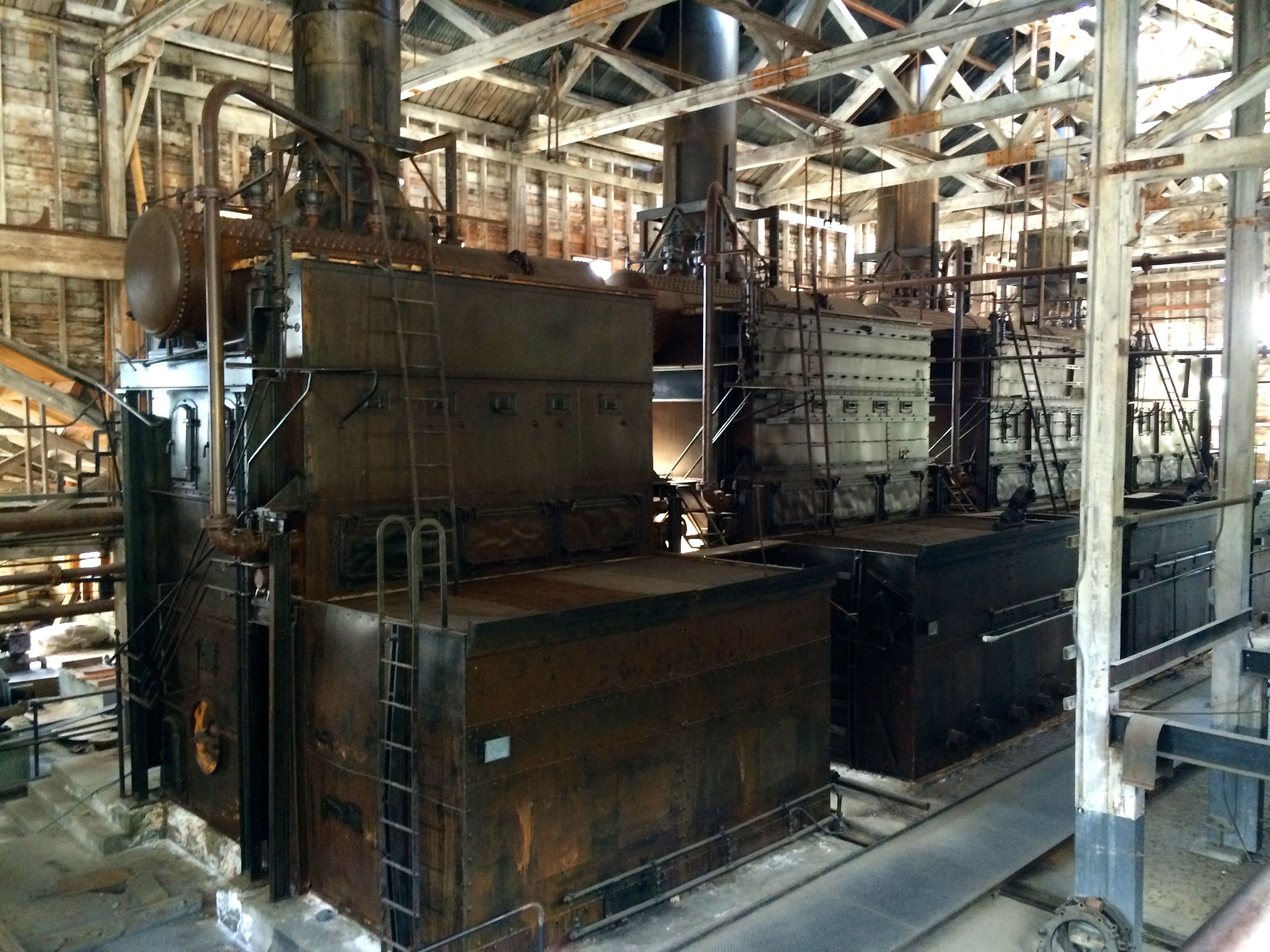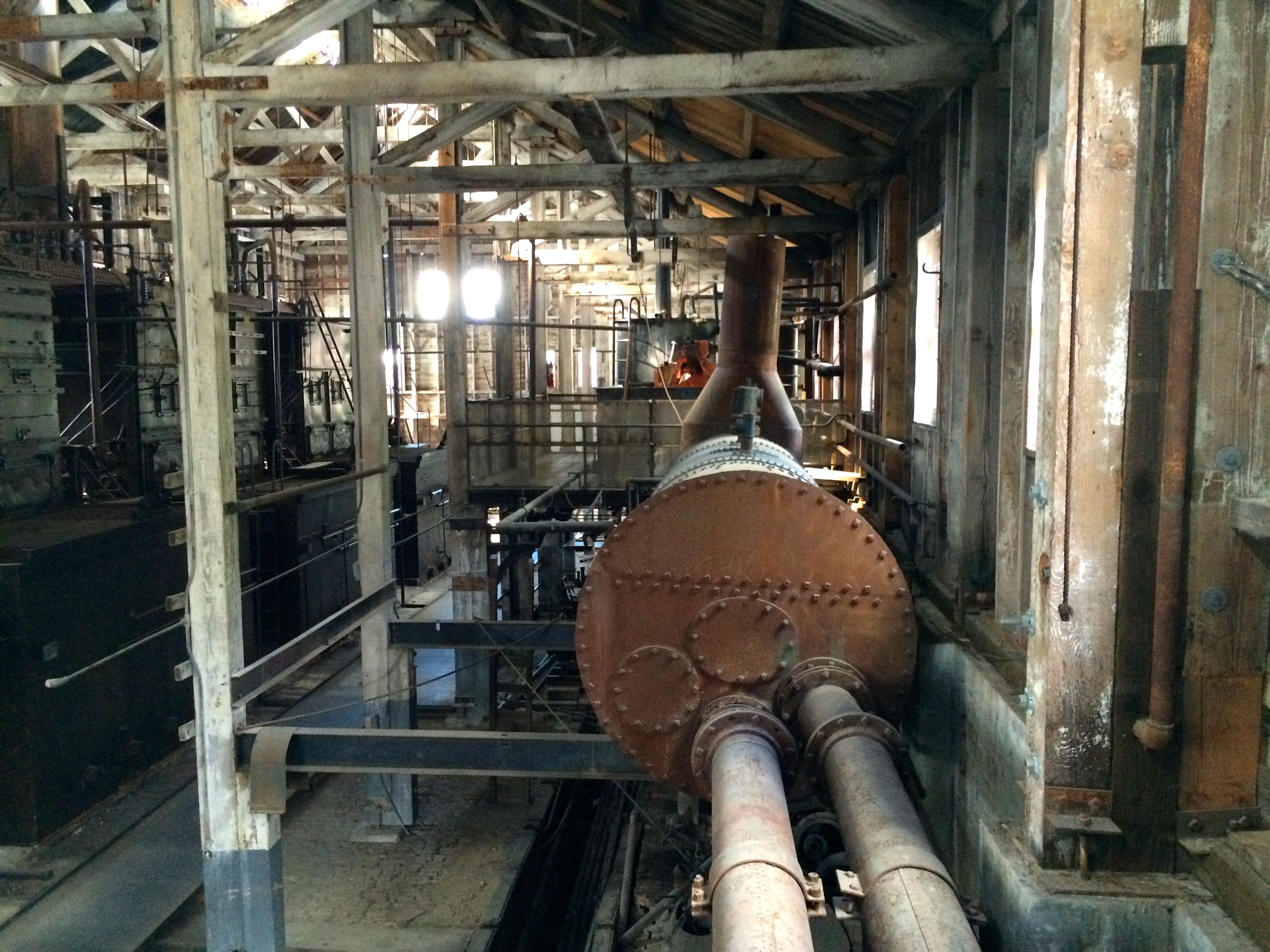 This mine is so fascinating. 
The mine was abandoned virtually overnight in  1938 when the price of copper dropped too low.
When Colleen visited here over 25 years ago, there were still place settings on the tables in family cottages and canned foods in the cupboards.
For more on the history of Kennicott, here is a link.
http://www.17silkstockingrow.com/history.htm
Back to preparations for our concert - we arrive at the Rec Hall to unpack our gear, and yes we made it, even with an almost flat tire!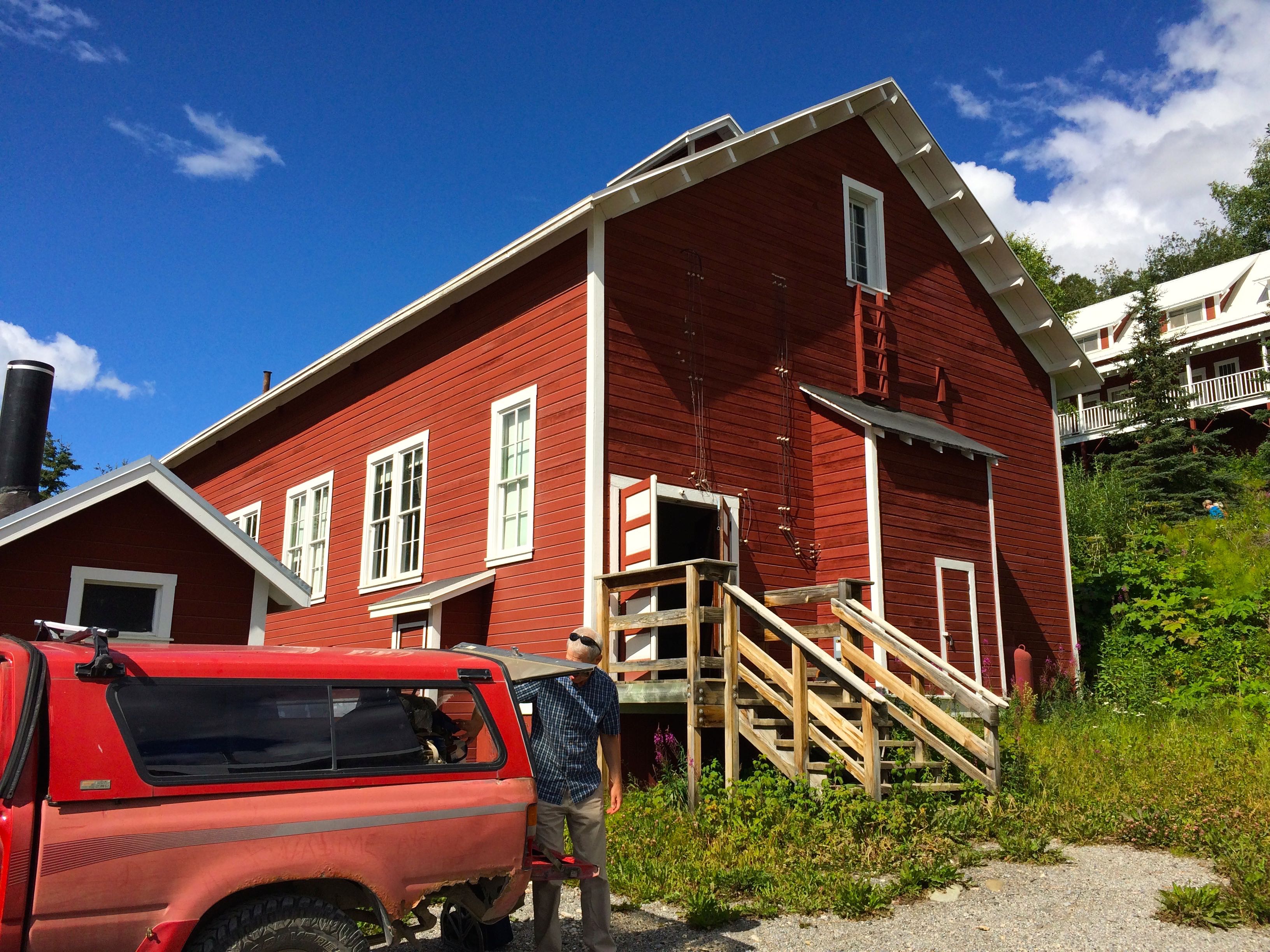 We are finally set up for the evenings performance.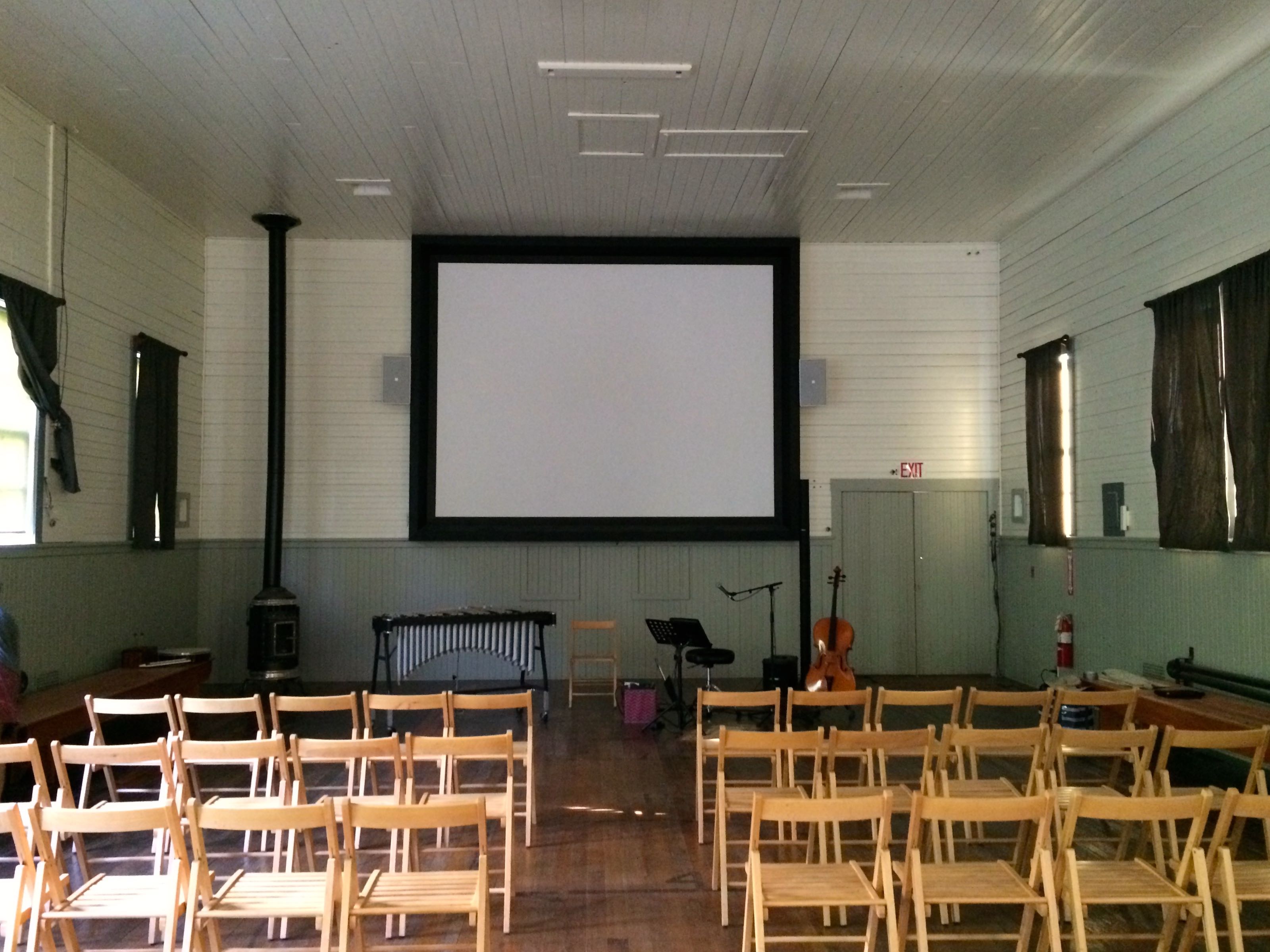 We decided to take a stroll before the performance to see more of the incredible landscape and sights around here!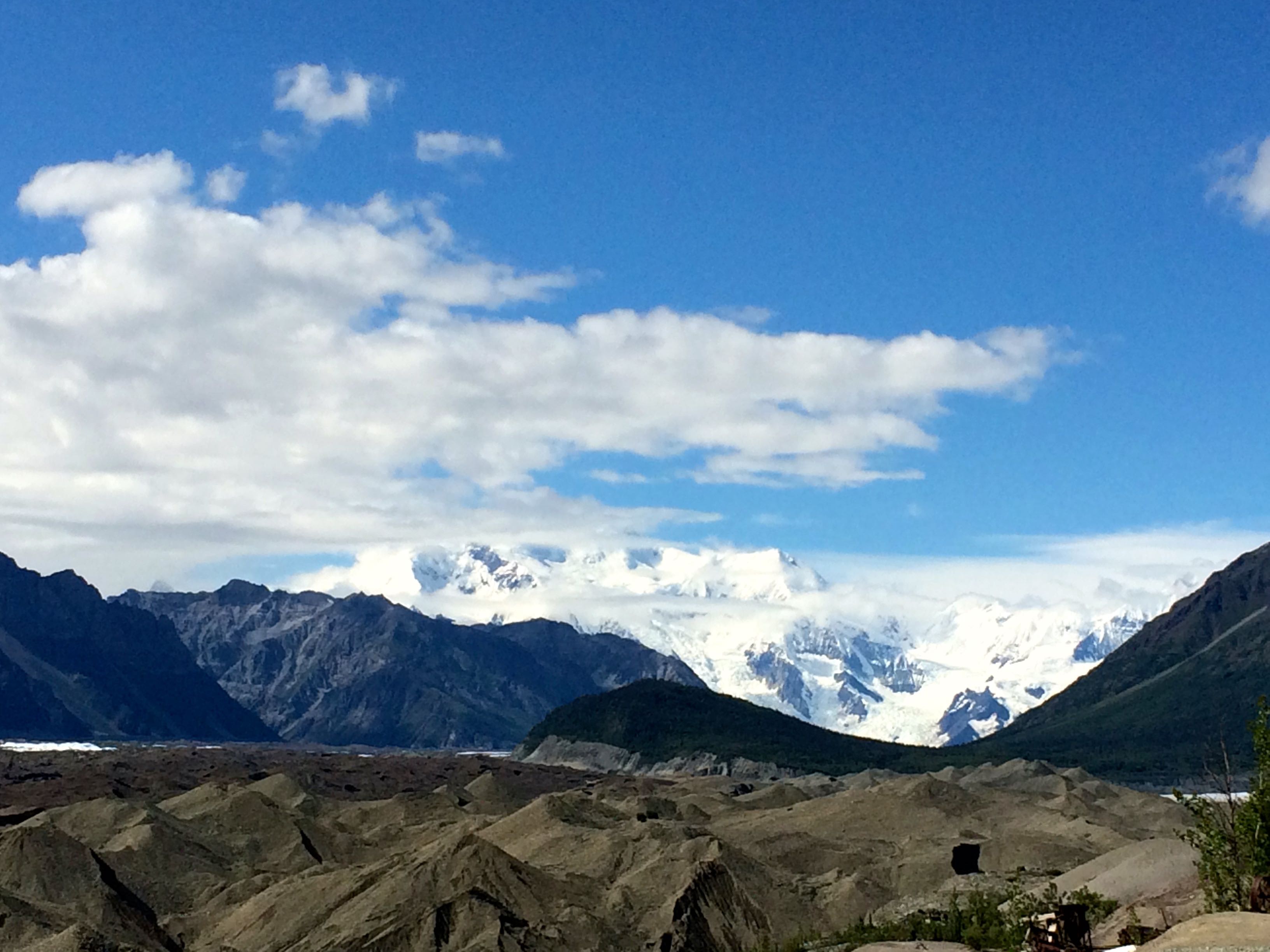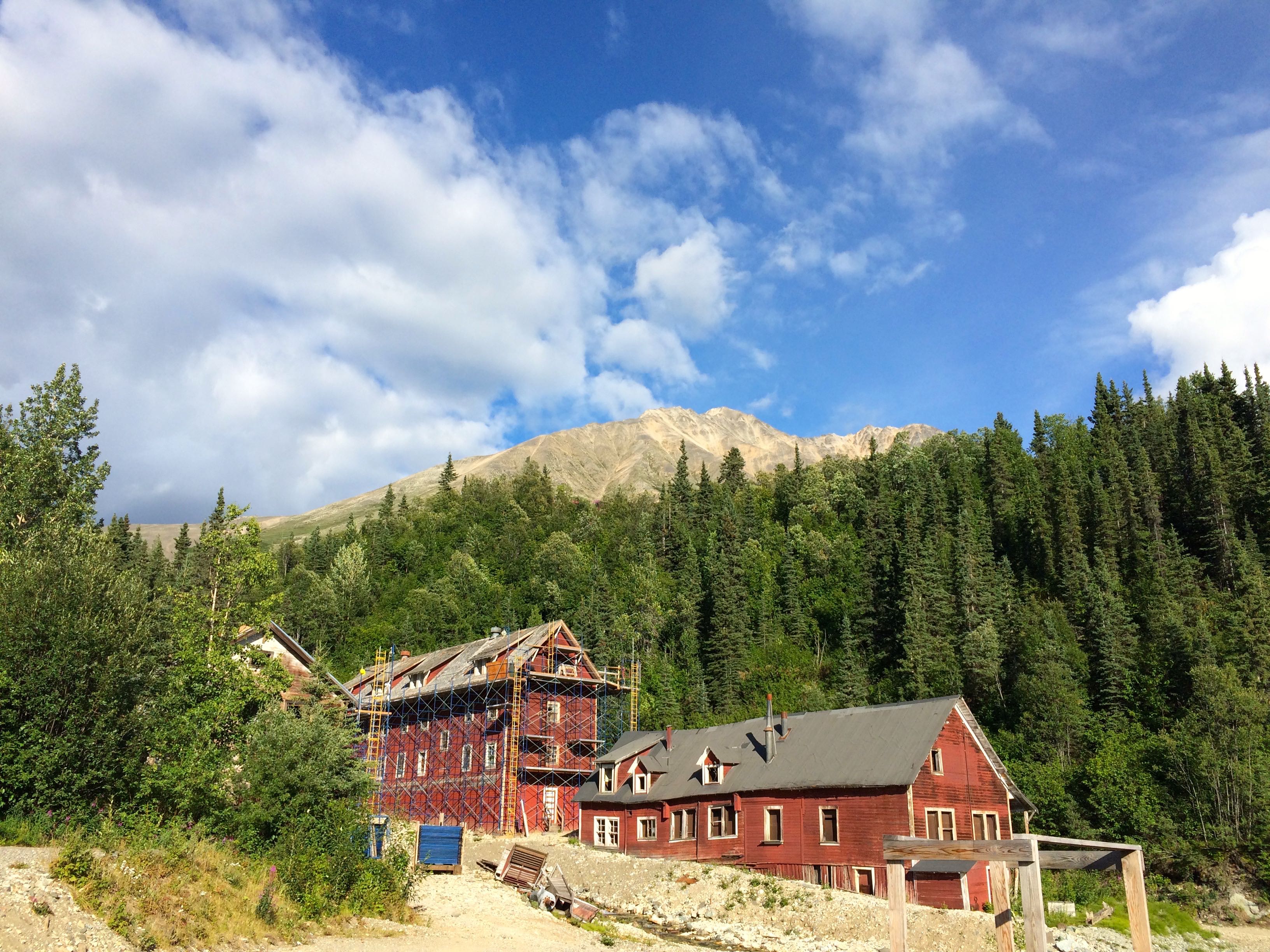 We walk over to the Kennicott Glacier Lodge.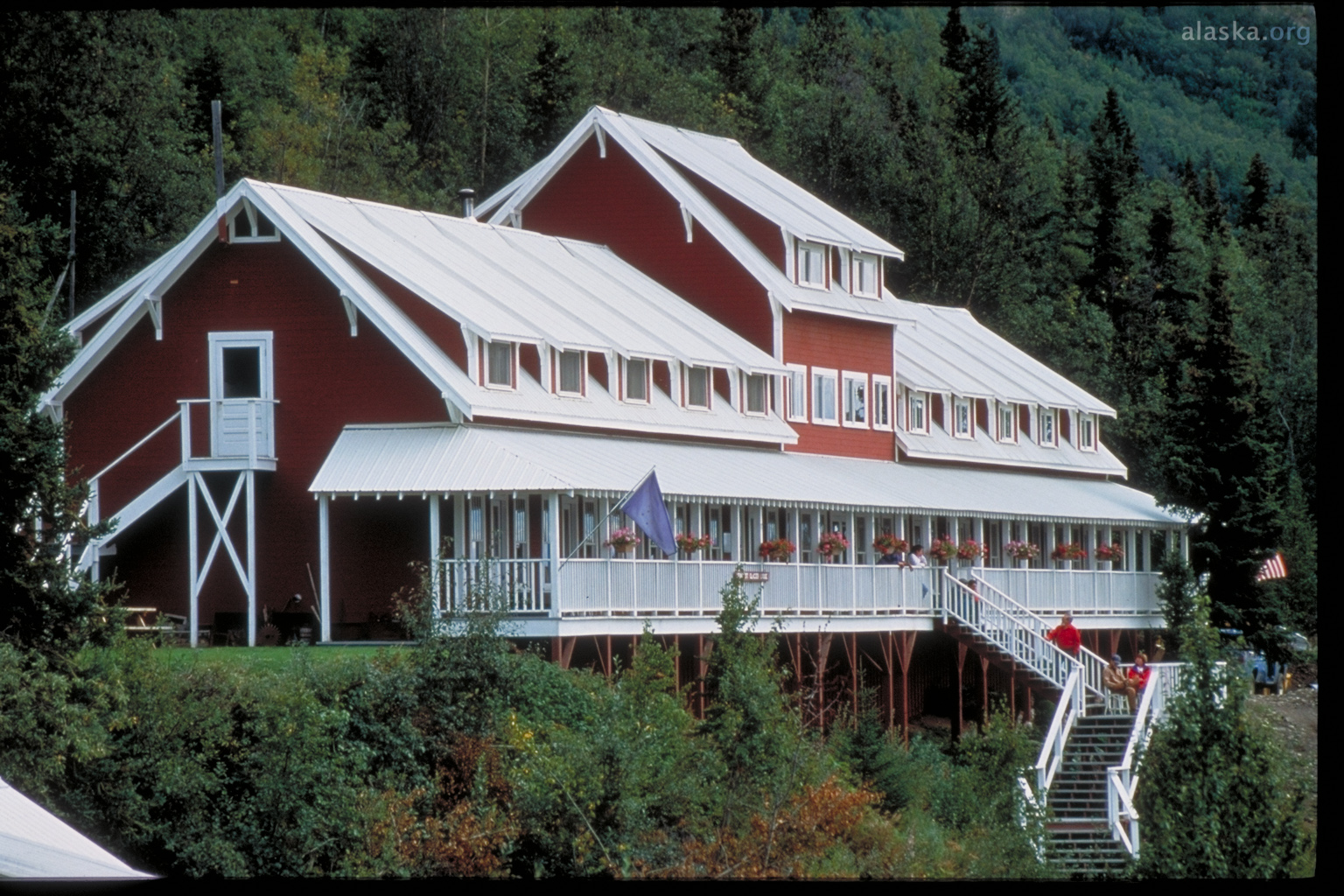 We get closer and look up to the deck level from the bottom of the stairs and see someone waving at us!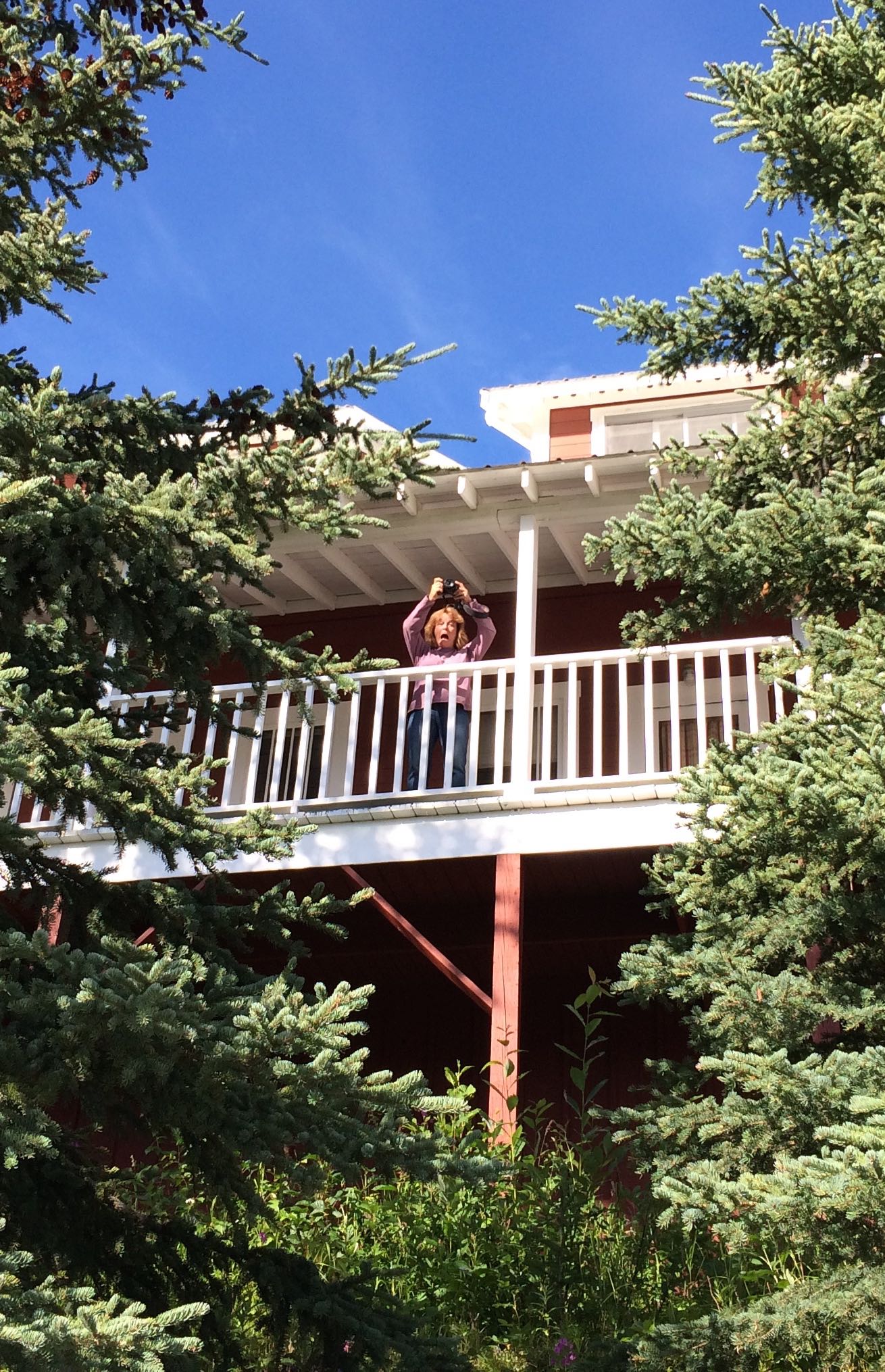 It is our friend Kathy!  We have not seen her since leaving Denali.
Kathy took some great pics and video's of the concert - we hope to post these in the future.
The evenings performance was wonderful, we were impressed at the number of people who made the effort to come, especially Kathy.
After the performance, there is still plenty of light to make our way down to McCarthy, about 4 miles.
Our left front tire a little flatter than before, makes our ride a little smoother actually and we make it back easily.
McCarthy is a town with a population of about 50 people year round.
"In the day" it was called  Shushana Junction but eventually changed its name to McCarthy, and became the site of a turnaround station for the railroad.
"McCarthy was quite a miners' and railroaders' town, with all the – ahem – "entertainment" a young man on the frontier might require.
Restaurants, pool halls, hotels, saloons, a dress shop, shoe shop, garage, hardware store, and thriving red light district all popped up to provide services to more than 800 people in the area. The two towns coexisted for the 27 years that Kennicott was in operation. Traditions from those days, such as the 4th of July baseball game, are still carried out today."
For more history, go to http://www.largestnationalpark.com/history.html.
Present day McCarthy is rustically charming.
The locals preserve the history and buildings in a way that makes this town feel like it was 100 years ago.
Our hotel with our room on the 2nd floor, right side of building.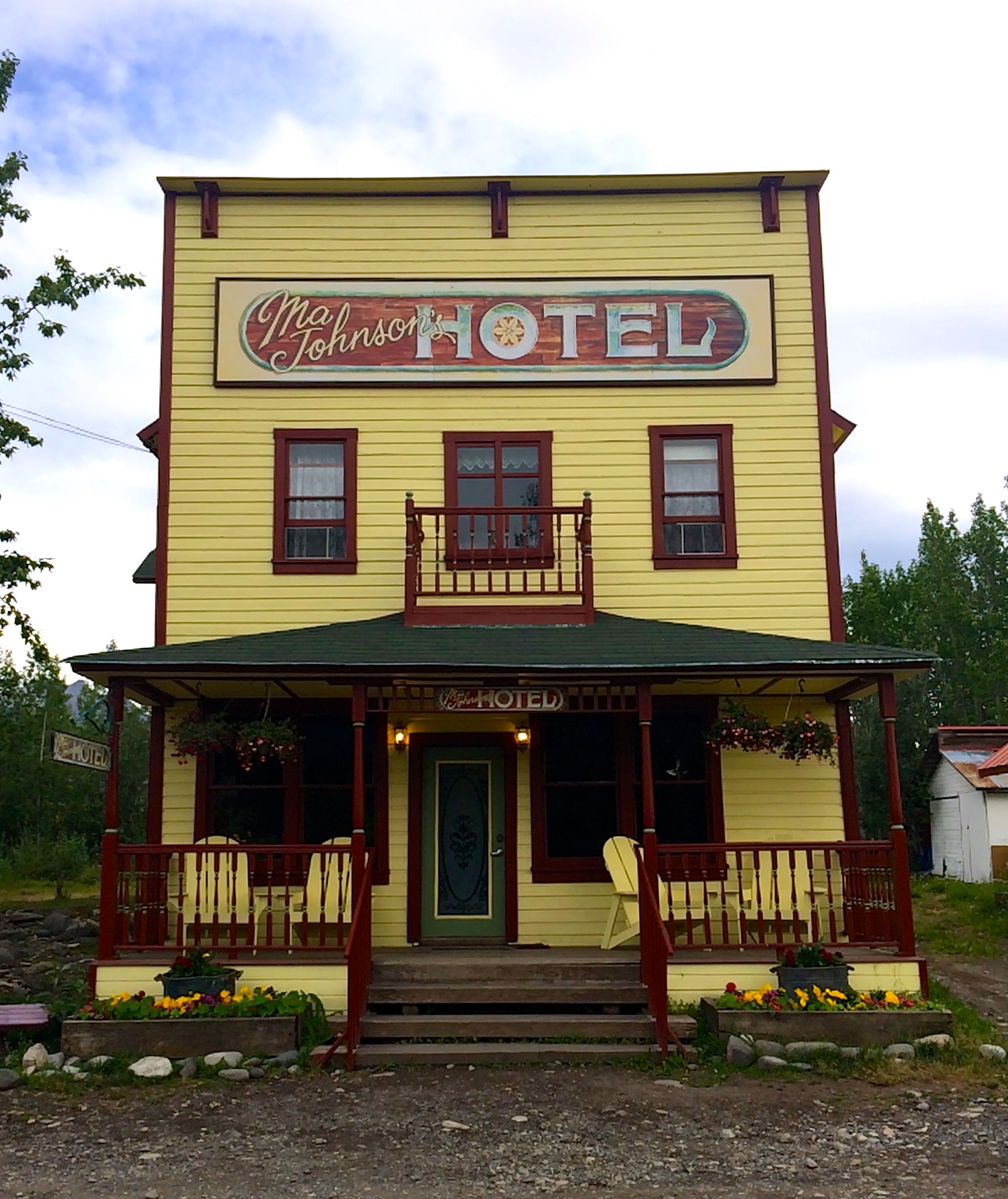 The Golden Saloon on the left and McCarthy Lodge Bistro on the right of this building served up great food, drinks and ambiance!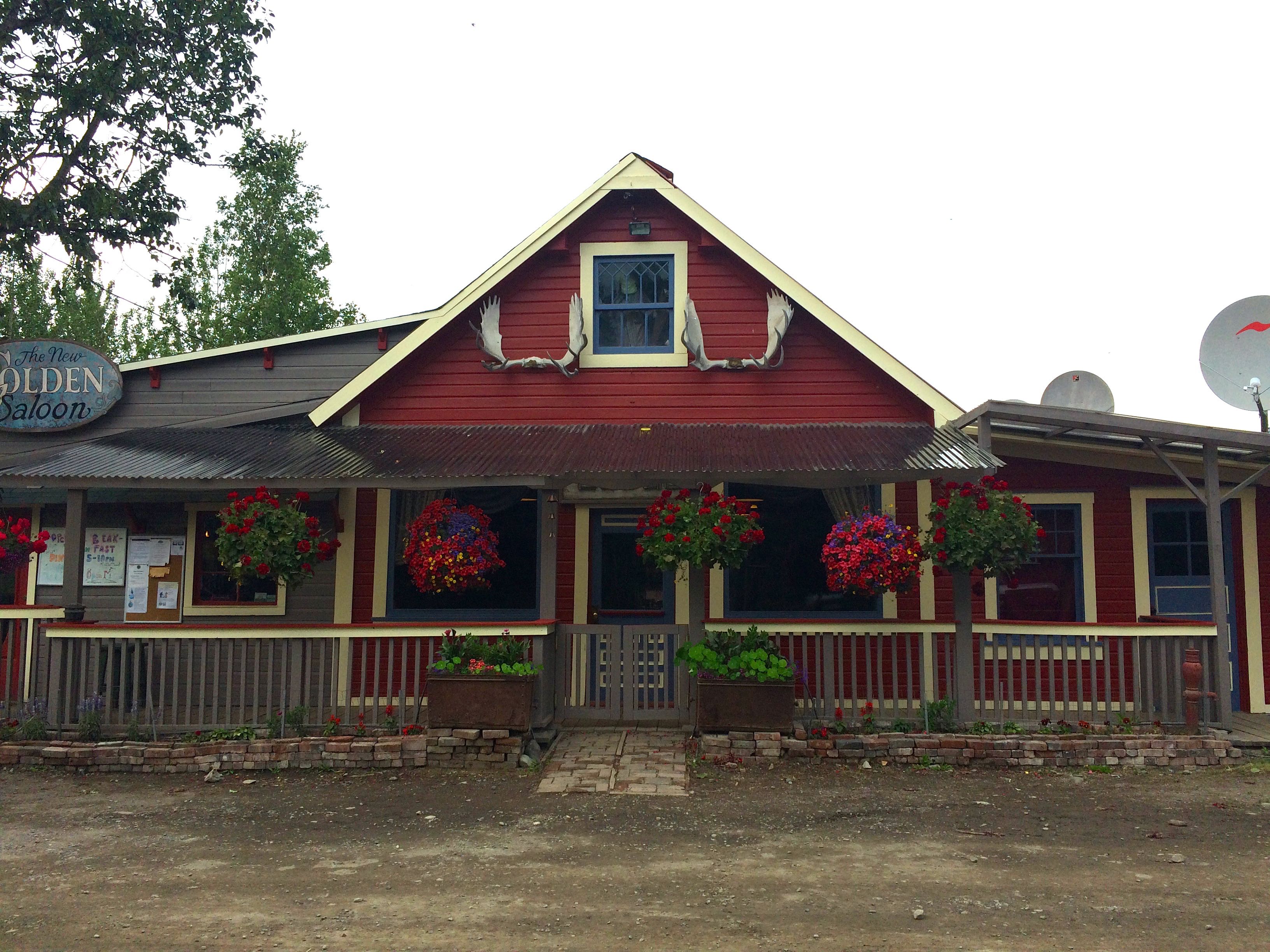 We went over to the Saloon for a drink and look who we saw.
"How much is that doggy in the window...arf ...arf"!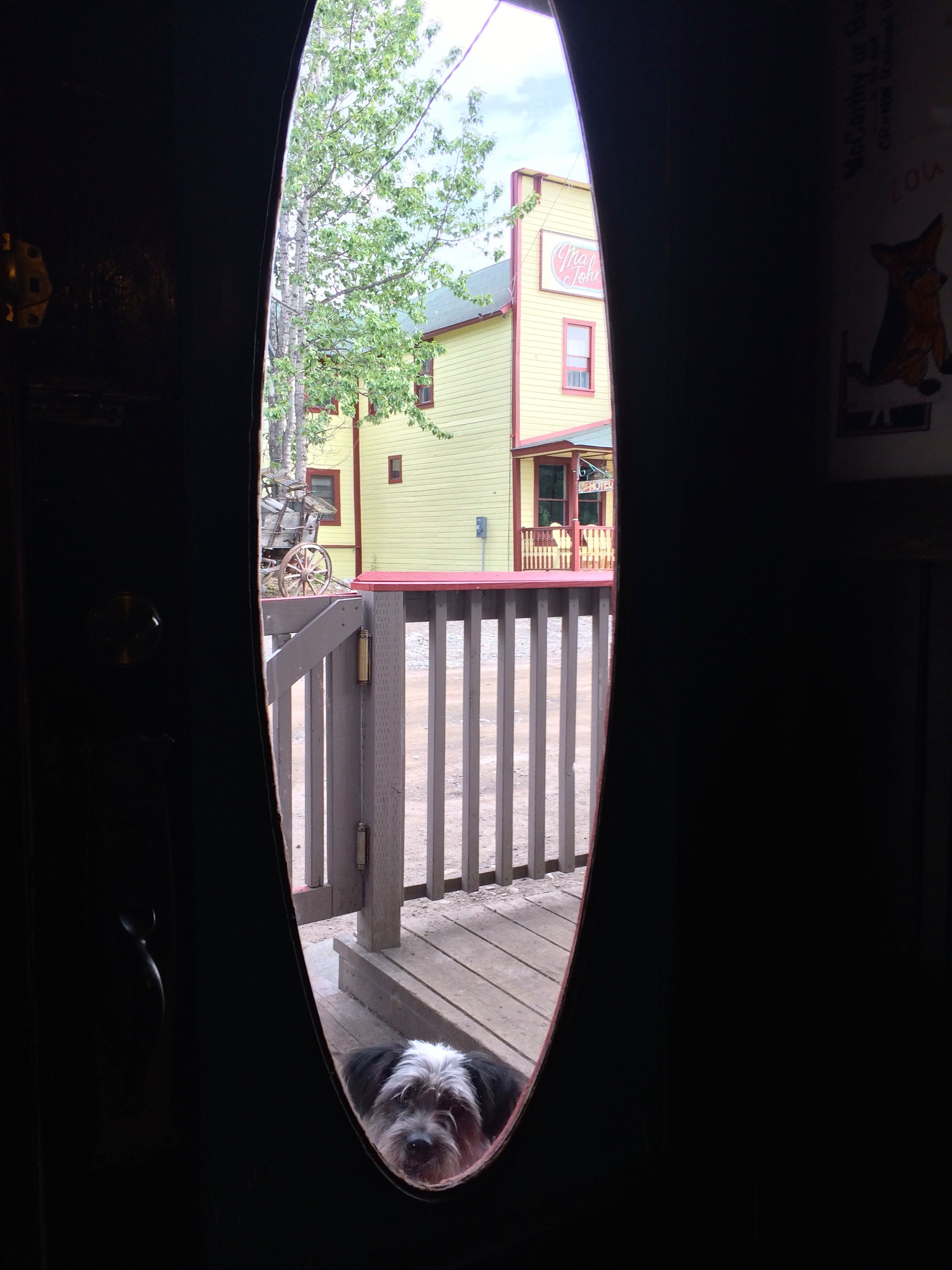 The Wrangell Mountains Center used to be the general store in McCarthy.
Wrangell Mountains Center fosters appreciation, understanding, and stewardship of wildlands and mountain culture in Alaska through scientific and artistic inquiry in the Wrangell Mountains. Meeting the needs of students, writers, artists, scientists, travelers and local citizens, we offer opportunities for people of all ages and abilities to explore, express, and be transformed through direct experience with this extraordinary place.
The Wrangell Mountain Center and Ma Johnson's were the 2 groups to bring us to McCarthy and hosted our stay and concert @ Kennicott Mines.
For more info on the Wrangell Mountain Center - go to Wrangells.org.
We really appreciated the chance to come here - it was one of the highlights of our travels!
Here is a picture of the center in the old general store!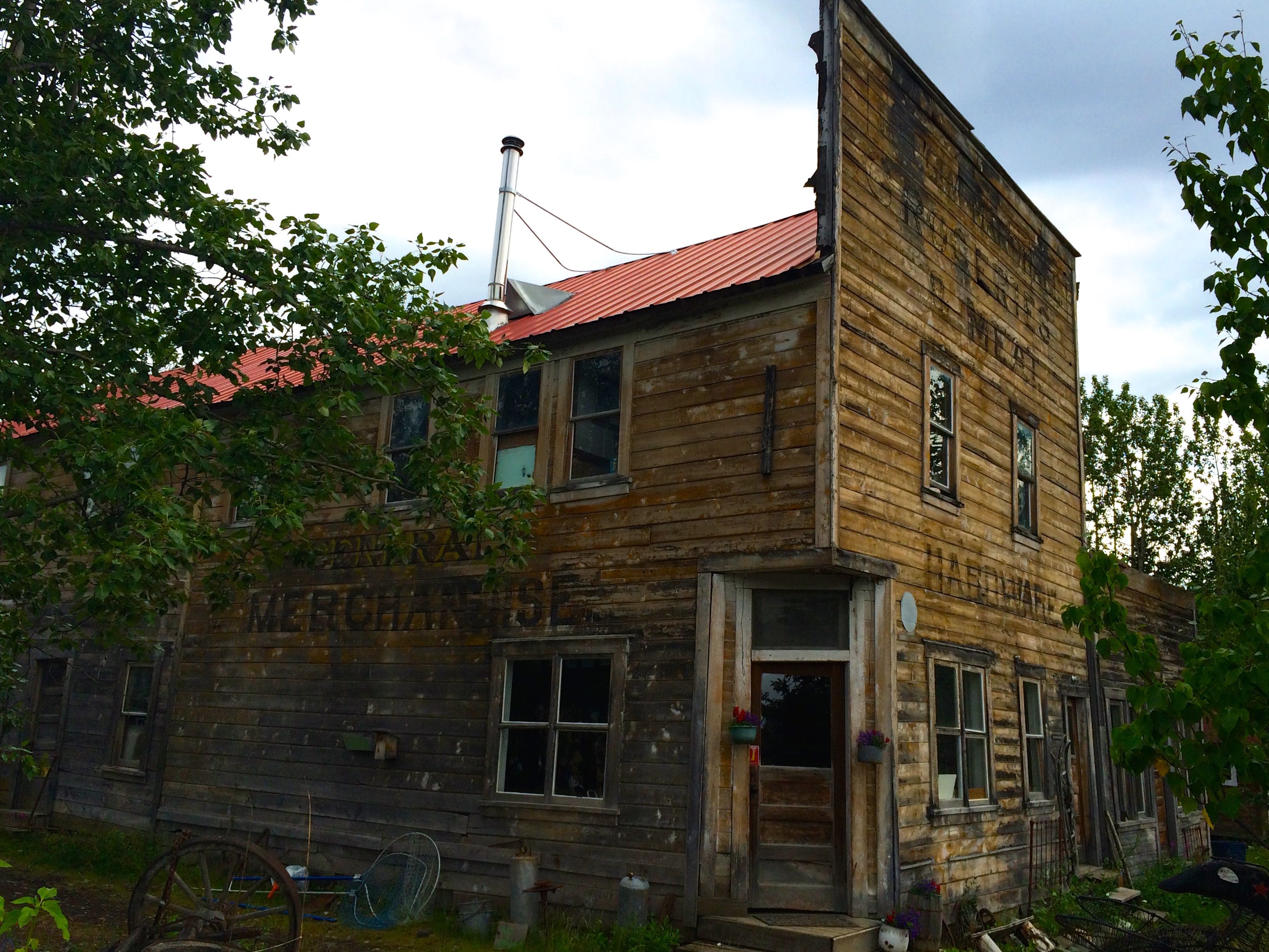 Metal Sculpture Raven outside the Wrangell Mountain Center -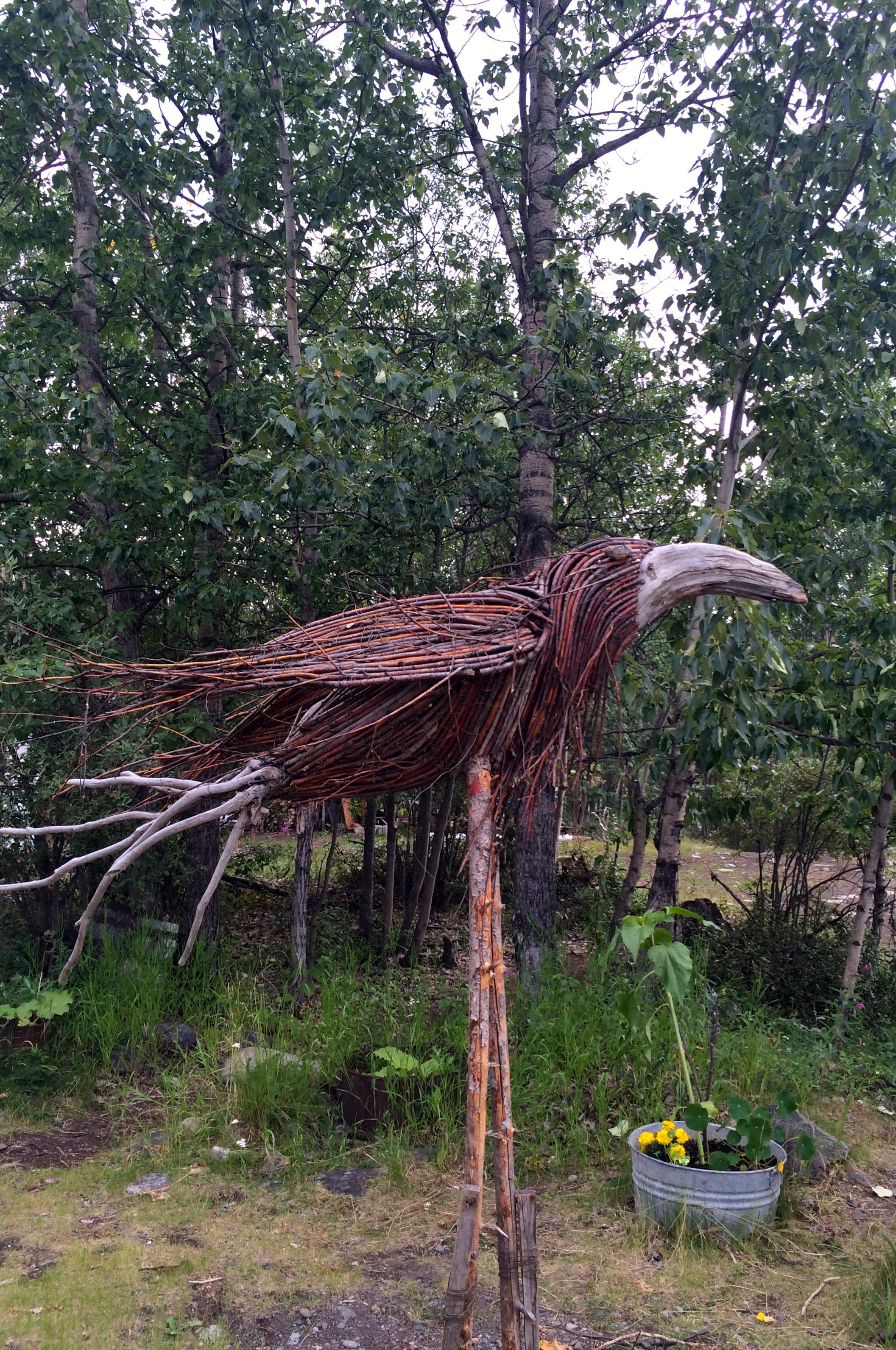 Our journey to McCarthy and Kennicott has drawn to a close and we now head back on the gravel road to Kenny Lake, which is on the Edgerton Highway just beyond the where the McCarthy road starts. 
Our friends Gay and David Wellman have a B & B which they graciously offered as our lodging for our time with them.
Gay & Colleen worked together as RN's on the night shift @ Alaska Hospital and Medical Center in the late 70's.
Working nights helped to create a comradery & friendship that has lasted over all these years, truly a kindred spirit!
Gay made it possible for us to play in Kenny Lake Community Center & to do a workshop with the young people of Kenny Lake in their library.
She also helped to connect us with the folks in McCarthy which resulted in our travels & performance @ Kennicott Mine Recreation Hall.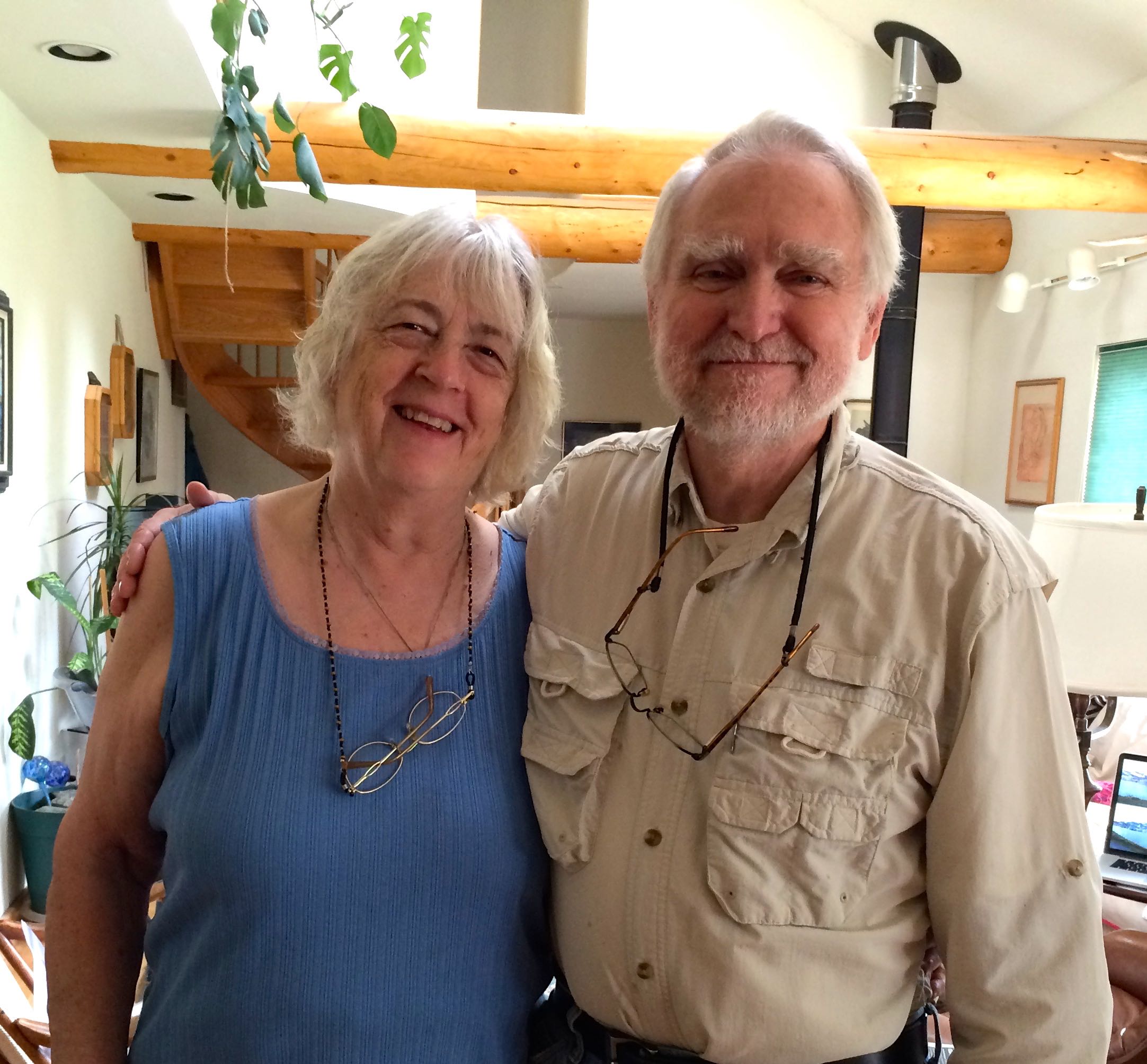 Every year in late summer, they host the "One World Camp", " One World Camp offers an opportunity to look at significant issues of life on Planet Earth in a venue that is made available by the Planet itself. Participants experience a sense of uplift, hope, and renewal of purpose in the beautiful natural setting of Wellwood Nature Preserve. Those who attend One World Camp share ideas, meet other good people, and contribute to the revitalization of the planet while enjoying and exploring the wildland trails and views of the Nature Preserve, in the heart of Alaska's Copper River Country. Participants will explore practical solutions to troubling problems of the world, make lasting friendships, and find a unique opportunity to reset the personal compass during this weekend of outdoor activity, thoughtful conversation, and direct service.
For more info on their great & much needed work, go to http://www.wconserve.org/.
We performed our Poetry in Music concert @ the Kenny Lake Community Hall. 
We had a great turn-out and enthusiasm for our program and found Kenny Lake Folks to be especially "down-home" friendly and willing to experience something new.
The acoustics were really great in this hall!  A wonderful evening for all of us!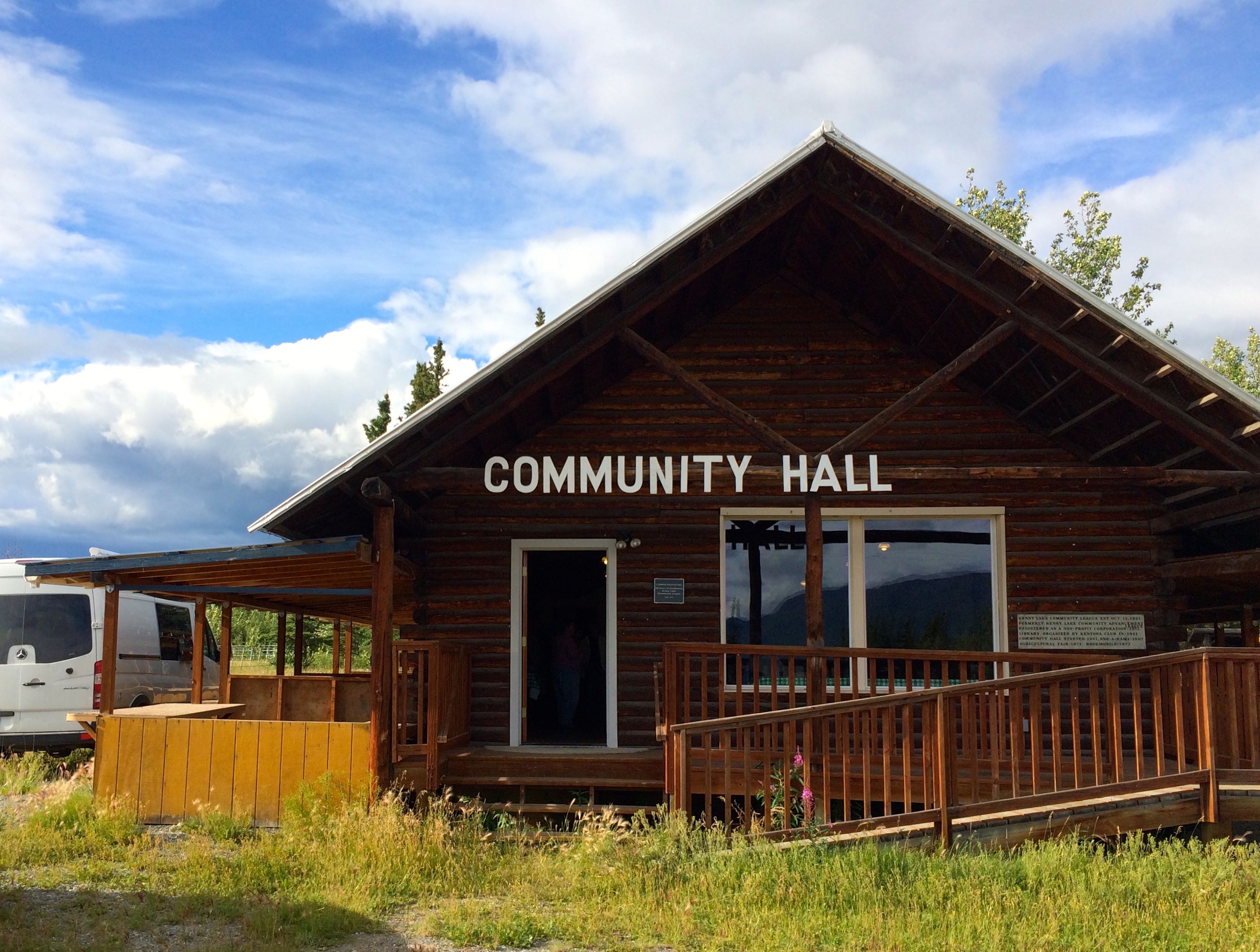 The next morning we had about the most fun we've had with a presentation & workshop for kids at the Kenny Lake Library.
Several of these young folks volunteered to improvise singing poems by Shel Silverstein - they were more than willing to participate and they were awesome!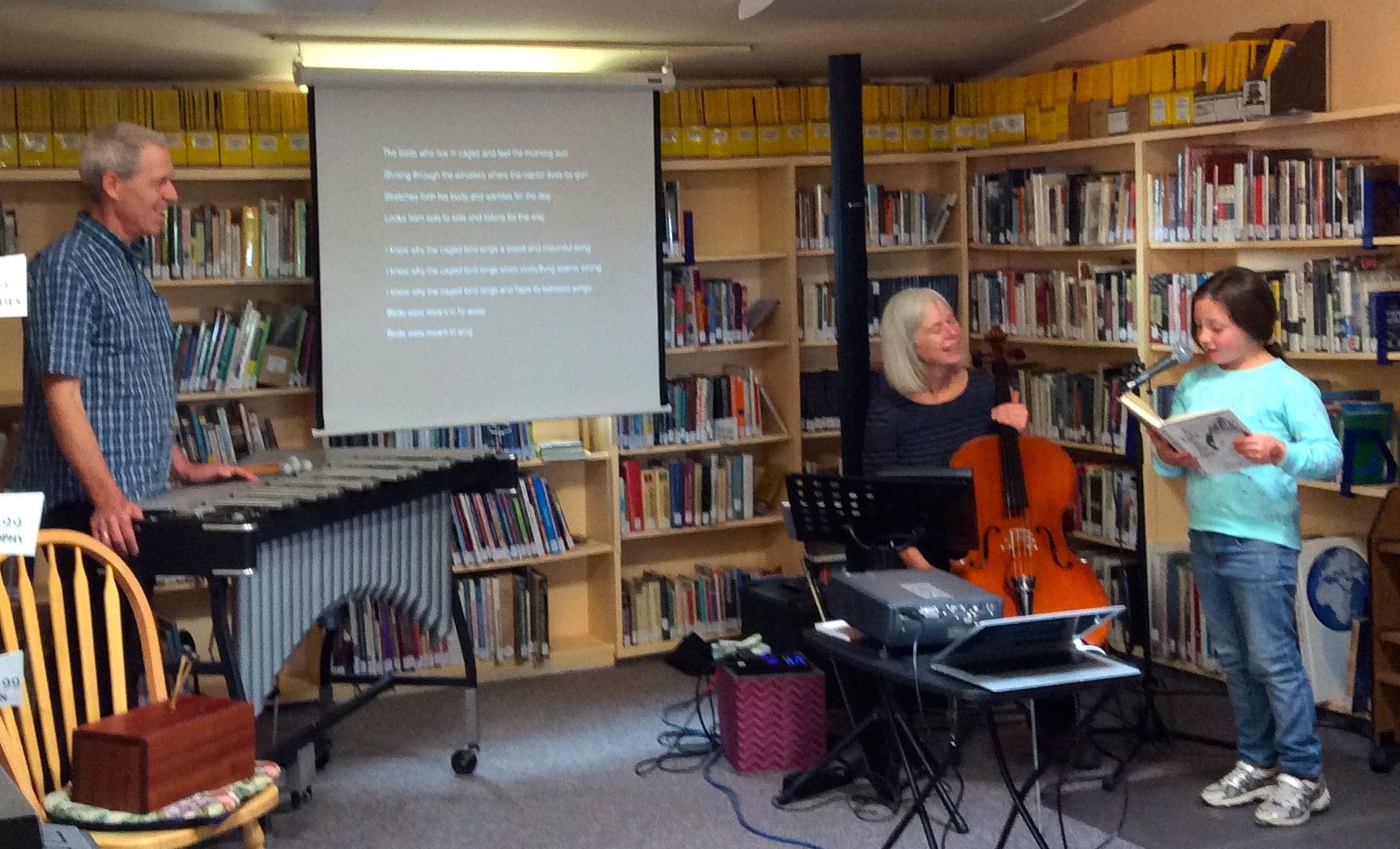 At this time, it seems we are starting to head back to the "lower 48", but we have 2 more performances before leaving Alaska on our way out.
We take the Tok Cutoff Rd. north to Tok for our last performance in Alaska, but on the way, we "picked up" a gig at Red Eagle Lodge where we presented our program to guests and friends of the folks who own this beautiful, historic lodge and grounds.
A short description from Red Eagle Lodge website:  "Red Eagle Lodge is known for the richness of its history and spectacular setting in the Copper Valley, adjacent to Wrangel-St. Elias National Park. Located on the original site of the historic Chistochina Roadhouse, Red Eagle Lodge is the place for adventure. Whether you choose to wander the trail to the Beaver Dam or fish in the Copper River, you'll be surrounded by awesome scenery and the peace of unpopulated space."
Owners Richard & Judy Dennis are "true Alaskans" in their love of Alaska and the lifestyle embraced by living in these beautiful and more remote places.
They are generous, friendly and warm-hearted. 
These are some of the reasons we love Alaska! 
The people living rustic lives in one of the most incredible places on earth, unpopulated, wild and grand. 
Folks buiding their own homes & structures, making it through the winter, capable and able to deal with the elements and life on the edge of the wilderness.
Folks here also help their neighbors and folks they don't know in ways not seen as often in the "lower 48".
 "The Last Frontier" still applies here.
We have met so many in Alaskans who say they came & stay here for all of these reasons and they were and are able to be themselves and do all that they dreamed of doing.
One young man told us that it doesn't matter if someone is an old homesteader of many years or someone who arrived in Alaska 2 weeks ago, all are accepted as Alaskans from the get-go.
Of course Alaskans would also say that Anchorage & the suburbs are NOT Alaska!
Our sweet cabin for the night we stayed at Red Eagle Lodge.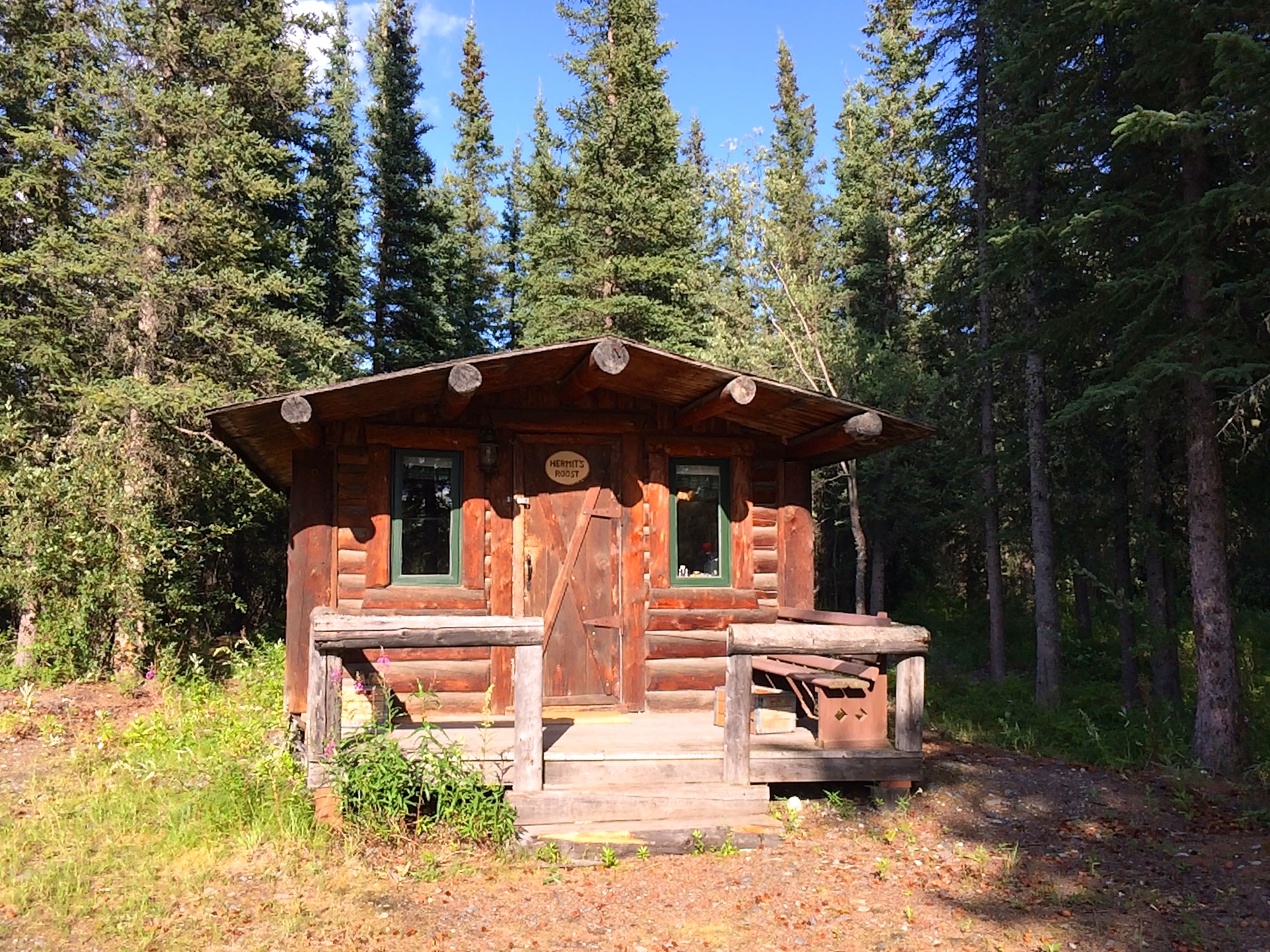 On to Tok Alaska where we have one last performance -
We were initially going to play in the Mushers Hall in Tok, but a saavy local teacher thought a more intimate setting would be more appropriate for the concert.
Lucia hosted us in her home and her daughter opened the show for us with her boyfriend.
It is always a treat for us to hear local talent!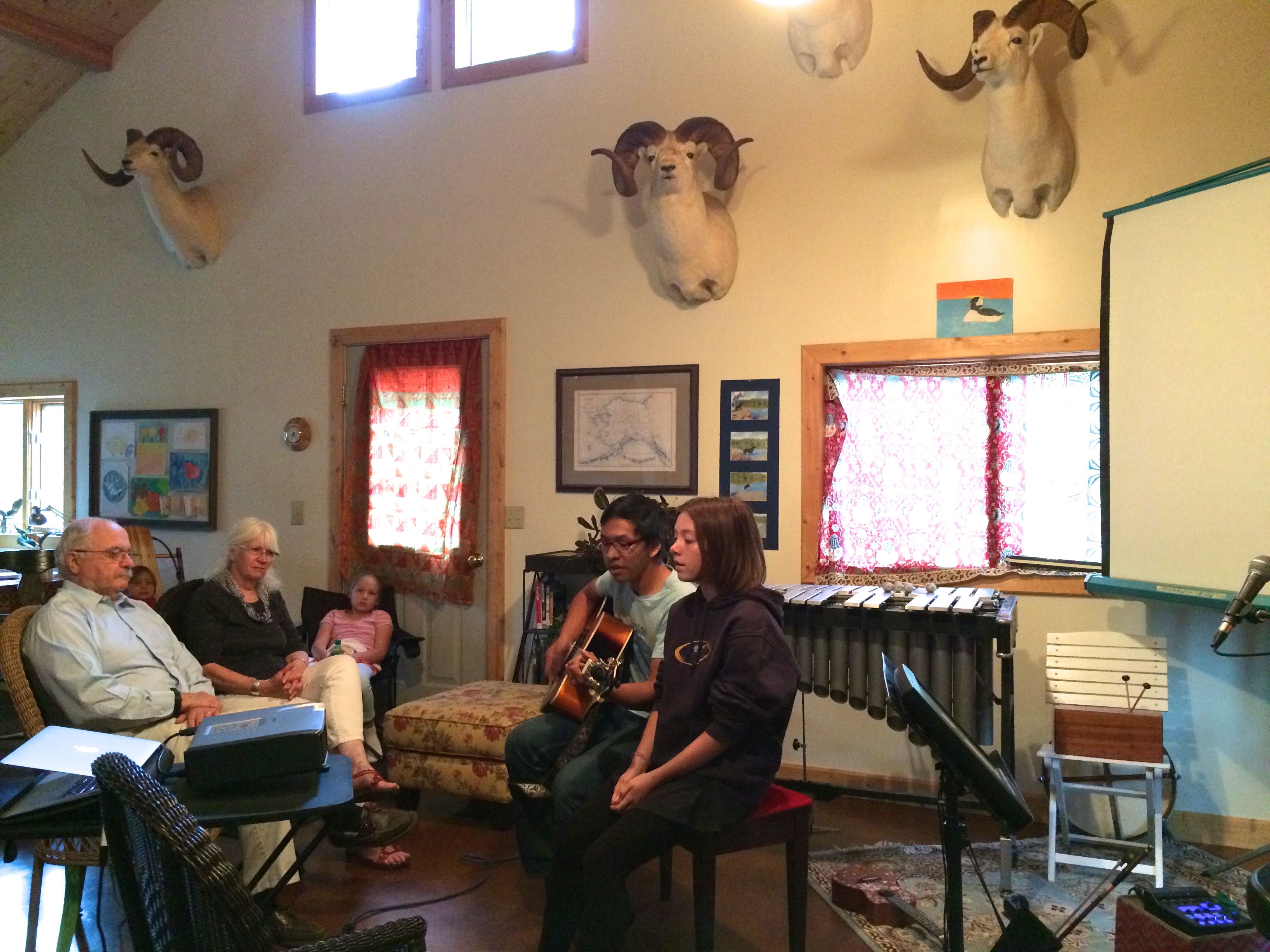 This really was a nice evening and "hang" with Lucia especially as she loves poetry.
We had our first moose, ie burgers after our concert.
Many Alaskans provide food for themselves and their families through sustainable hunting and fishing.
It seemed most of the folks we talked to would hunt for one moose, and fish for salmon & halibut either in the ocean or rivers, sometimes using a "water wheel" to catch salmon in rivers such as the Copper River.
They freeze the moose meat & fish and place in the freezer and they provide their families with food for the rest of the year.
What a difference from going to the grocery store to pick up packaged pieces of fish & meat.
Most have a respect for wildlife  & nature and do not want more than a sustainable lifestyle in relation to the balance of the nature and wildlife that surrounds them.
Lucia suggests we take the "Top of the World" road out of Alaska into the Yukon - and we are so glad we did!
Another rainbow appears &  leads us out of Alaska!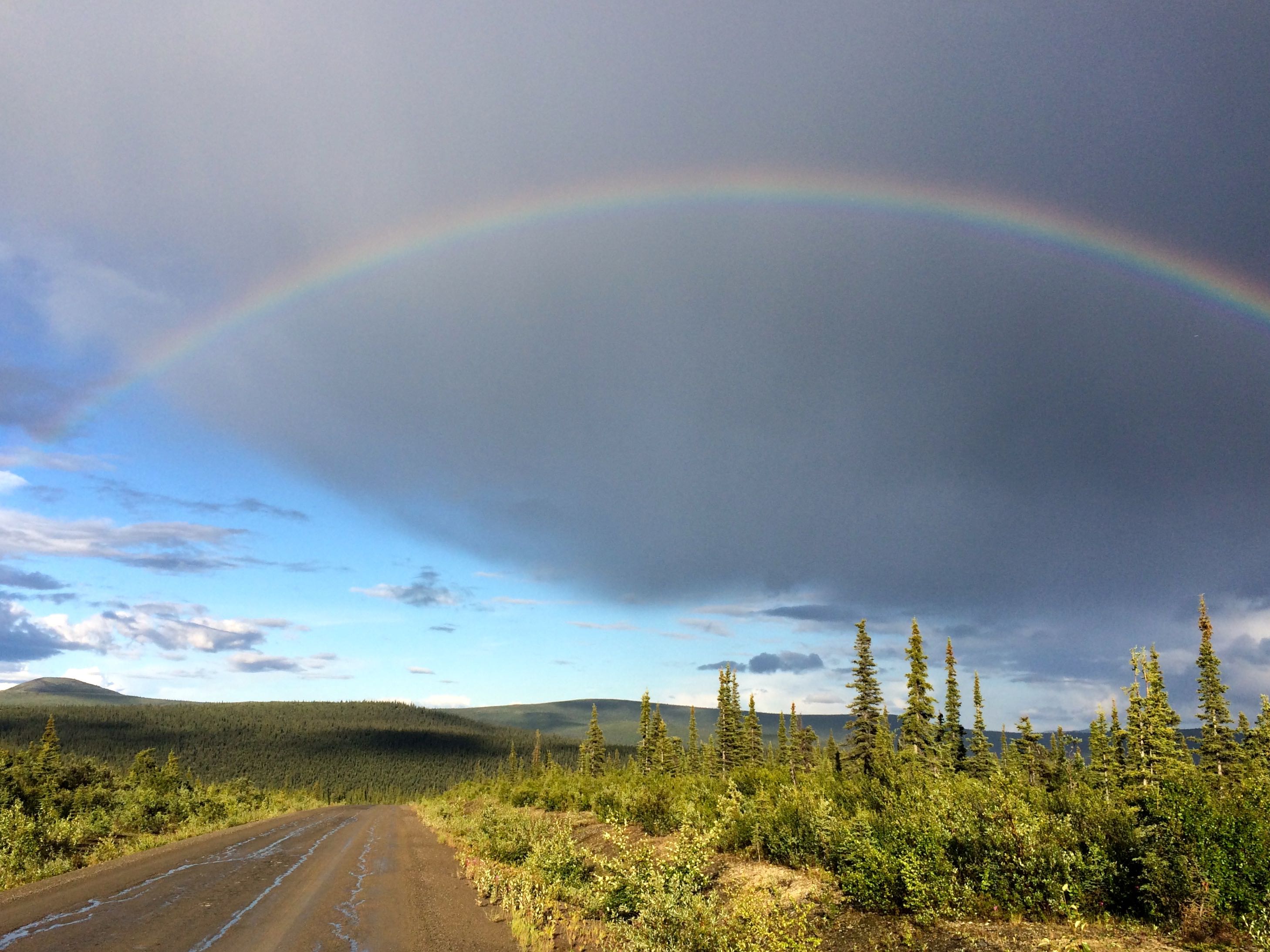 Next:  "Back to the Future"