Ah, Juneau.  We have both been to Juneau previously, Colleen even lived here part of the year in 1977.
It is so beautiful around here!
It's great to be able to spend time with good friends who live here!
View of Auke Bay & Mendenhall Glacier ( Ferry Terminal north of Juneau ) from the ferry.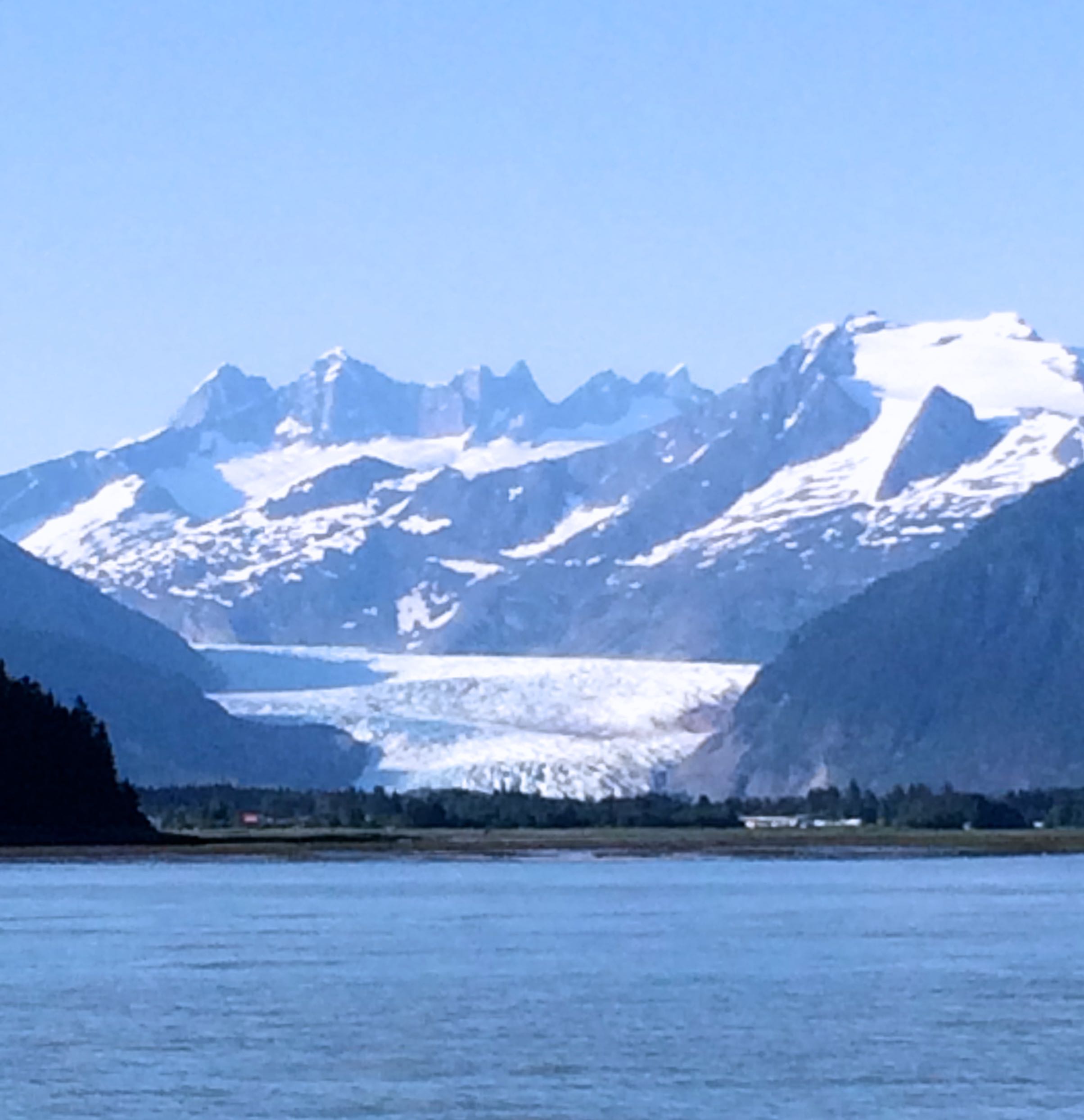 Our ferry drops us off and heads south.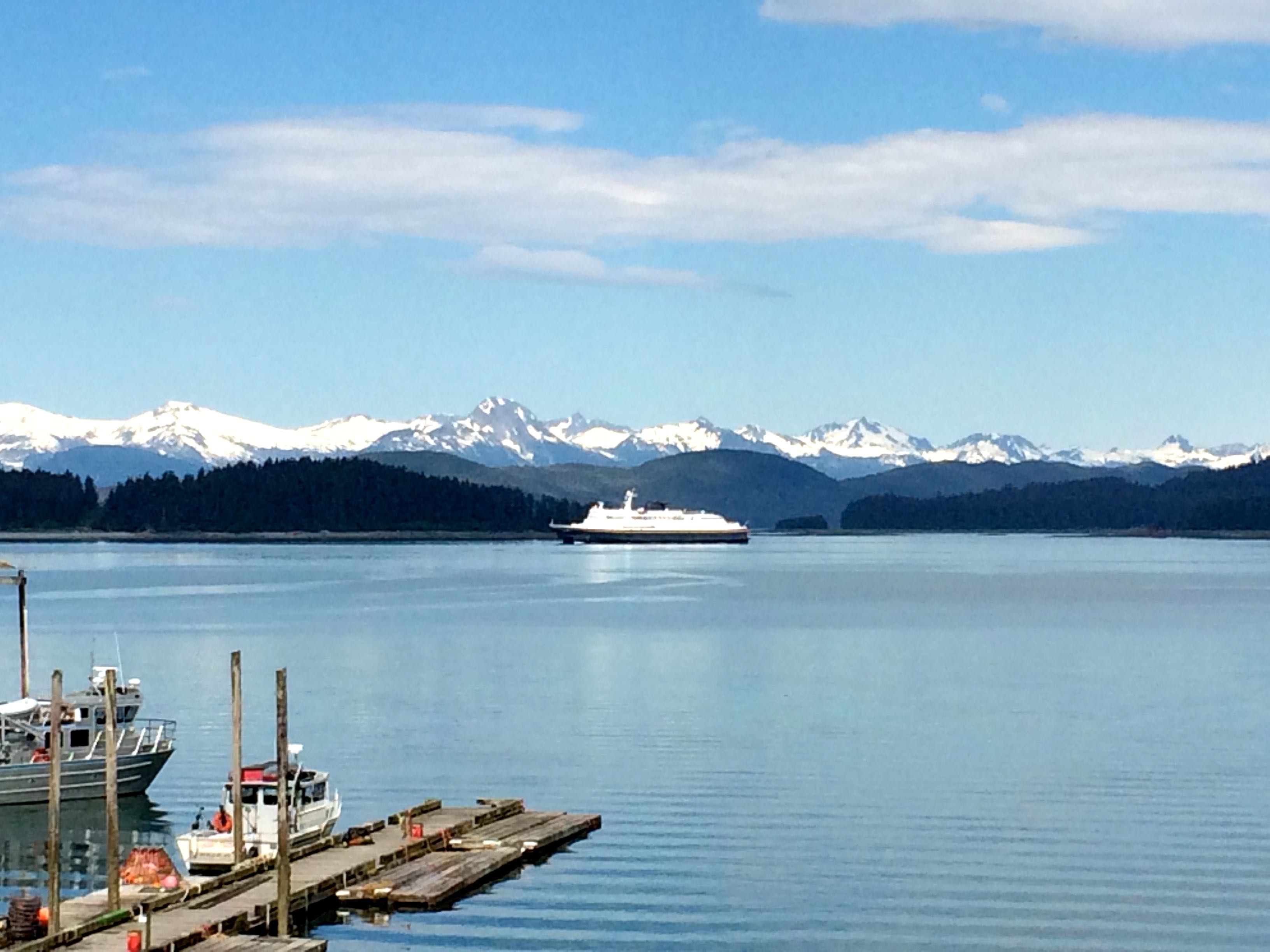 This picture is taken about 1130 pm, as the days grow longer - and dusk lasts for hours it seems!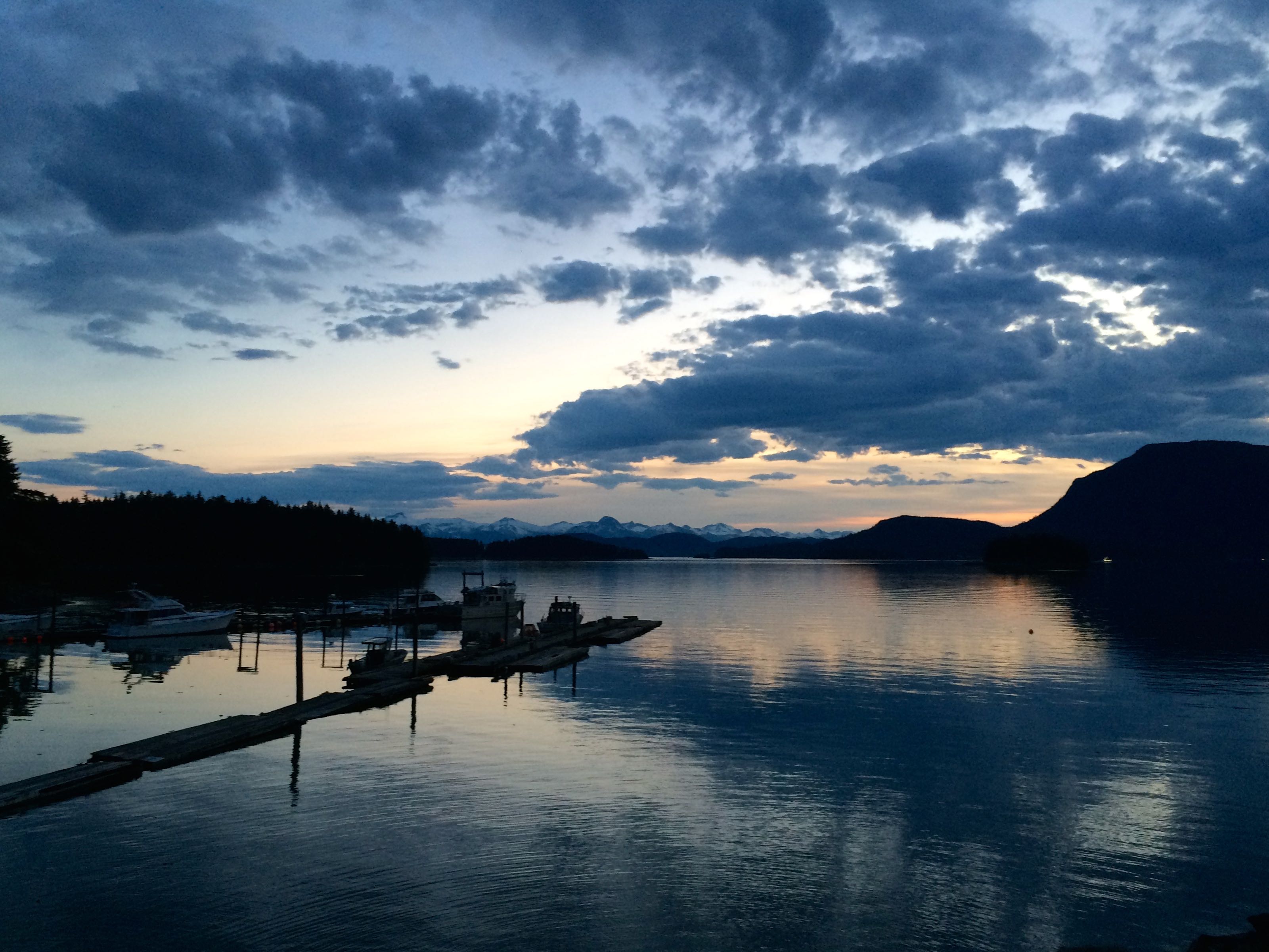 Colleen's new boat!  ( "Where to next Chris"? )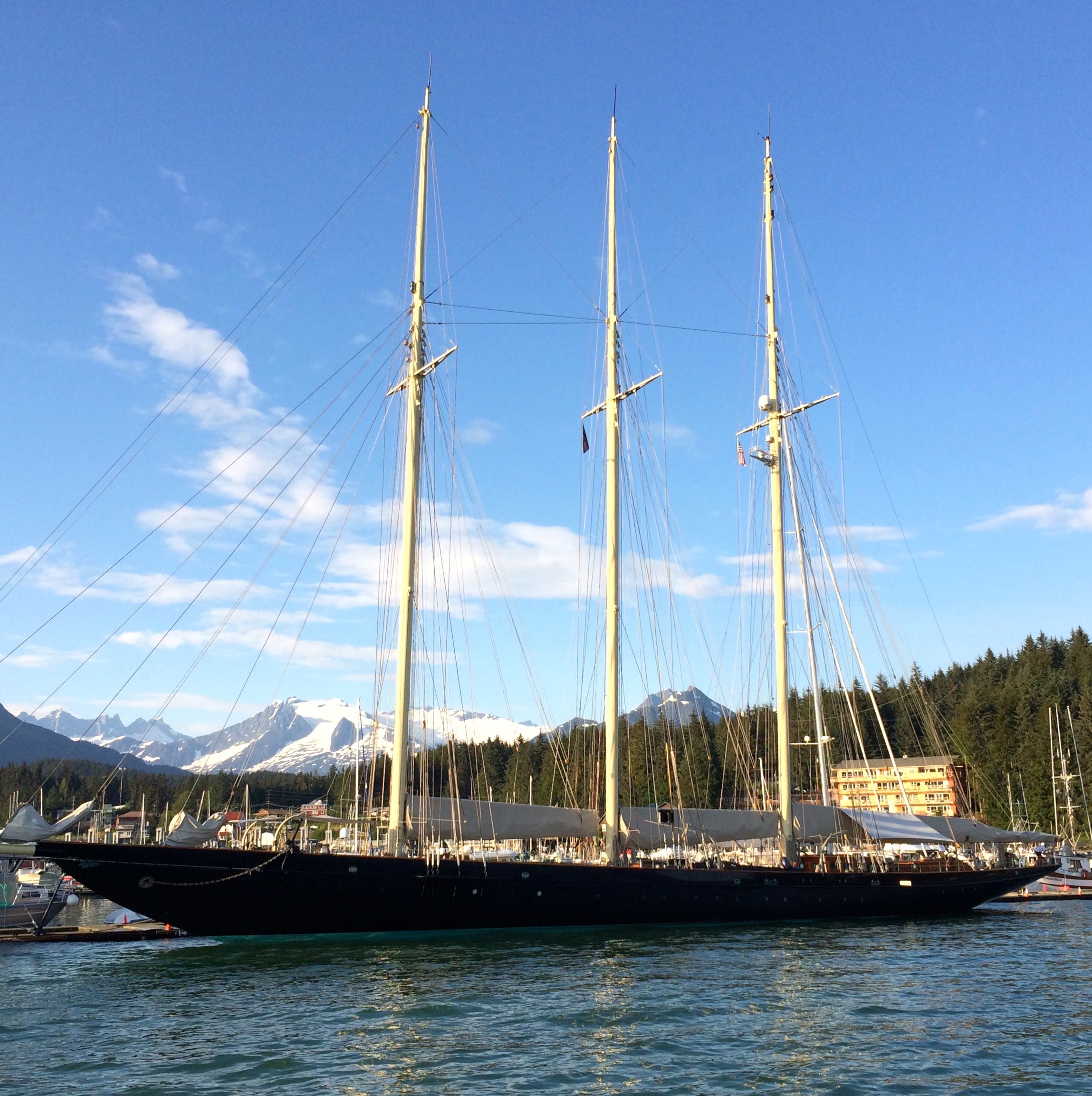 We performed at McPhetres Hall in Juneau which is on the same campus as Holy Trinity Episcopal Church in Juneau.
The acoustics were wonderful in this hall - and we'd like to thank Paula Rohrbacher for suggesting this venue and doing the work to make this event happen.
We stayed with Paula and her husband Charles at the beginning of our stay and had great conversations around the dining room table about life and poetry.
Charles introduced us to several Polish poets, we were deeply impressed with the poetry he shared with us.
What a great stay with Paula & Charles!  Thanks folks!!
Juneau was home base for us for almost 2 weeks as we set off from Juneau to go to Gustavus and Glacier Bay National Park.
We arrived in Gustavus one day prior to our excursion into Glacier Bay and our performance was after this excursion in the evening.
What a day it was!!
Tidewater Glaciers
Glacier Bay in Southeast Alaska was completely covered by ice just 200 years ago according to information provided by the National Park Service.
By the time John Muir visited the bay first in 1879, he found that the ice had retreated 48 miles up the bay.
By 1916 the Grand Pacific Glacier headed Tarr inlet 65 miles from Glacier Bay's mouth.
Such rapid retreat is known nowhere else on earth!
Scientists have documented it, hoping to learn how glacial activity relates to climate changes.
Glacier Bay National Park includes 16 tidewater glaciers:12 actively calve icebergs into the bay.
The show can be spectacular. As water undermines the ice fronts, great blocks of ice up to 200 feet high break loose and crash into the water."
We actually saw huge chunks of ice calve off Margie Glacier, but did not have our i-phone camera close enough at hand, but here's a fairly impressive picture just before this happened.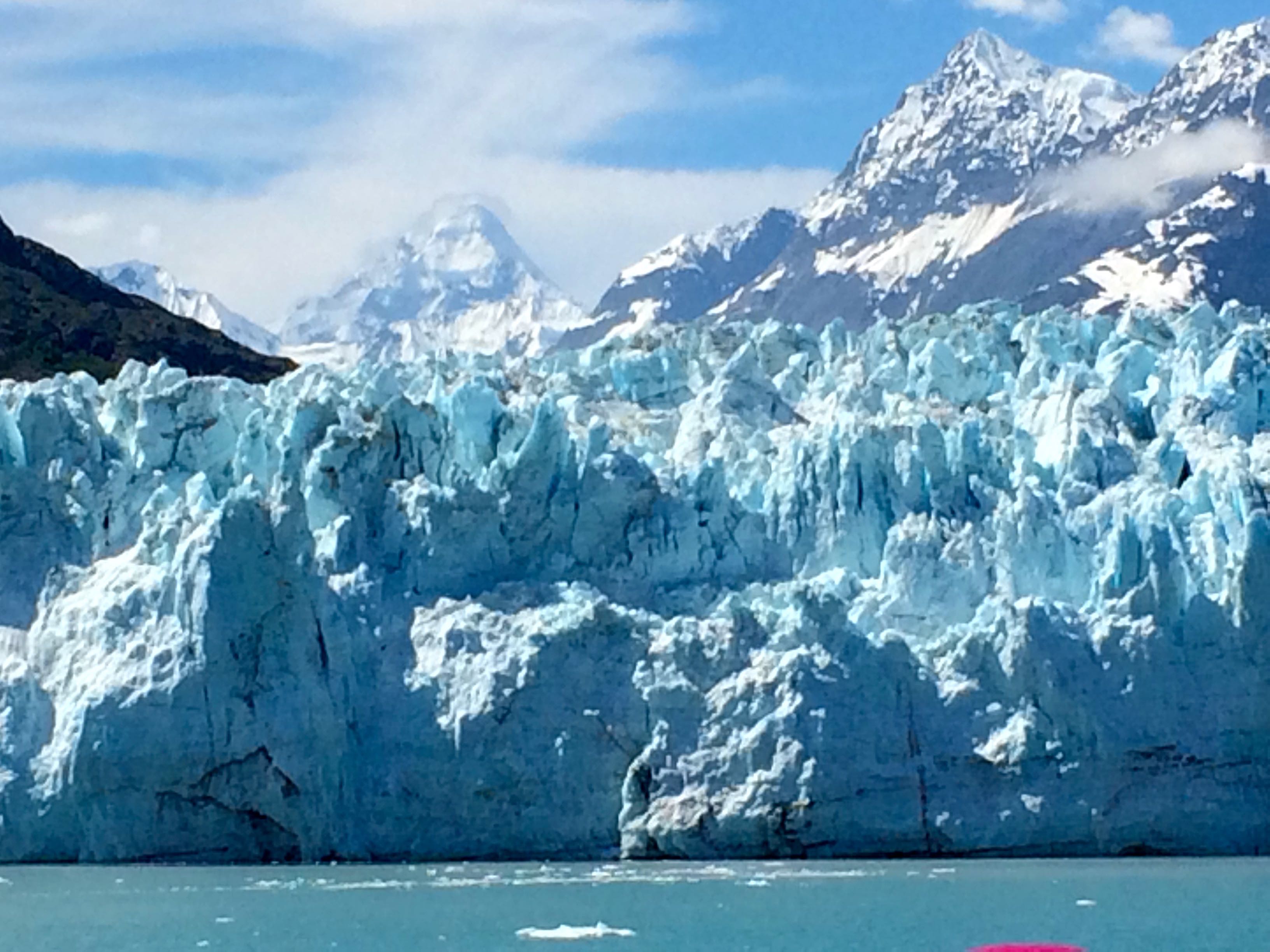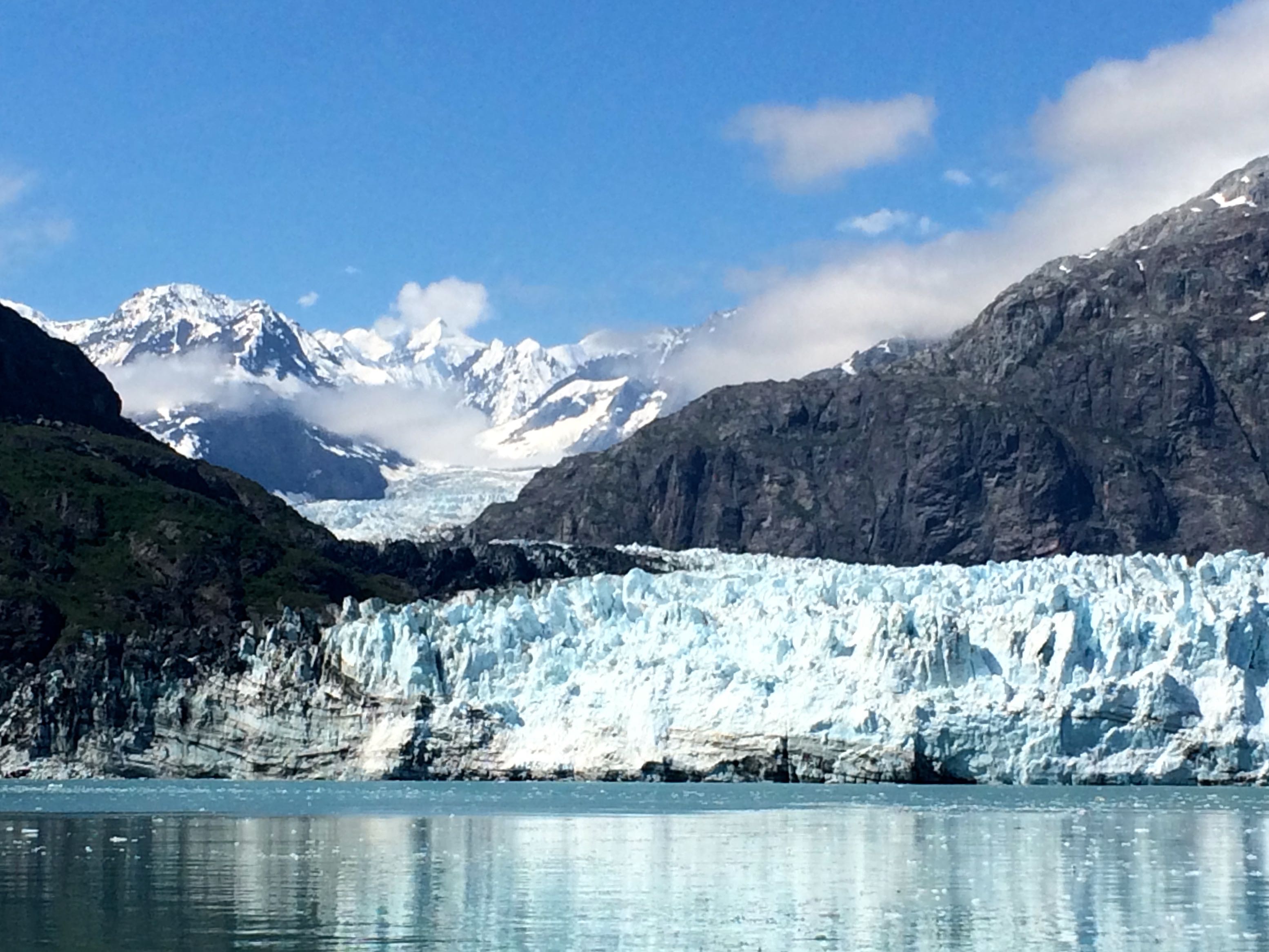 The wildlife on this tour was incredible - we saw 4 Grizzly Bears, one a sow with 2 cubs, Dall Sheep, Killer Whales, Humpback Whales, dozens of Sea Otters, many birds including Puffins, Bald Eagles, Cormorants, Blue Heron to name a few of the more than 240 species of birds coming to this area & of course many fish jumping all around!
This next picture is not as clear as we saw our mama grizzly with her 2 cubs, but, not bad for the i-phone eh?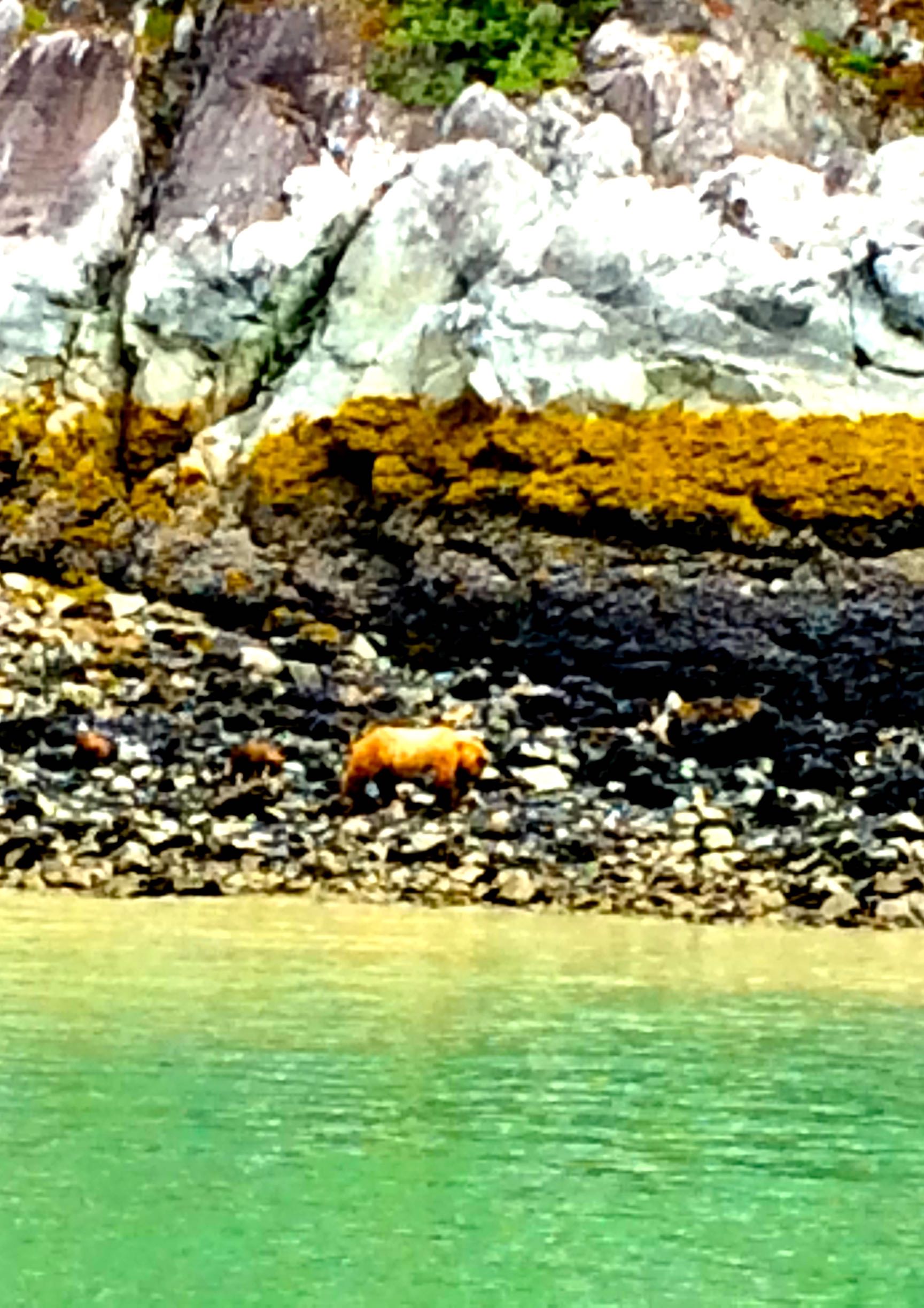 Can you see the 2 Sea Otters below?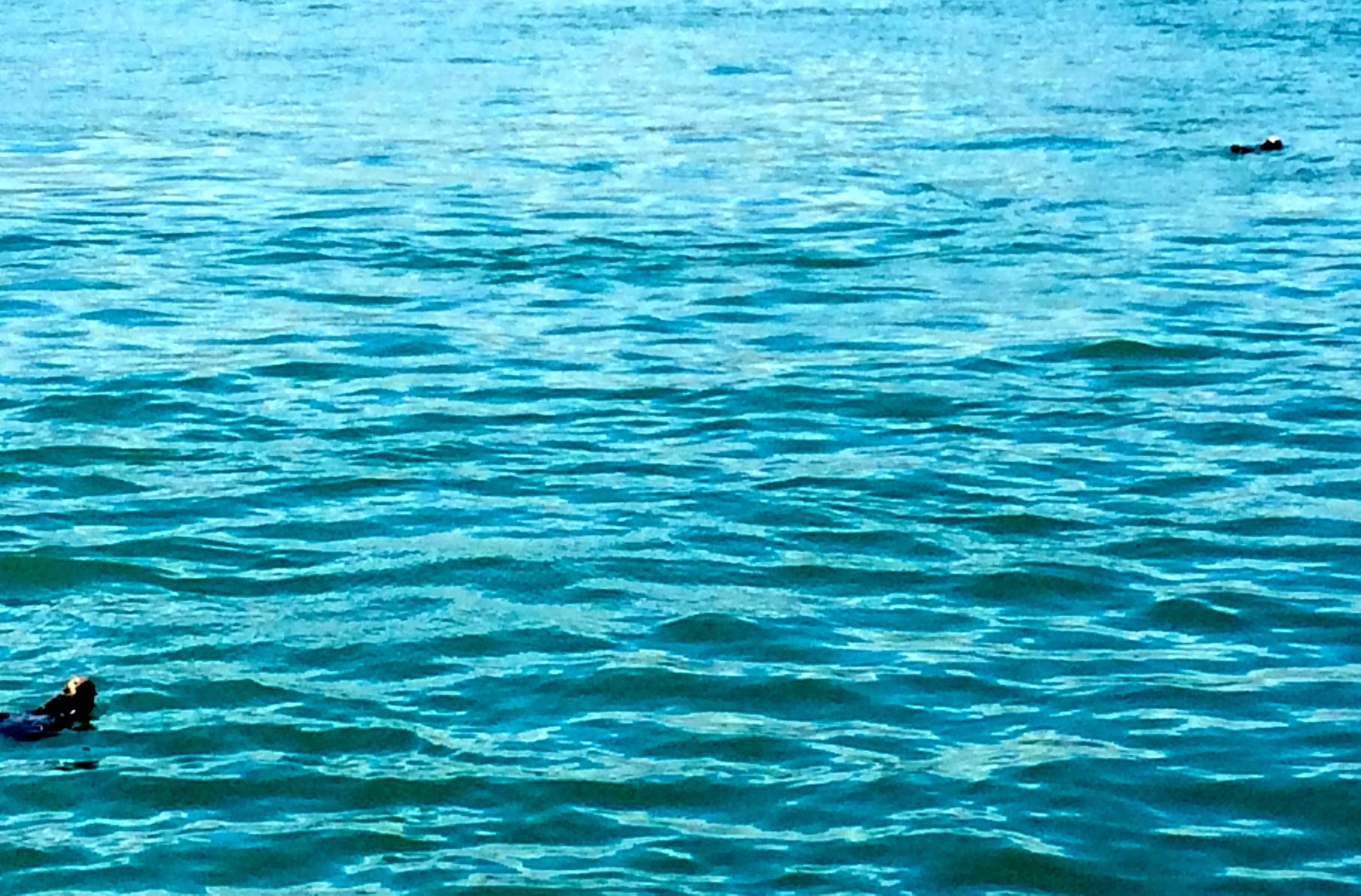 A spectacular day we had on the water.
Then back to Gustavus where we had a performance at "The Outpost", - Camalou Studio.
Our host is Lou Cacioppo, a most gracious, generous person and an incredible artist.
His art includes mask making, paintings & sculpture.
He's also a musician, has a great voice and accompanies himself on guitar.
He is a master carpenter and built his own house, outbuildings and studio as well as helping other people build their homes.
He's unbelievably talented.
Lou hosts local & regional musicians & artists in his studio.
Lou made us a delicious meal before our performance, so he is obviously also a great cook in addition to all of the above.
Here are 2 of Lou's art pieces.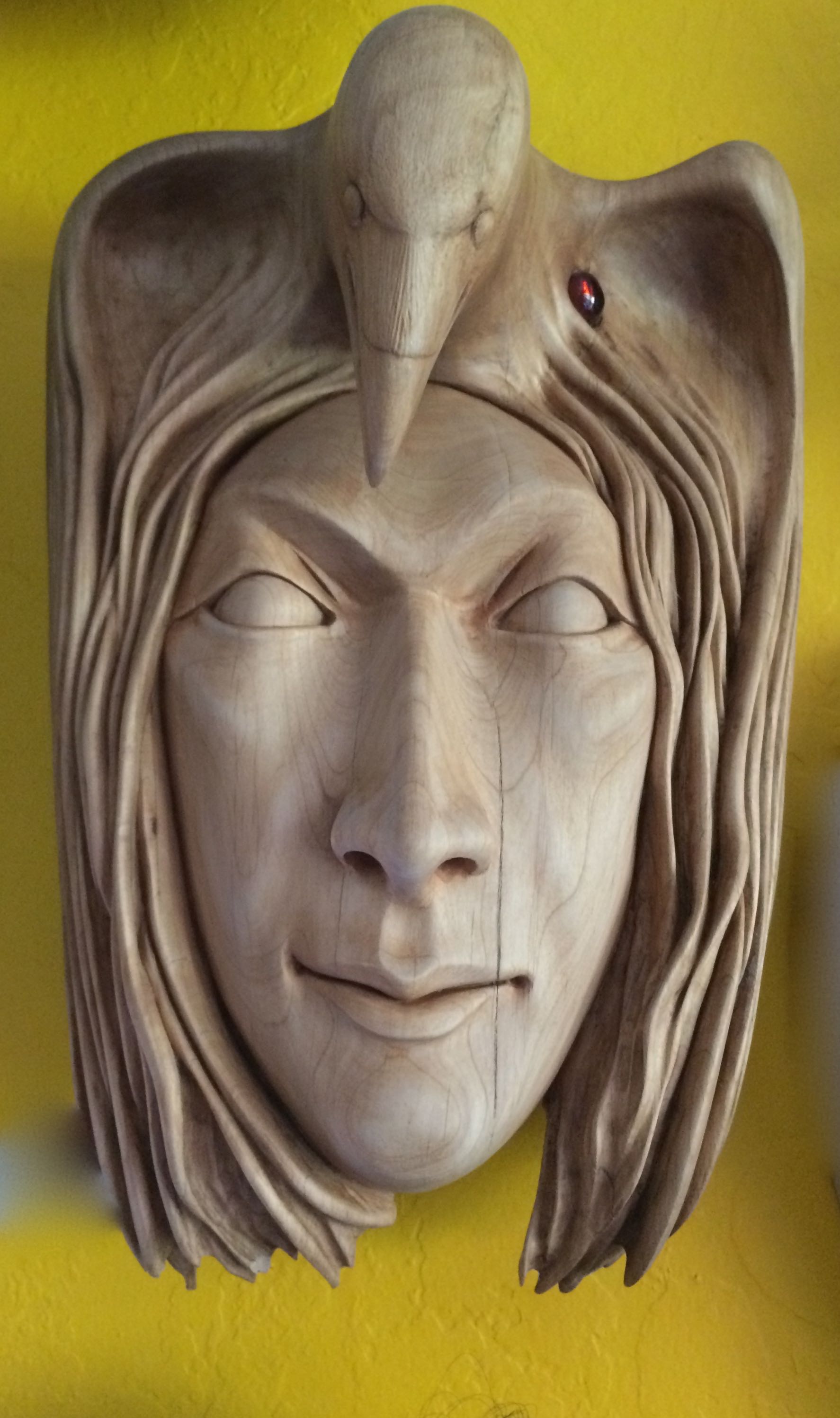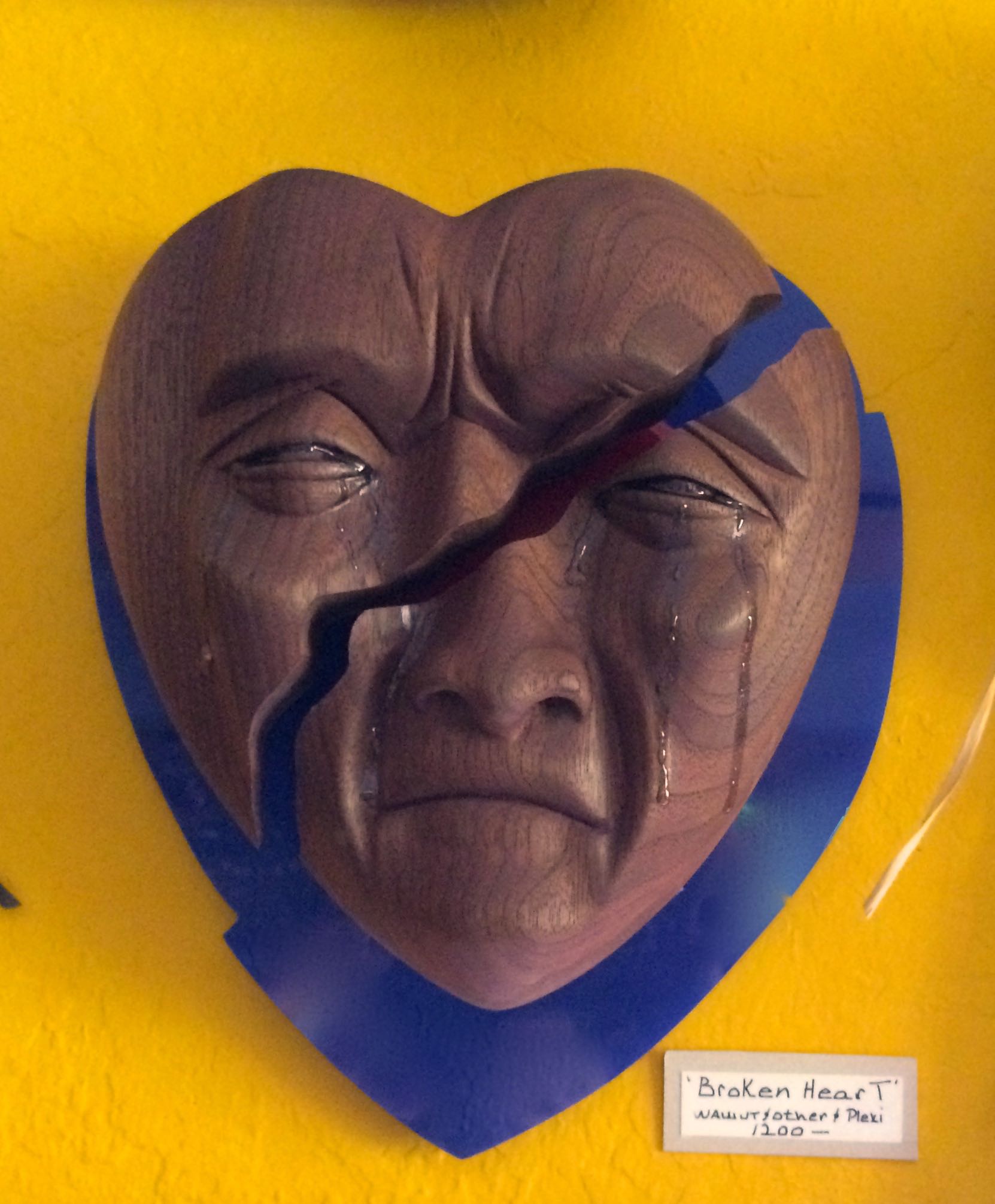 Lou's quote:  "Through portrait sculpture, in masks, I create visual links that portray the underlying feelings and emotions of every day life. My art addresses changes in the modern world, changes so vast and rapid that man can scarcely adjust. The nature of one's whole context changing from week to week is a kind of stress not previously known to man and not acknowledged due to the masks we wear. We suffer for the need of instantaneous gratification, and we are losing our compassion and therefore our desire to physically socialize. We are moving towards individual isolation. Through my art I am striving to slow if not stop that direction."
http://www.camaloustudio.com/bio
Thank you Lou!
------------------------------
Back on the ferry for the 3.5 hour journey back to Juneau for a few more days before heading north to the main body of Alaska.
We were so very fortunate to stay with a very dear friend of Colleen's, Tom Nave and his wife Susan.
We had great times on their deck overlooking the water in their lovely home north of Juneau on Auke Bay.
Tom & Susan took us on a cocktail tour of the bay.
We picked up Tom & Susan's son and girlfriend from Douglas Island to join us on the tour.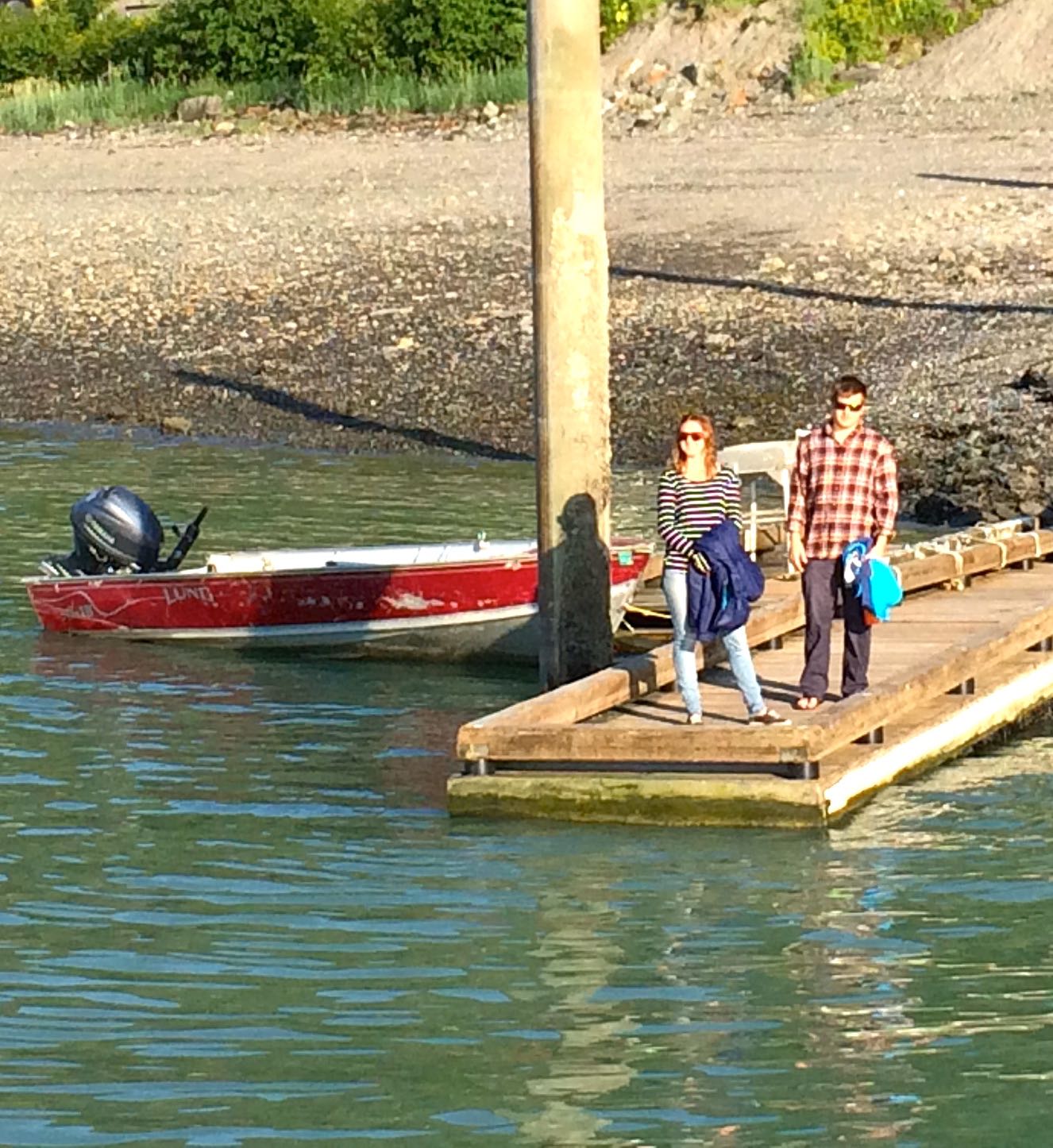 A beautiful evening on the bay!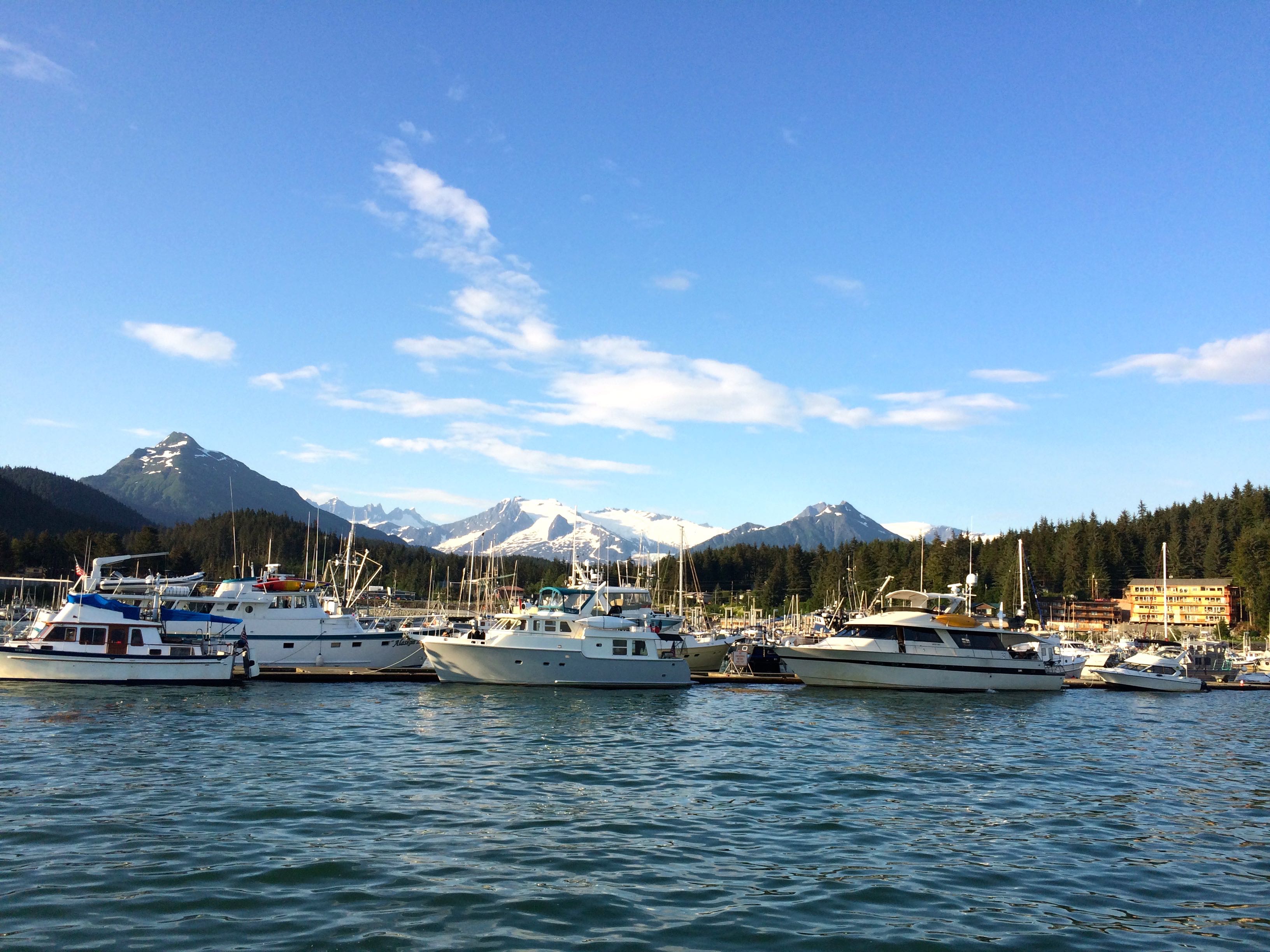 Colleen tried to get Susan's picture several times, but.....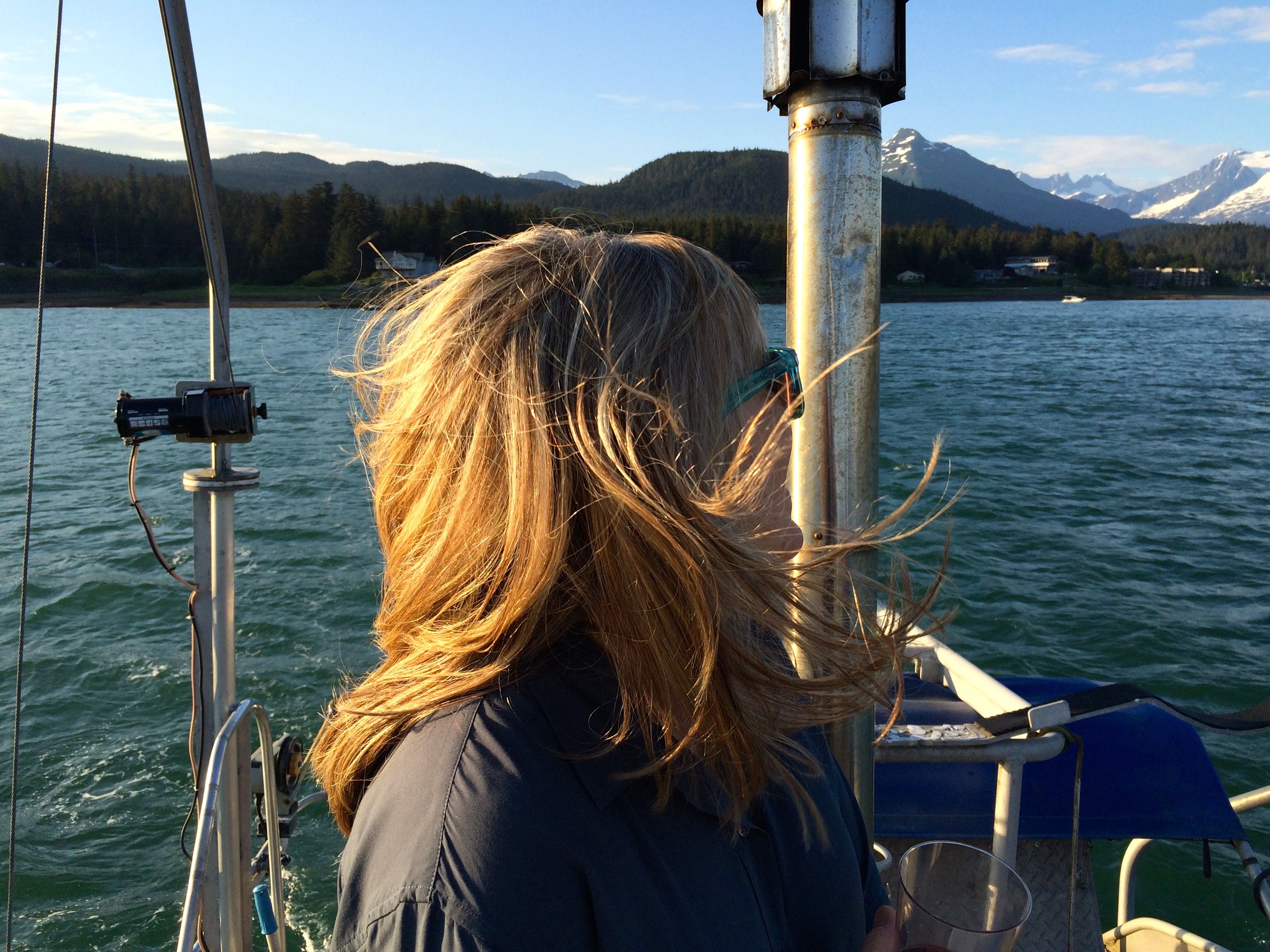 Our captain agreed to posing for a picture.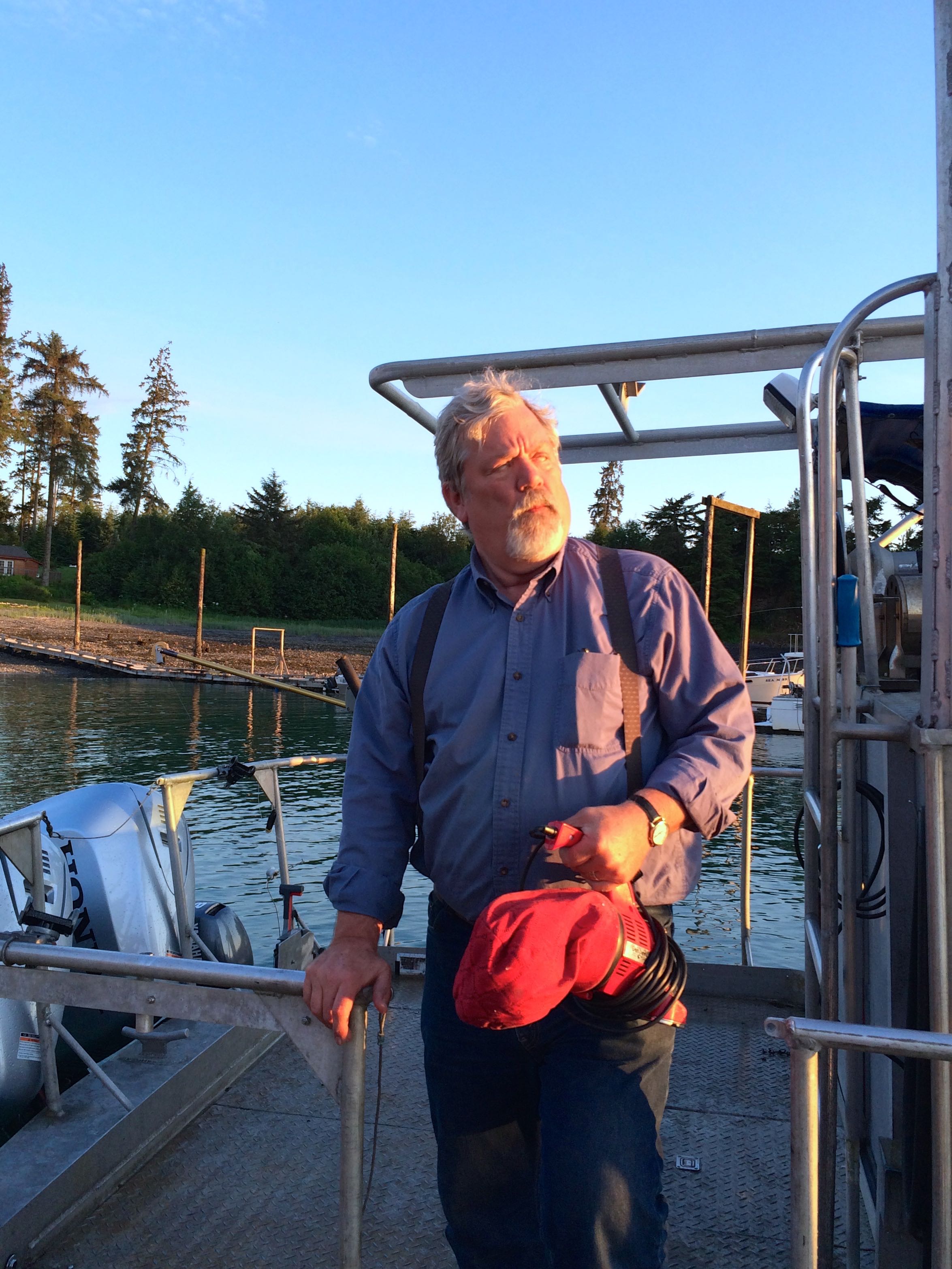 We were able to catch up on decades of life since Colleen last saw Tom in the late 70's.
In fact Tom was the person who inspired Colleen to visit Alaska in the first place and introduced her to sea kayaking with Humpback Whales -- a story to tell if anyone would like to ask.
Thanks Tom & Susan for a great stay!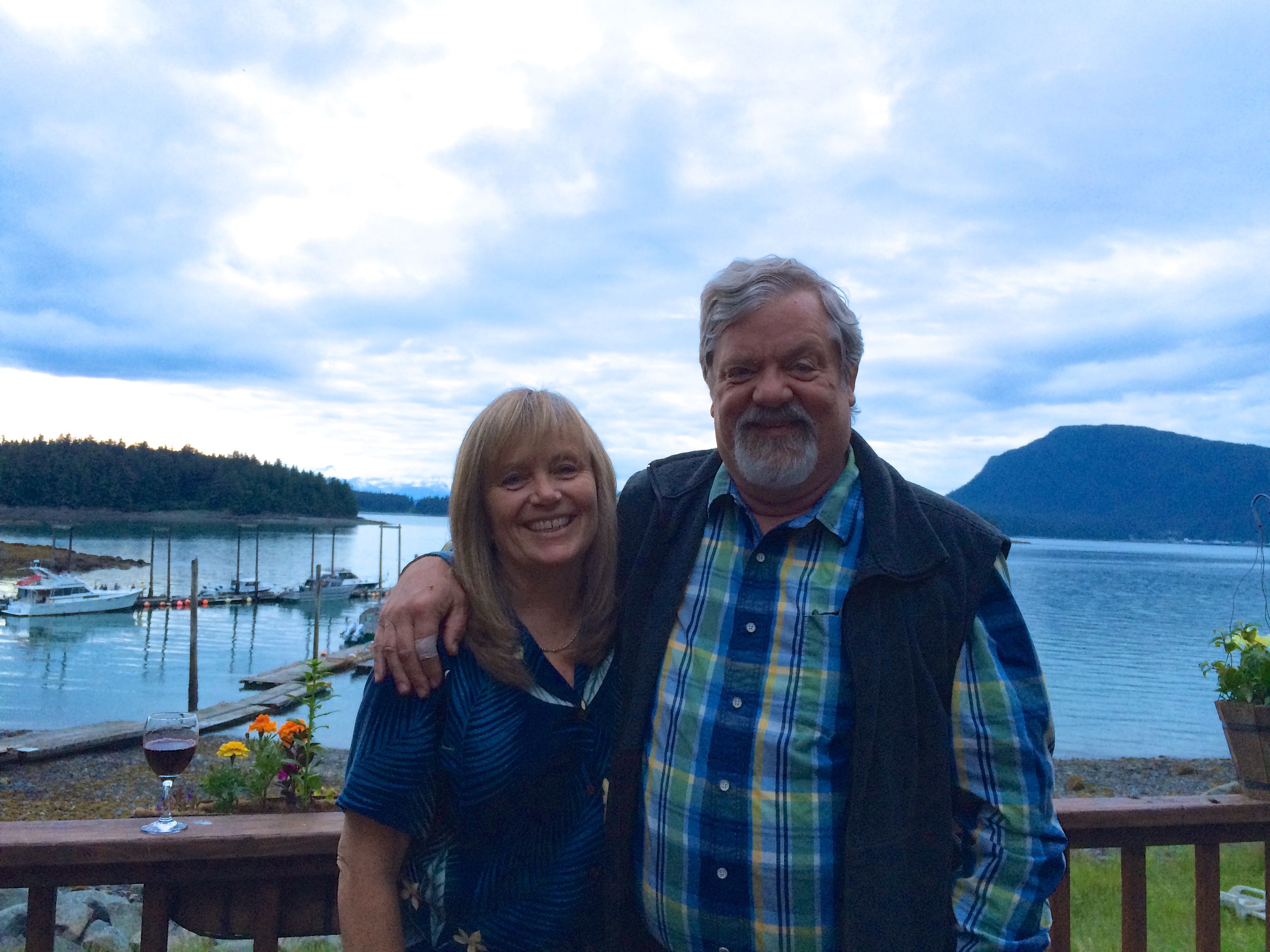 Next up...Skagway and points north!