Getting our music together for another tour with PoetryMusic.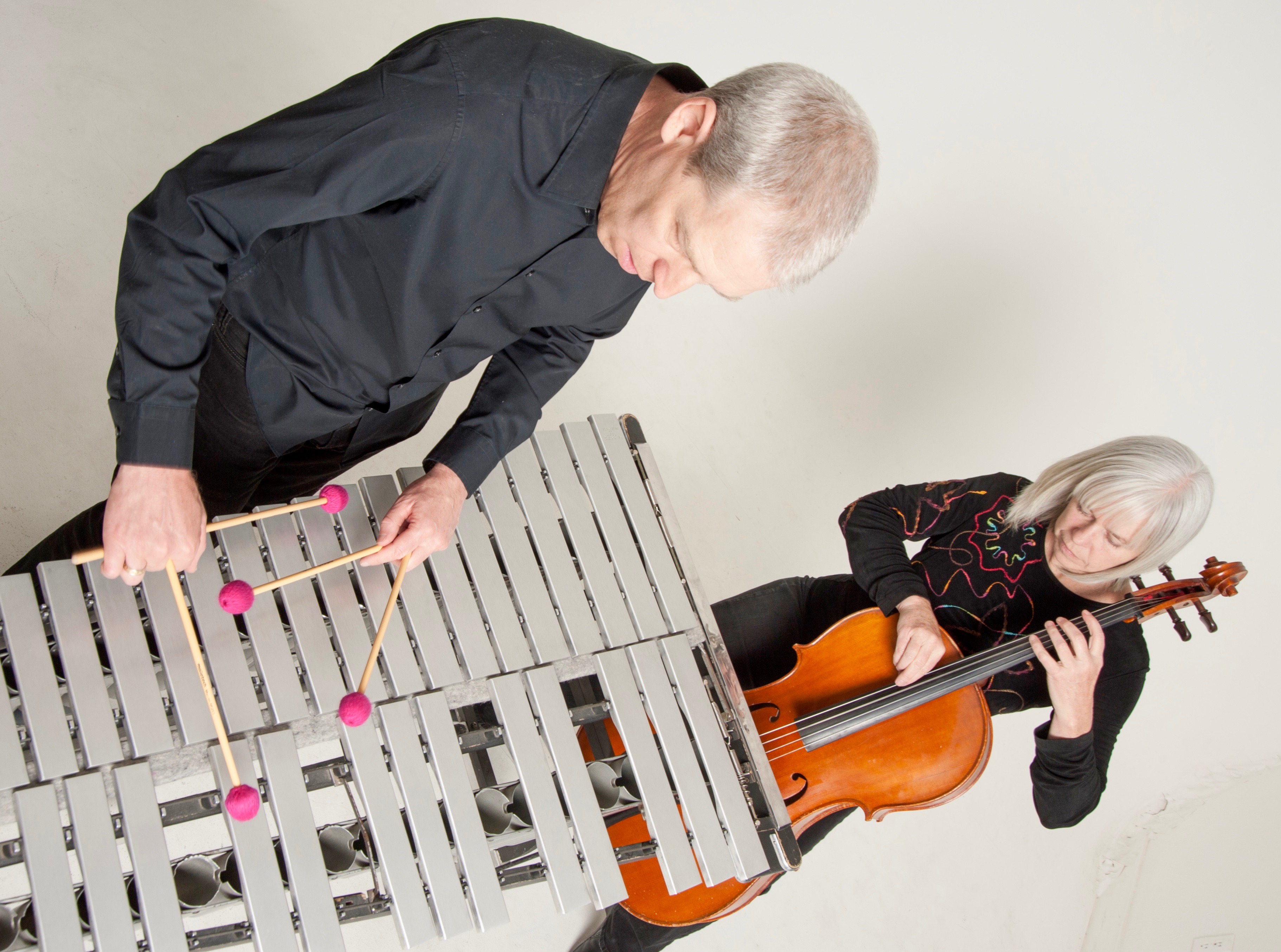 All systems go!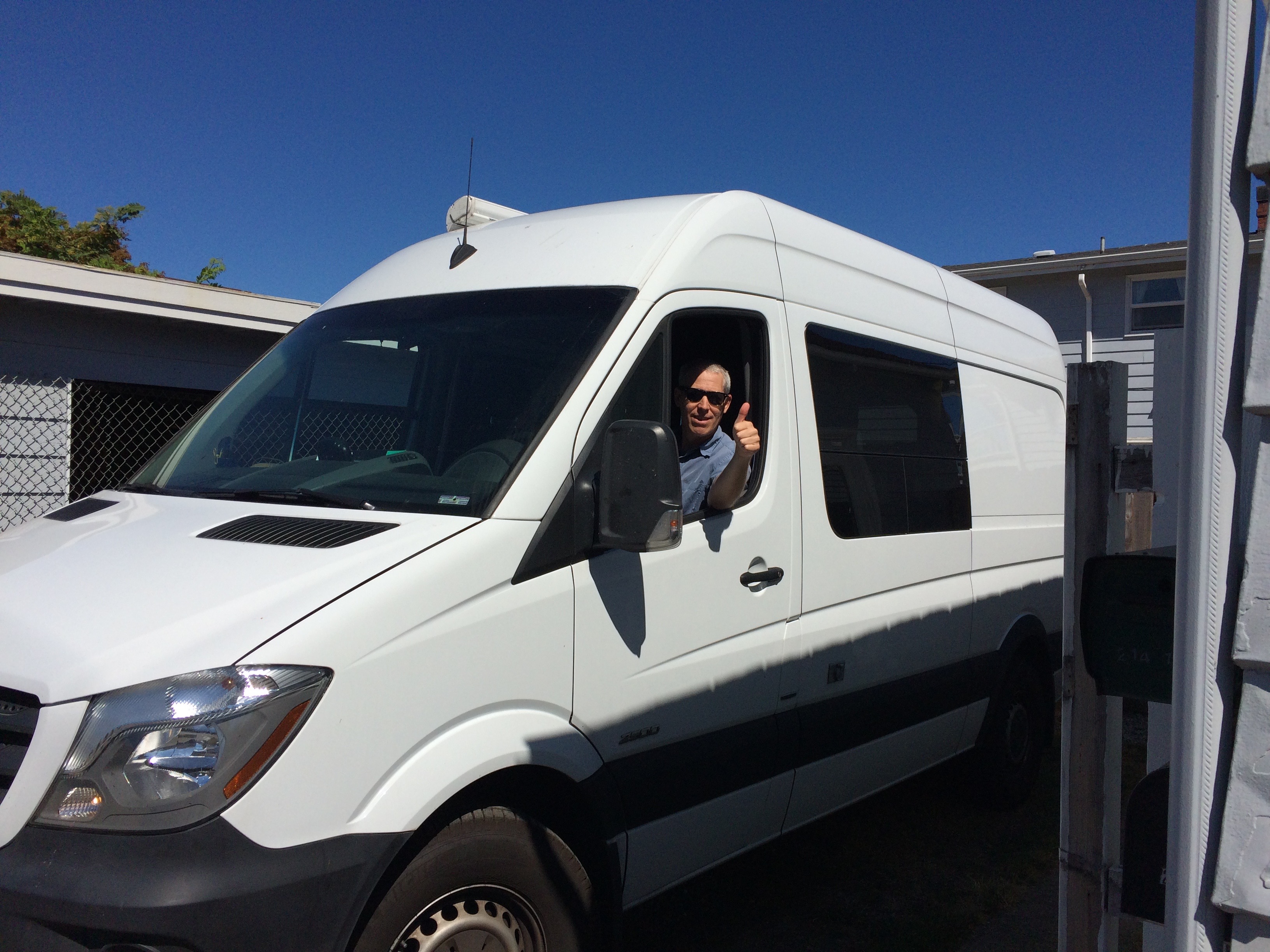 We left on August 24th for a 7 week tour.
This time, we travel to the east coast with performances on the way in Utah, Colorado &  Wisconsin.
A beautiful day for traveling through Washington State.
We take Hwy 101 down Hoods Canal to avoid the Seattle area traffic and cross White Pass on "The Road Less Traveled"  the southern most pass across the Cascades Mountains in Washington.
Views of Mt. Rainier were spectacular from both the West and East side of the mountain!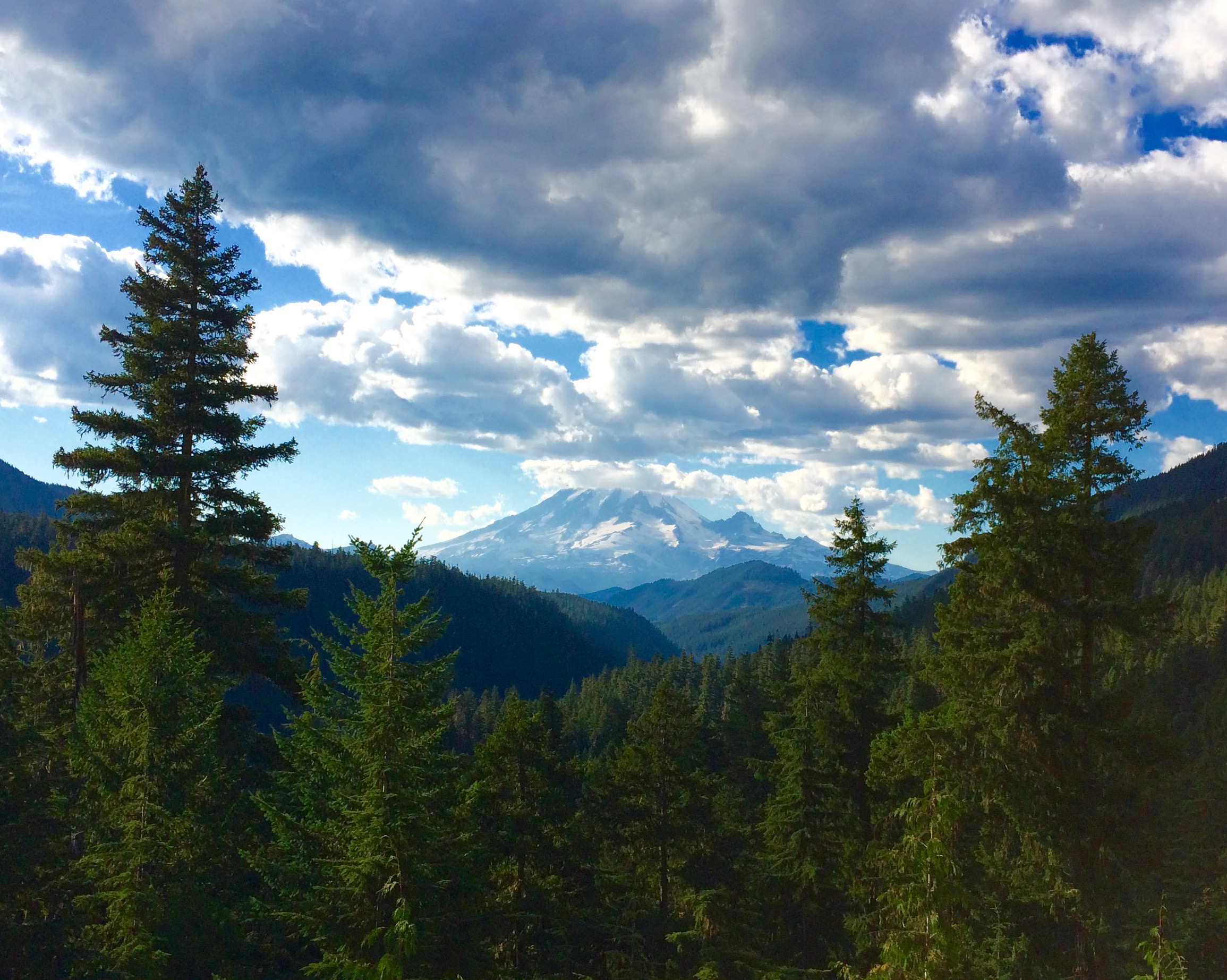 As we wind our way down the pass and travel through eastern Washington, the sudden change of the landscape from the west side to the east side of the Cascades is striking as the west is so green and the east is warm brown & golden. 

Sunset in Eastern Washington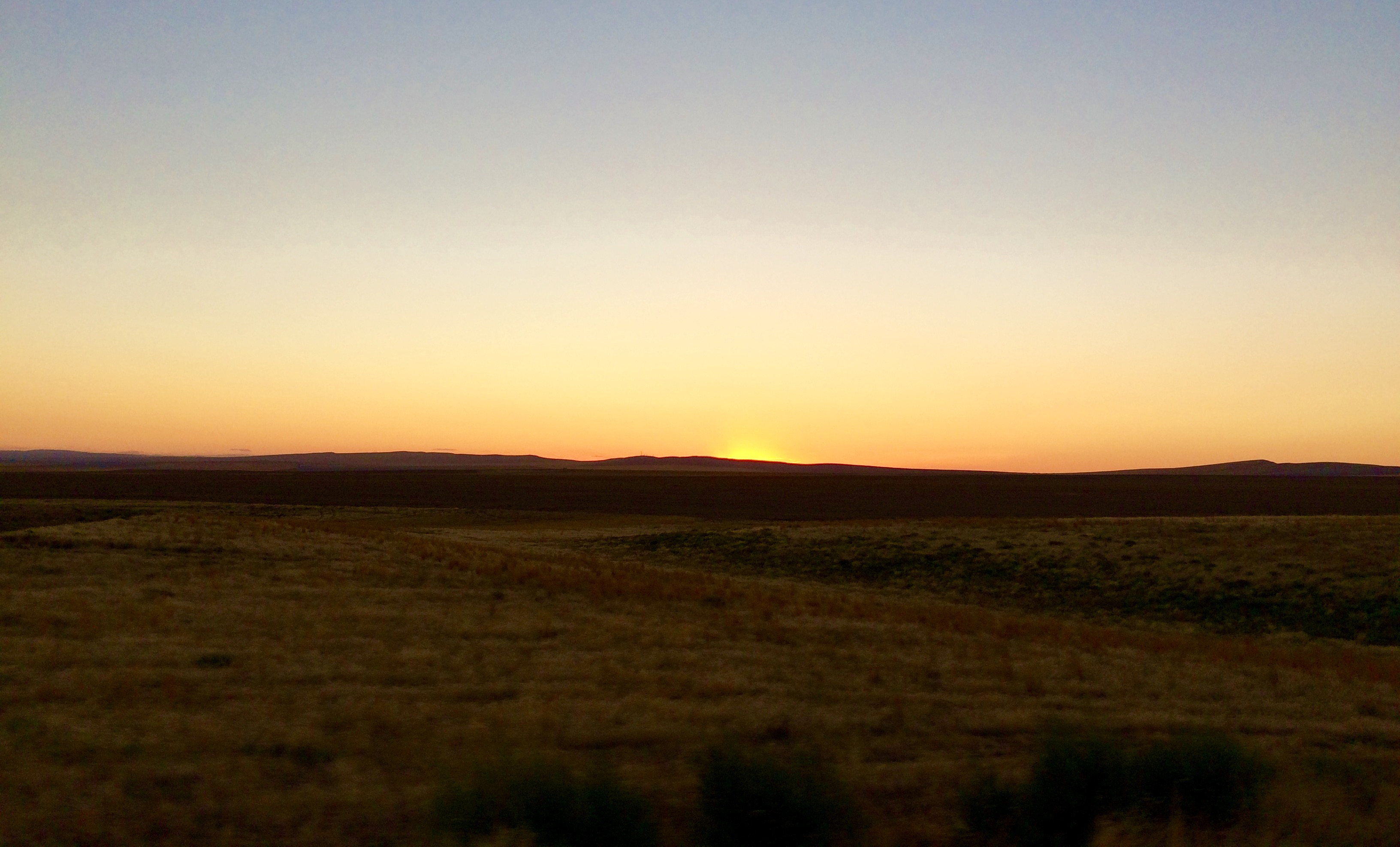 We travel along "The Oregon Trail"  ( sounds better than 1-84) through Oregon and through Idaho before turning off the trail to camp near Lava Hot Springs just east of Pocatello Washington.  
This is a great stop and the public hot springs are some of the best in the West.  
There are several pools, some very hot.
​Of course we take advantage of the hot springs after a long day of driving - ahhh!
The one below is set in a beautiful grotto type setting and looks like a Roman bath.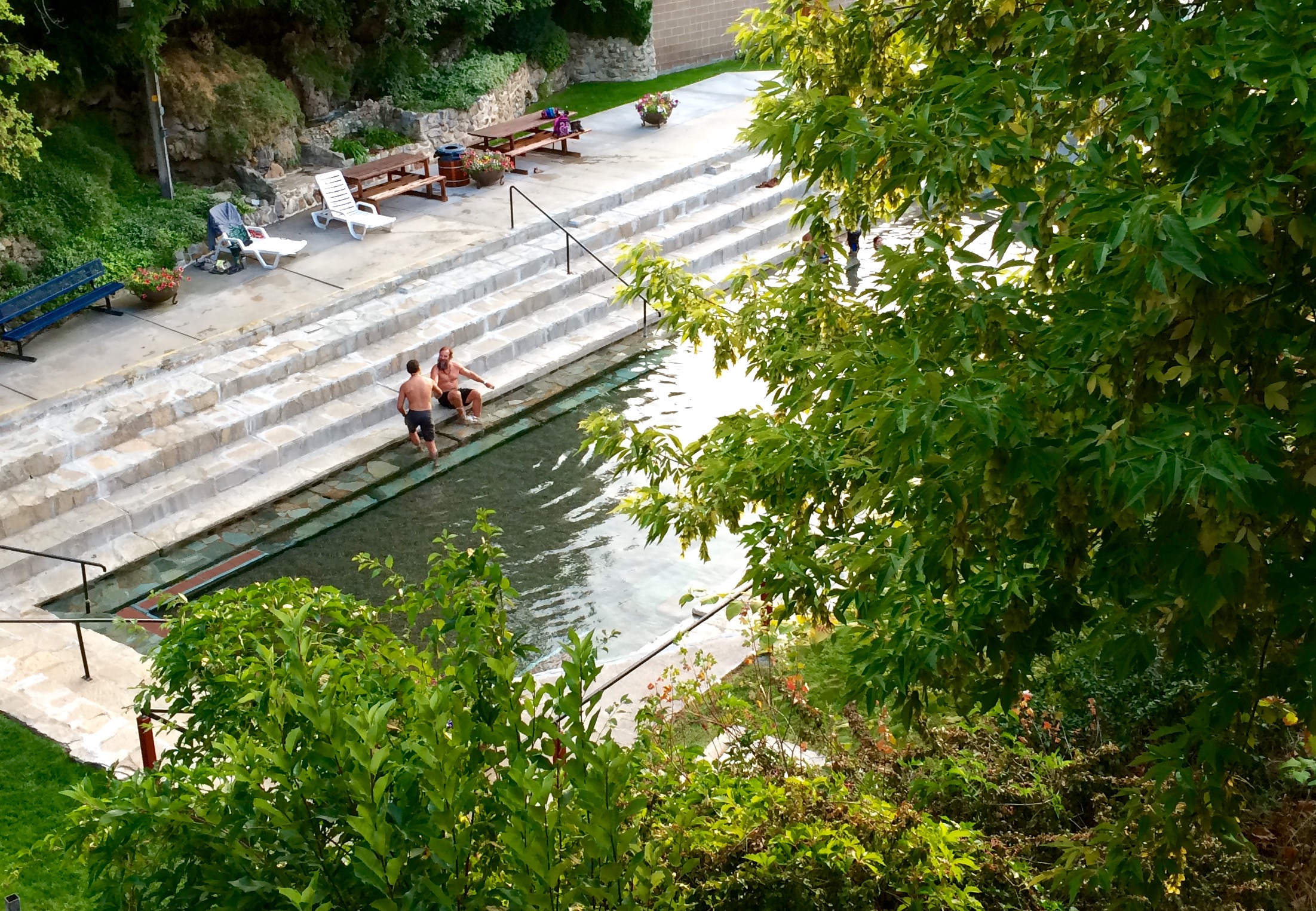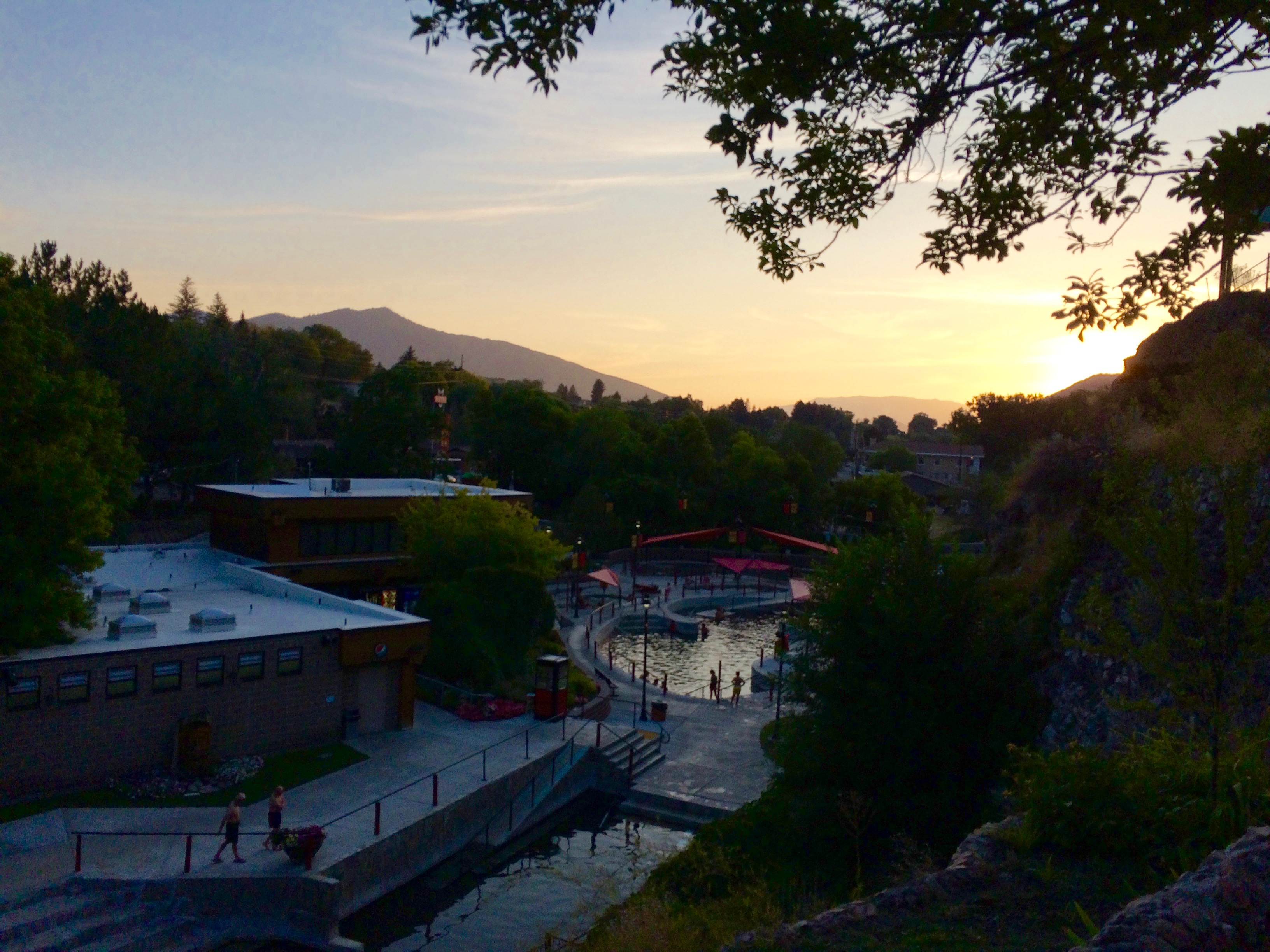 On to Mystic Hot Springs in Utah before our schedule of performances begin in Salt Lake City!  
Yes, we do work too:)  ( If you can call playing music "work" - this is the most joyful "work" we've done!
Salt Lake City - Beautiful Old Buildings in downtown Salt Lake.  This picture below is about 1/5th of the whole building - City Hall is Huge!
Each side of the building has an entrance like this.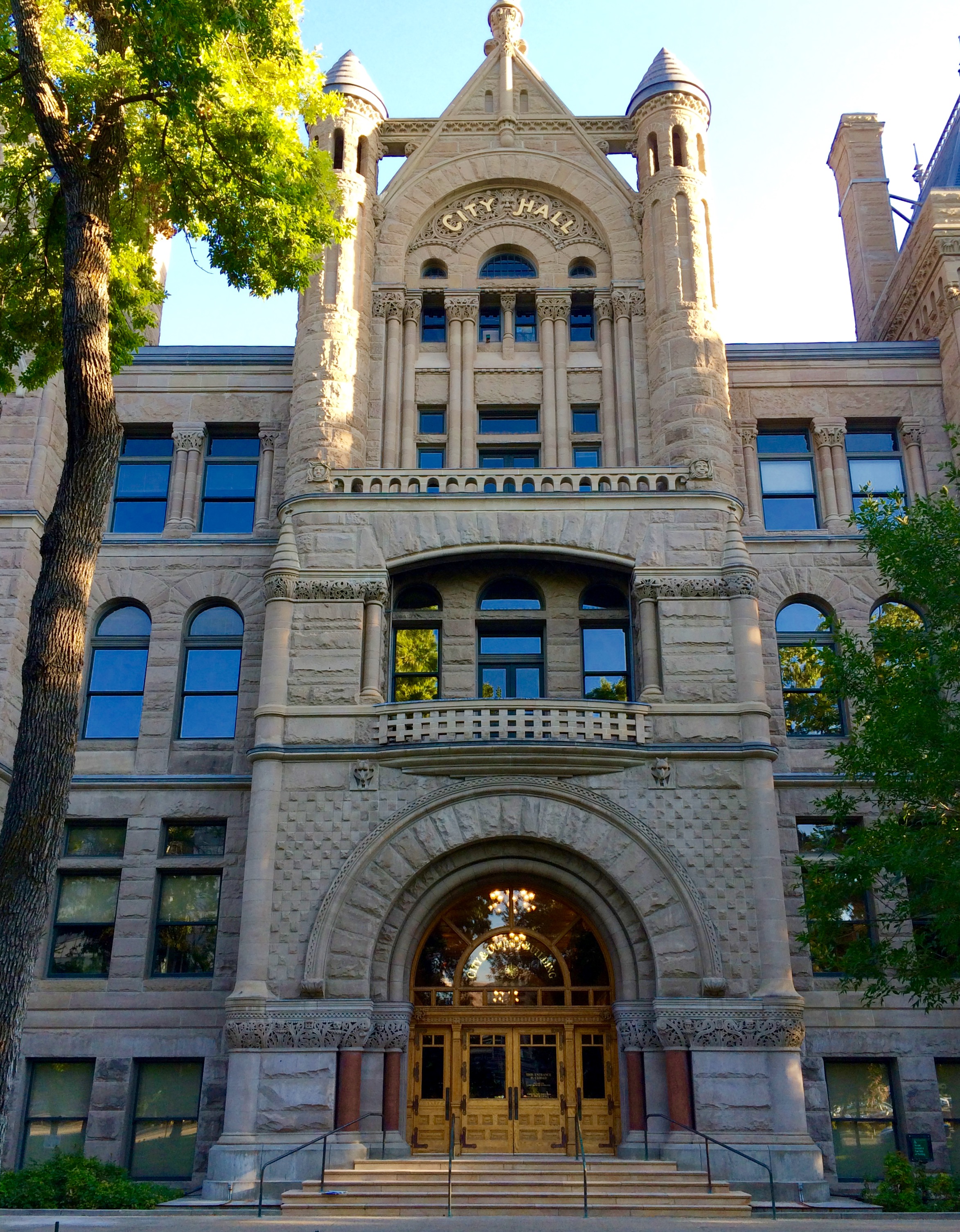 Our 2 performances in Salt Lake City were well attended and folks were exceptionally enthusiastic about the program.
We played @ the Anderson - Foothills and Sprague Branch Libraries in Salt Lake City, both are beautiful libraries.   Foothills was a very new library built into the hillside.
The Sprague Branch's high-gabled English Tudor style building and was selected by the American Library Association in 1935 as the "Most Beautiful Branch Library in America." The two-level facility was opened in 1928 and has been renovated several times as use continues to increase.  
Fortunately for us, both community rooms where we performed had superb acoustics!
Sprague Branch Library -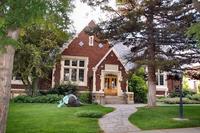 Cherie Koefod is the librarian who booked us in the Sprague Branch Library.  Koefod is the family name of first cousins to Colleen.  Cherie is fairly certain she is related to Colleen's cousins as the Koefod's settled into Idaho over 100 years ago.  The Koefods are descendants of Arnie Inger Koefod from Bornholm Island.
Colleen is looking forward to talking to her Idaho cousin Dian about this connection!  
We'd like to thank Cherie for all her efforts in presenting our program and for the great turn-out!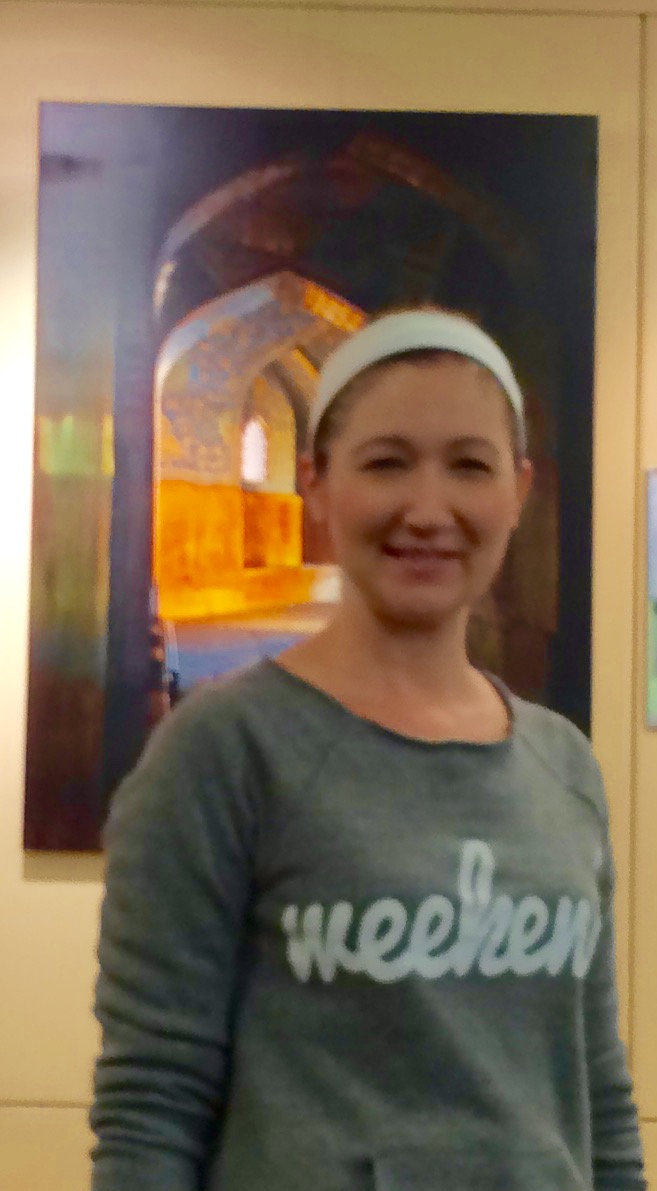 We head on to Moab for our next performance.  We love Moab and the outdoor playground surrounding Moab.  We are able to camp a few miles east of town in Sandflat Recreation area and seemed to have the Juniper Campground to ourselves the first night.  
Wow, what a great spot on the planet this was!
Incredible views in every direction including of the Lasal Mountains to the east, canyons and table top mesas and a myriad of rock formations.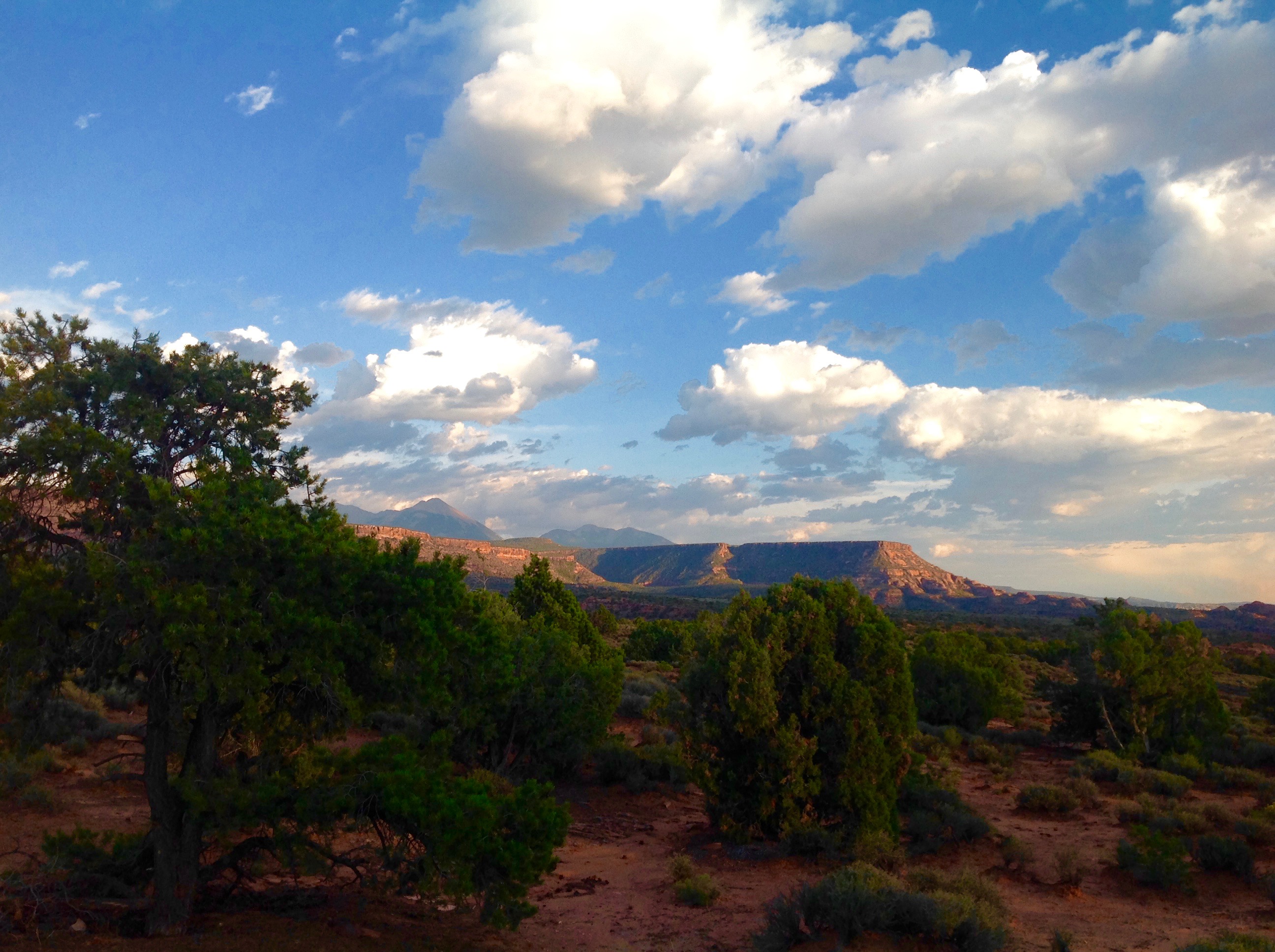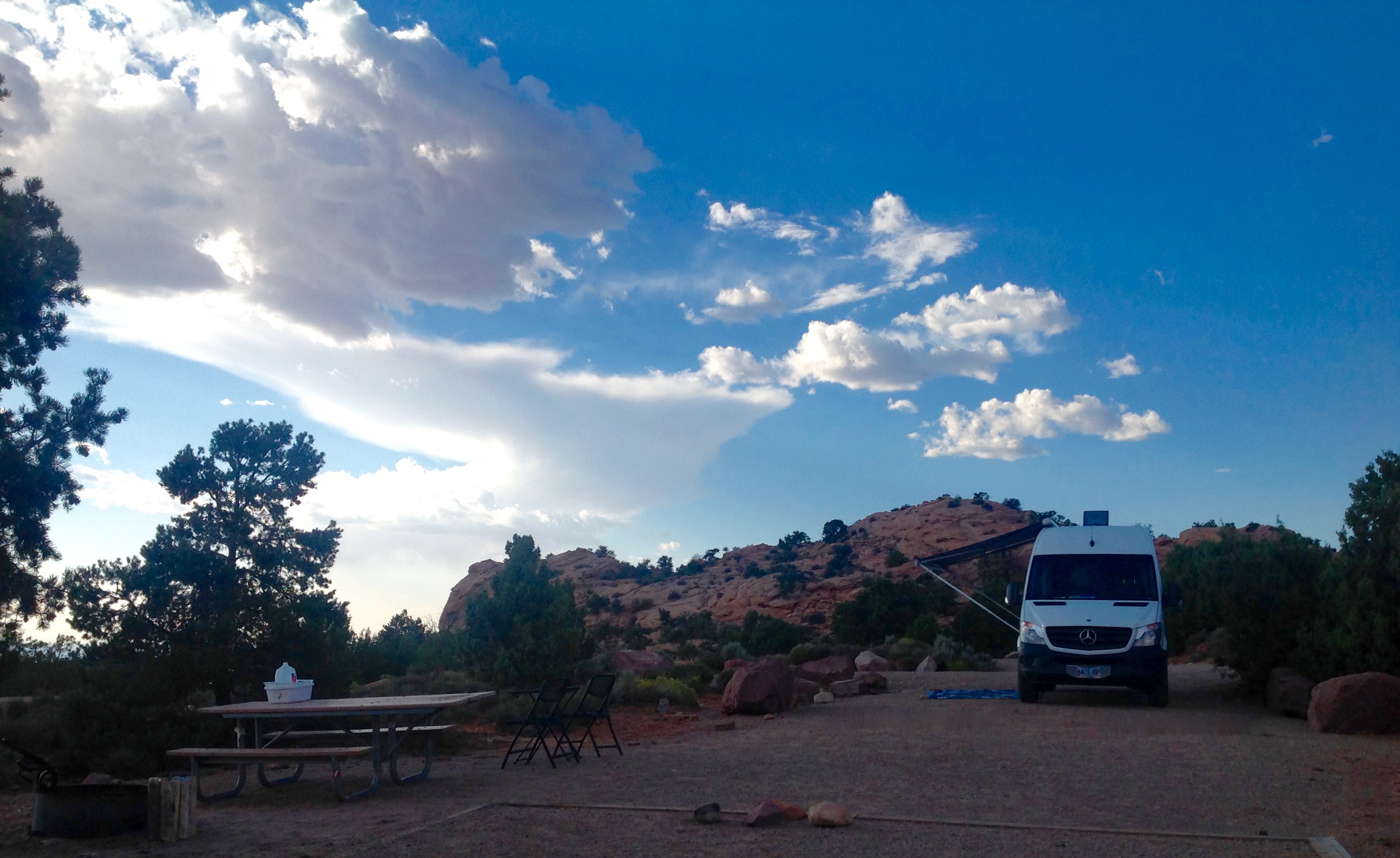 And what a sunset!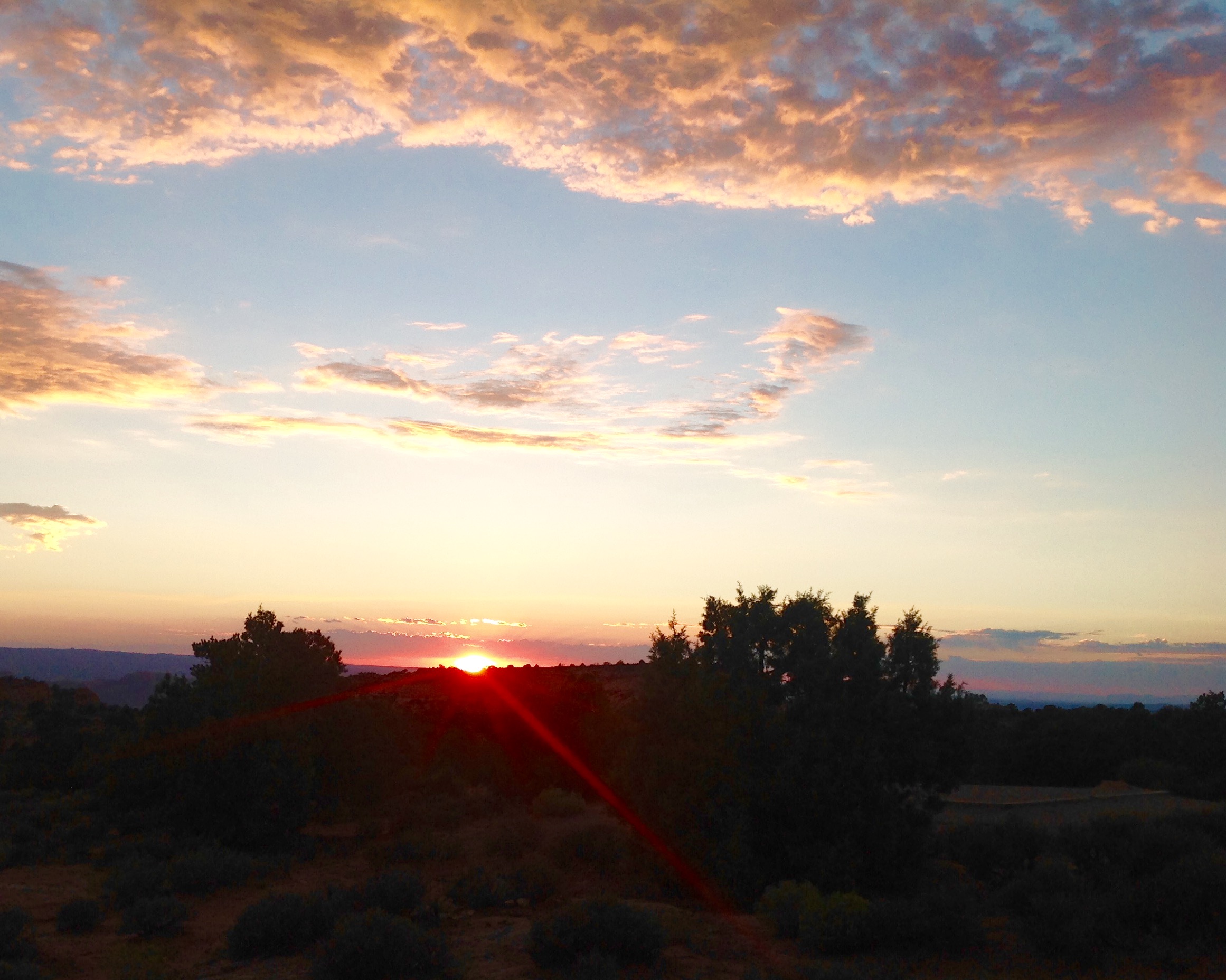 The next day, we start to make preparations for the evening performance, but first we find the community rec center in Moab - what a great place!
Indoor and outdoor pools in a setting that made us think we were staying at a fancy resort in the most awesome  setting.
Megan Flynn is the librarian for Grand County Library in Moab.
We played here one year ago and we were so happy to be invited back.  
Thanks to Meg for making this happen and for all her great assistance and support!
We hope to make Moab a yearly stop on our travels!
This is a plaque at the front entrance to the library, and we could not agree more with this quote. 

On to Colorado!
Highway 90 is a little ways south of Moab and for those who want the road mostly to yourself, this is a great way to get to SW Colorado taking you through Paradox Valley.
Paradox Valley is a basin located in Montrose County in the U.S. state of Colorado. The dry, sparsely populated valley is named after the apparently paradoxical course of the Dolores River—instead of flowing down the length of the valley, the river cuts across the middle.
The little towns are remote and of course interesting.
We initially drove past the General Store in Bedrock but stopped and turned around to go back because this store beckoned us back to take a look. 
As Colleen was taking a picture of the store, the store's owner, Anthony Pisano came out on the top floor terrace was waving at us.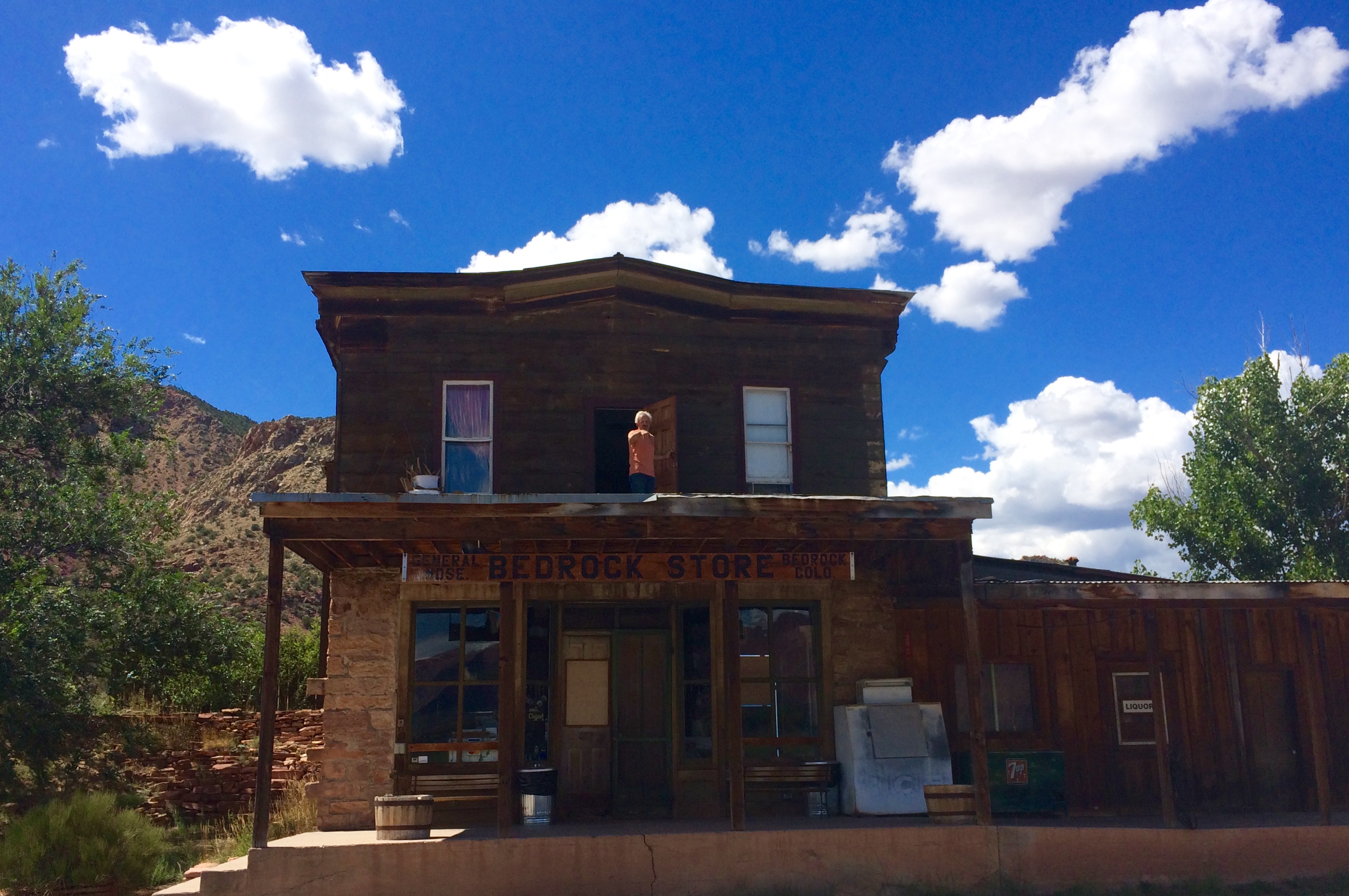 Bedrock store is the oldest and longest running General Store in Colorado.
It was built in 1881 and filled with history of the area including the fact that the town is called Bedrock because that is exactly what it is built on. 
Anthony invited us in and showed his work inside to restore this beautiful old store.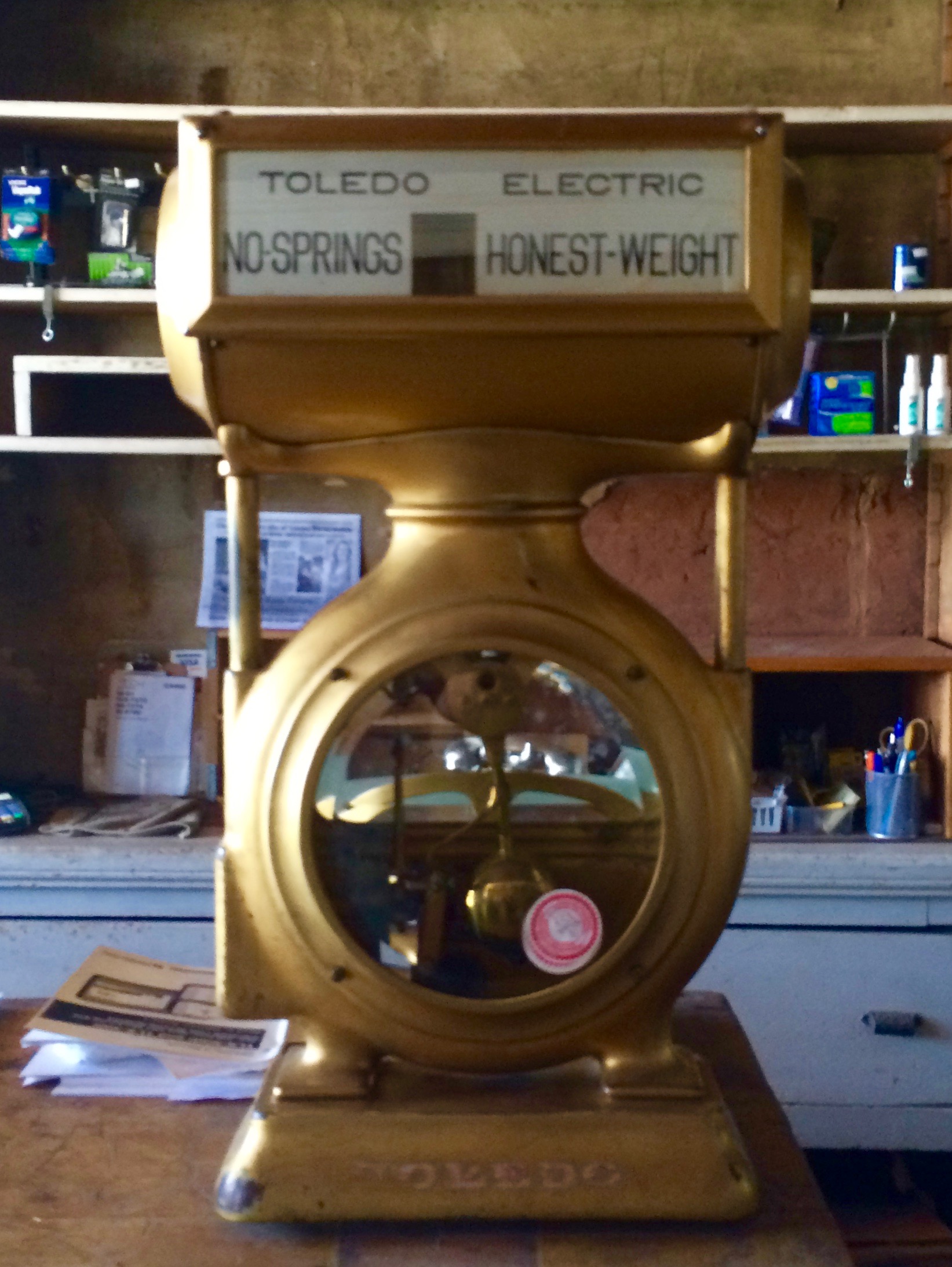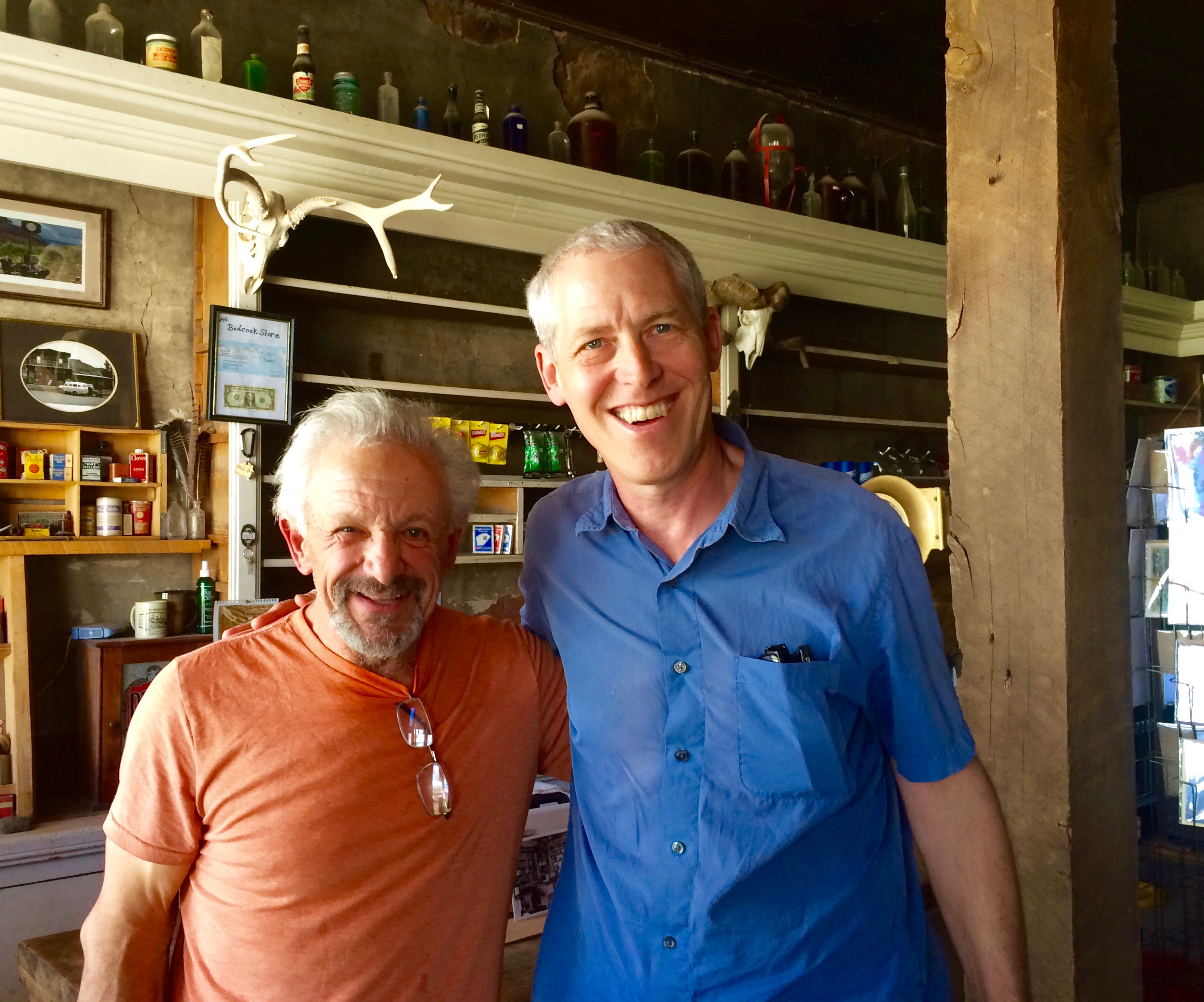 We heard about Anthony's plan for the store and told him we would pass the information on to other travelers.
This is a great stop on the road in this most beautiful remote valley.
Anthony offered to take our picture before we leave.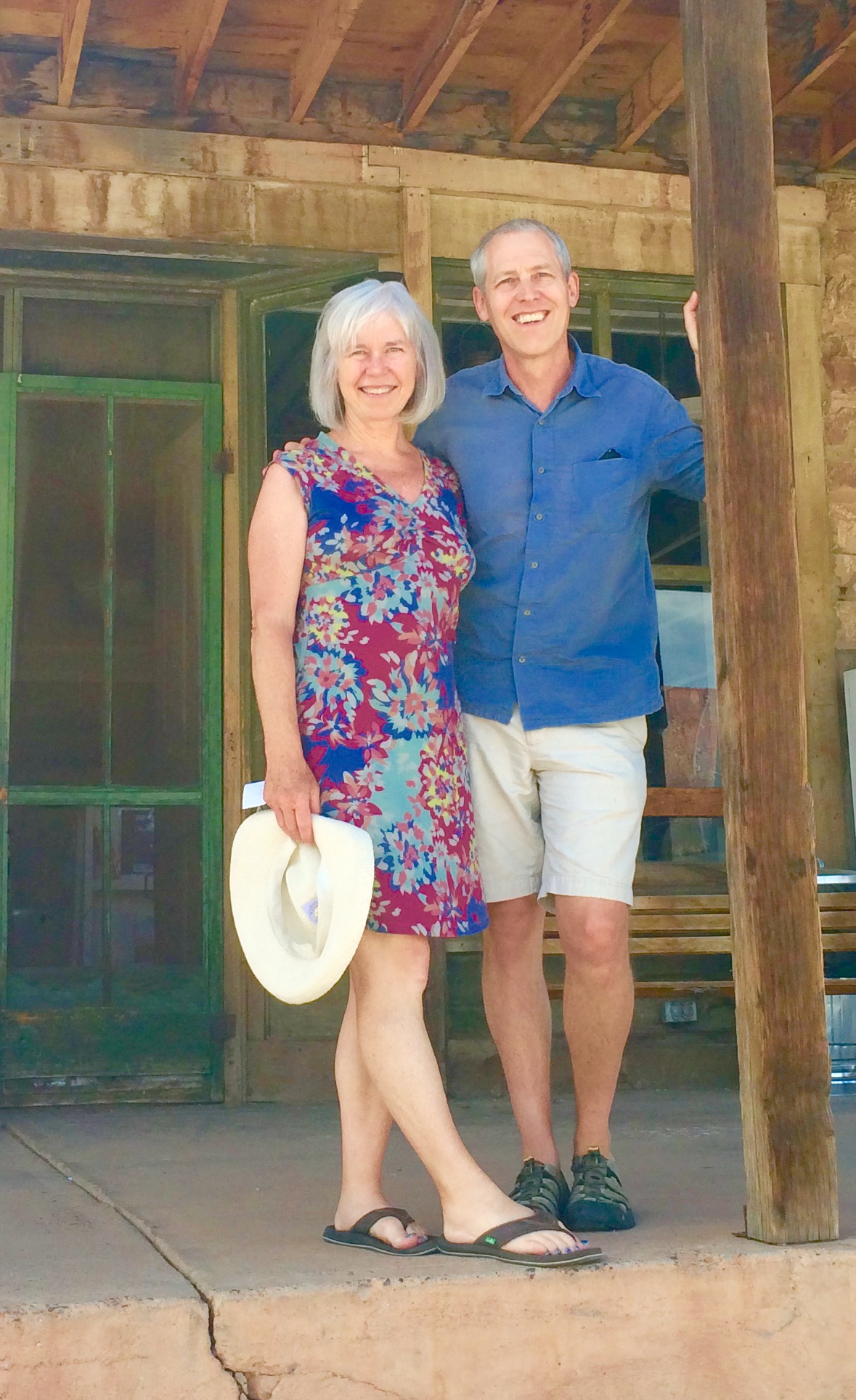 We definitely plan to come back through Bedrock in the future!
We head on down the road to spend the night near Ouray, Colorado and to soak our road weary bones in their beautiful public hot springs. Ouray sits at the base of the San Juan Mountains on the north side of the mountains.  We've always loved coming here and driving into Ouray is spectacular!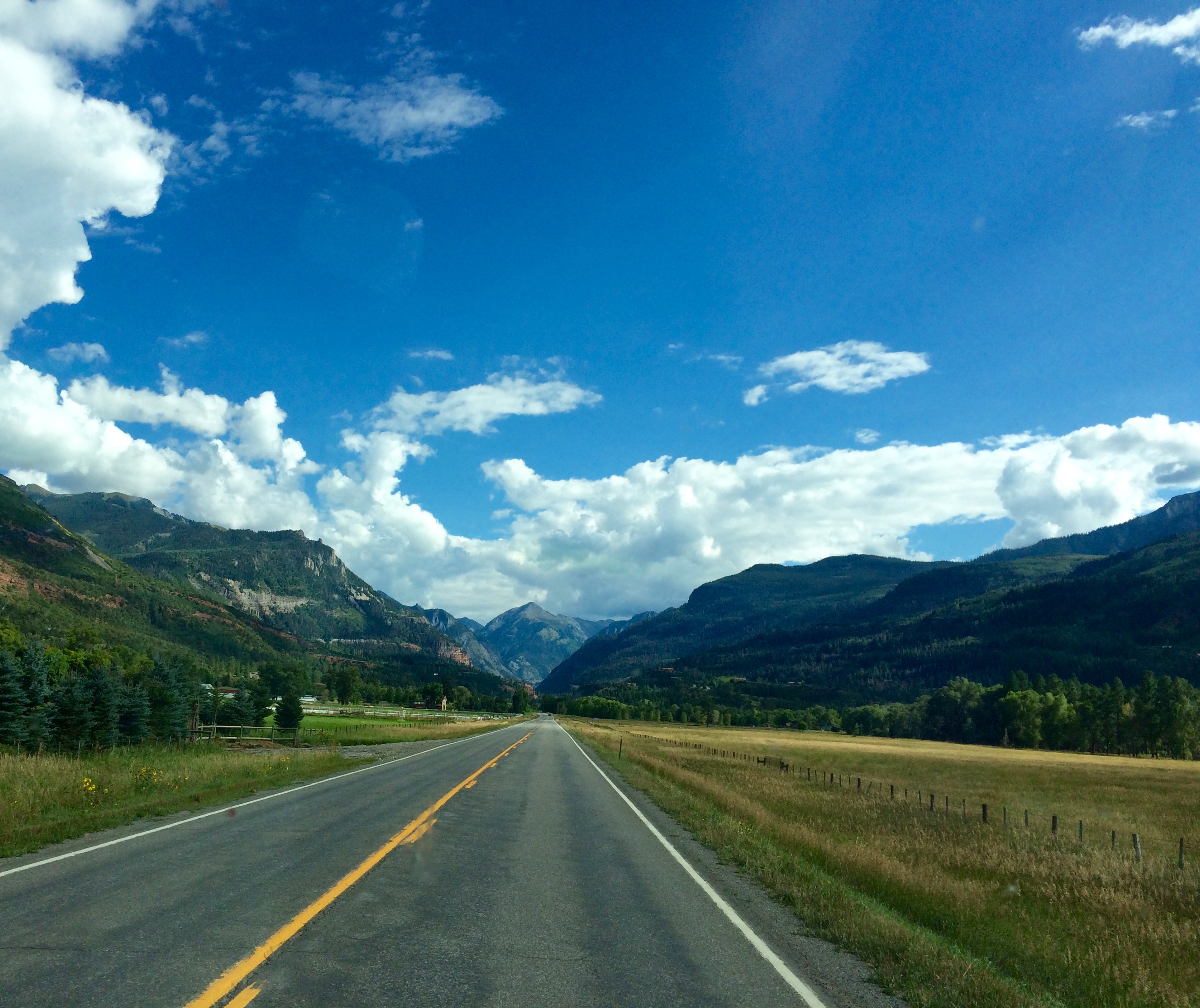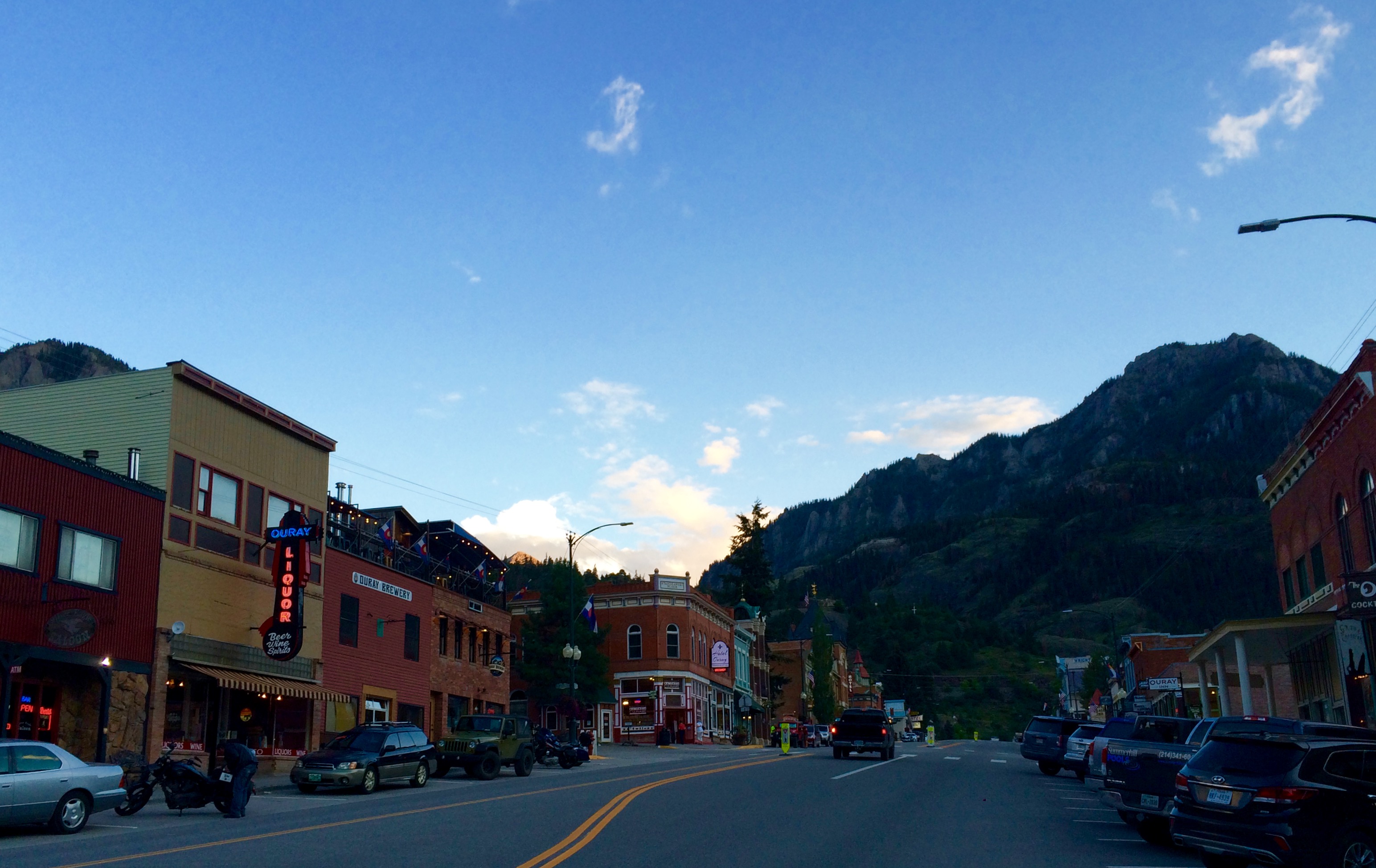 We find a great camp spot along a creek outside of town and plan our next day's journey to Gunnison, CO where we will begin our Colorado Library performances.  
We travel on to Gunnison and have time to explore the neighborhoods. Our walk reveals some very beautiful old stone residences and buildings built in the late 1800's by a master stone mason, Frederick Zugelder.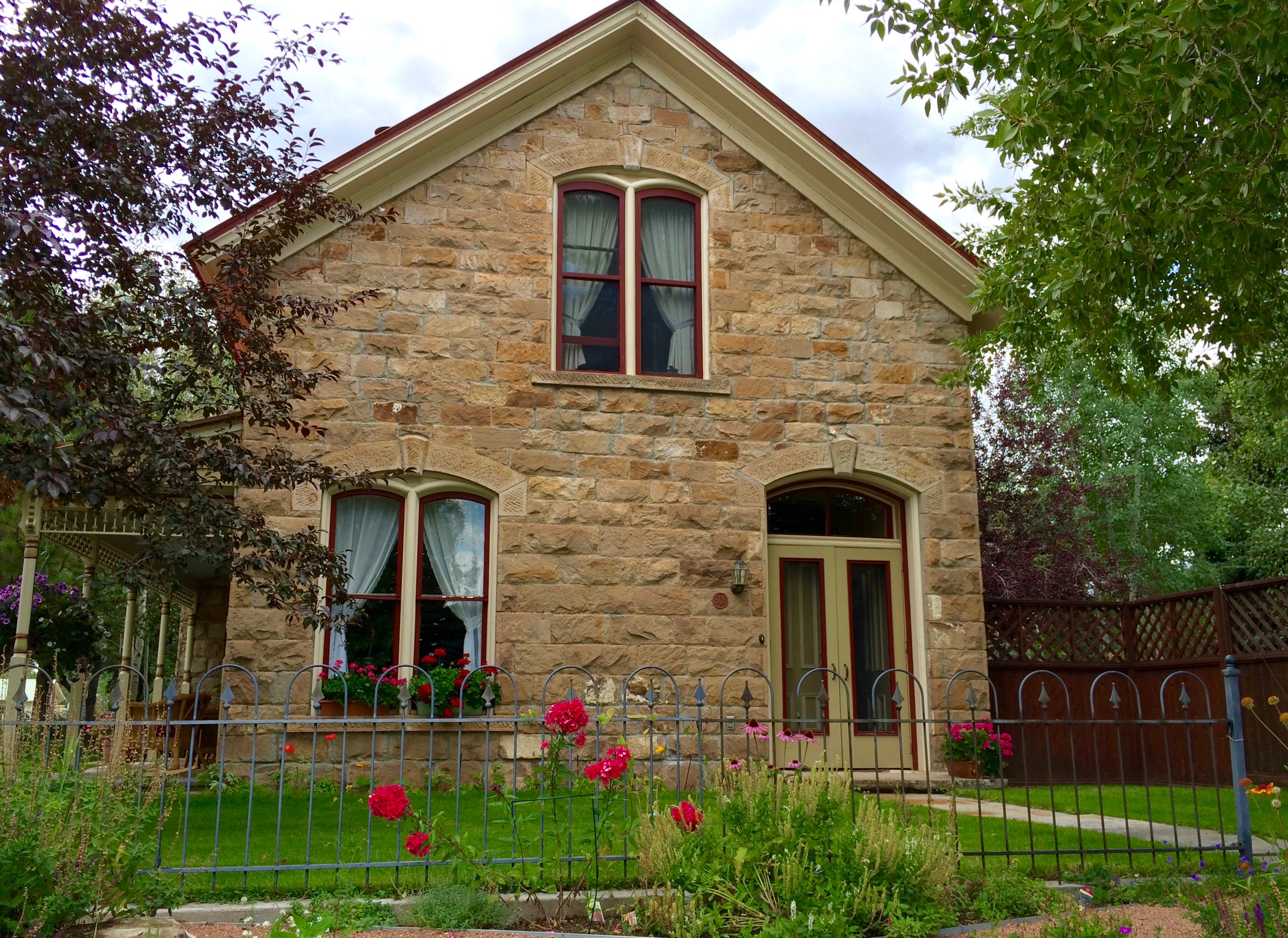 We head over to the library & take in the colorful Hollyhock in front of the library.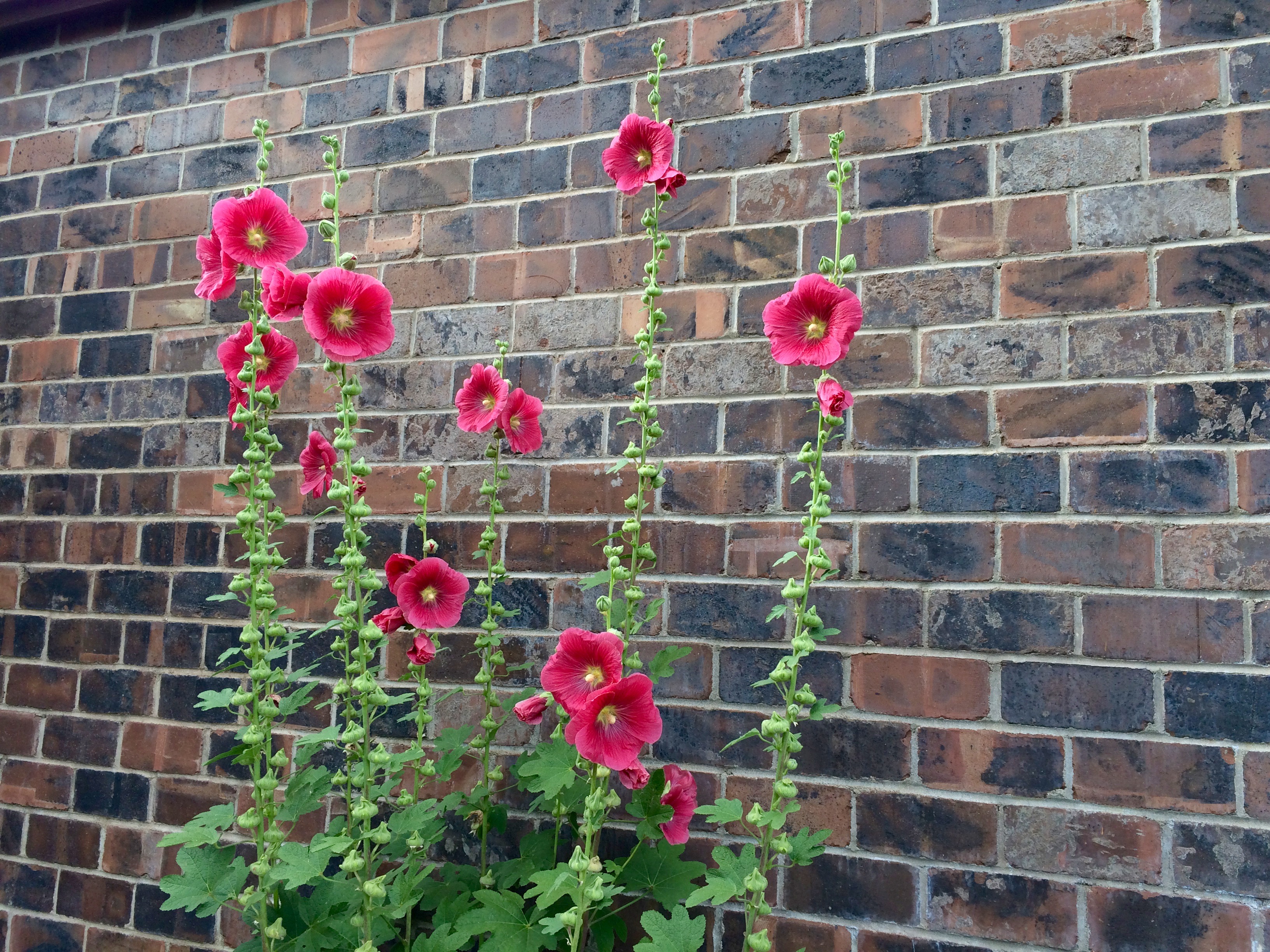 Tonight, we play "in the stacks".  Since we use the i-phone for our program, we generally take pictures before the performance. 
We 'd like to thank the library & all the folks who came out, it was a great turn-out and enthusiastic response in Gunnison.
We appreciated all the great comments and questions.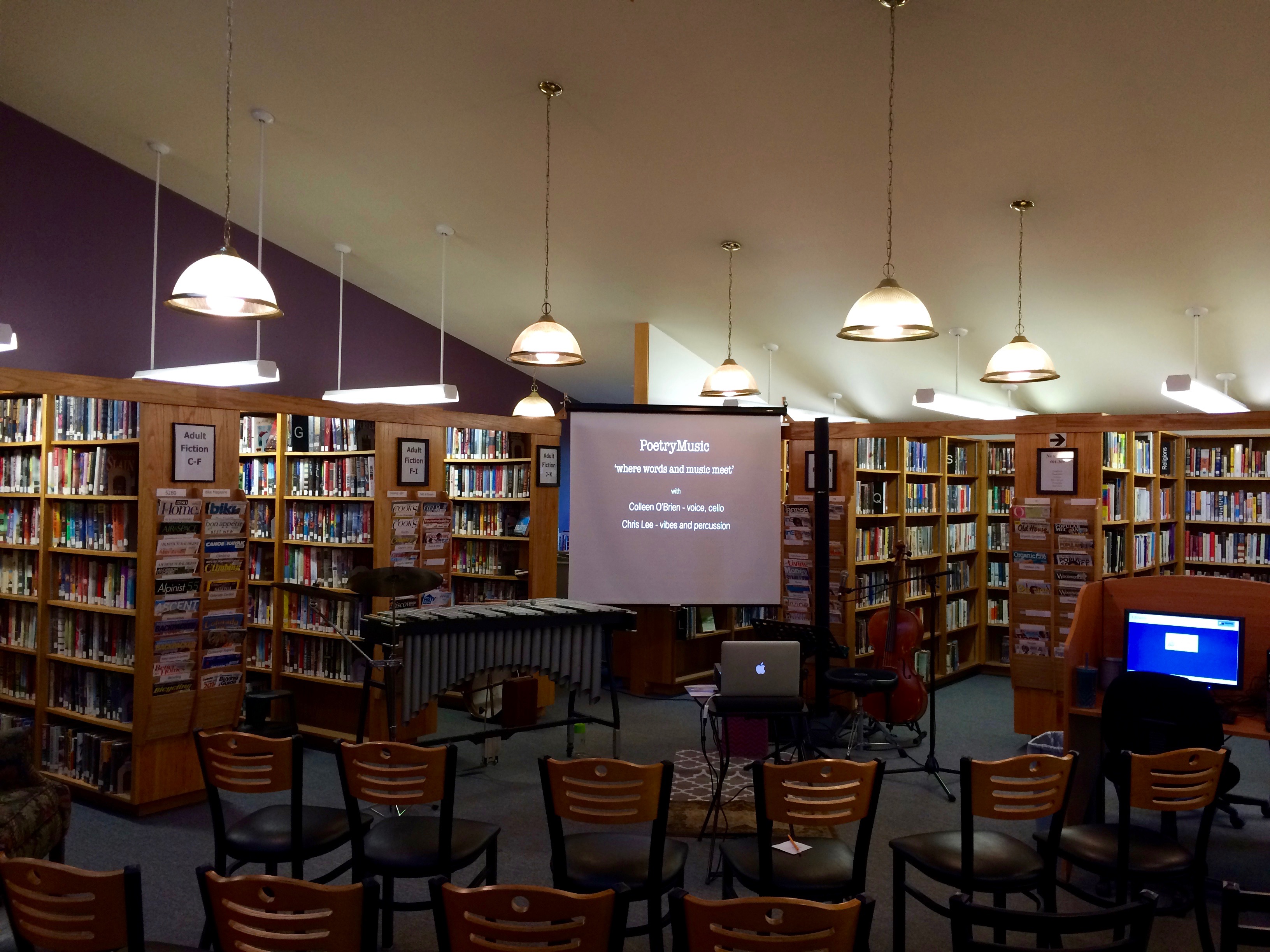 We leave Gunnison the next day and drive through Saguache on the way to Valley View, Hot Springs.  
Yes, we do love hot springs in beautiful natural places and know this may be our last hot spring stop before hitting the front range and then heading across the plains to the midwest and east coast. 
We have watched Saguache change over a decade.  
Some of the old buildings are donning new coats of paint and a few buildings are being renovated.
More people are moving in and opening a few businesses.
We are drawn to one of the older businesses.
The Crescent News has been in existence since 1867.
We look inside this old building and see the most amazing old print machines.  
Initially it does not look like anyone is in, but the sign in the window says "open".
We walk in  and standing inside is Dean Coombs who is the paper's entire staff. 
The Saguache Crescent was purchased by the Coombs family in 1917, and it has been in the family for three generations.
It still uses a 1921 linotype machine to set the print, and a 1921 printing press.
It features a decorative masthead, no photos, and publishes "all the good news fit to print".
Coombs refuses to print bad news. He says that his mother set that policy and it is non-negotiable.
Dean started working with his dad on the Crescent news as a kid.  He took over the paper in his early 20's after his dad's death and says he will continue with this work because what else would he do?  He is the only one who can repair these machines.  He says the 1921 Linotype machine is the oldest working Linotype in the USA.
( see below)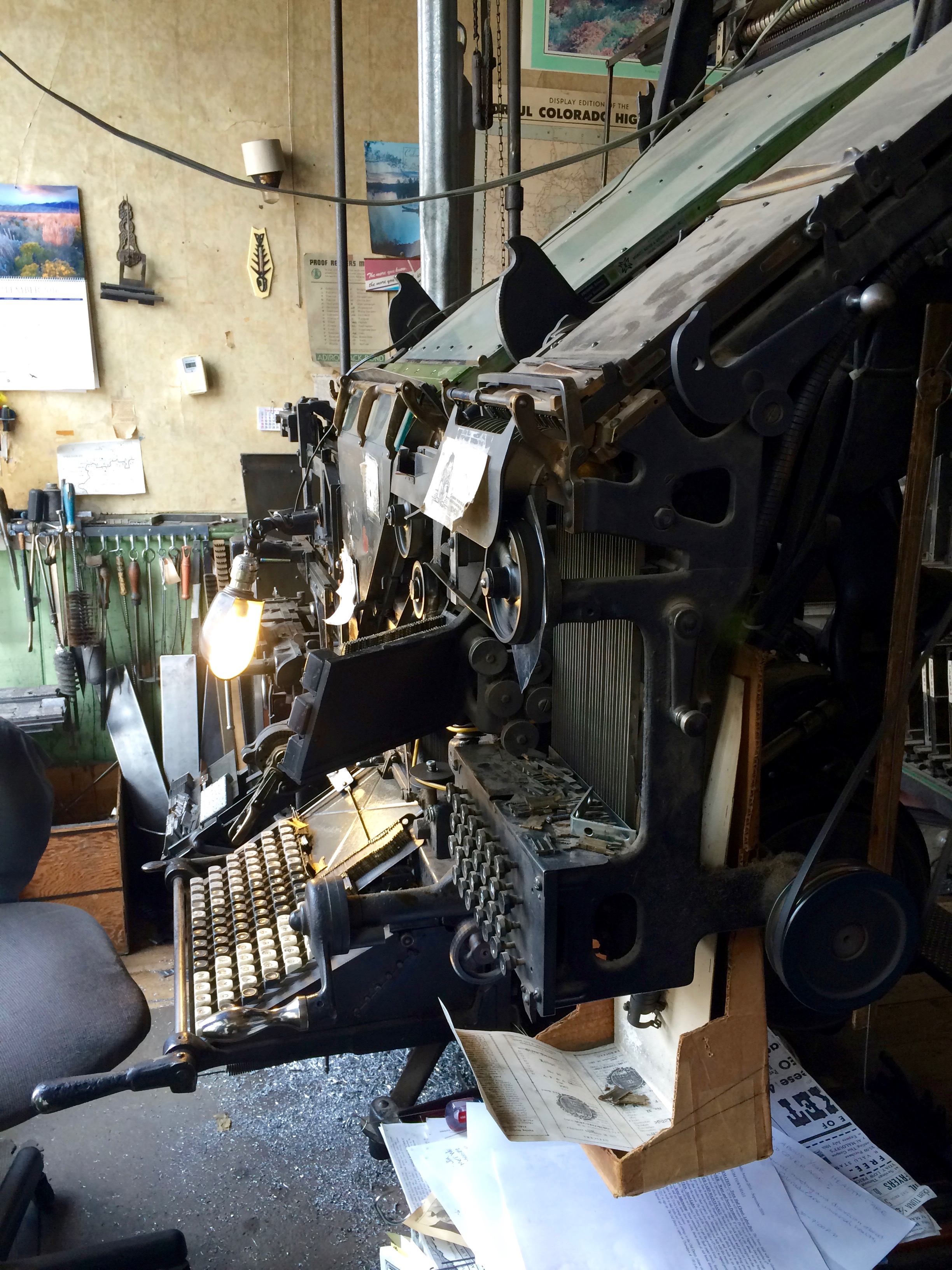 Time to go to our favorite hot springs in the West - Valley View Hot Springs aka Orient Land Trust.
We cross open range on the way and have a little chat with the local cows.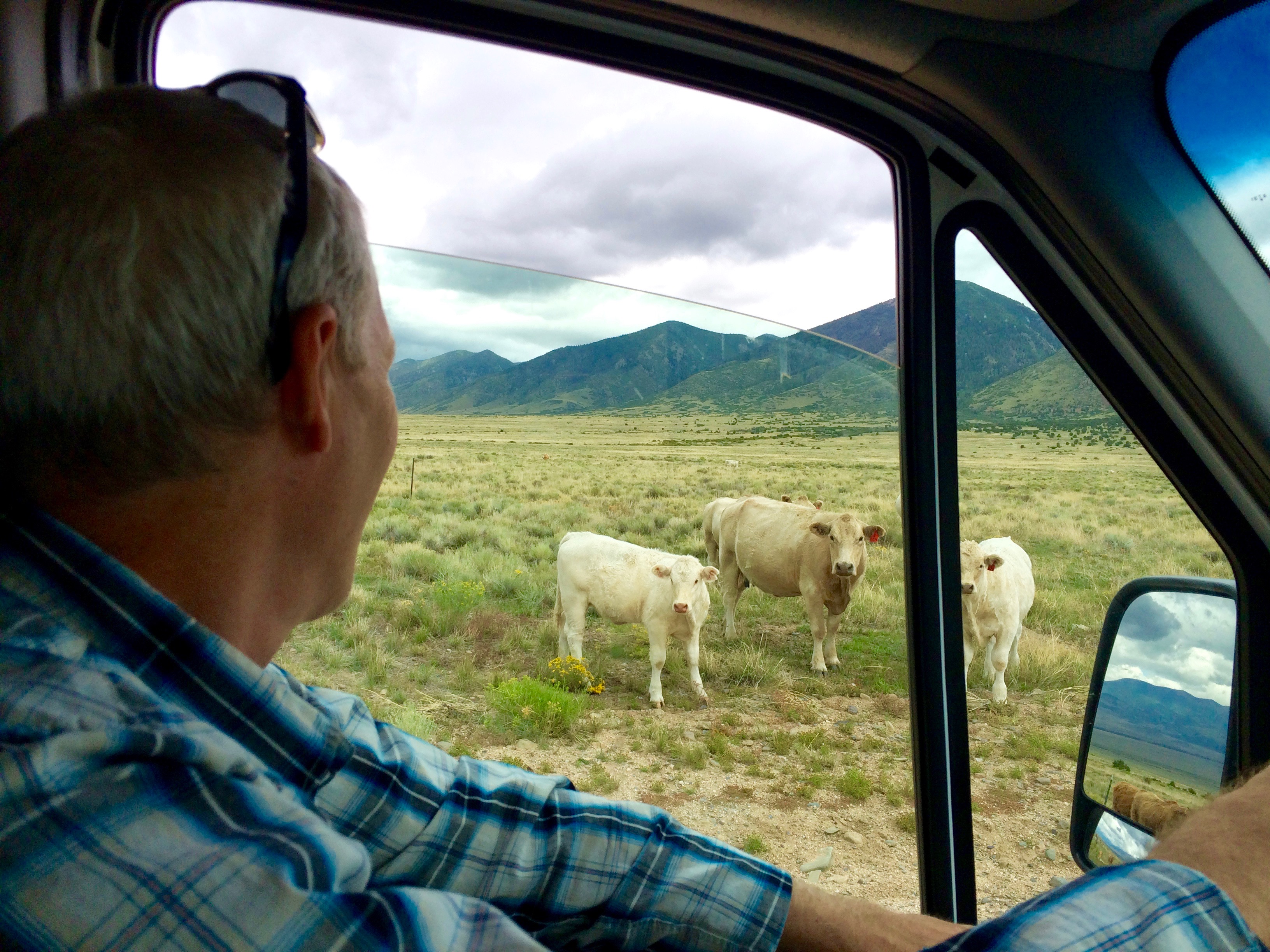 There are several natural hot spring pools dotting the hillside, a beautiful swimming pool with flow through water, no chlorine.
While the varied natural hot spring pools is wonderful, the camping is also great.
There are a few cabins and bunk rooms to choose from if one would like to sleep indoors on a bed. 

We choose a camp site that we have returned to several times, at the end of the road, overlooking the San Luis Valley.
This for us the the best reason to go to Valley View just for the reason of the name of this hot springs - a spectacular "Valley View".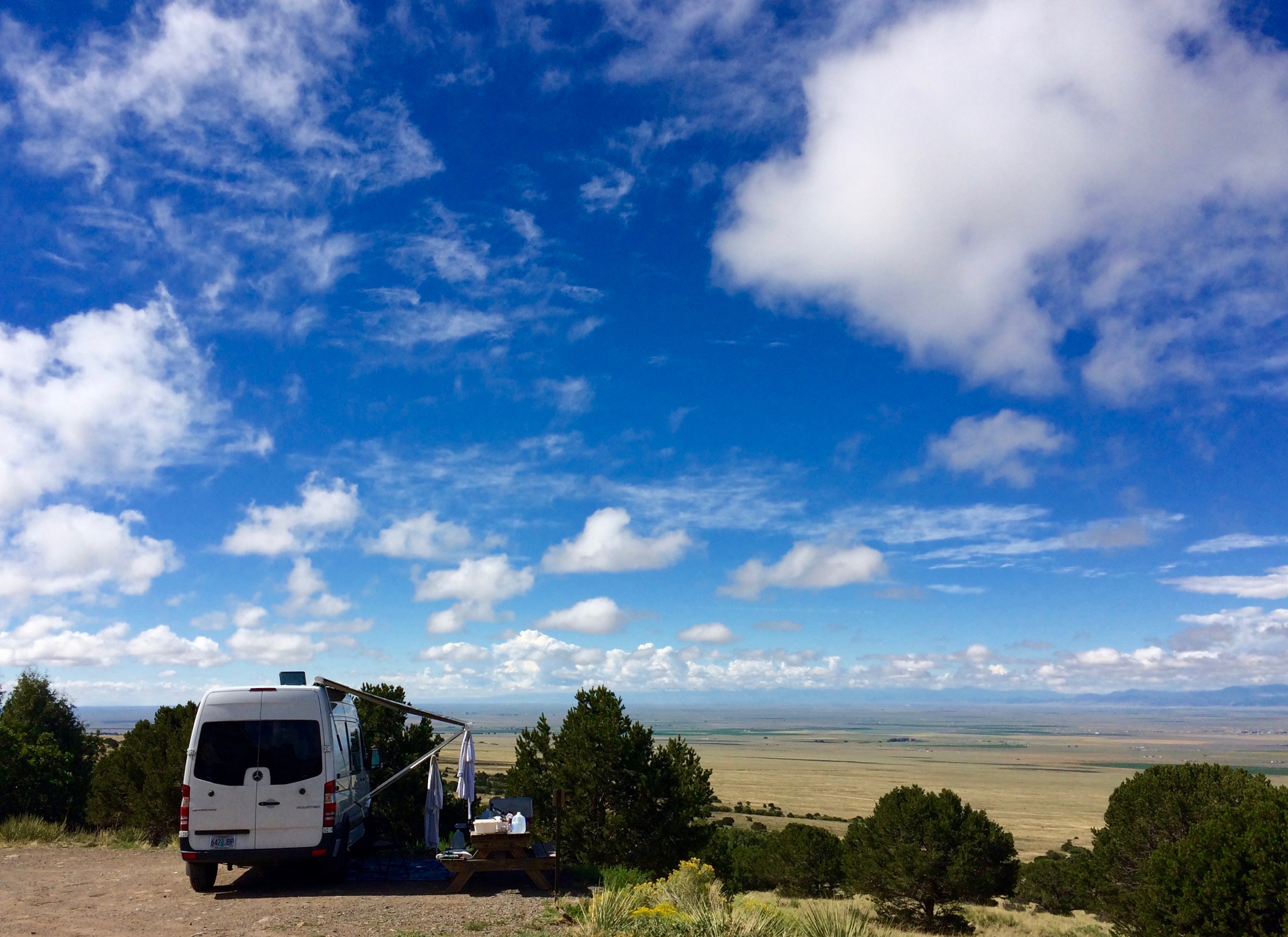 We spend a whole day watching the showers come and go, lightening and beams of light from the heavens.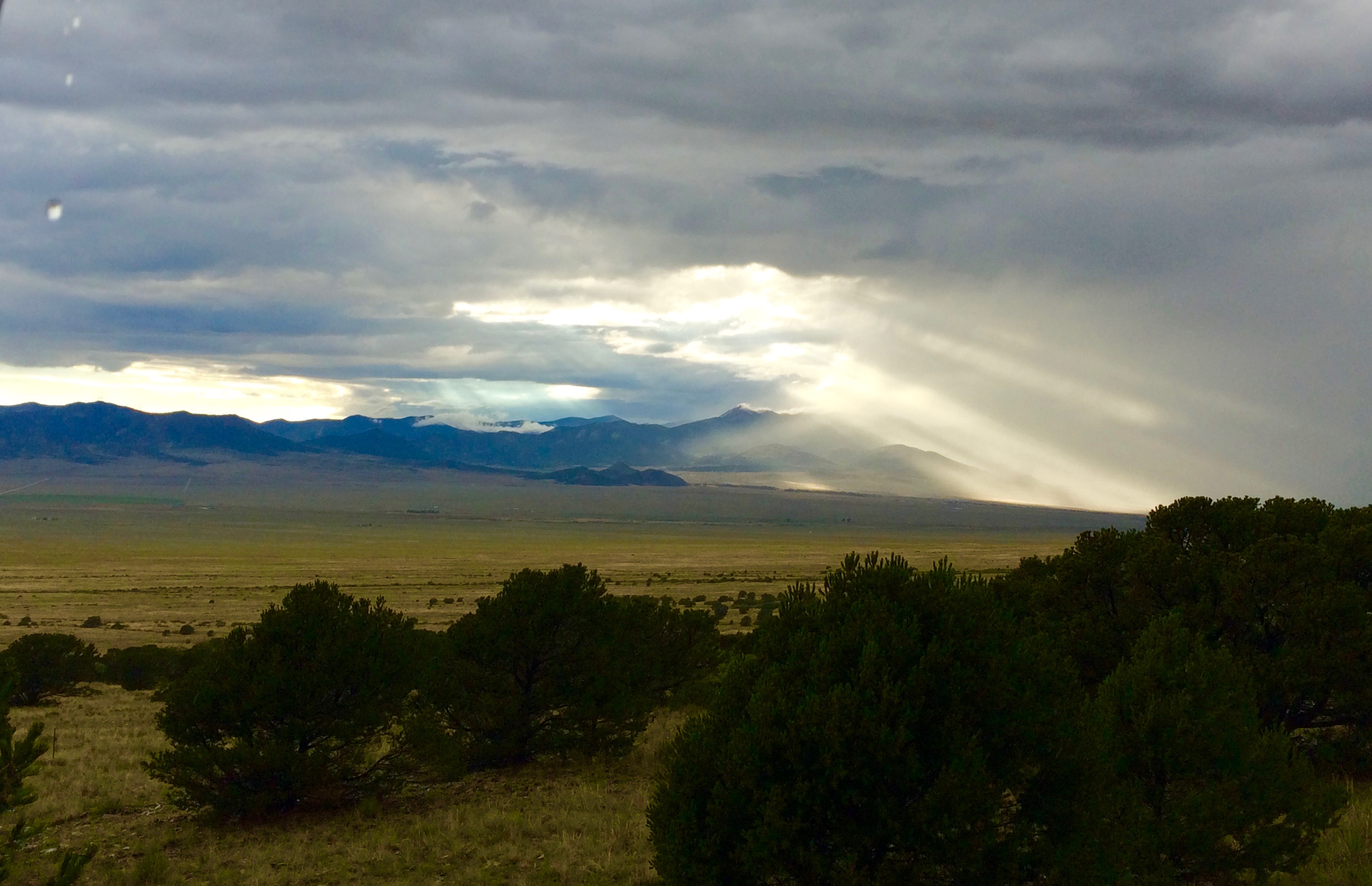 We still are watching as the sun goes down.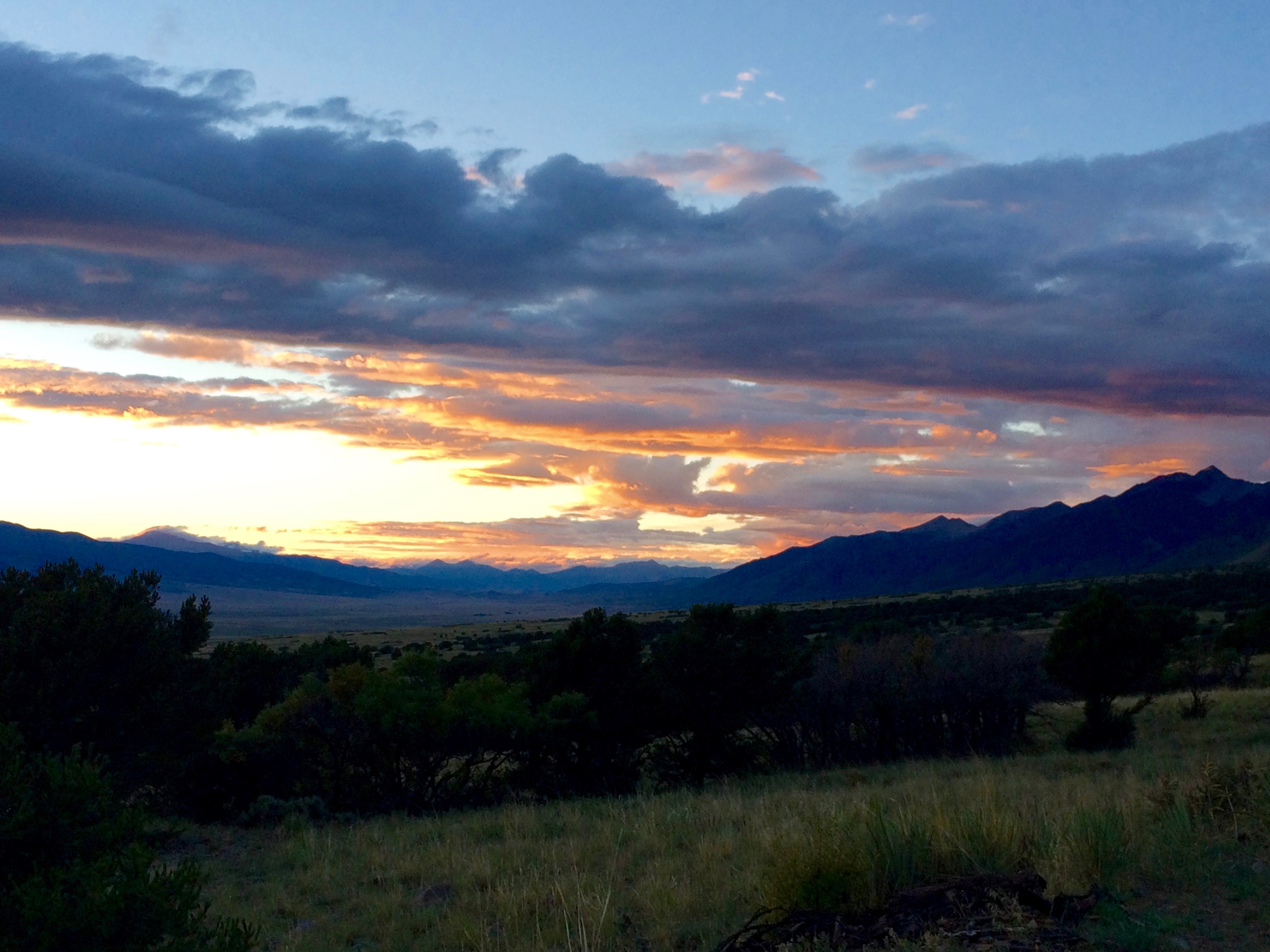 The next day, we head out for LaVeta for our next performance.  
But first, we stop at Orient Land Trust sustainable farm which is about 4 miles to the west and a little south of the hot springs on the valley floor.  
Here, they have a beautiful organic garden and raise happy animals.  
All electricity is powered by their hydroelectric system which comes from the water flowing from the hot springs down to the valley floor. 

This farm has been around a few years before the cooperative "bought the farm":)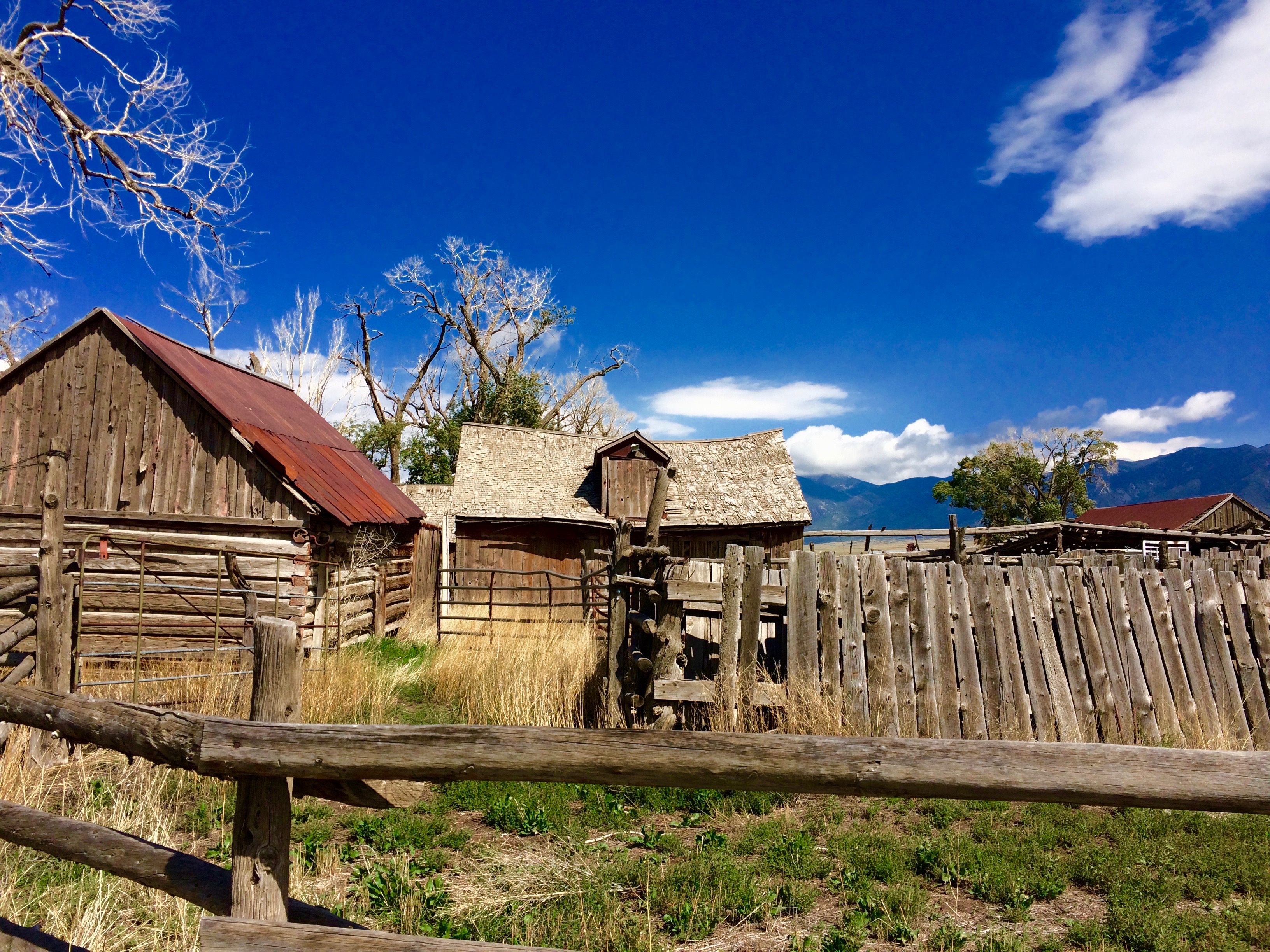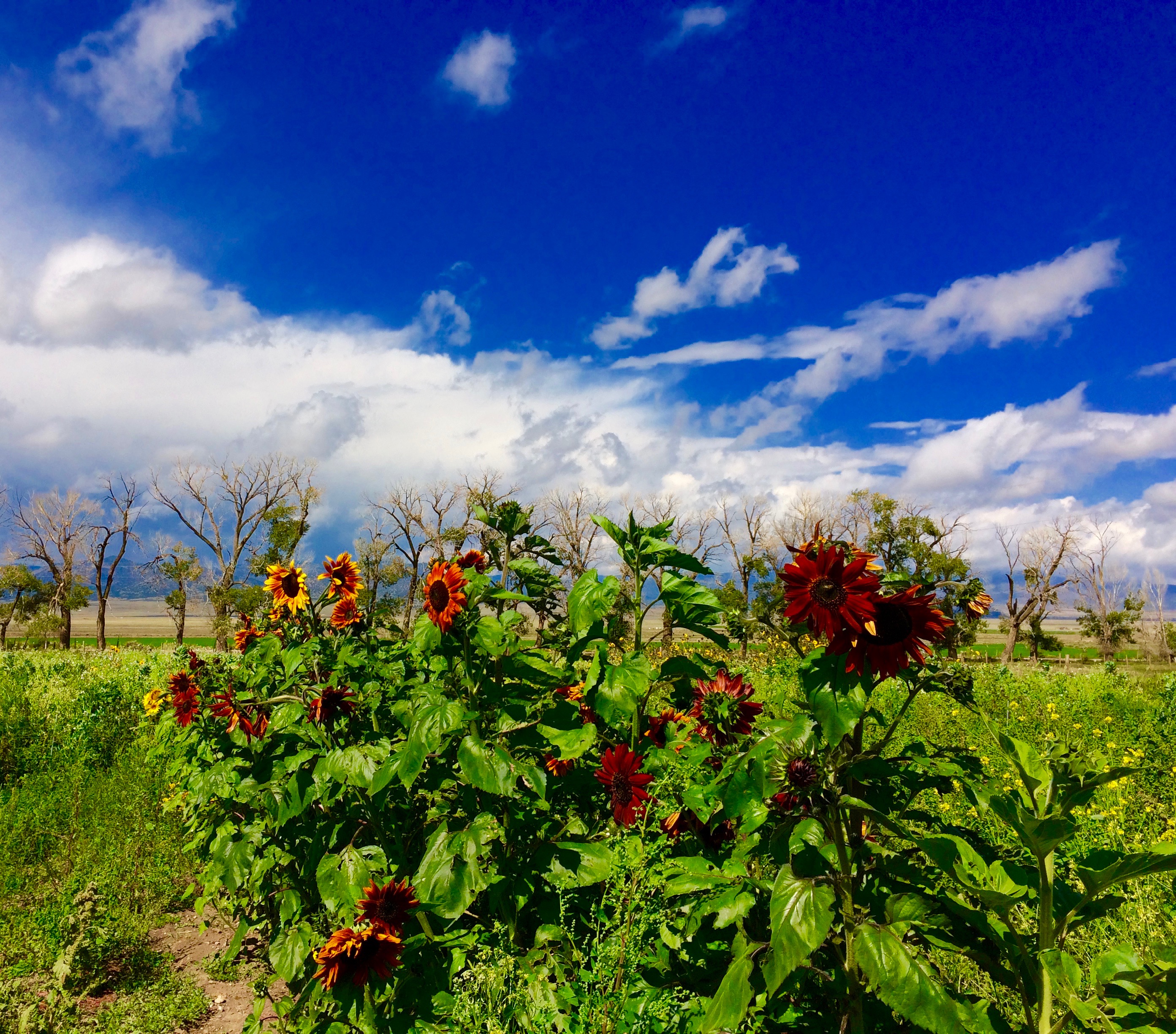 Ah La Veta, one of our favorite small towns in Colorado.  We are so happy to play at the Parkside Gallery hosted by Brent and Babz Seawell. 
The Parkside is one of La Veta's most beautiful buildings.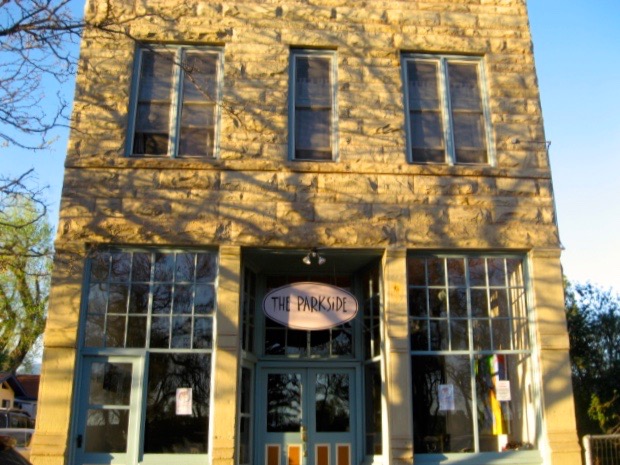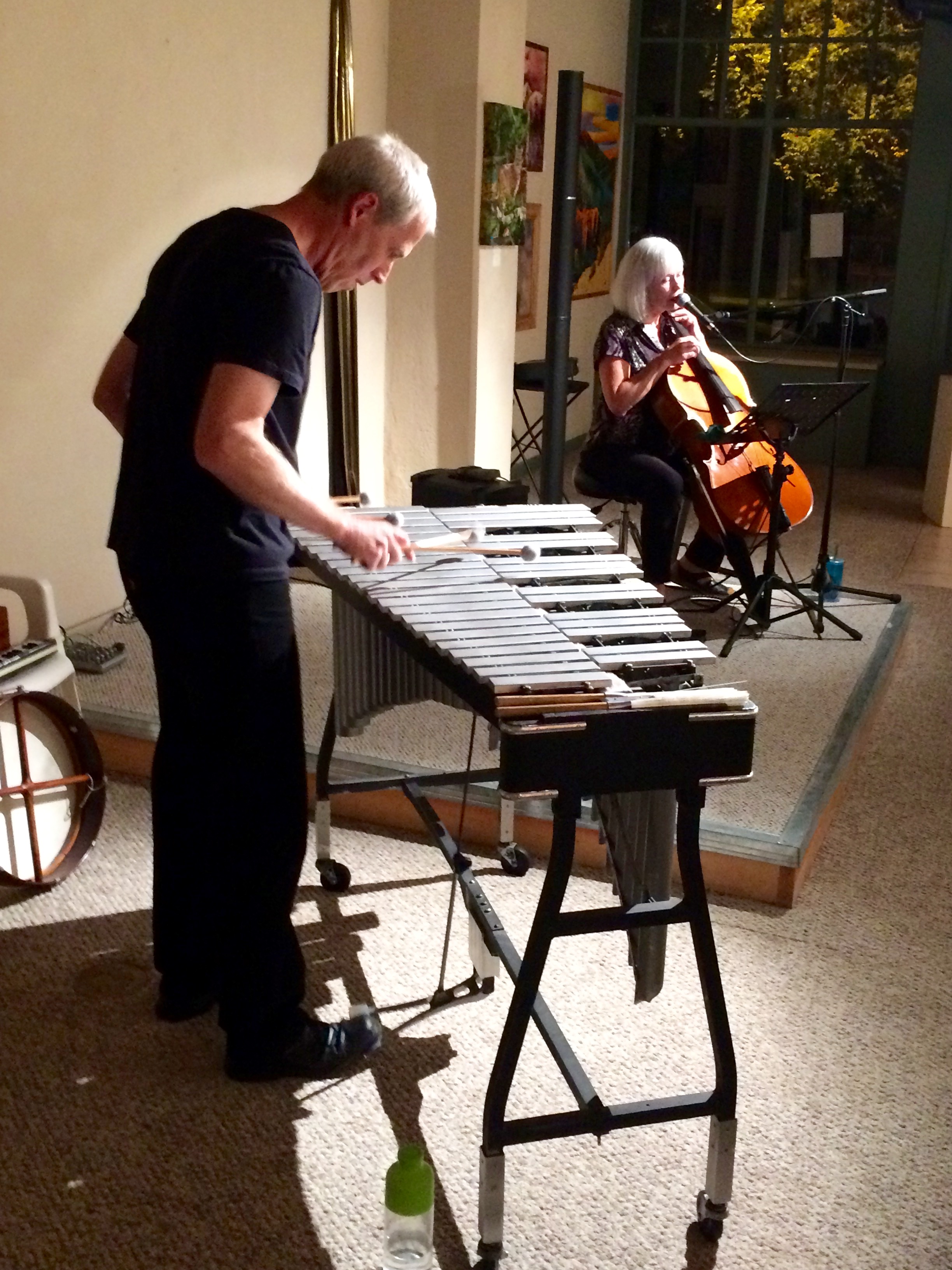 Brent & Babz are great hosts and we always look forward to seeing them.  They have played music together for years.  
Backstage we saw one of their art pieces which captures the spirit of their duo.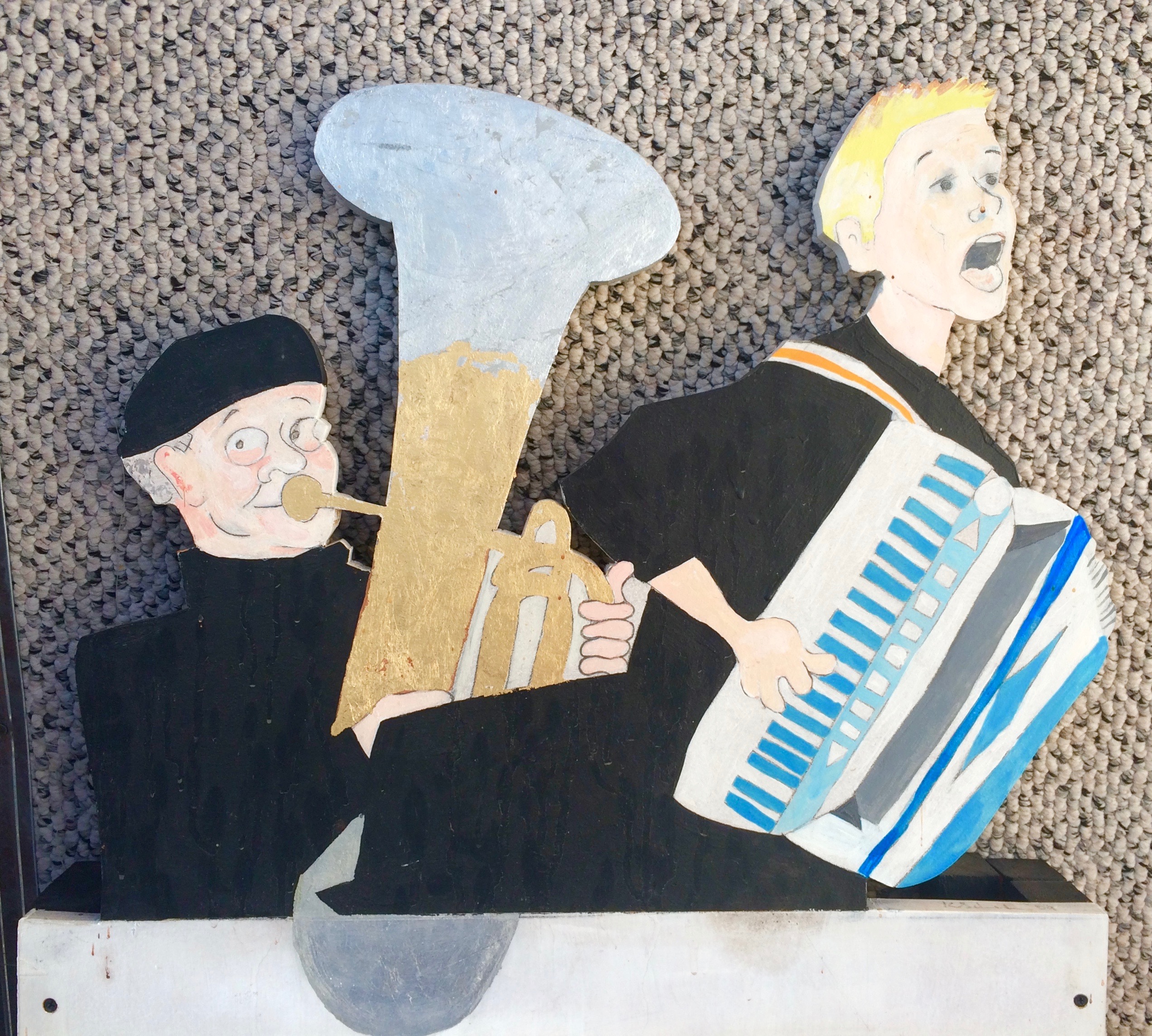 We'd like to thanks Brent & Babz for making it possible for us to go on our yearly pilgrimage to La Veta to play @ the Parkside Gallery.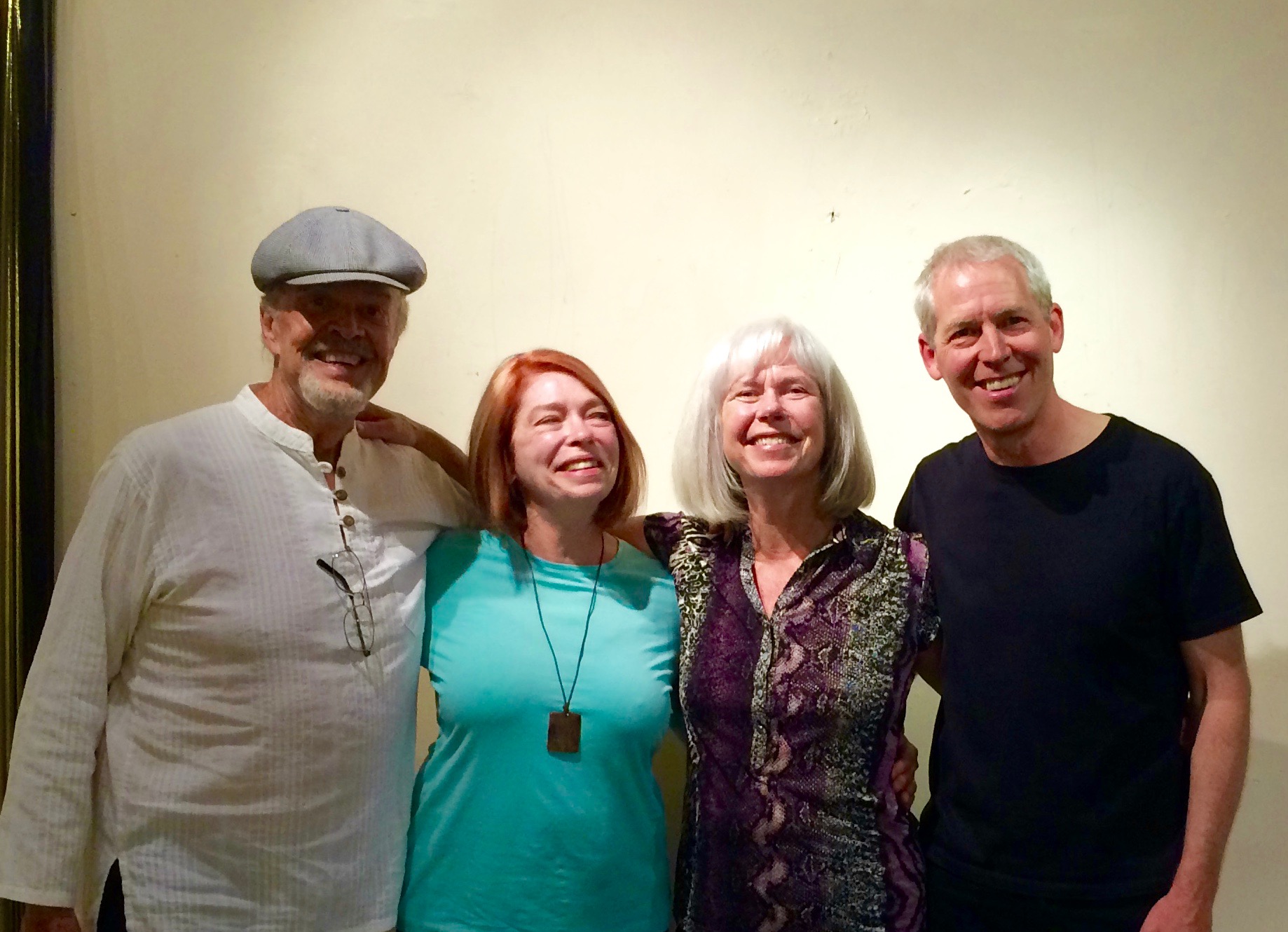 On to Eldorado Springs, the home we left just over 2 years ago to "hit the road".  We spend the night on "the flats" above Eldorado Springs, camped in our trusty Sprinter Van.  ( many thanks to Kathy! )  At this point ( picture below ) we are hiking over to our Eldo friend's house nearby as we are invited to celebrate Labor Day on Davey Jones deck.  Davey has the best spot in Eldorado Springs.  Thanks for the great hang Davey!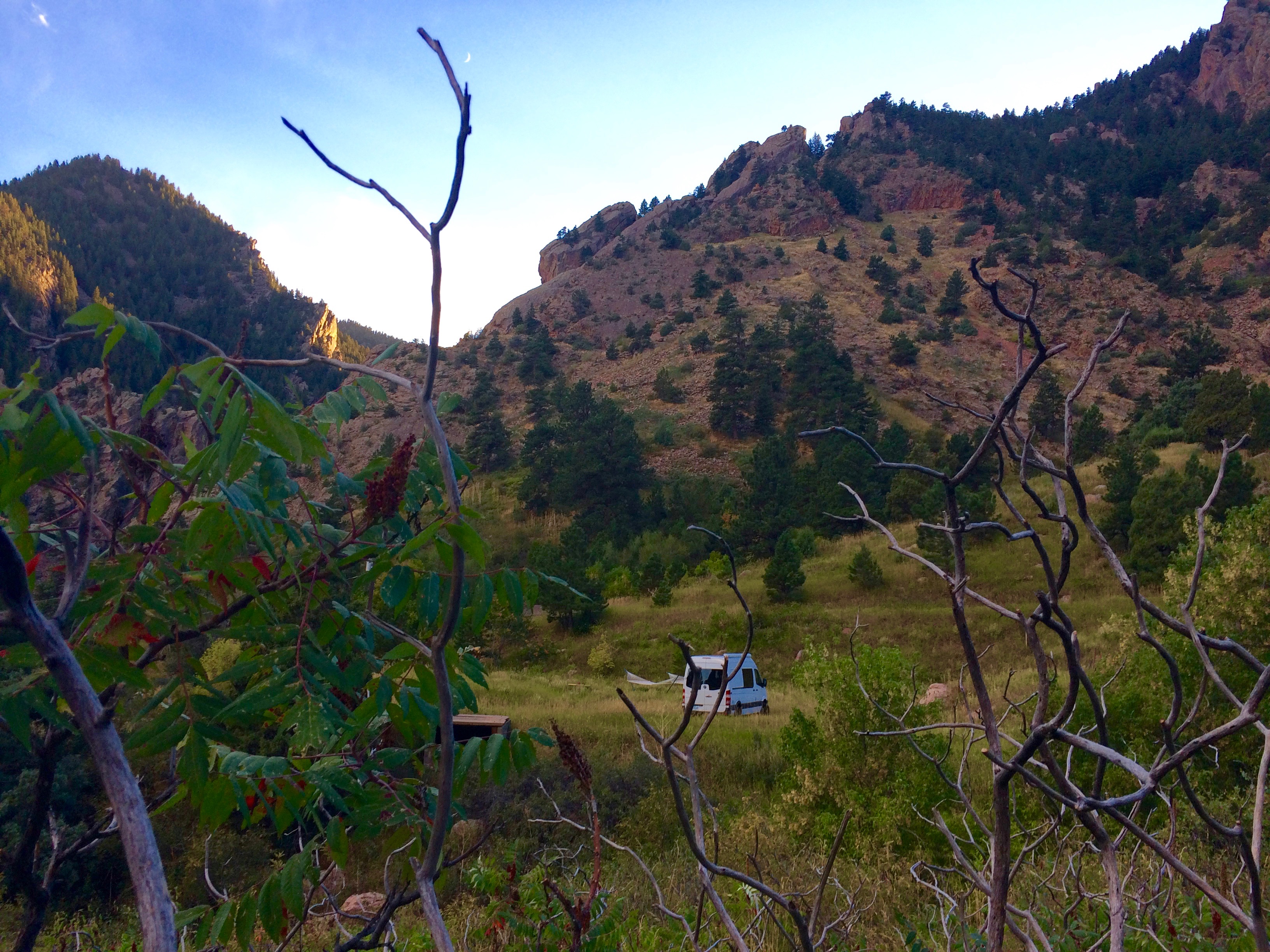 Our good friend and former neighbor Kathy shows us the diligent work she did on the old Eldorado Springs sign!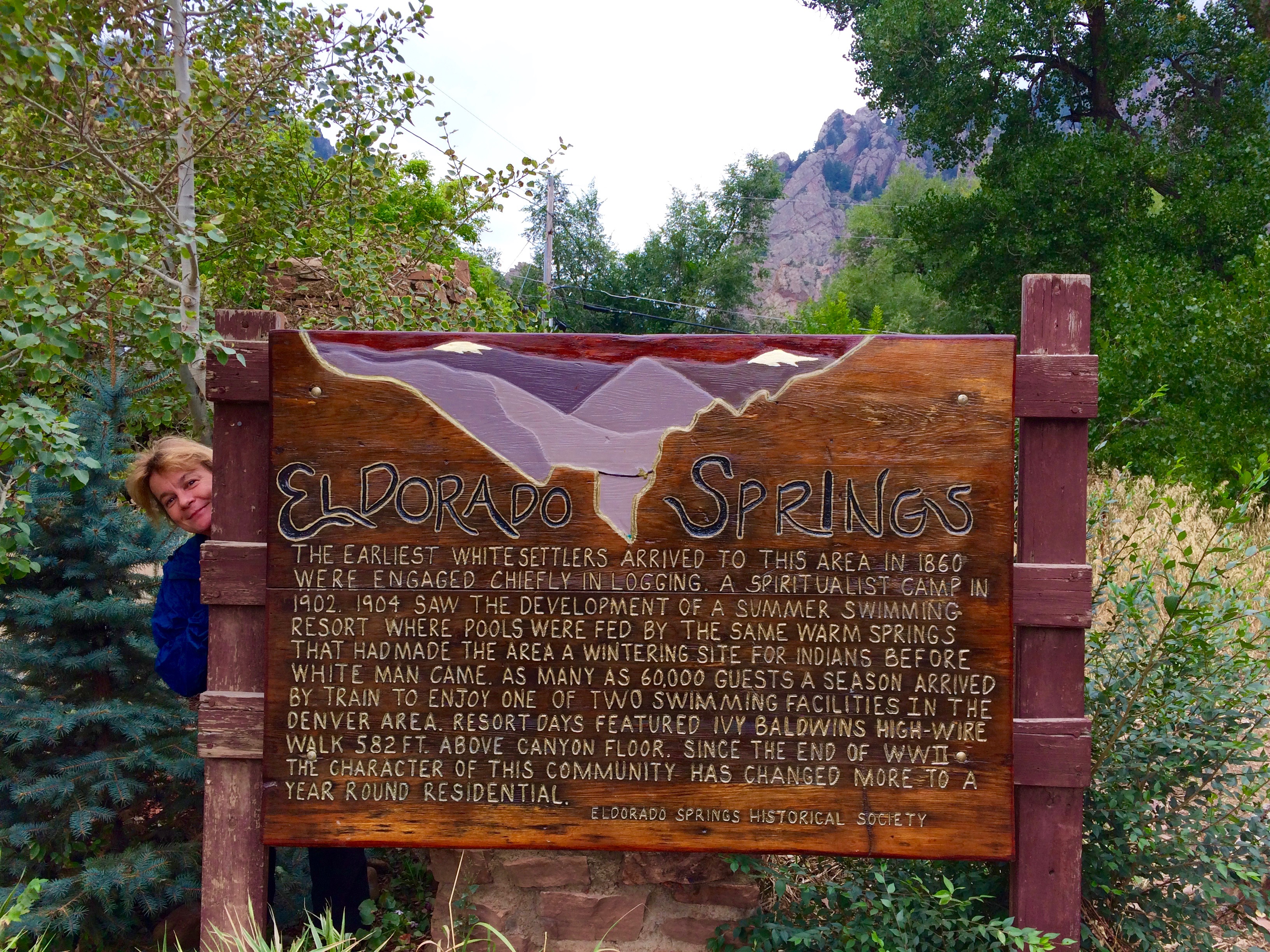 Eldorado Springs is certainly one of the most unique and beautiful places to live near a large metropolitan area.  It is surrounded by open space and backed by Eldorado Canyon State Park. There are trails in every direction to hike.  It seems like one could be 200 miles from the nearest big city.  It was great to spend a little time here before moving on to Boulder, our home base for several days while we perform for 3 very fine libraries in Fort Collins, Loveland, Colorado Springs and one home gallery concert with musician & friend Mark Miller.  

In Loveland, our librarian arranged to have us play at the Rialto Theater.  We were surprised to see a large sandwich board on the sidewalk in front of the Rialto.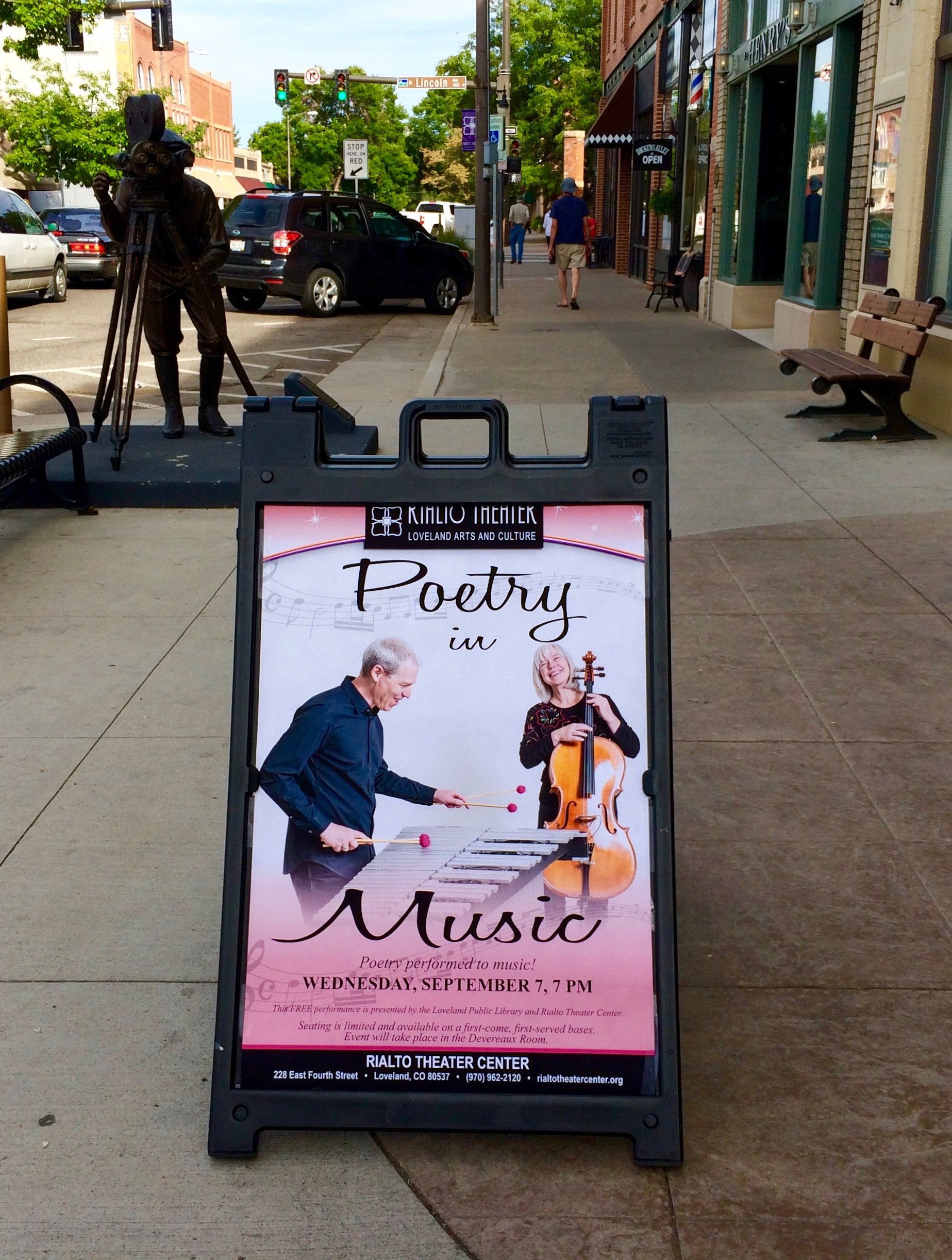 We'd like to thank Chuck Ceraso for hosting a home gallery concert in Lafayette, CO.  What a great turn-out and chance to see old friends and "mates"! 
We were surrounded by Chuck's beautiful paintings which helped to inspire the PoetryMusic even further.  
Here is one of our favorite paintings of Chuck's below -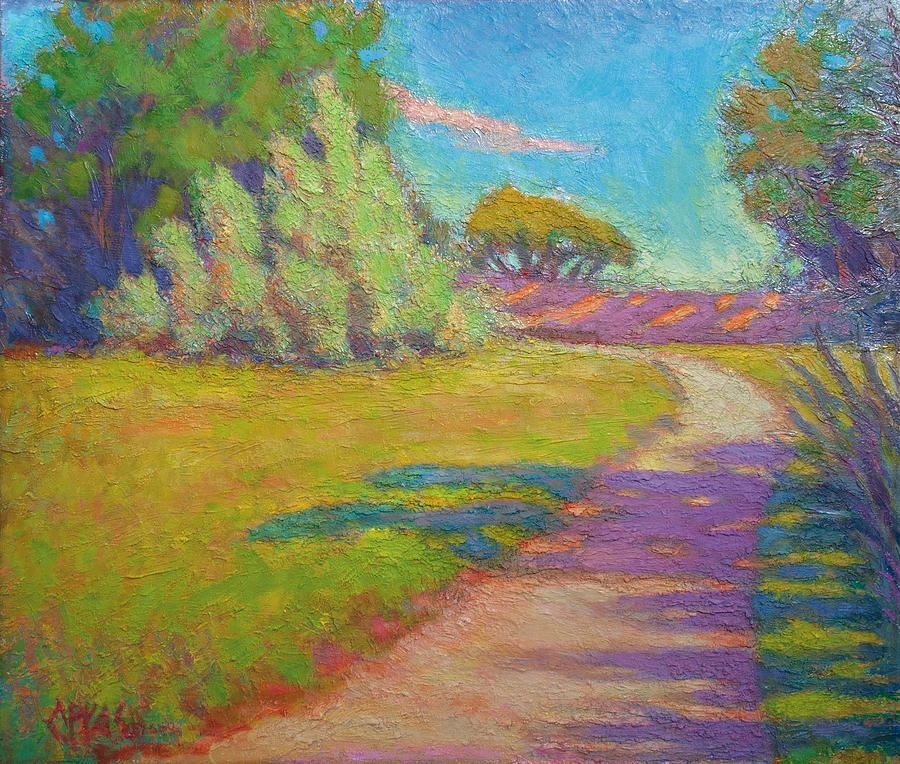 And a special thanks to Mark Miller and Dana Walker for "home base" in Boulder.  These good friends have been "instrumental" in supporting PoetryMusic.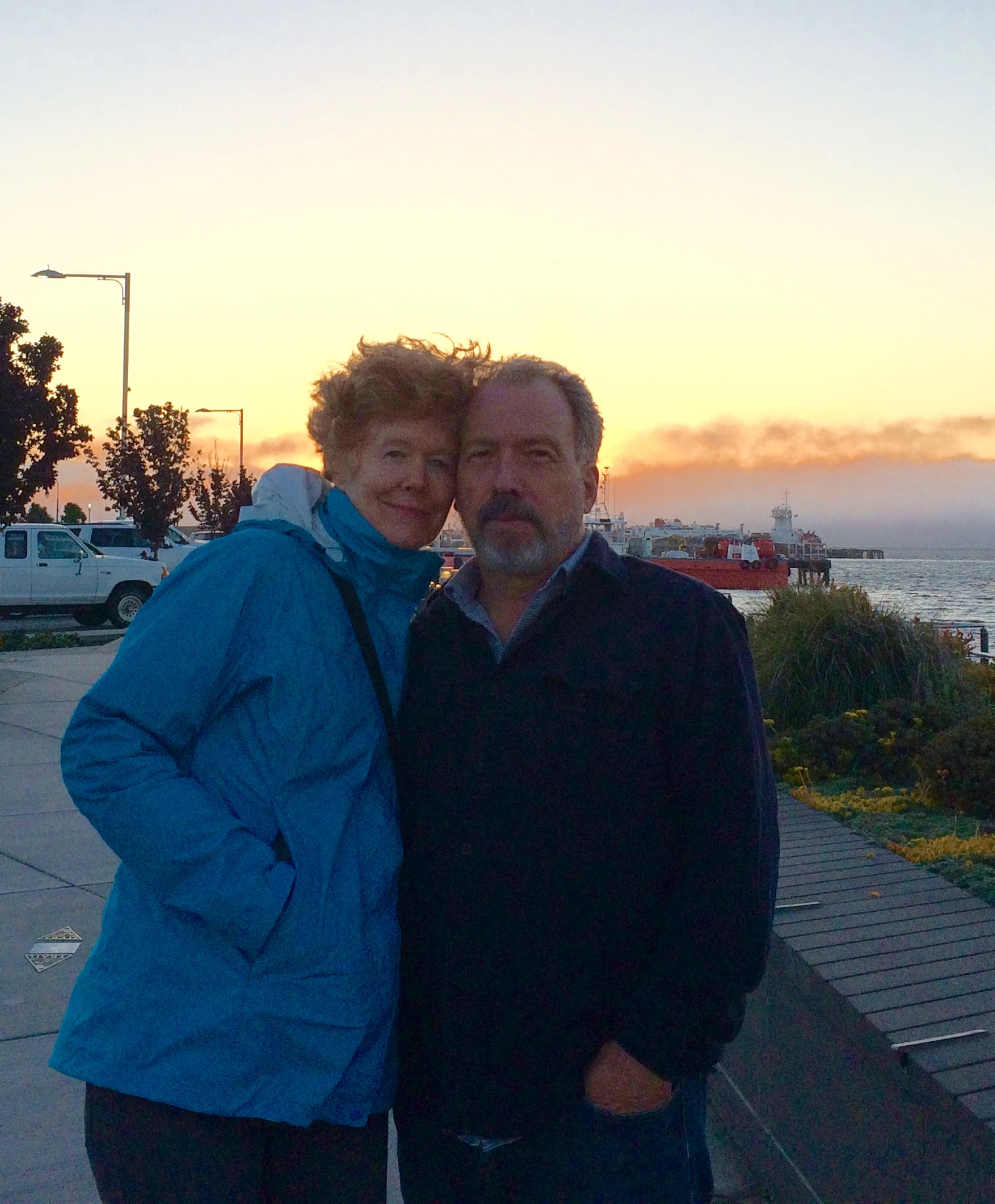 Our week in Colorado reminded us of why we lived there for so many years & how much we enjoyed living there.  And we know we have more than one home!

We leave Colorado behind as we set out across the prairie crossing eastern Colorado into Nebraska before our next performance in Fond du Lac, Wisconsin. 

It's too far to reach Wisconsin in a reasonable days drive, so we stop in a Nebraska State Park off the Highway just in time to catch the sunset.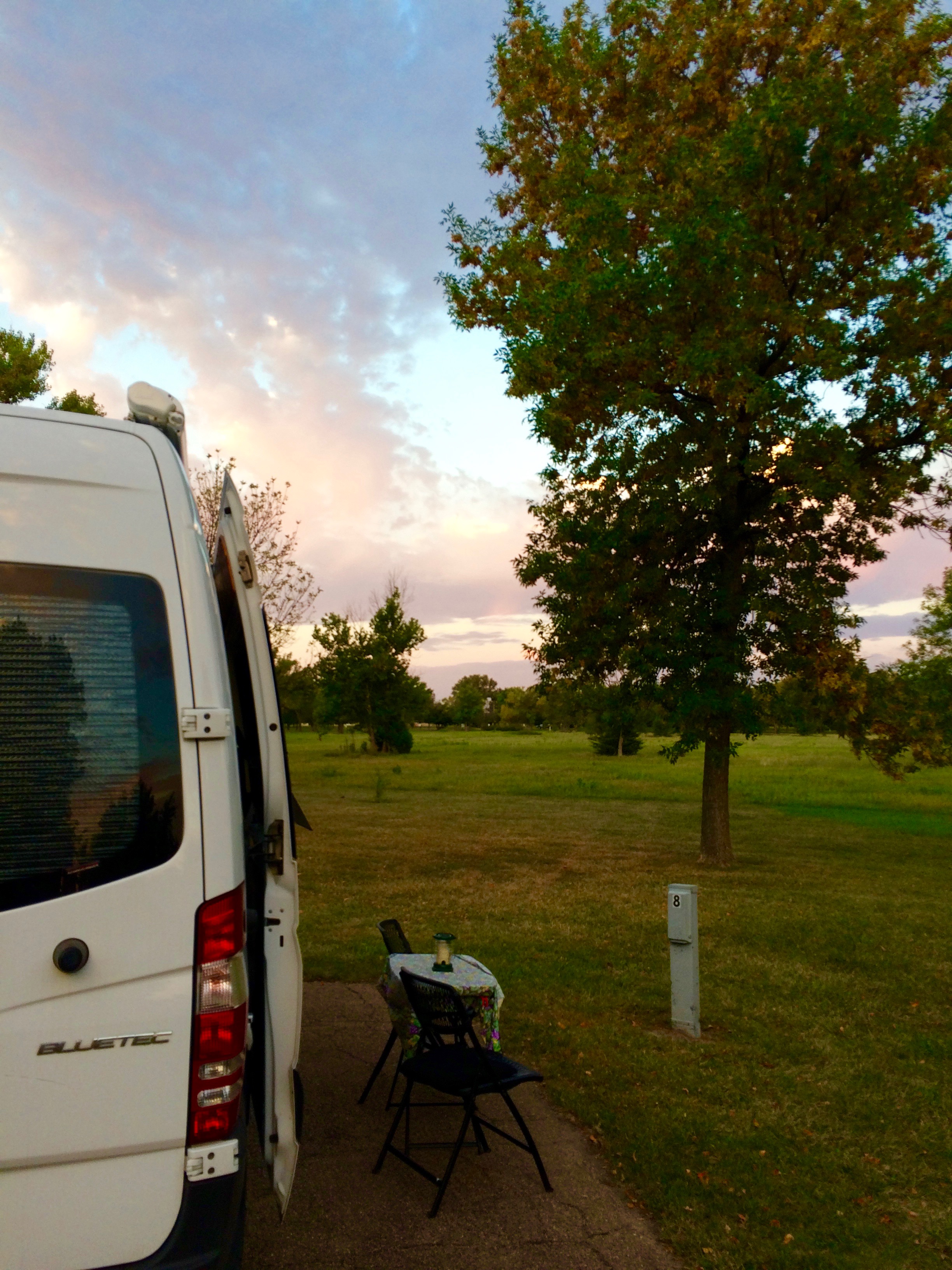 We made it to Fond du Lac WI and have a wonderful stay with our friends Paula & Michael Sergi.  Paula Sergi is a fabulous poet and she is part of the PoetryMusic story in that she would send us poems back in the 80's / 90s  and Chris wrote compositions to several of her poems. We were able to play 2 of her pieces in Fond du Lac.  We played @ the Thelma Sadoff Center for the arts over 9 years ago.  
This time, we play in a beautifully renovated building.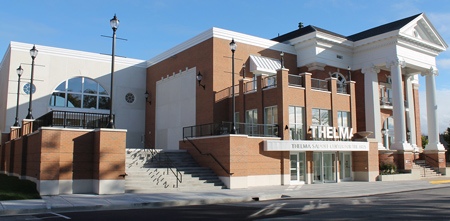 After this event, we had a great hang with Paula & Michael.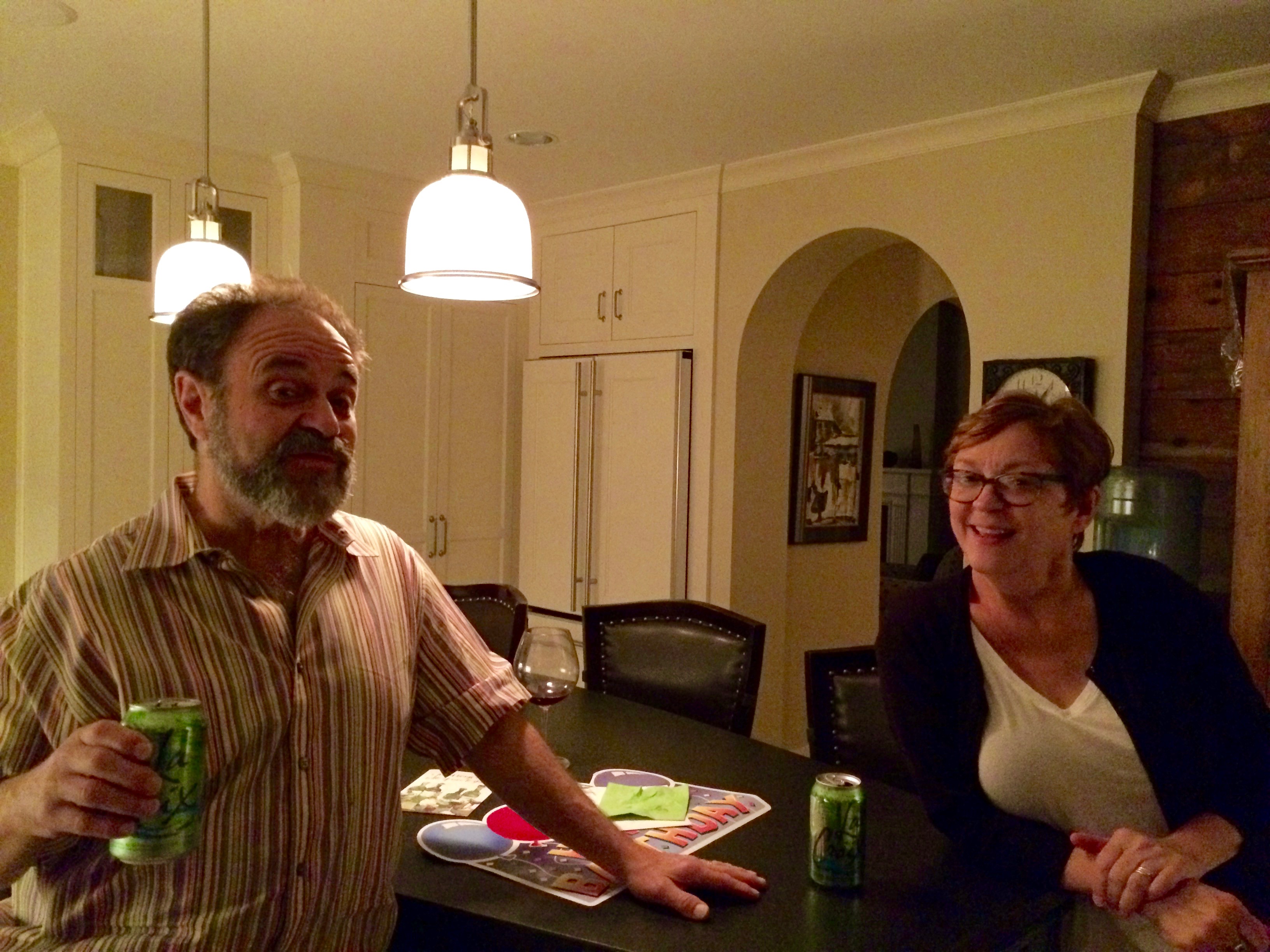 And Emily Dickinson?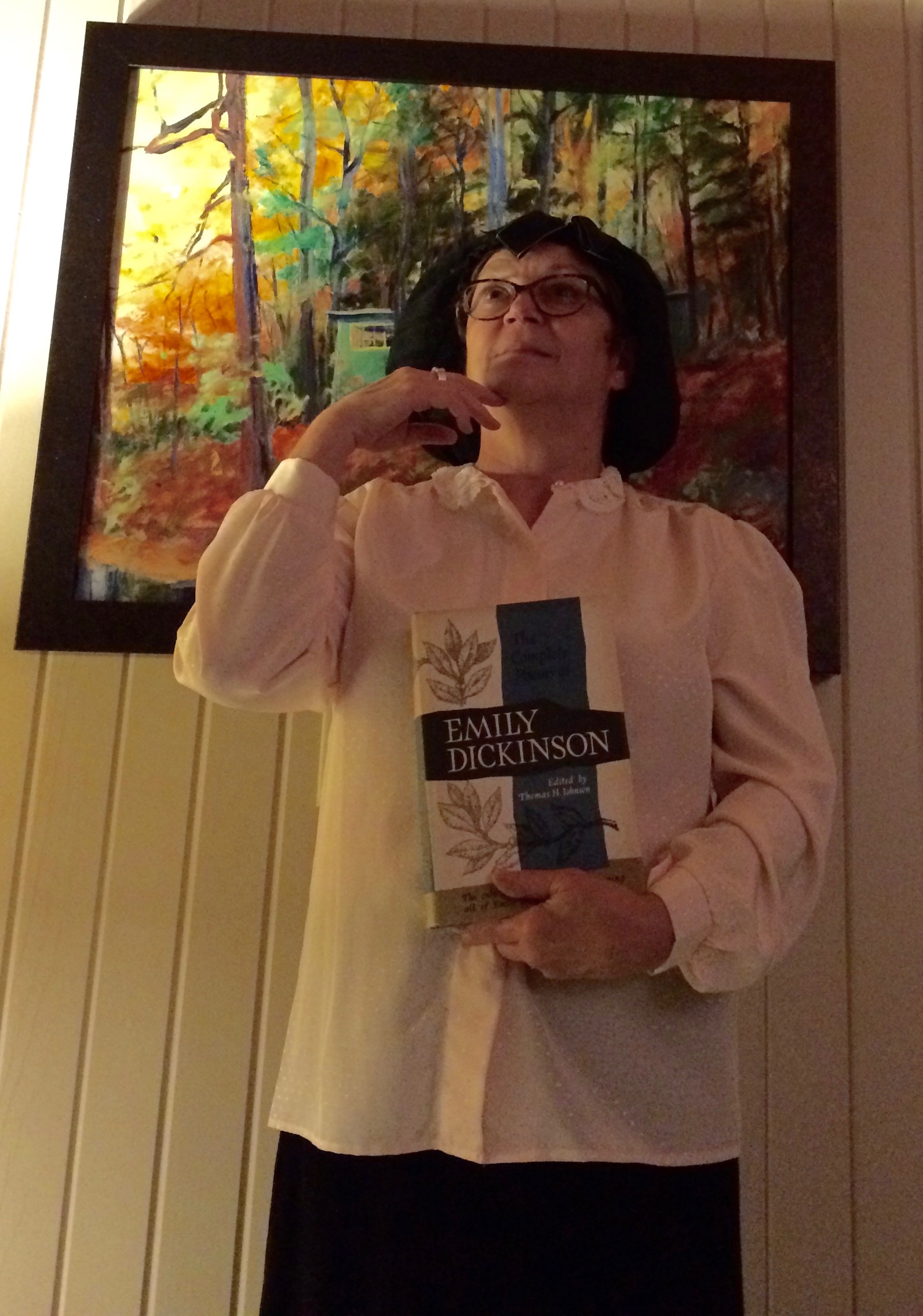 It turns out that Paula loves Emily Dickinson and in fact will read her poems in costume at poetry events.  Needless to say, we had many laughs this night. 

Over the next couple of days, we play 2 libraries in Madison, WI.  And at night we return to Fond du Lac for more fun with the Sergi's. 
Madison is a very nice town.  We caught this picture on our way in to Madison near the Capitol - the clouds are looking a bit ominous!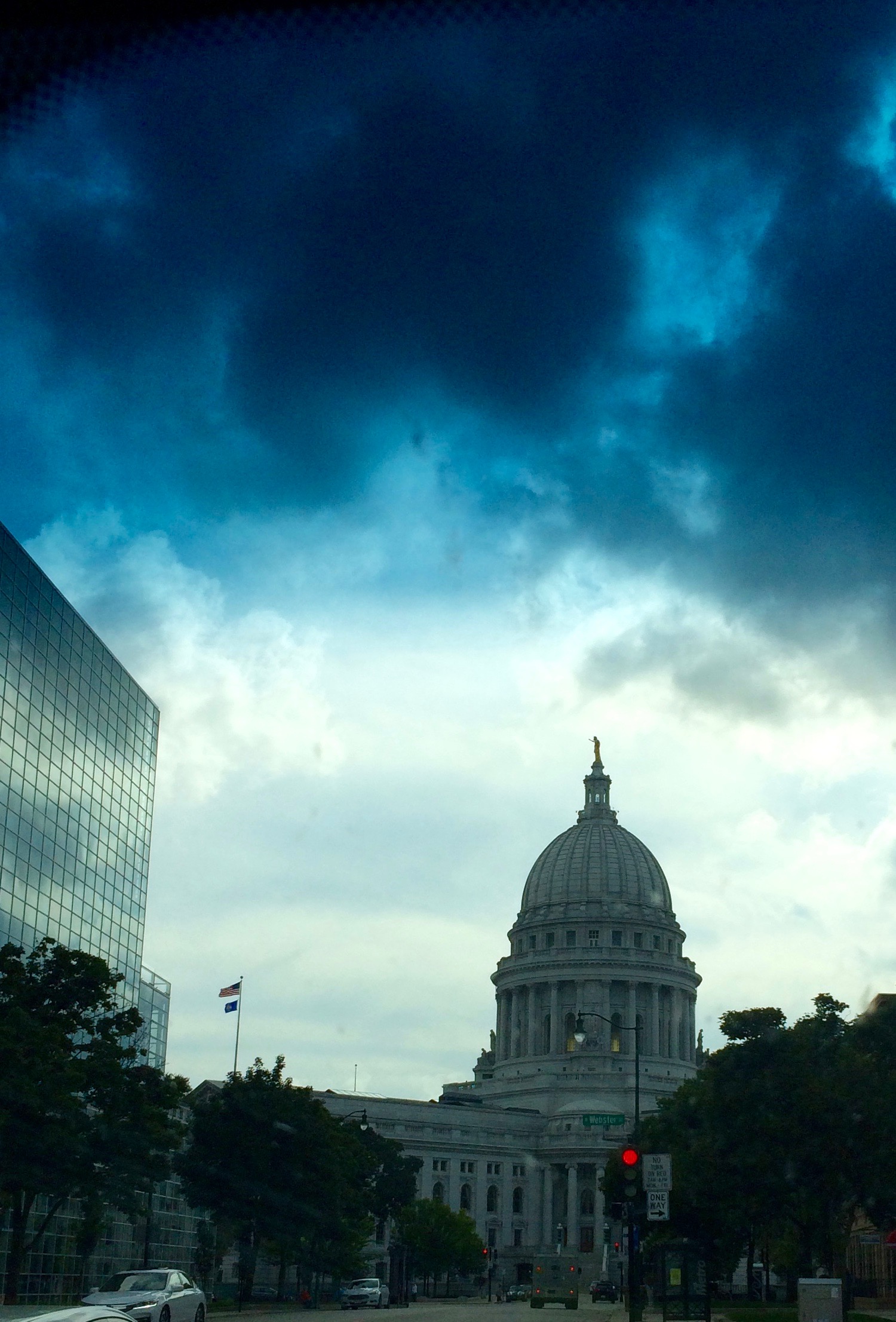 (A sign of our times perhaps?  There was no light or color tweeking for this picture.)

We'd like to thank the Sergi's for a great stay and support for our program.  And thank you Paula for your always awesome poetry!

We drive on to Massachusetts for our next performances through Chicago, IL, Ohio, upstate NY before reaching Lowell MA. 
The toll roads take us a bit by surprise, especially thru Chicago and Ohio These roads are in poor repair and seem to cost way too much for such poor quality roads. The toll roads further east are less expensive and in better condition.  The state roads were in generally much better condition.  Hmmm, makes one wonder a bit.
We also did not like how cars are "herded" into "comfort stations" on the toll roads, for all rest stops, food and gas needs.  The food choices are awful as they have only bad fast food "joints" .  This was truly the only down side of our travels.  We made a decision to avoid driving back this way and vowed to not pay a toll on the way back. 

We are happy to make it to upstate NY as it is very beautiful and on to Massachusetts with the quaint small towns and  beautiful old architecture.

Our first performance in Massachusetts is at the main branch of the Lowell Public Library - and WOW, were we taken by the beauty of this very old library!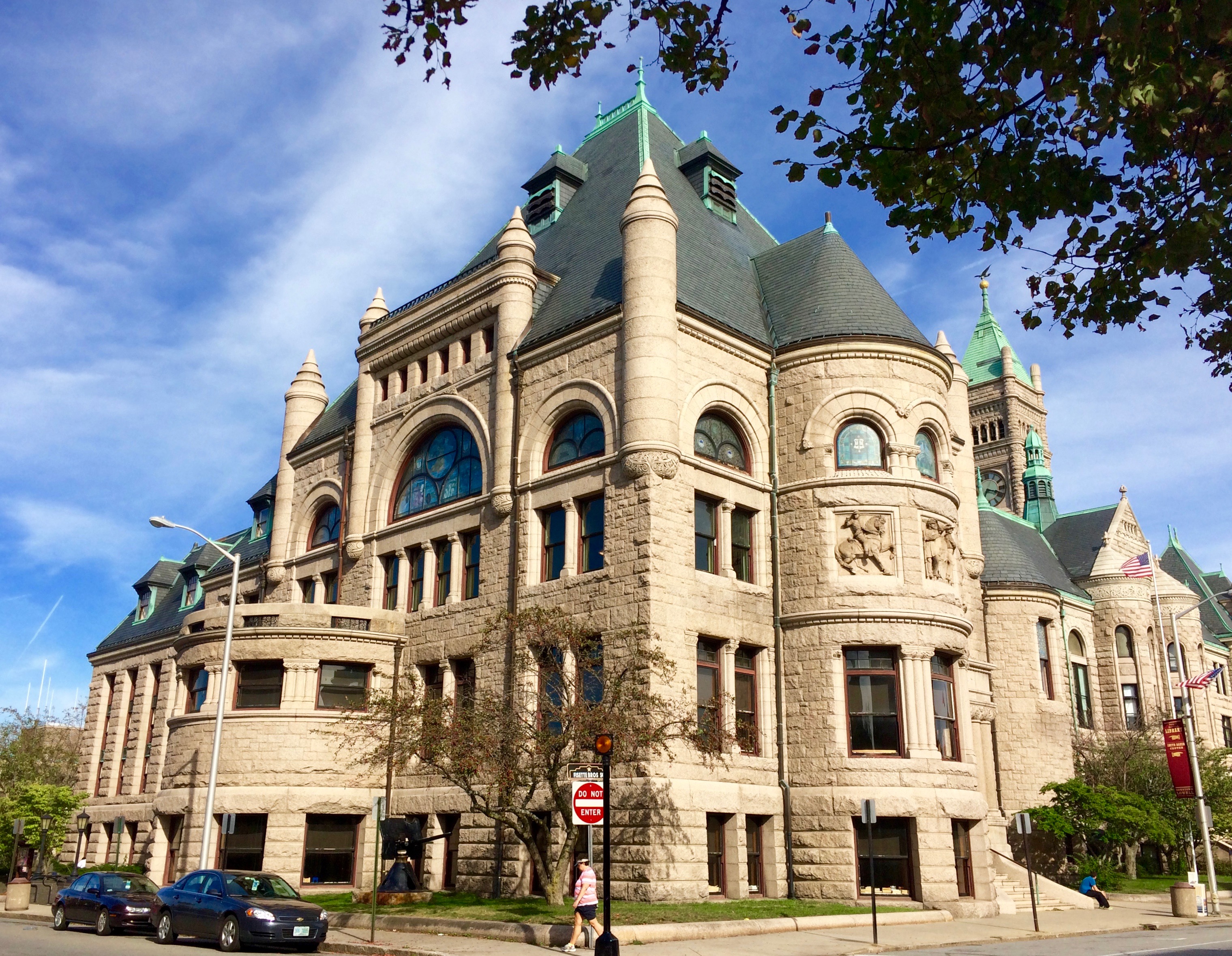 This is one of the oldest libraries in the country.  Boston may have the oldest library by a couple years, but Lowell had the first Public Library system in the country. 

Sean Thibideau is the librarian who invited us to play at the Pollard Memorial Library in Lowell and we have to say, he is an excellent local historian and resource for the community.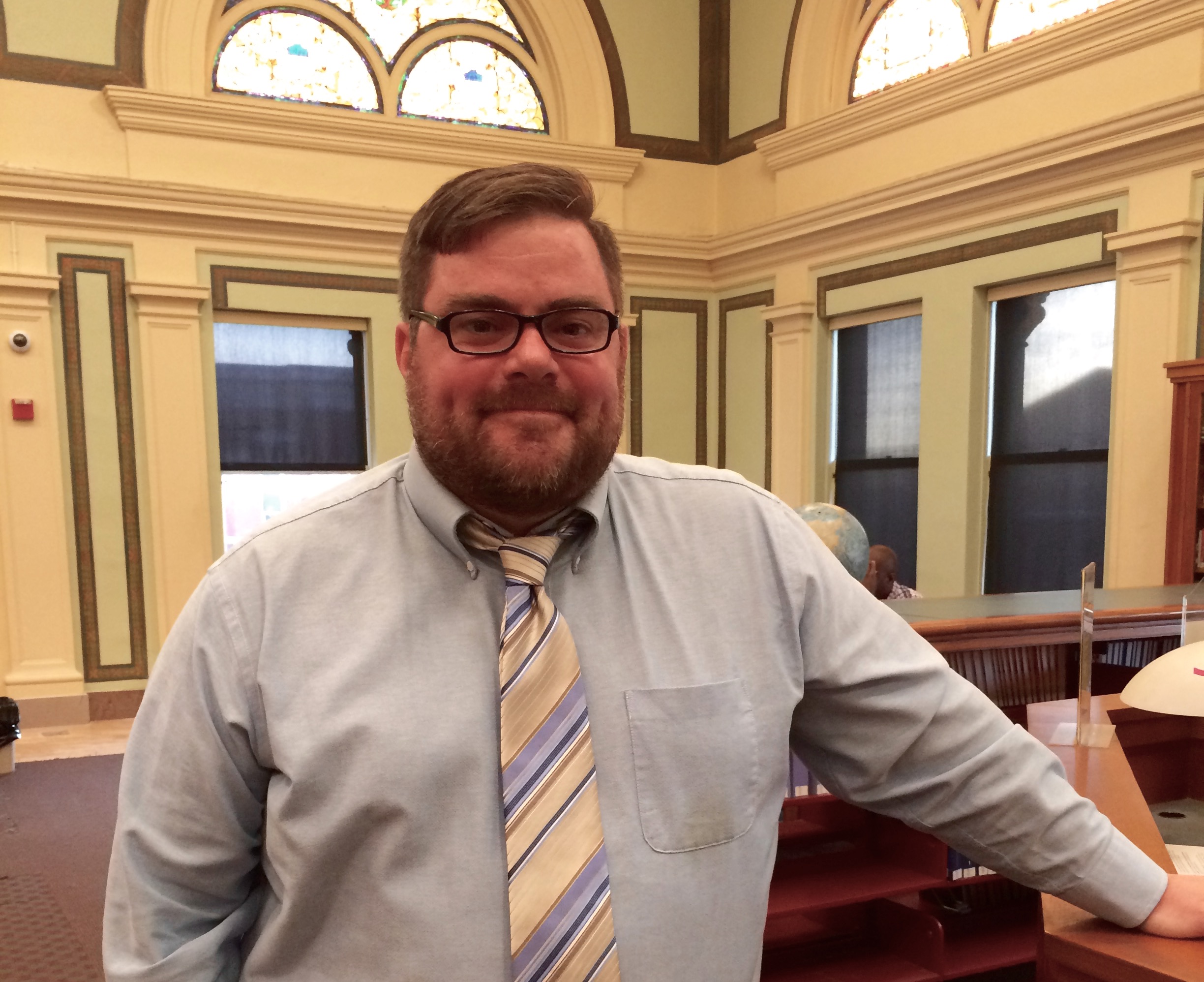 Sean told us that the library was funded by the mill owners in hopes of being able to recruit young women from area family farms to work in the cotton mills.     
The industrialists offered to look after these young women and provide culture in an attempt to convince the families that they would be taken care of properly.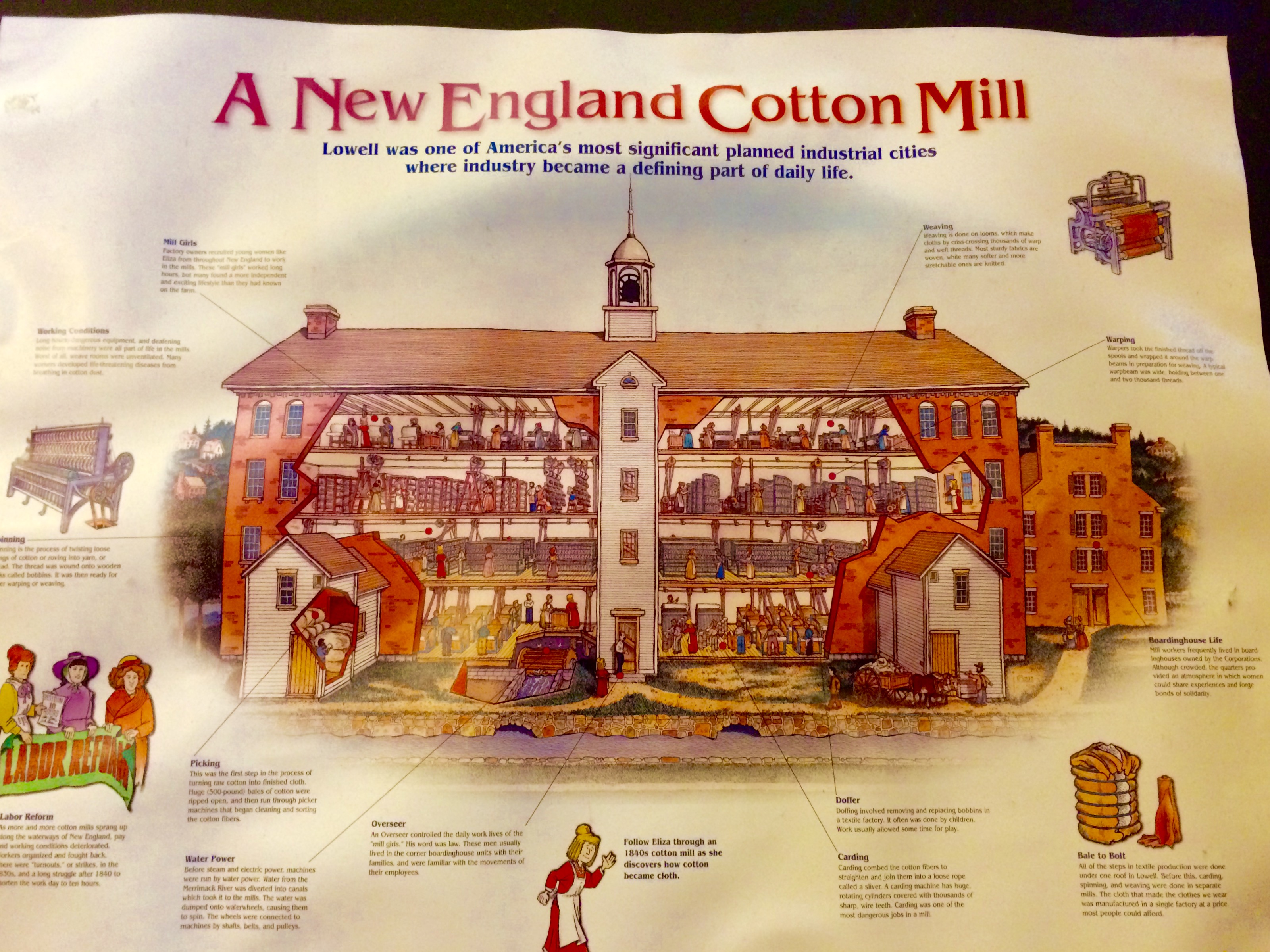 Sean took us on a tour of the library before our performance.  The paintings, sculptures and dedications to soldiers lost in the wars as far back as the civil war were sadly impressive. Being in this library gave us a perspective of the times this library was built in. ( 1844 )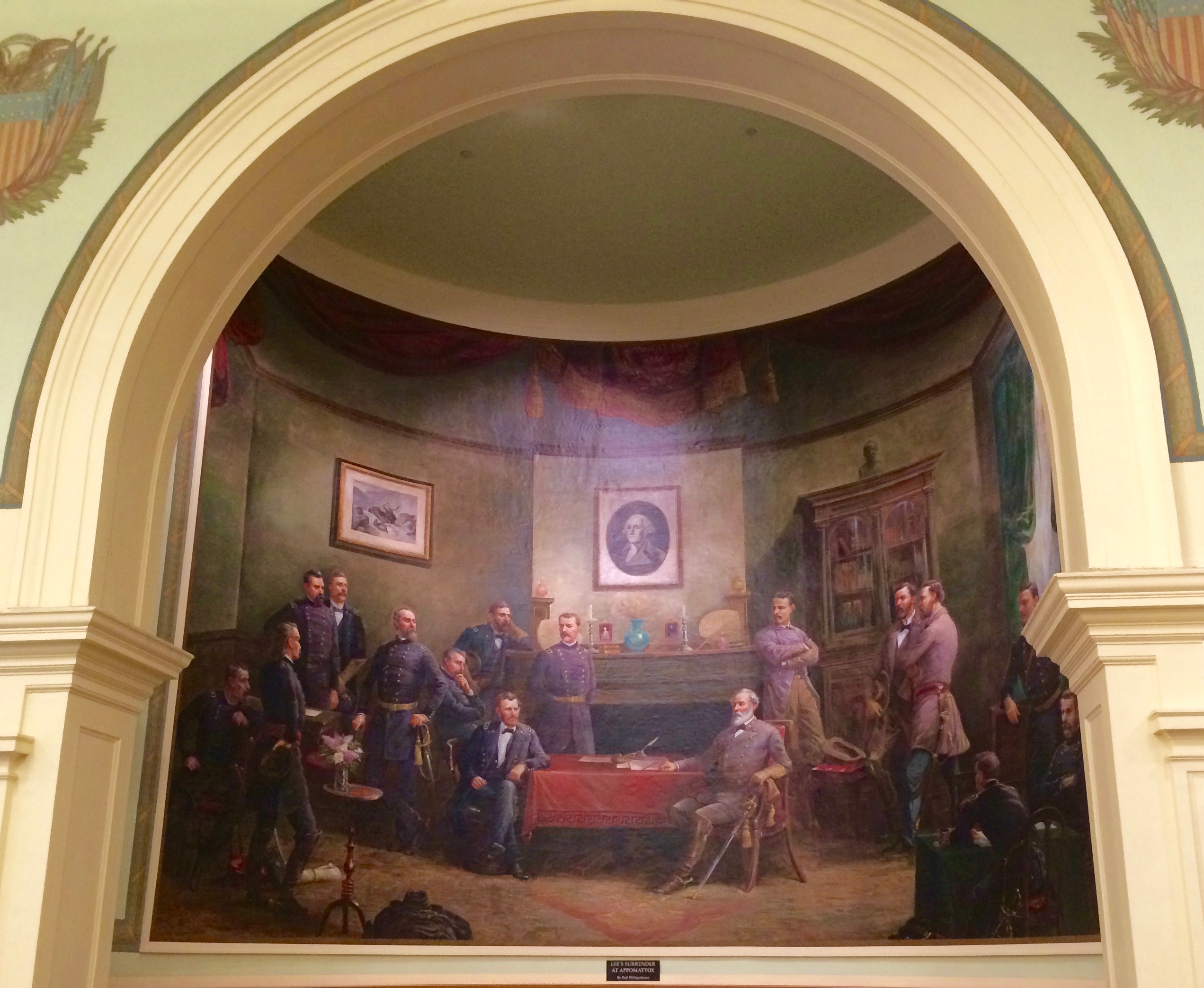 The most fun piece of information we learned from Sean is that Jack Kerouac who grew up in Lowell MA skipped school to hang out at the Lowell Library.
Sean showed us Jack's corner where he used to read.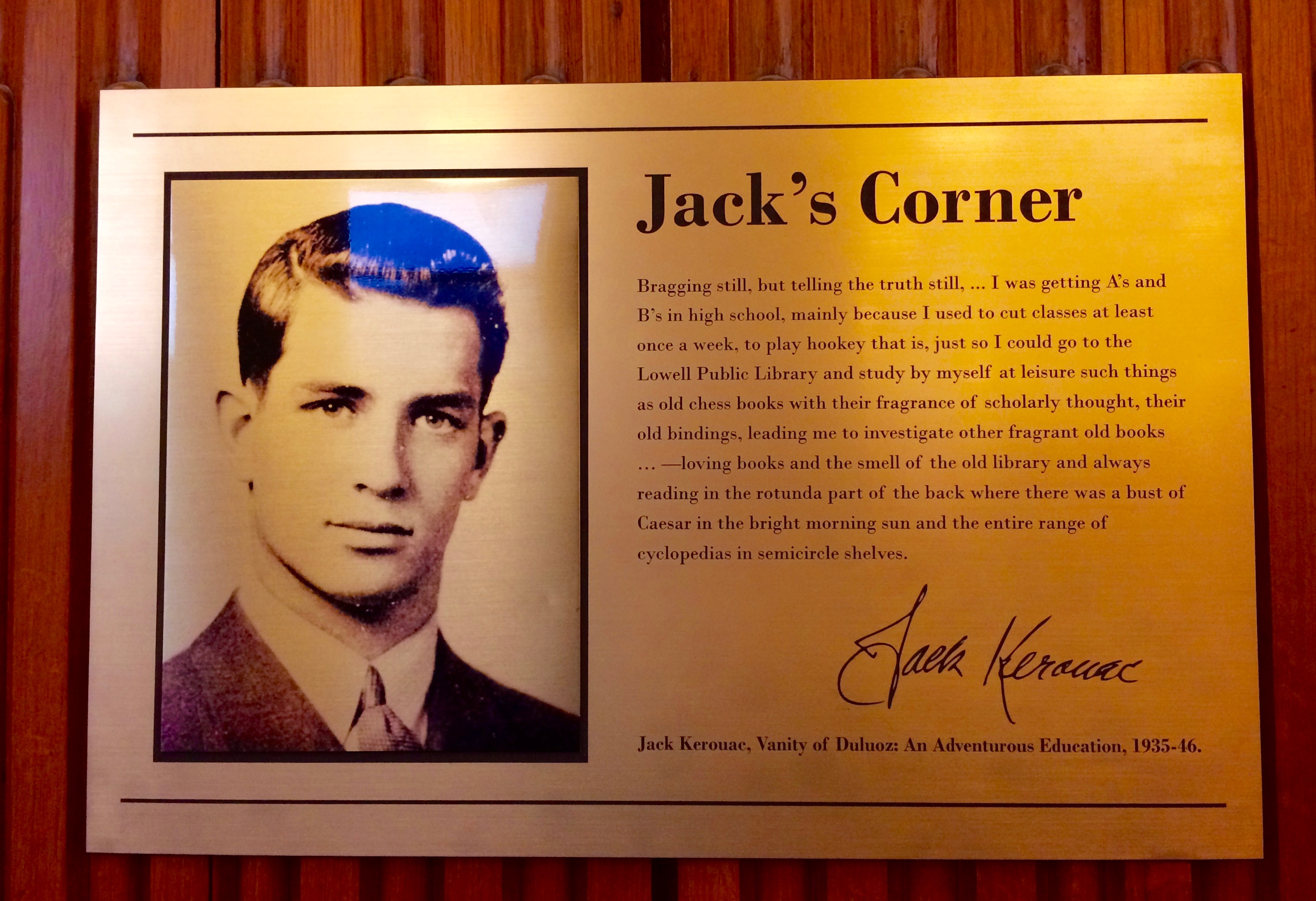 We have a PoetryMusic piece based on the last paragraph of "On The Road" by Jack Kerouac, composition by Colorado musician / composer, Peter Sommer.  
The folks attending our performance at Pollard Memorial Library especially enjoyed this piece.  It felt great to play in Jack's library!
"On The Road" seems like our theme song. 

We'd like to thank Sean for inviting us to Pollard Memorial Library and for sharing his wealth of knowledge of Lowell, MA history !

Over the next few days we go on to play in Middleboro, Amherst and Dennisport MA.  
We enjoyed all these towns and their libraries and thank these libraries and librarians for inviting us.

We would like to include all the libraries we played in with pictures & commentary, but time and circumstances made it difficult for us to do this.
But, we can say unanimously, all the libraries we played for and their librarians are really the best our society offers us!

We have a fondness for Amherst, MA because the librarian @ Jones Library in Amherst asked if we did any Emily Dickinson poems.  
Chris said, "not yet" and proceeded to write 4 compositions set to Emily Dickinson poems.  
Performing these poems in Amherst was such a fulfilling experience.  
The people attending this performance showed their appreciation of these pieces in particular.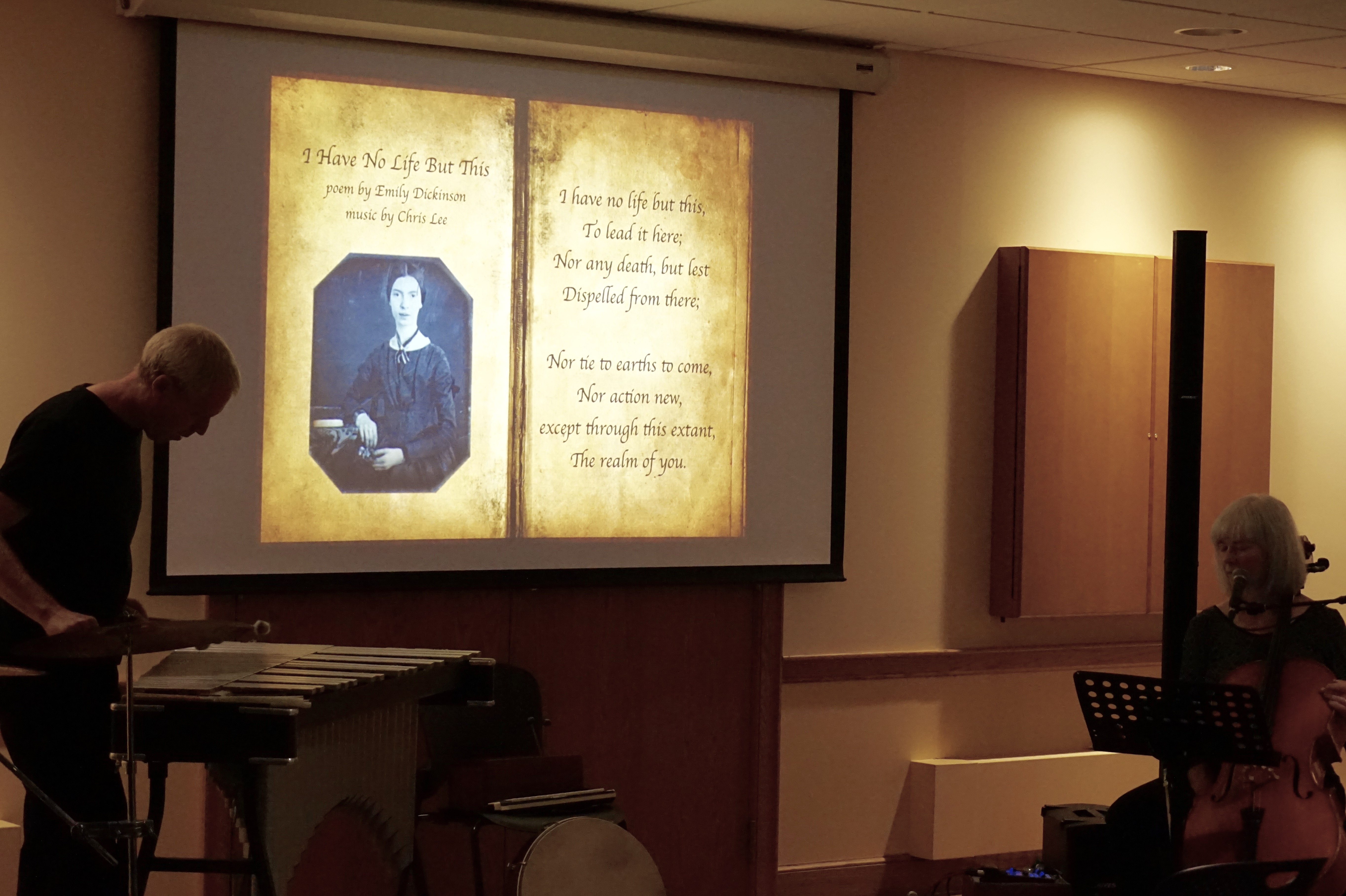 We were given a private tour of the Emily Dickinson and Robert Frost collection of poems, pictures and historical archives on the 2nd floor of the library.  
Emily lived most of her life in Amherst, MA and often signed her letters "Amherst".
The following picture is one of Emily's hand written poems.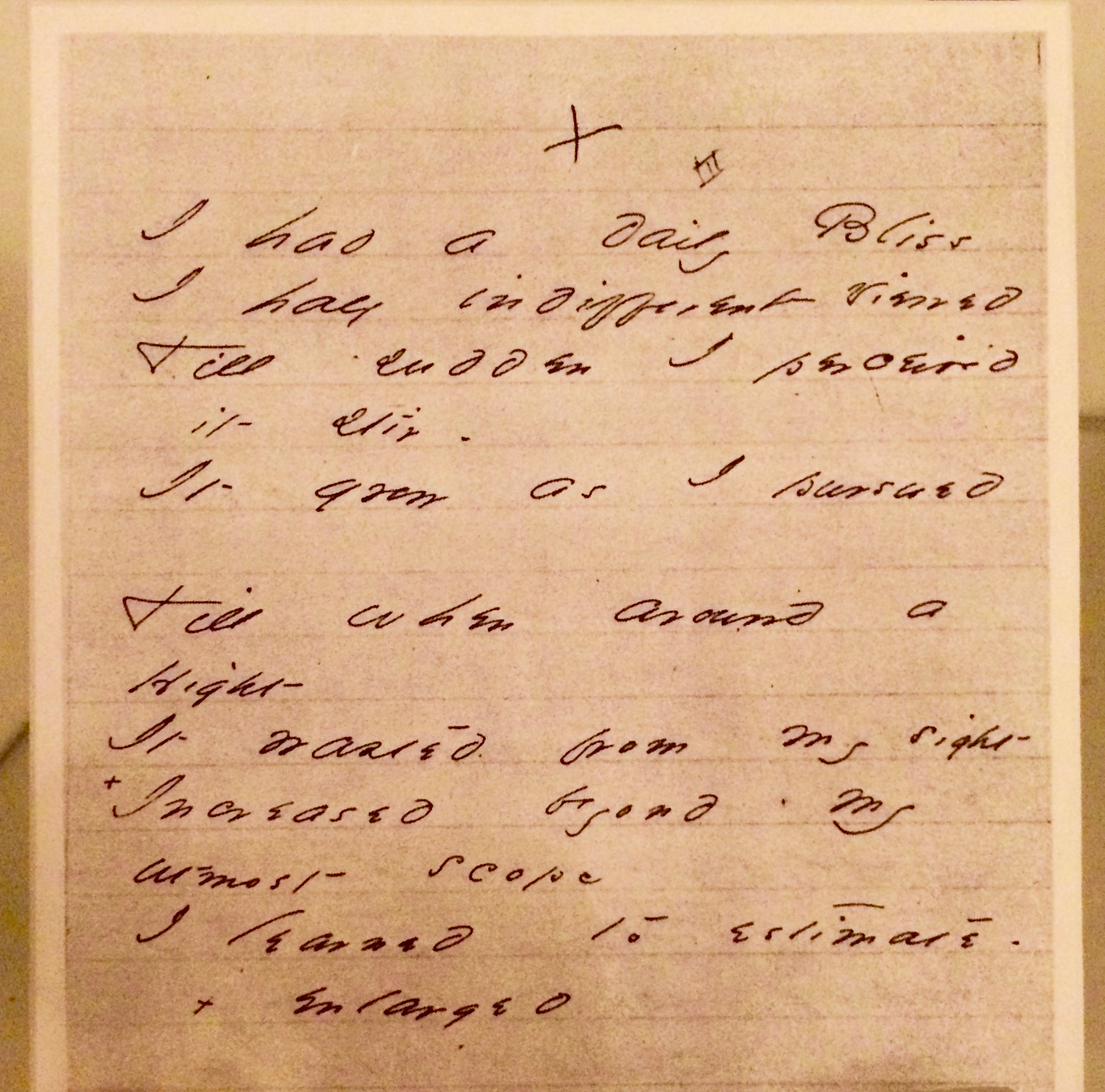 Within our set list of poem pieces, we have a beautiful poem by Robert Frost The Road Not Taken - another theme song for us. This poem was set to music by the young, brilliant musician & composer Jacob Collier.

We saw this picture of him in the archive room, so....  in honor of Robert Frost.... ( another handsome devil:)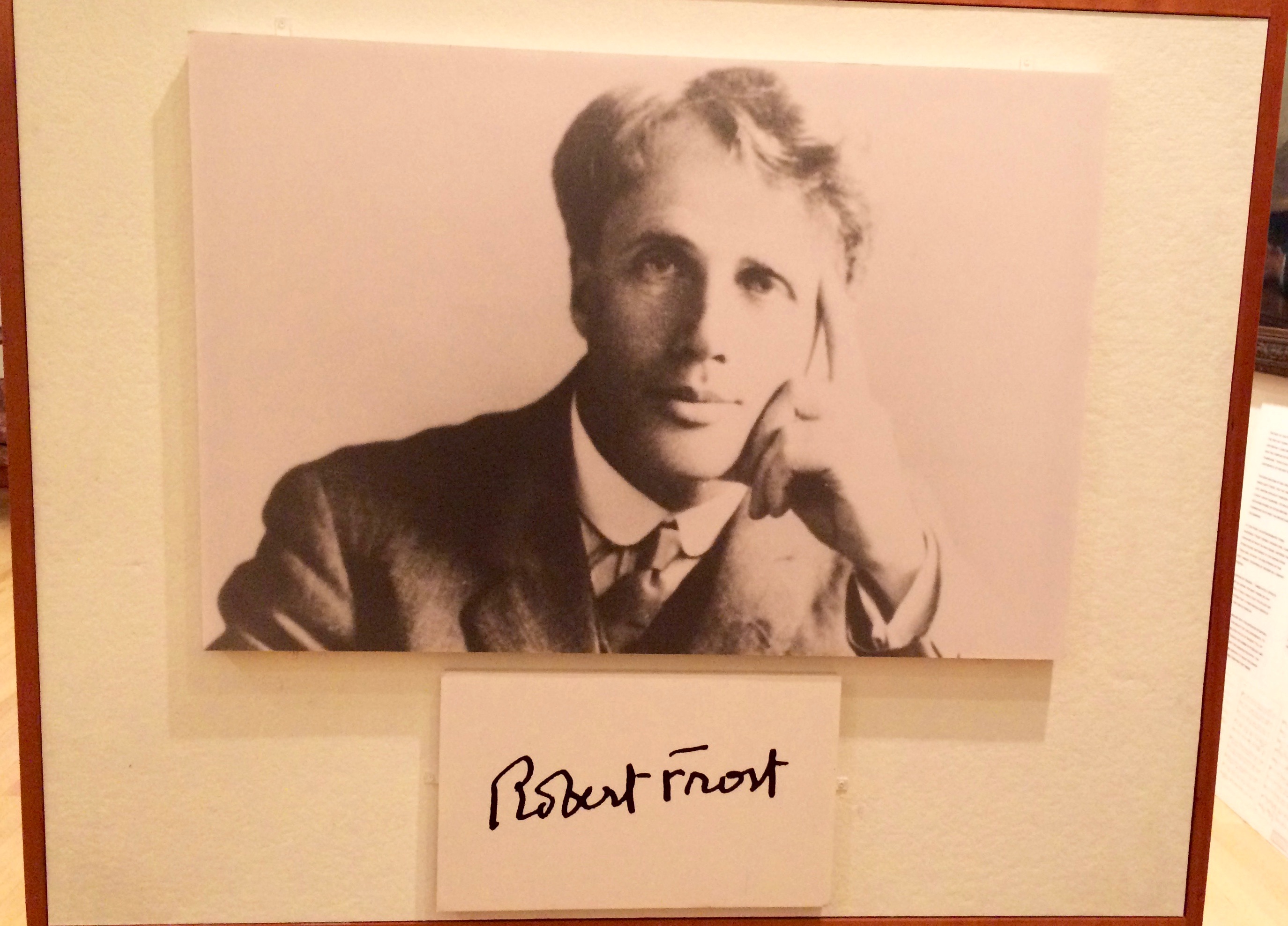 At this point, we earned a few days off.  It is the last weekend in September and we are happy the weather is still beautiful, warm & sunny.
Our last Massachusetts performance was in Dennis Port towards the bottom middle part of Cape Cod, so we decided to go to the tip of Cape Cod to explore Provincetown and the surrounding area.  But before going up there, Colleen check's out the beach in Dennis Port and lo and behold....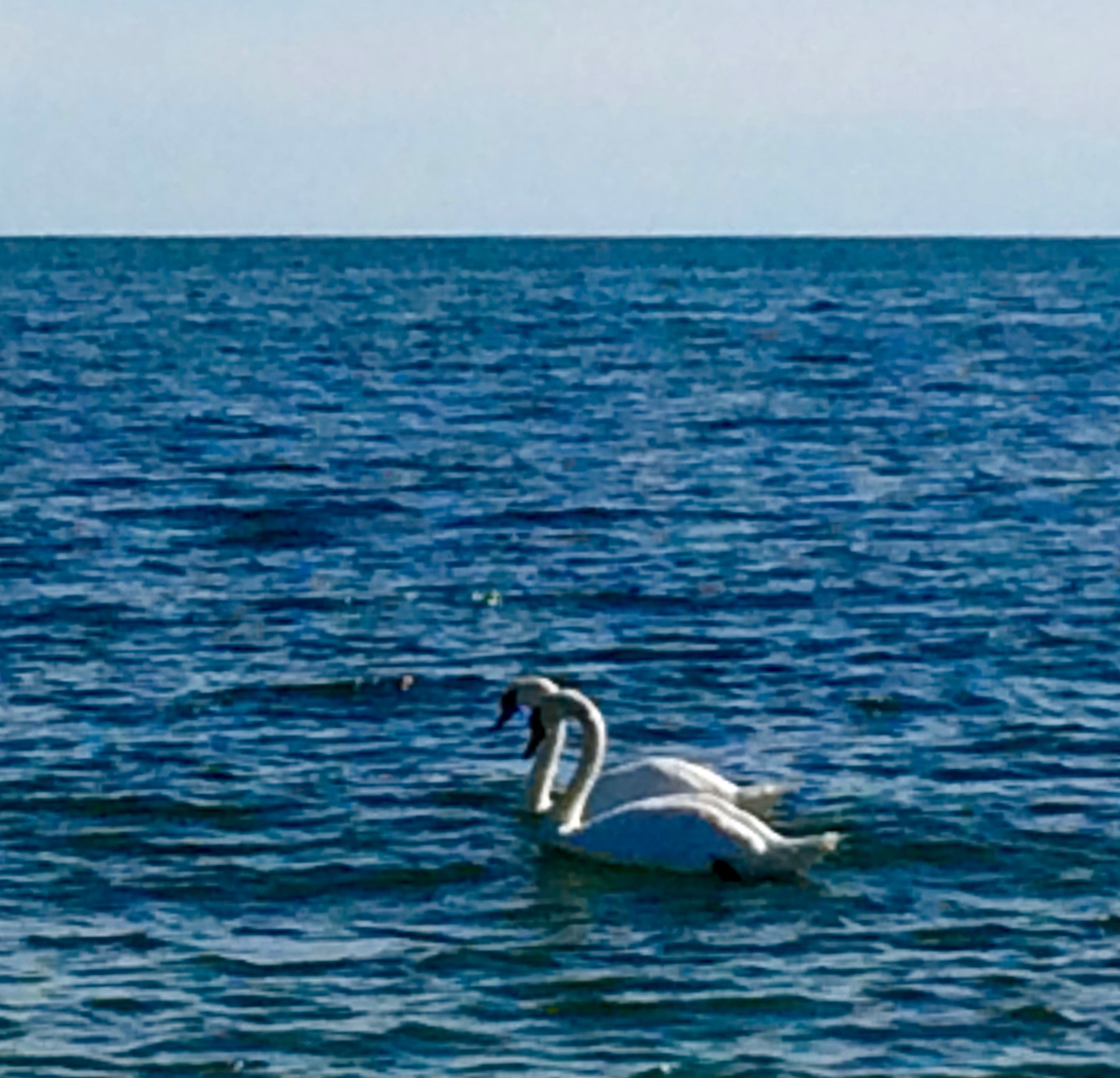 Even folks on the beach who have lived in the area for decades said that they had not seen swans swimming in the ocean before. 


Moving on to Provincetown the one landmark that stands out from wherever one is in Provincetown is the Pilgrim's Tower.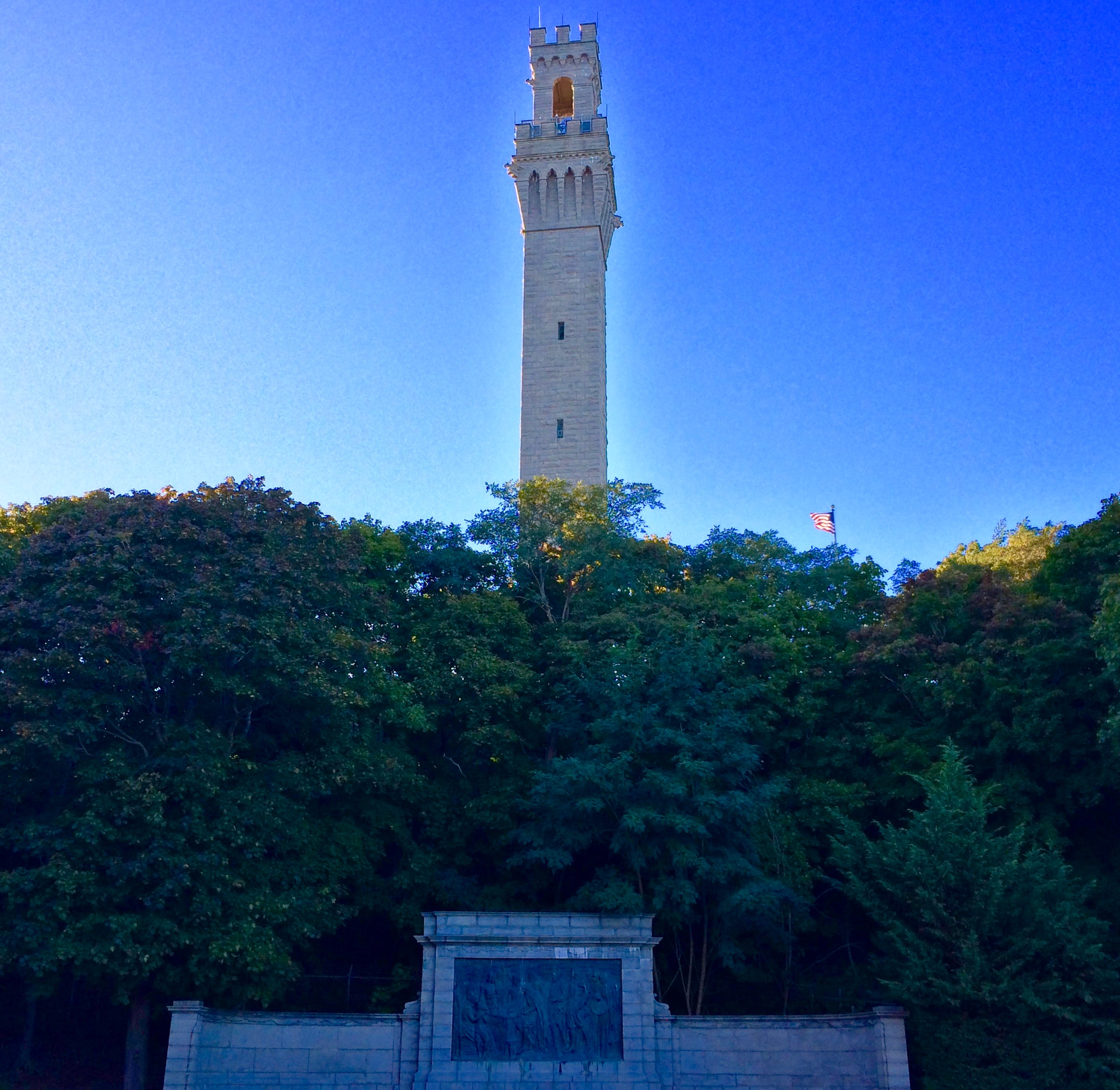 Colleen took many pictures of this tower from many angles up close and at a distance because it was so prominent and oddly overpowering, even Midieval looking.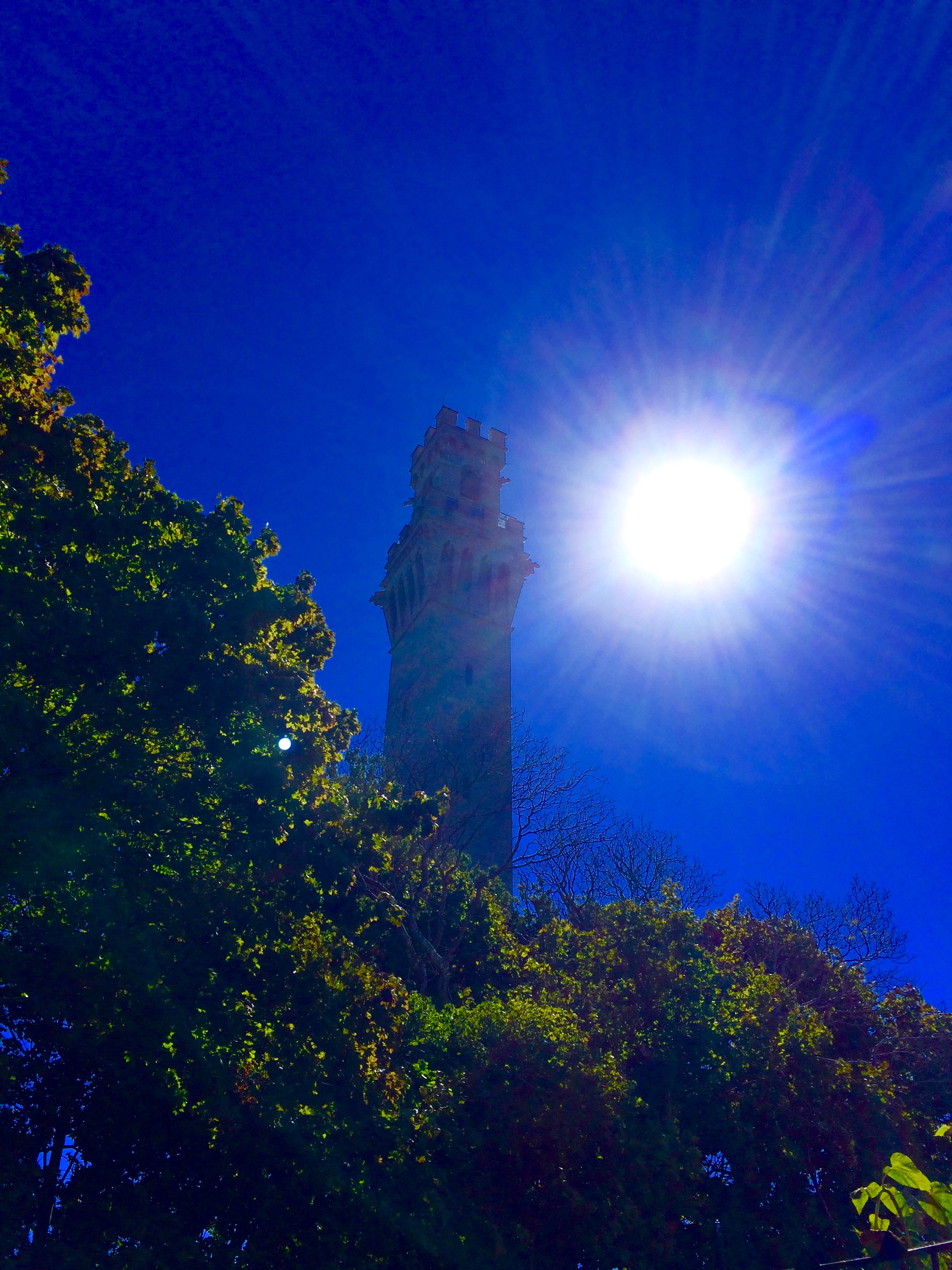 This tower is the tallest all granite building in the US, built in 1906.
The tower's purpose is to commemorate the Mayflower Pilgrims' first landing in the New World in Provincetown, in November 1620.
Here the Pilgrims spent 5 weeks exploring the tip of Cape Cod, before they sailed on to Plymouth.
They also drew up and signed the Mayflower Compact, which established the rule of law for the new land.  

They surely must of had a flag to plant to show this was their land:)

 ( If you want to see a very funny skit by Eddie Izzard about the Brits planting flags Watch:"Do you have a flag?"  https://www.youtube.com/watch?v=0-PlQitfriE )

It is great to walk around Provincetown as many of the oldest buildings are still intact.  Beautiful design & architecture, colorful houses, awesome gardens and outdoor art pieces, many good restaurants and lots to do.  

On the day we came, we were approached on bicycle by "LipSchtick" who was promoting his one-person show to be performed that night.  FUN!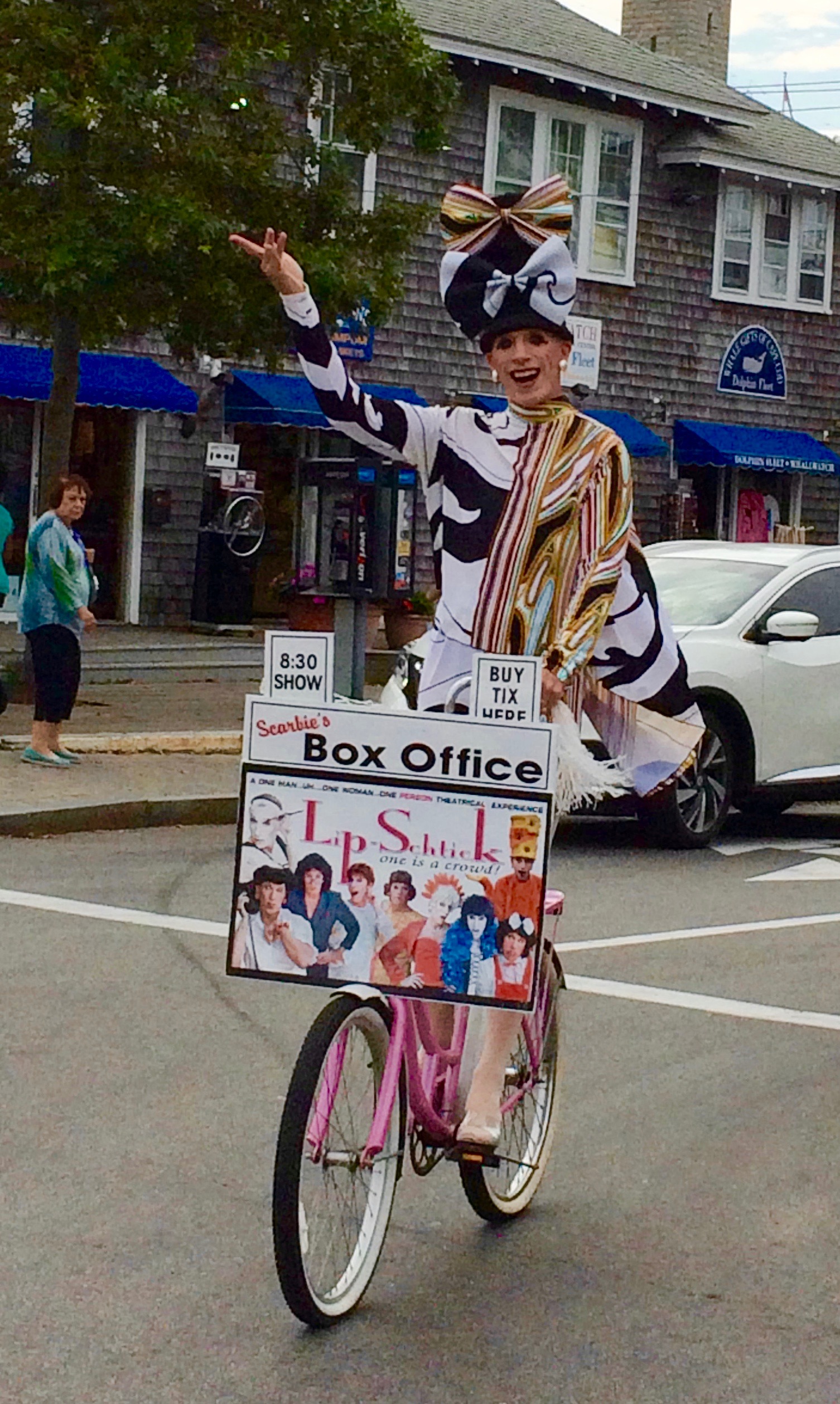 We also walked on the breakwater jetty out to the beach and light houses - the tide was coming in the first time we attempted going all the way across. 

We decided to avoid getting wet and came back when the tide was out the next morning.  What a great walk this is!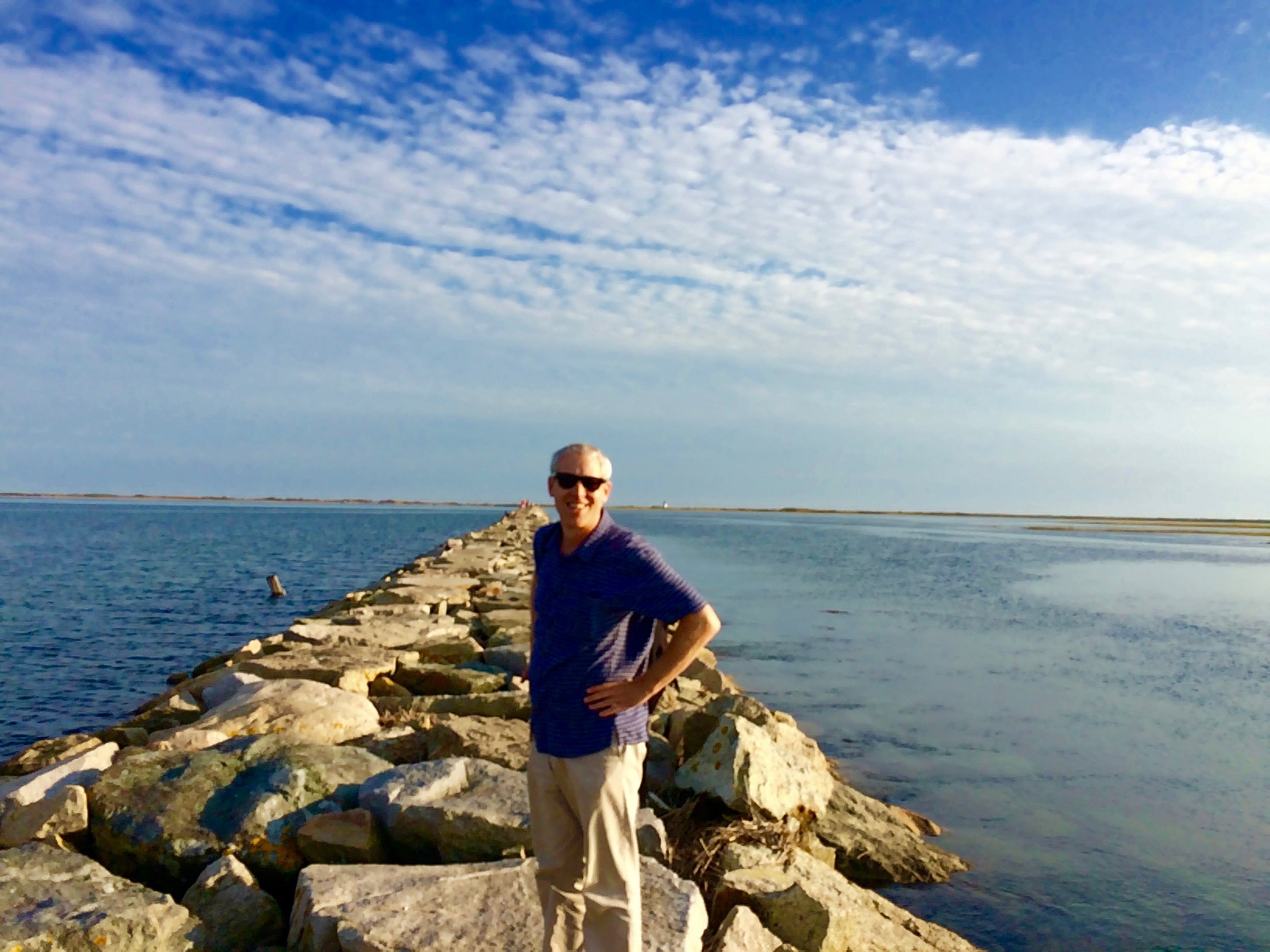 We loved the beaches across the jetty, uncrowded, beautiful sand, and water temperatures comfortable for swimming:)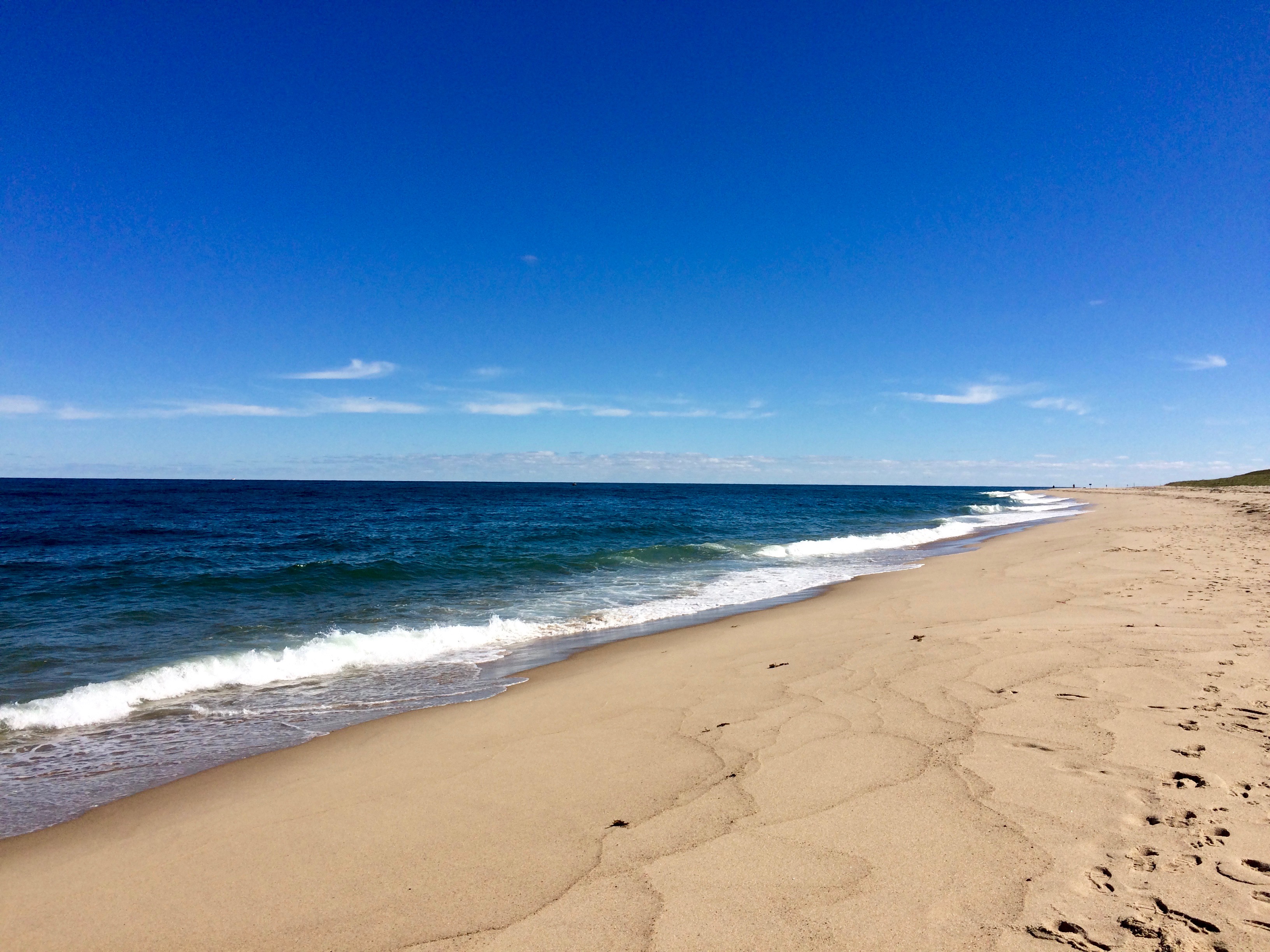 There were 3 lighthouses along these beaches - here's one....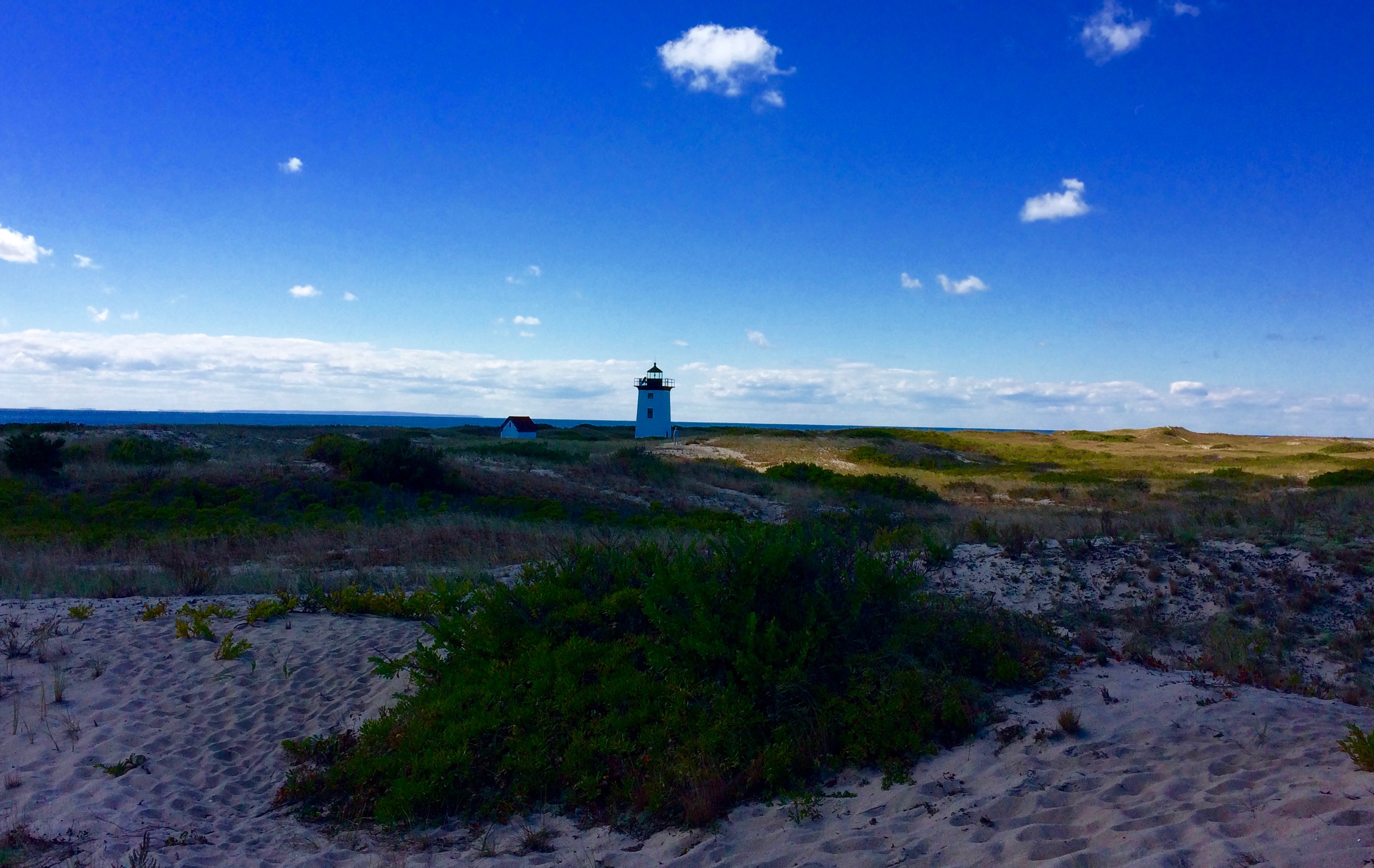 We wished we could have played in the Provincetown library....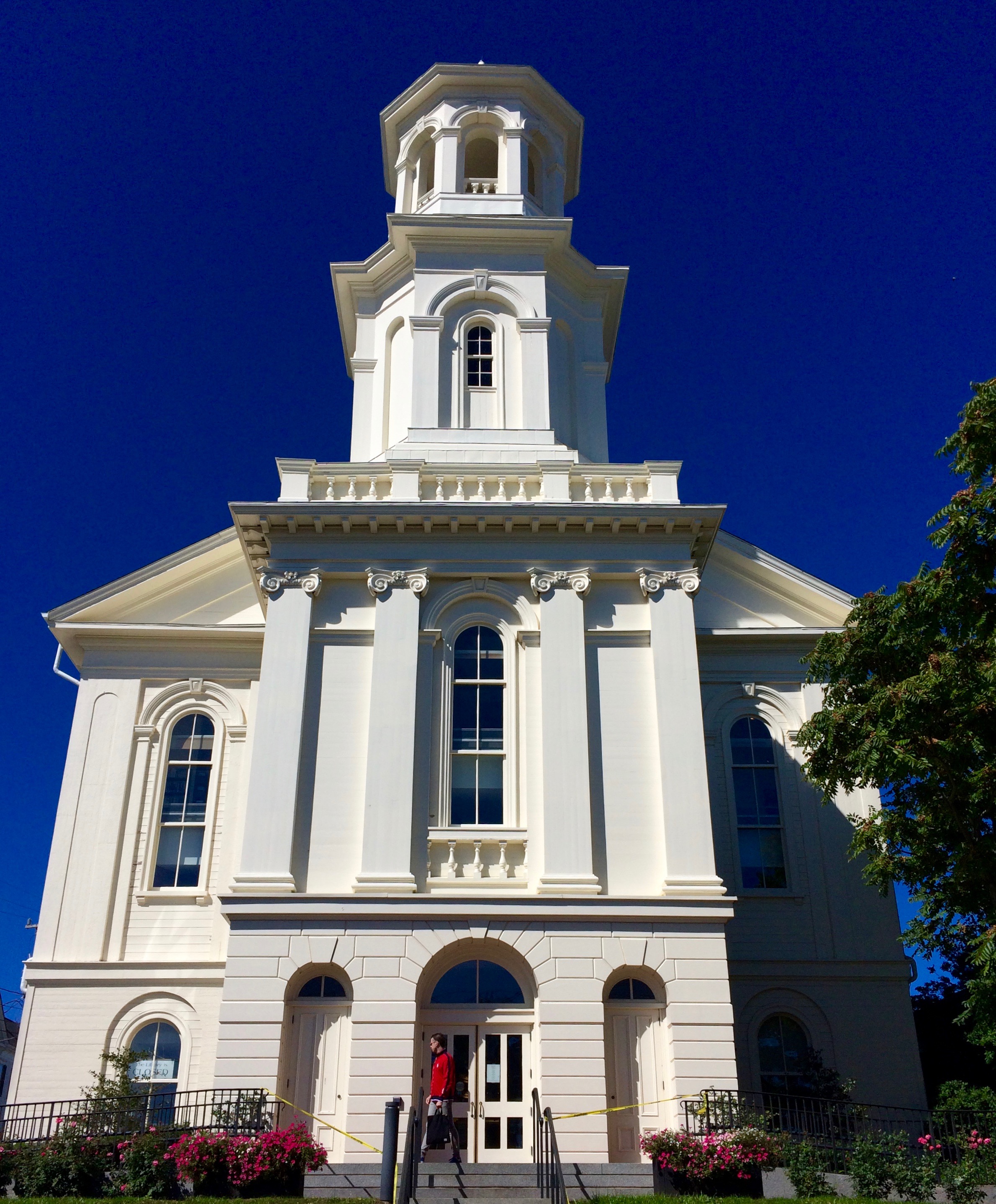 ....but they had something that took up much of the library -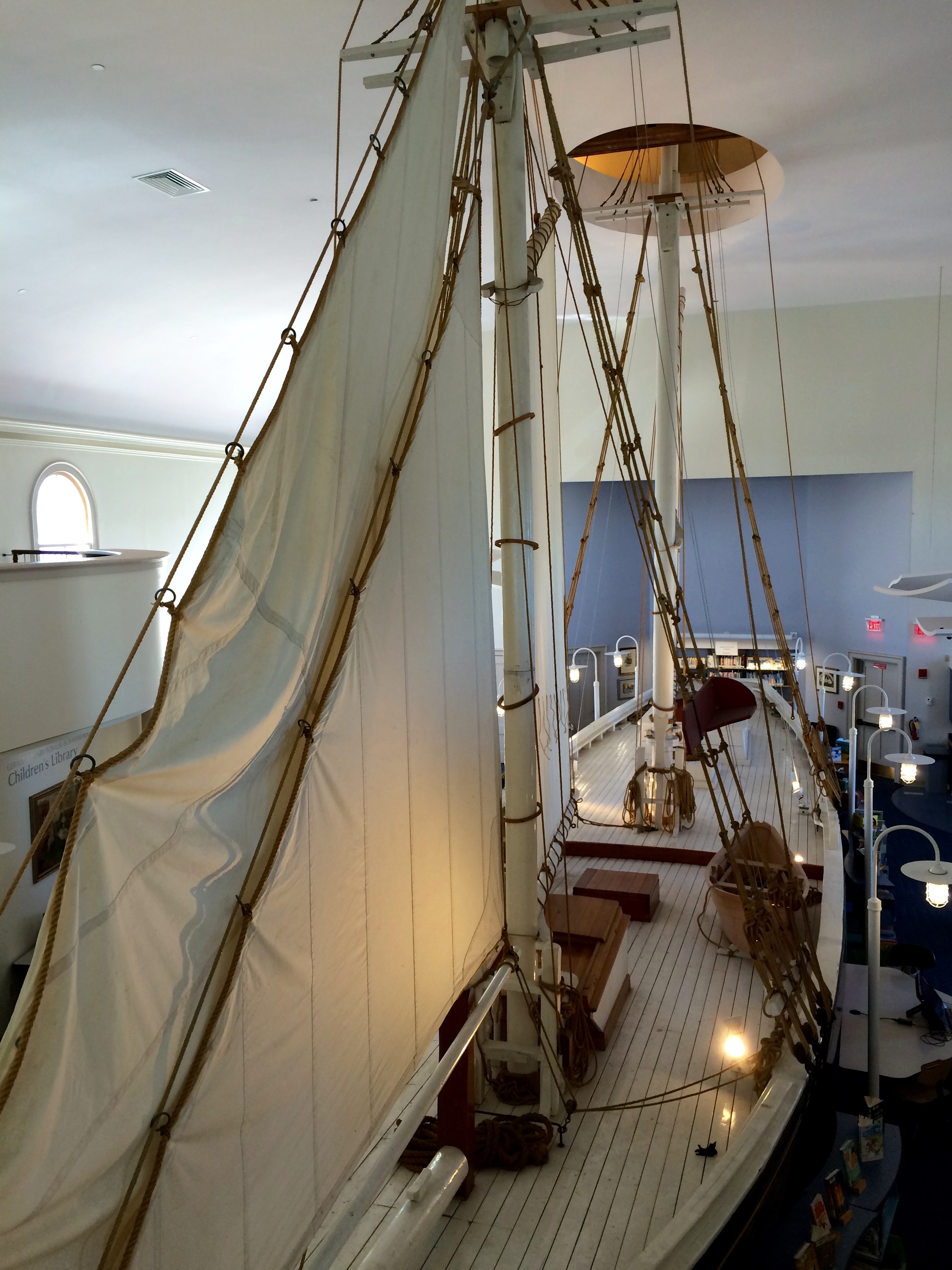 It was impossible to get the whole of the sailing vessel contained in the picture, given the space.

The Rose Dorothea was one of the famous "Indian Head" schooners designed by Thomas McManus and built at the Tarr & James Shipyard in Essex, MA in 1905.  This is a 1/2 scale model of the Rose Dorothea.  ( Could have fooled us! )
How could PoetryMusic ​compete with the Rose Dorothea?  We'll need to get our sea chanties and drunken sailor songs together to play at this library:)   
Colleen started to make some headway when she met up with one of the local pirates...aaaaaaarghhhhh!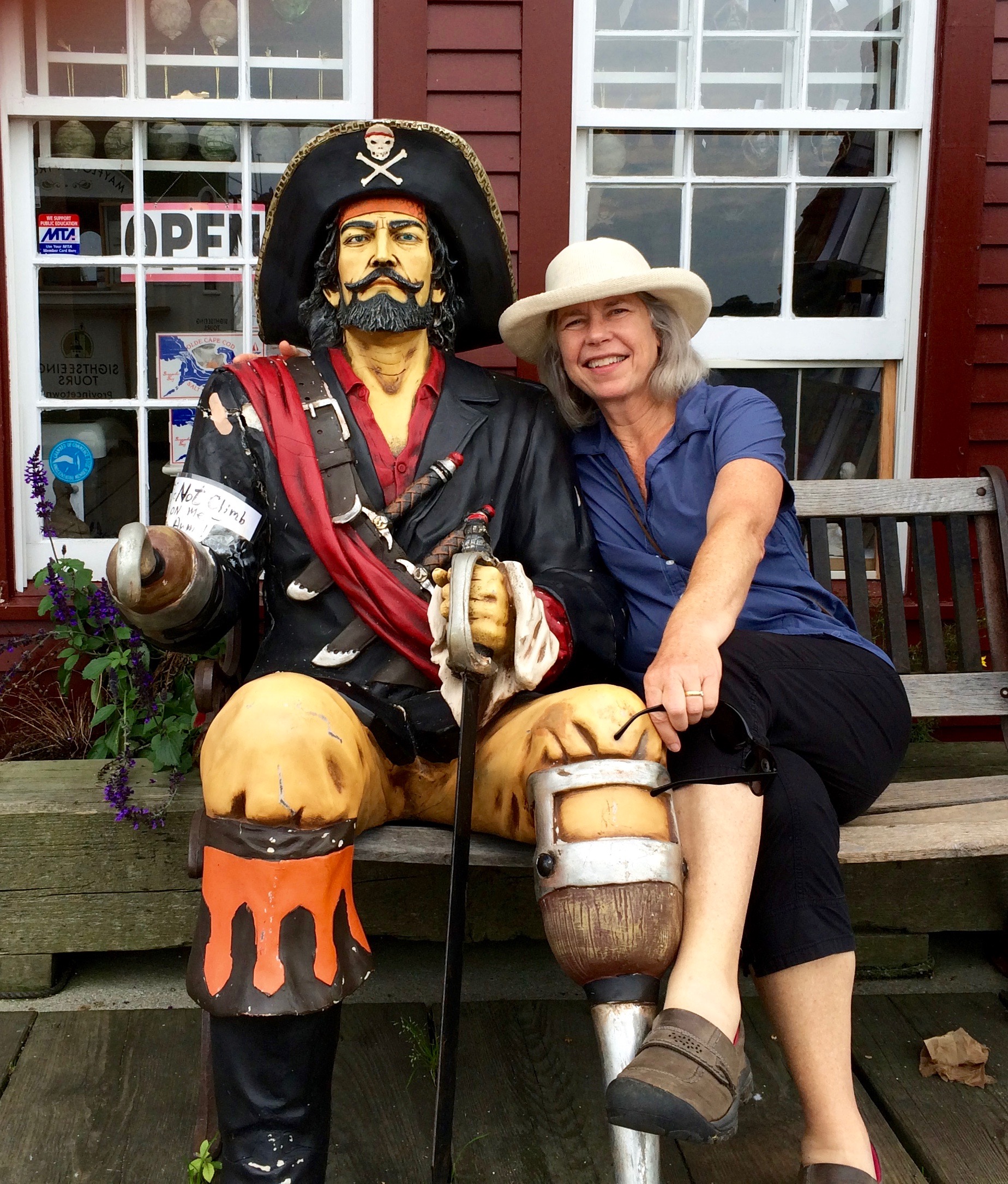 There are so many more great pictures that we took but this blog is getting a bit long. 

So, at this point, it's time to go back to NY state to play in Kingston NY for one performance @  the Kingston Library and then on to Poughkeepsie NY to play at the new Boardman Branch Library.  

Poughkeepsie has a beautiful walking bridge over the Hudson River a "Rails to Trails" Bridge.
The Poughkeepsie-Highland  Railroad Bridge was built in the late 19th century to link New York and New England to an extensive, nationwide railway network.  For decades, it was a major rail corridor for both freight and passengers.  

We are thankful for the "rails to trails movement" across the US as we have one of these trails where we live in Port Angeles, WA.  
A world without cars is possible!
This was our view looking out over the Hudson River towards the vehicle bridge down river from the Bridge Walkway.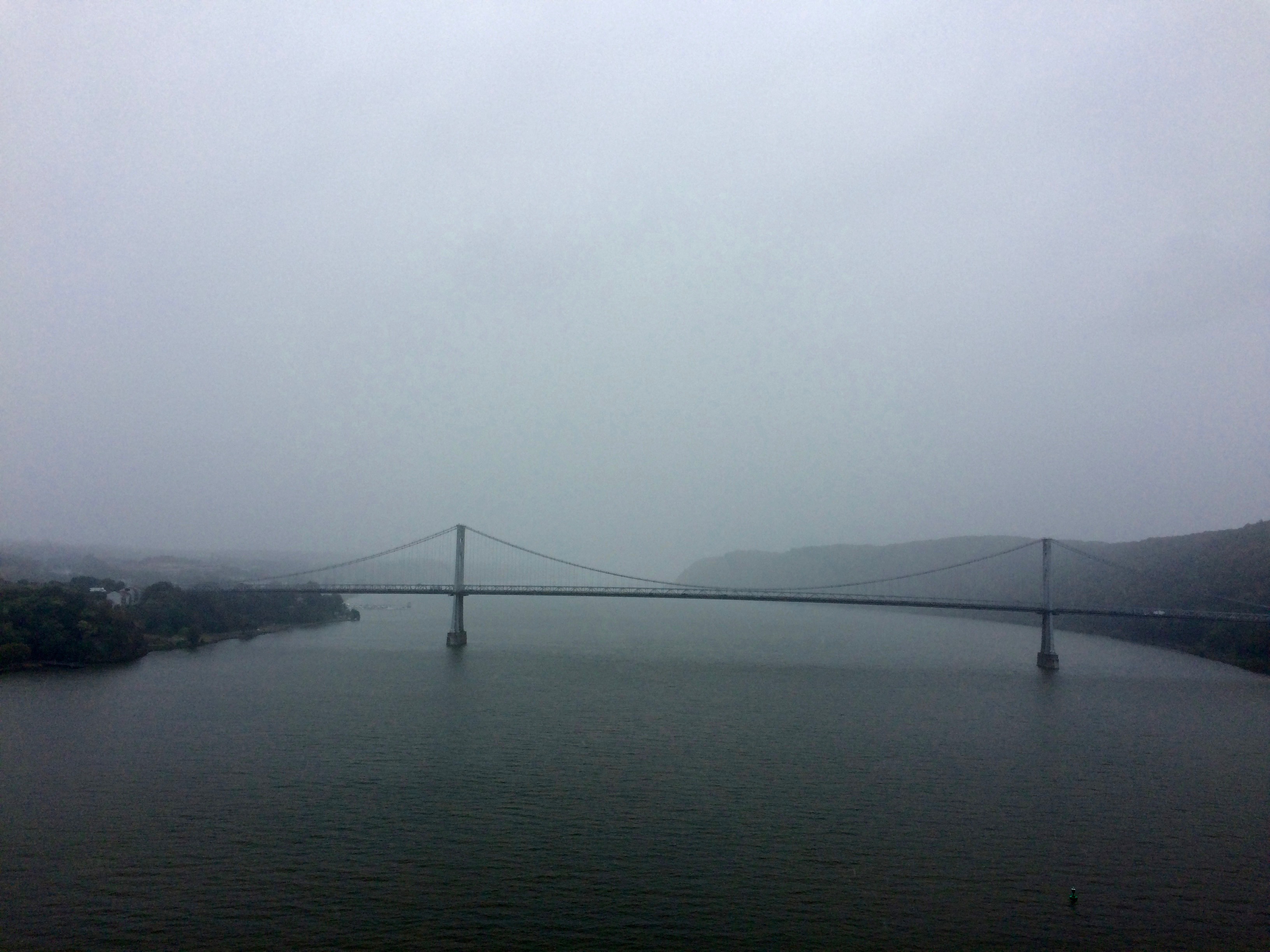 This was our first day of rain on our travels since leaving Port Angeles over 5 weeks ago.  And no, this is not a black & white picture - but this particular day did look like we were living in a black and white world. 
In Poughkeepsie we had a wonderful surprise!  Our longtime & good friend Duane Grant drove up from NYC to see us and to see what we were up to these days:)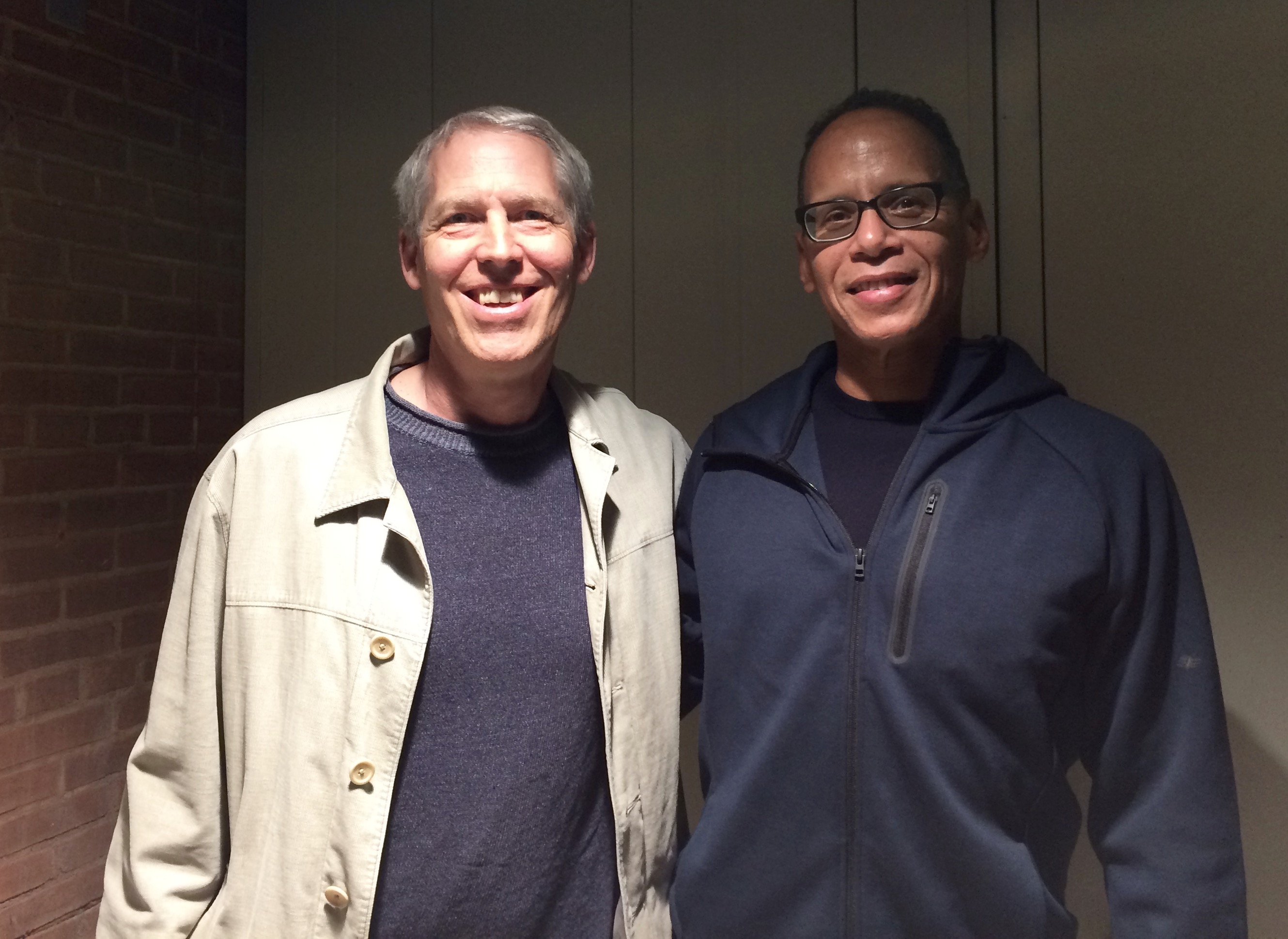 We were able to hang out after our gig with Duane and catch up on our respective lives since we last saw each other 9 years ago!  
We hope to see each other sooner next time!  

Next we head back through Eastern MA to Springfield for a performance at their beautiful old library.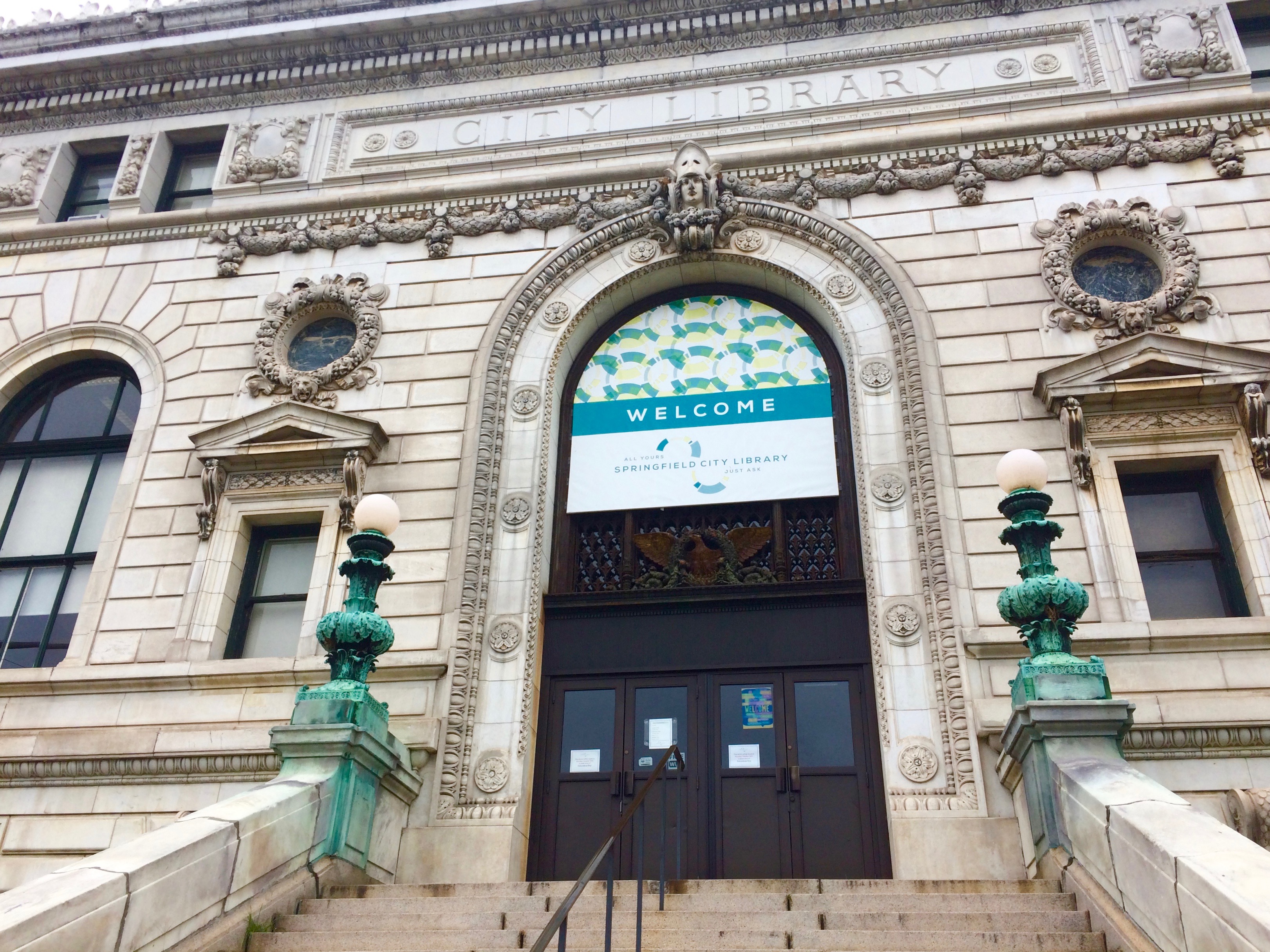 We came early ( to get out of the rain:) Behind the library is the Quadrangle,a cluster of museums and cultural institutions.  
It's a beautiful old plaza which contains the Dr. Seuss National Memorial Sculpture Garden which is in the center of the Quadrangle and surrounded by a park, the city library, five museums and a Cathedral.

We love Dr. Seuss books and have fond memories of reading these books to our son when he was a child.
Seeing this Sculpture Garden was a real treat!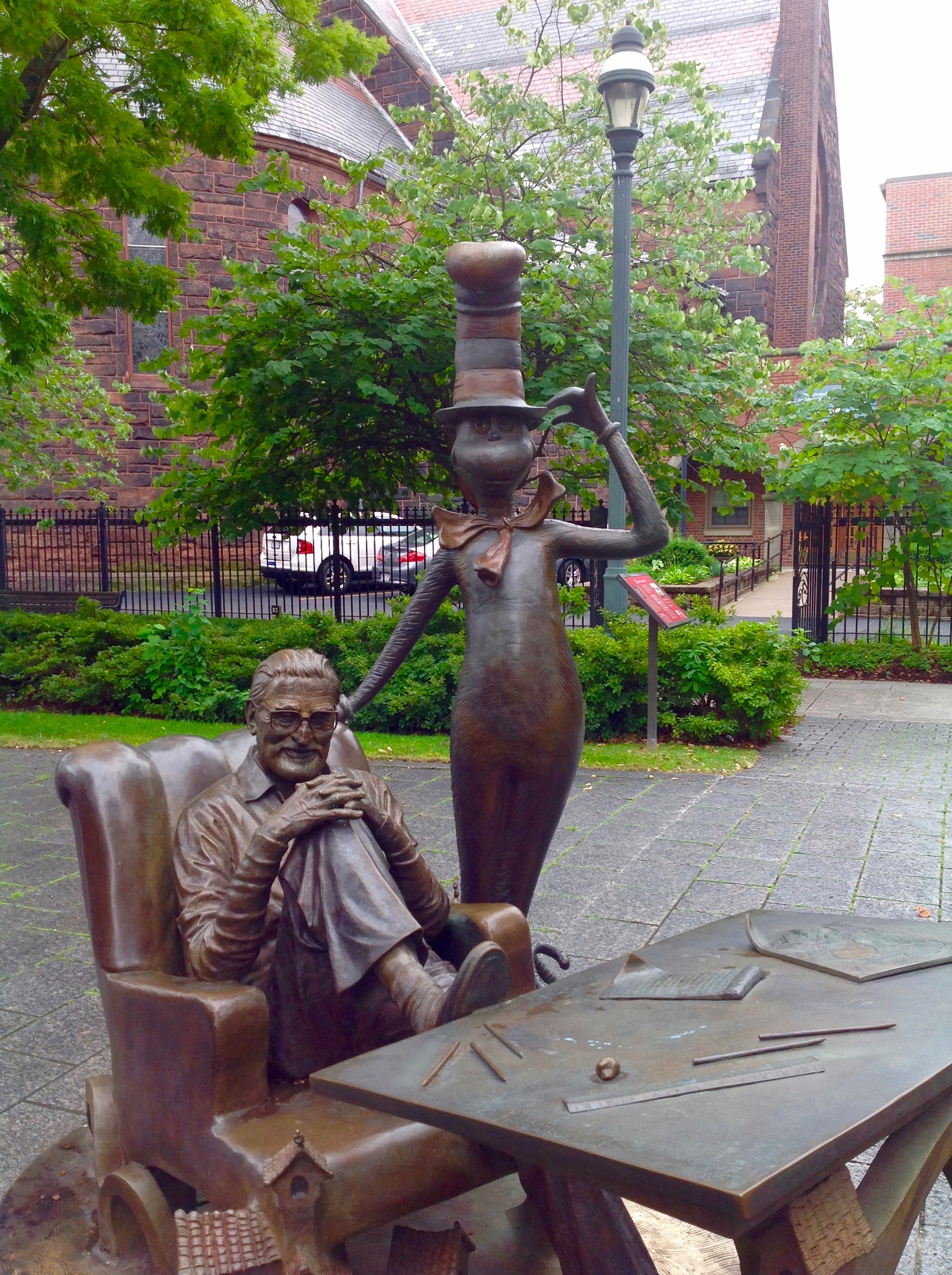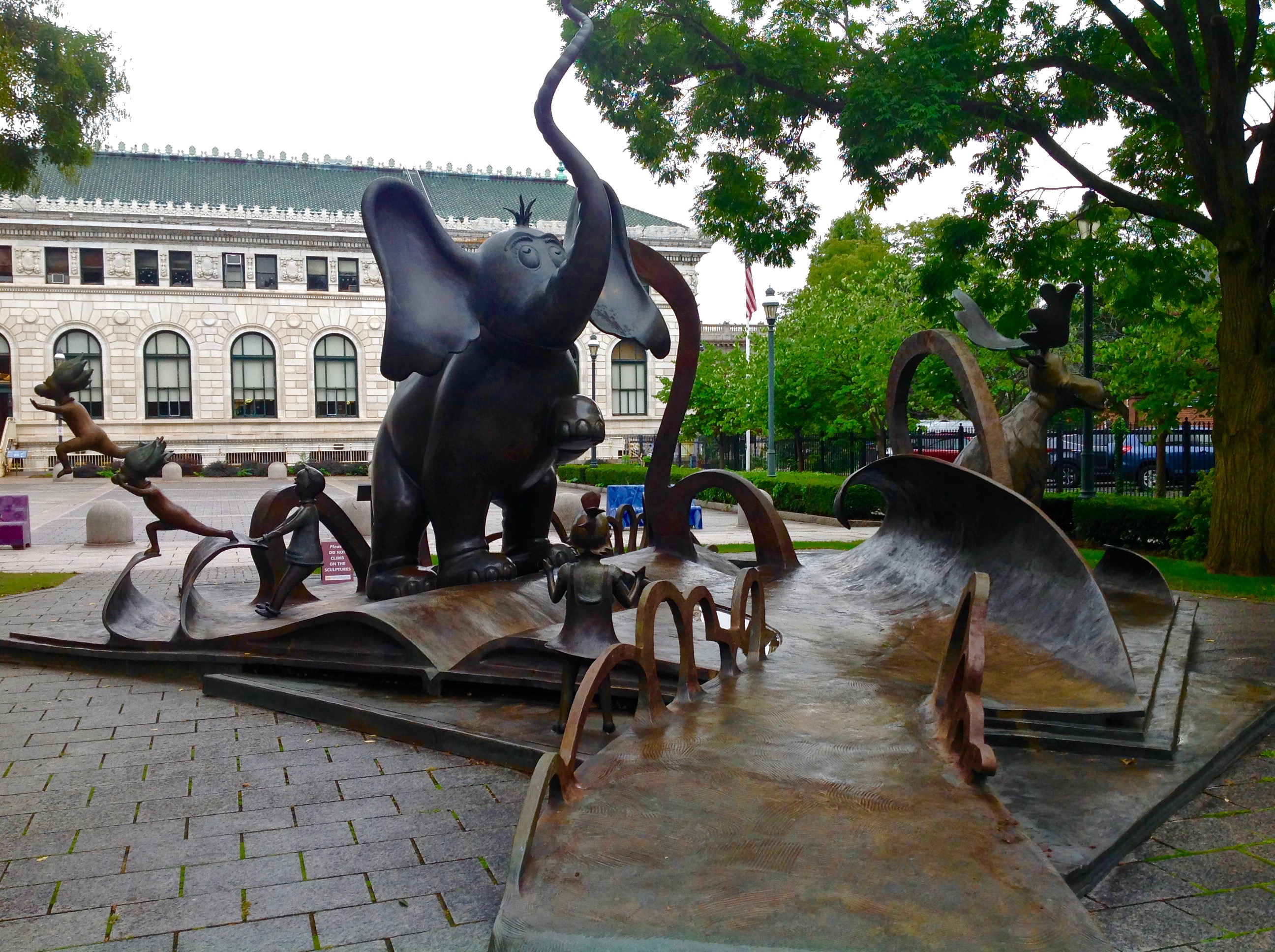 The Springfield City Library has fantastic acoustics for our instrumentation and for voice.  A very good turnout, enthusiastic listeners and great questions after the program.  There was someone videotaping this performance, so we hope to share a video recording soon!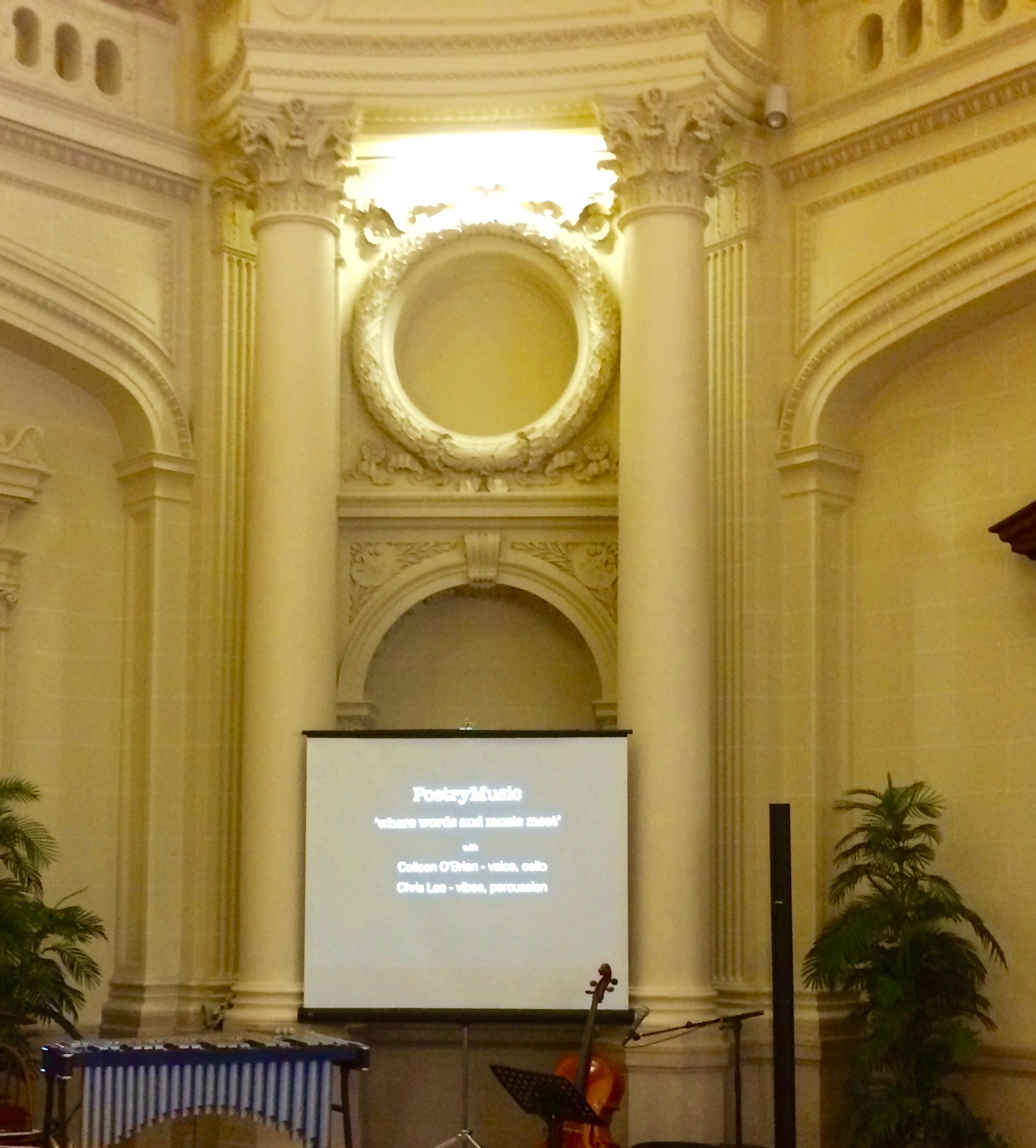 After this concert we drive the Mohawk Trail to Bennington, VT.  
This drive had to be one of the most beautiful drives we took in the Northeast and very few cars to boot!
The leaves are just beginning to turn.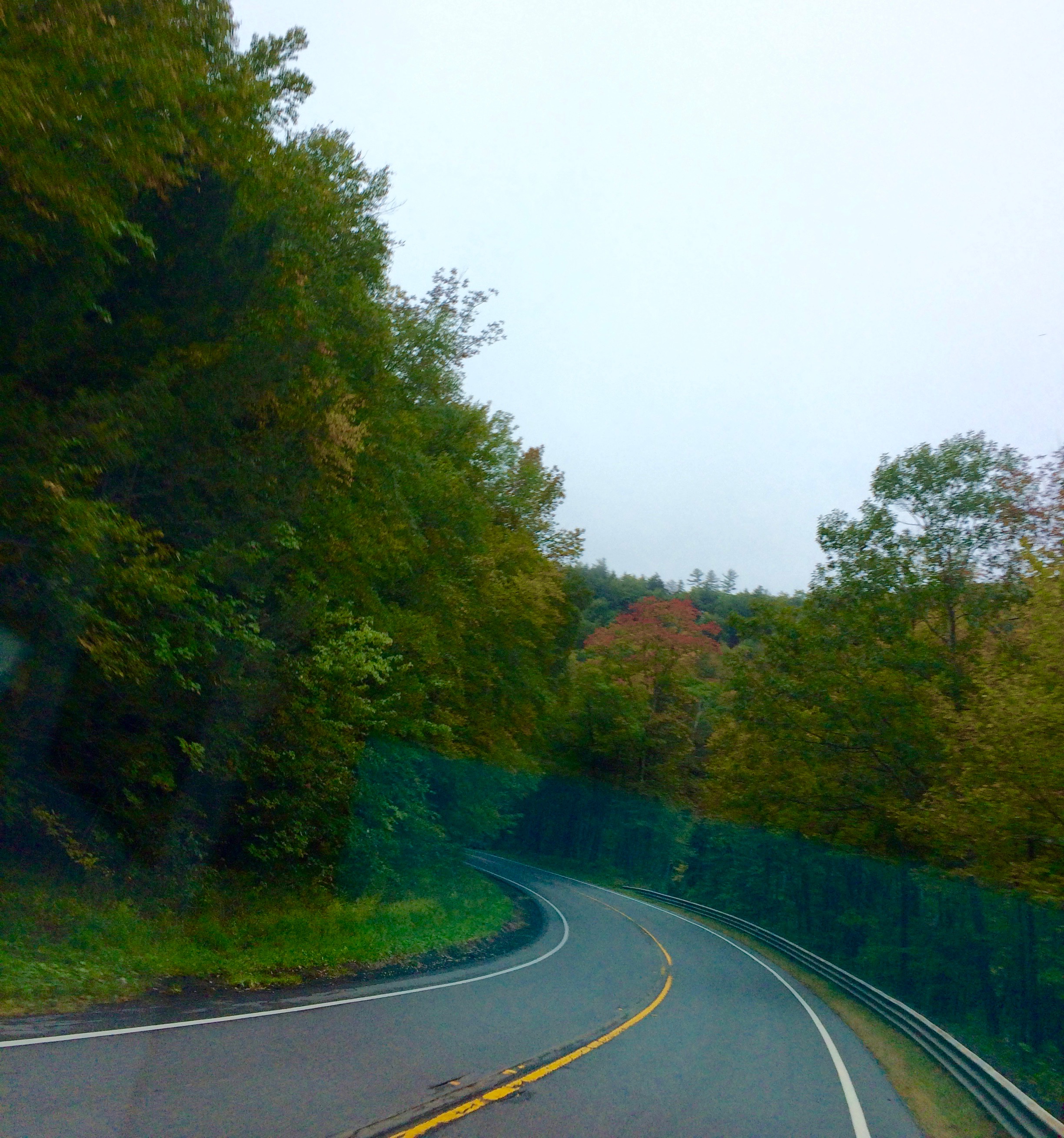 We hope at this point we can run into Bernie Saunders in Vermont and talk him into running independently in the upcoming presidential election:)

Bennington College has a very rural look and feel and is just on the outskirts of town and closest to North Bennington.  
We loved this train station below.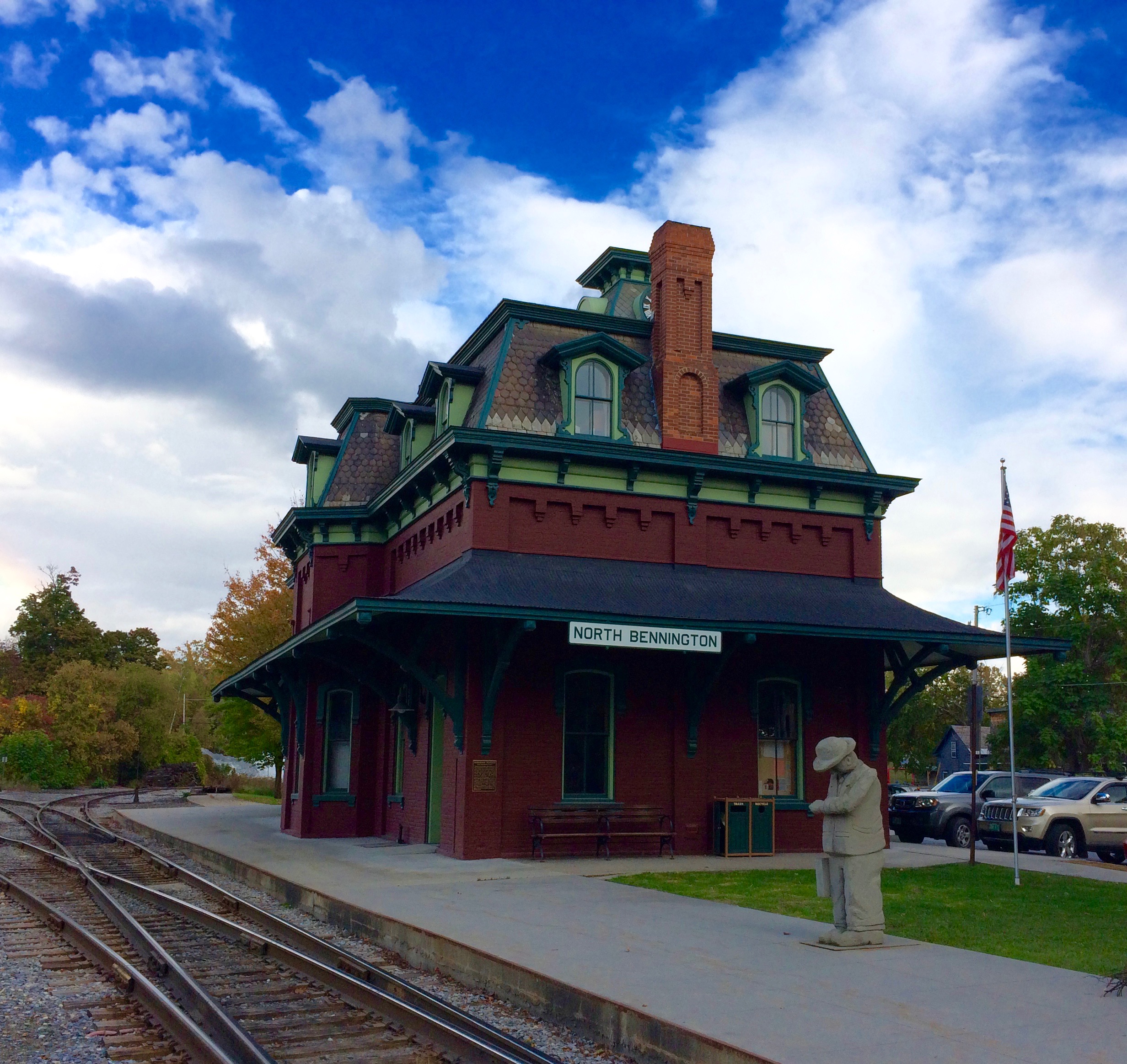 We go to the campus to find Bruce Williamson, our friend and wonderful musician who teaches in the jazz music program. 
The music school is in Jennings Hall which is in the background below across the pond.
We thought we were in the English countryside on the Bennington campus.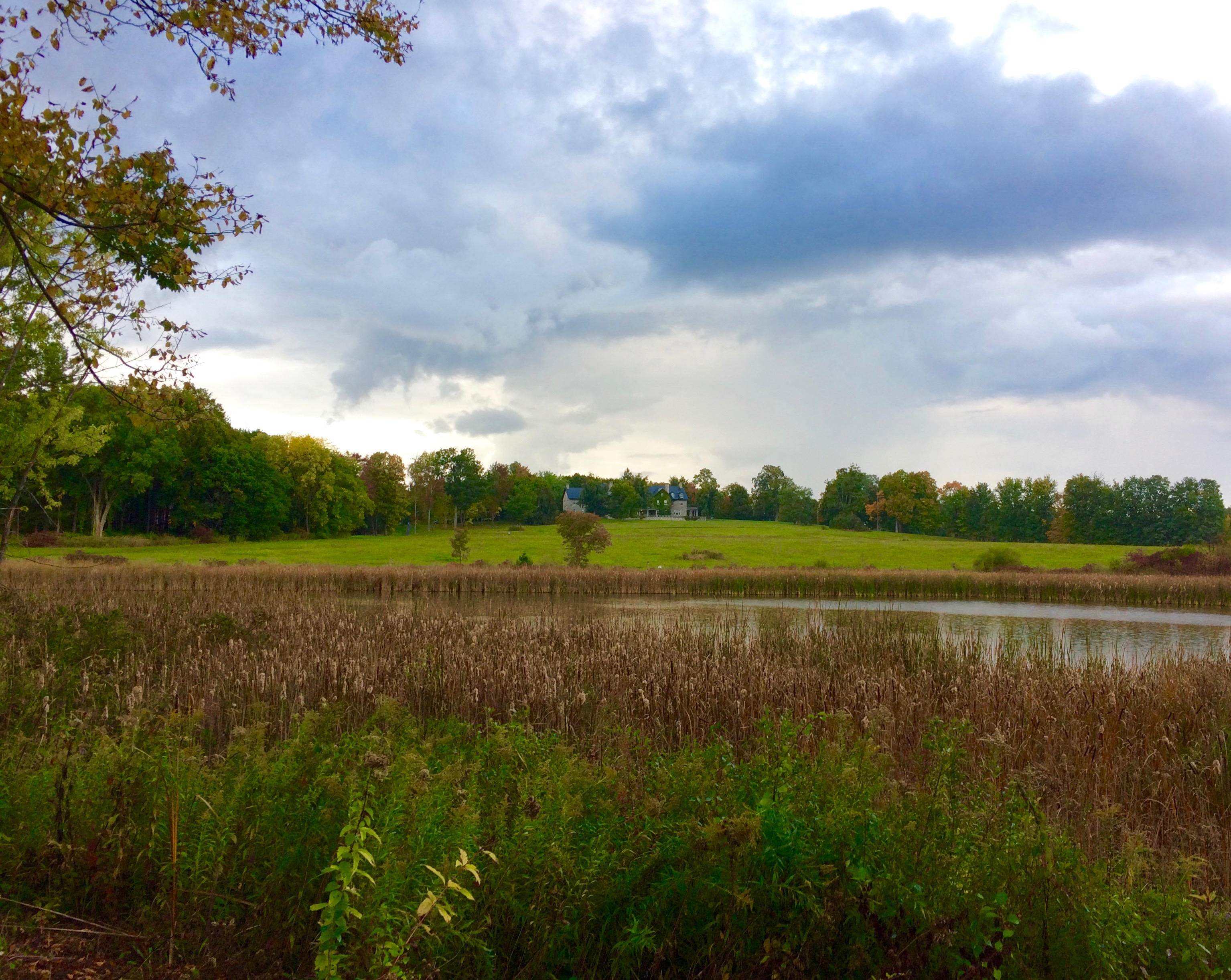 We play in the Carriage House for the students.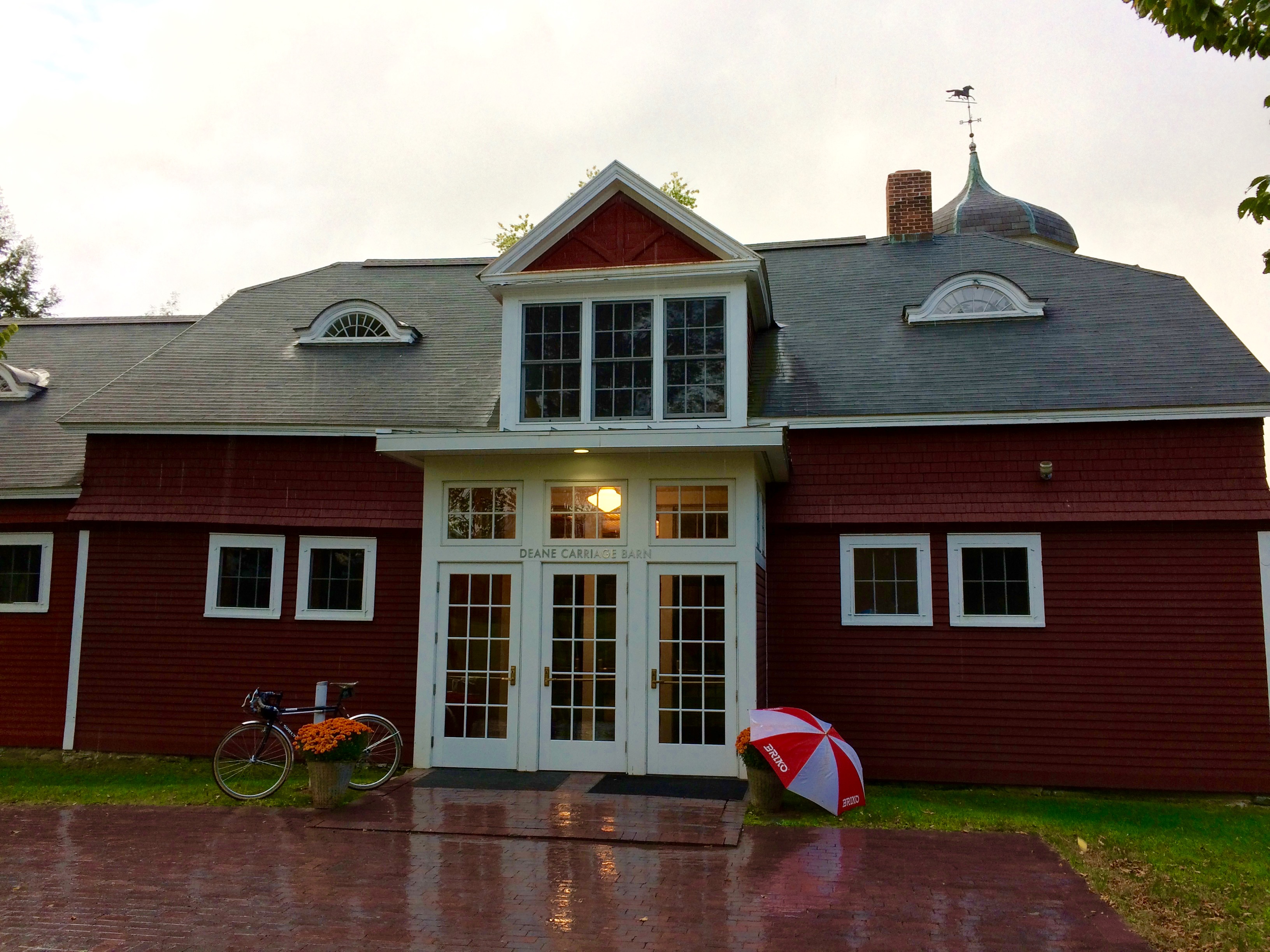 The turn-out is great as is the response to the music. 
And the best part is that Bruce joined us on 3 pieces, one of which is freely improvised.
What great fun it was to play music with Bruce and hang out a couple of evenings at Pompanuck!

We would like to thank Bruce for all his efforts for helping to bring us to Bennington College!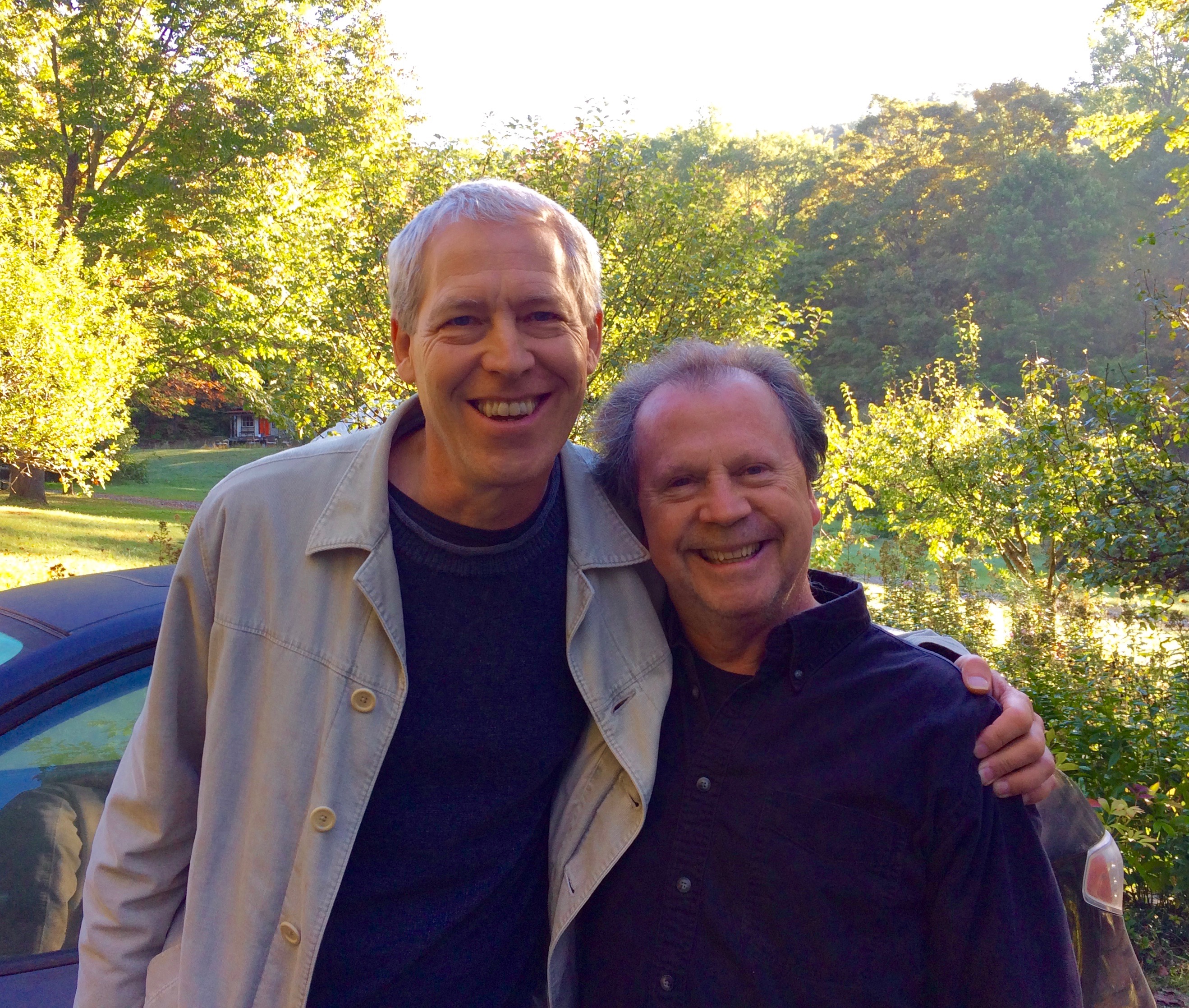 At this point in our journey, we cannot believe we only have 2 performances left.  Both on the same day.
The first one during the day in Rochester NY and the last one in Irondequoit NY, just a few miles north of Rochester.

We especially like Rochester.  
We follow the Erie Canal on the way to Rochester.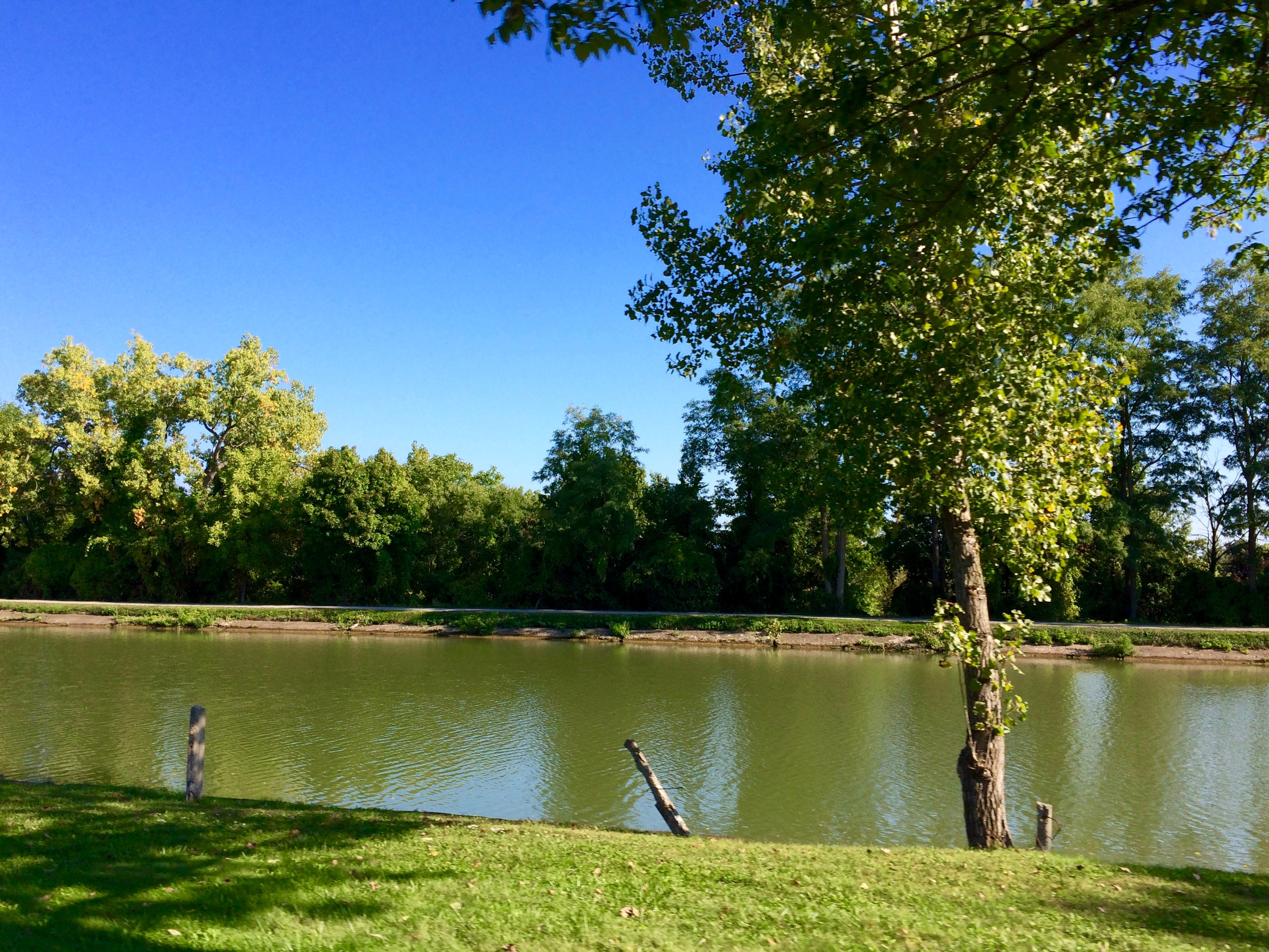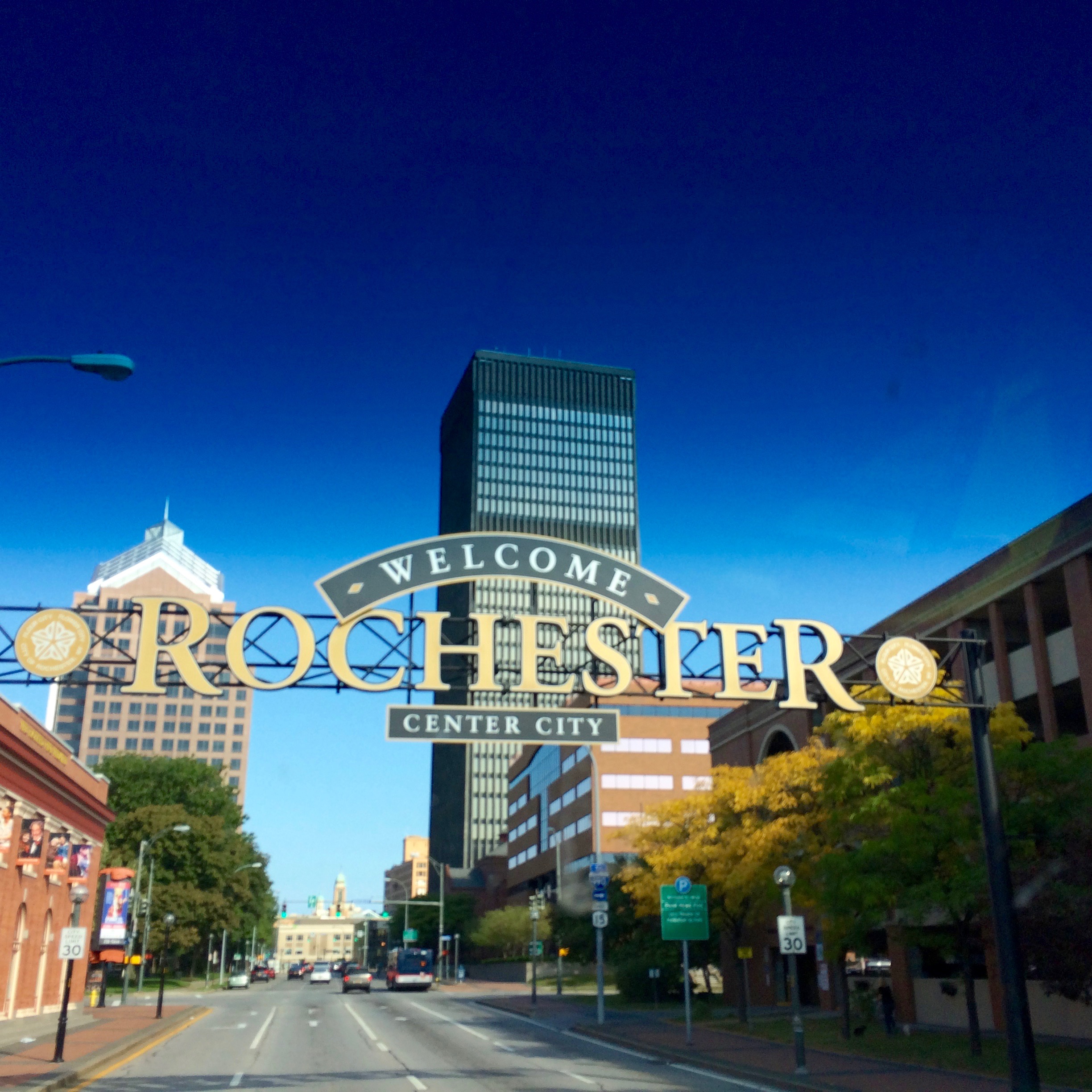 This is a big day for us playing 2 libraries, but it all worked out great including having a nice relaxed & delicious lunch in Rochester.

While walking back to the library from our lunch the @ the Owl House in Rochester ( owlhouserochester.com/) a PoetryMusic pick!:) we hear and see these pedalers having a great time going from brew pub to brew pub sampling the local beers.   
They were cheering for us to hop on the back to join them.
If we had not had another performance this day, we just may have gone with them!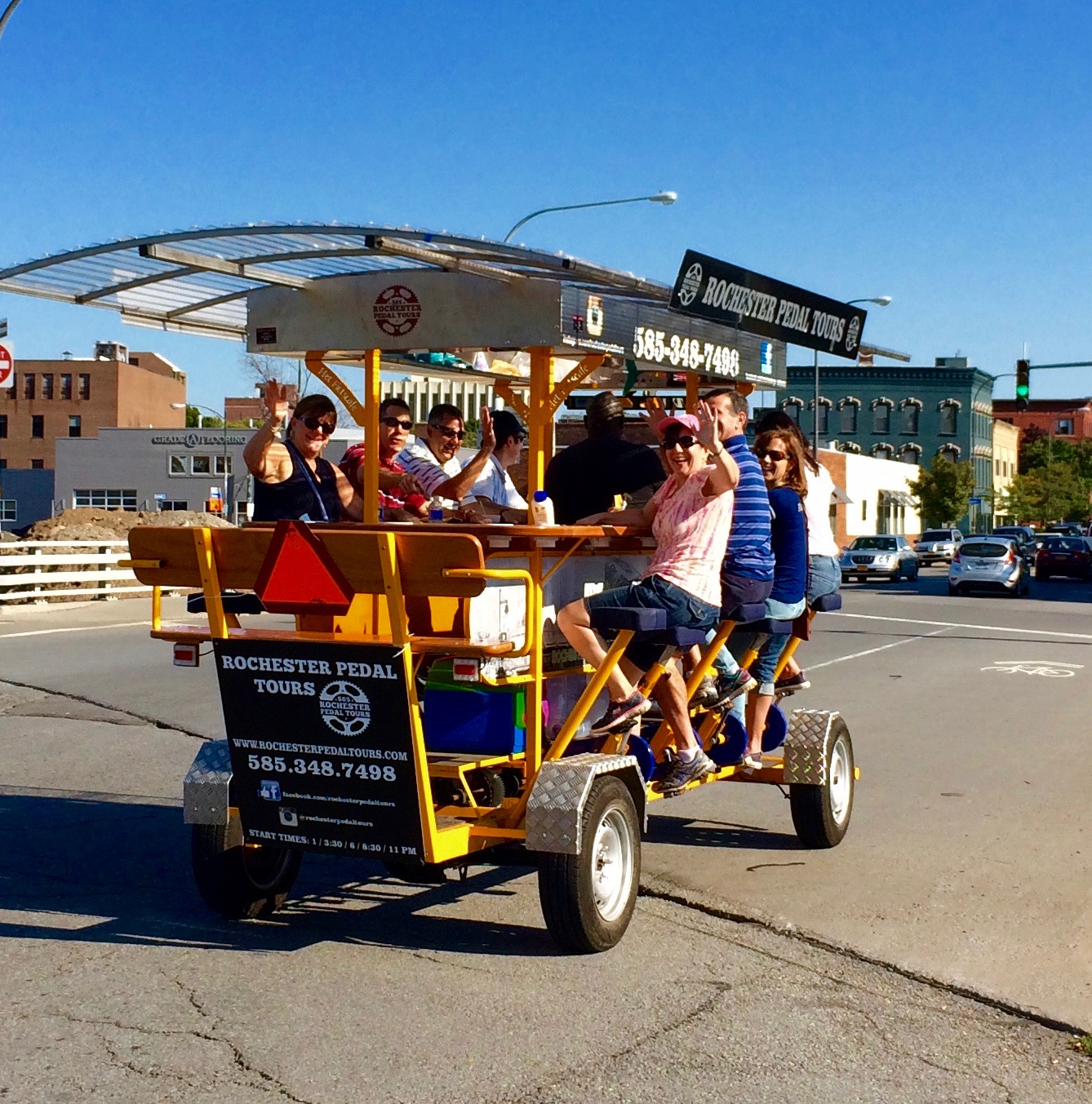 Ah well!

We also walked by the National Museum of Play!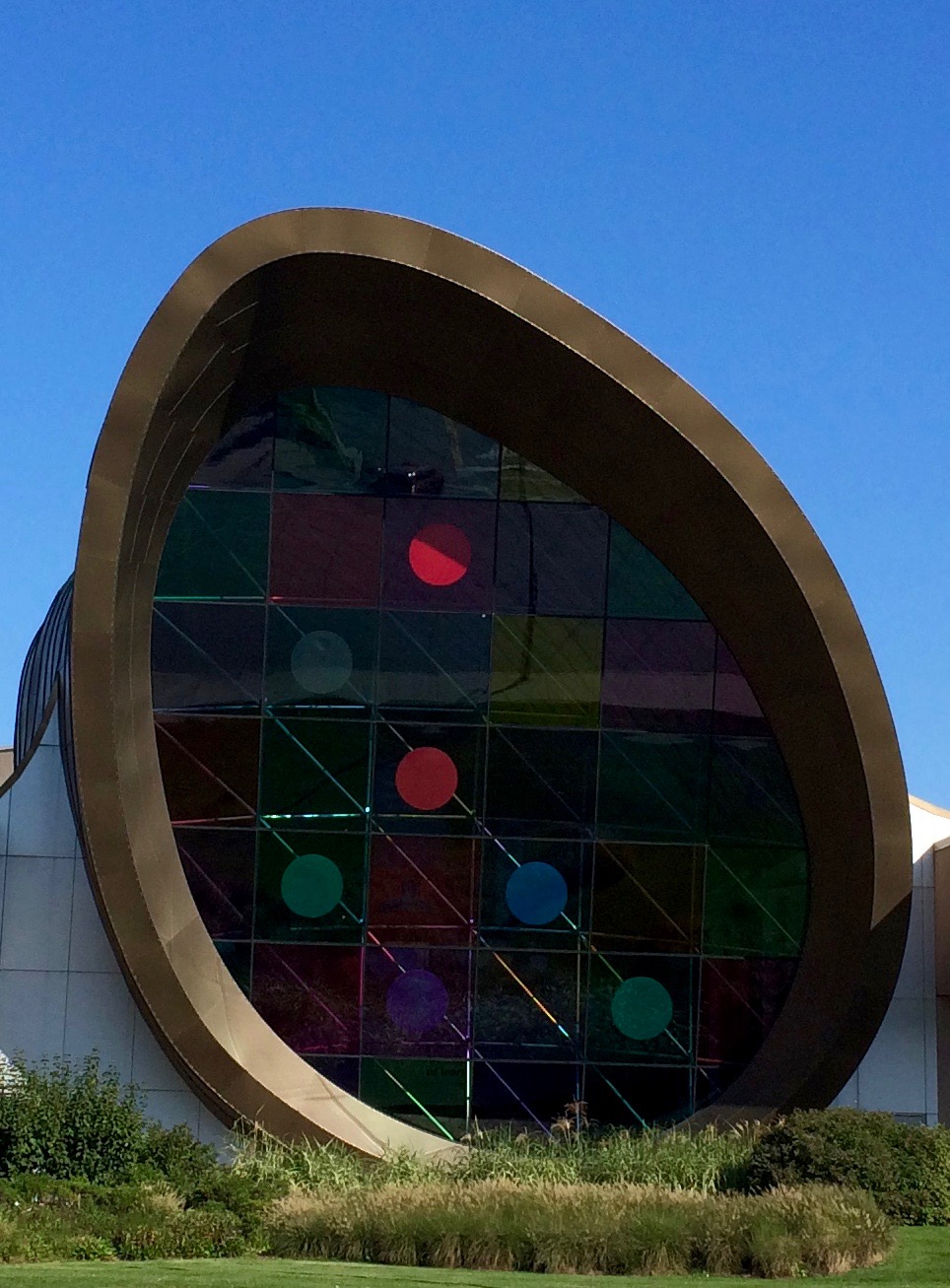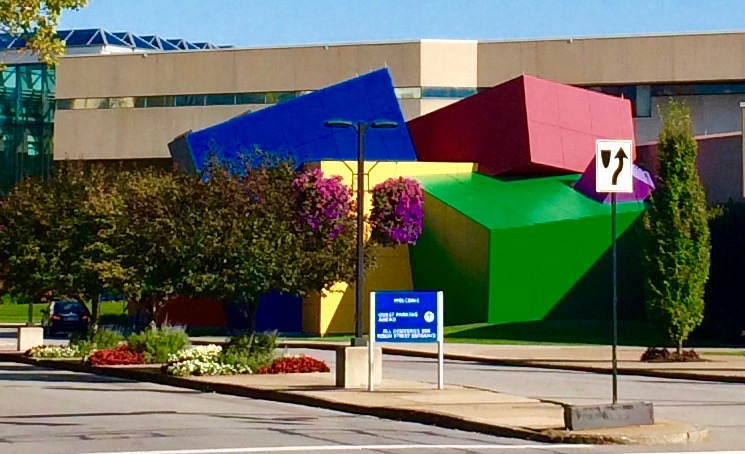 We had time to drive past  the Eastman School of Music before heading on to Irondequoit where we found a nice park on Lake Ontario.
Chris takes a nap in the van while Colleen goes off to the beautiful beach to check out this mega lake.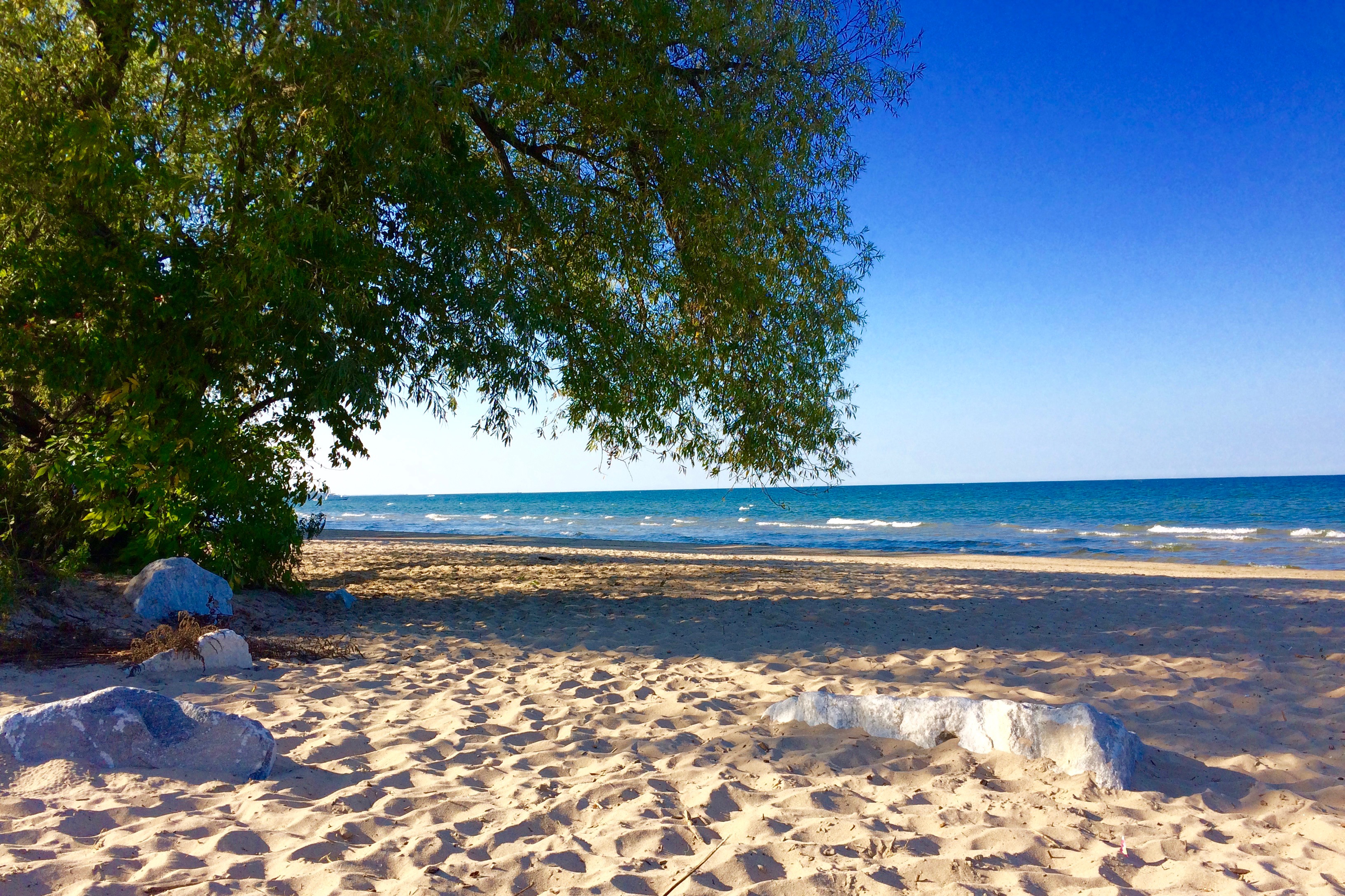 The folks who came to the libraries in Rochester and Irondequoit told us what great a music town Rochester is and they asked us to come back and stay awhile:)

A good place to end the official music part of the tour.

On the way back, we kept our promises about avoiding going through Chicago and not paying any more tolls.

We drive to Niagara Falls and west through Canada to Michigan and then turned north to the northern most tip of the lower Michigan Peninsula.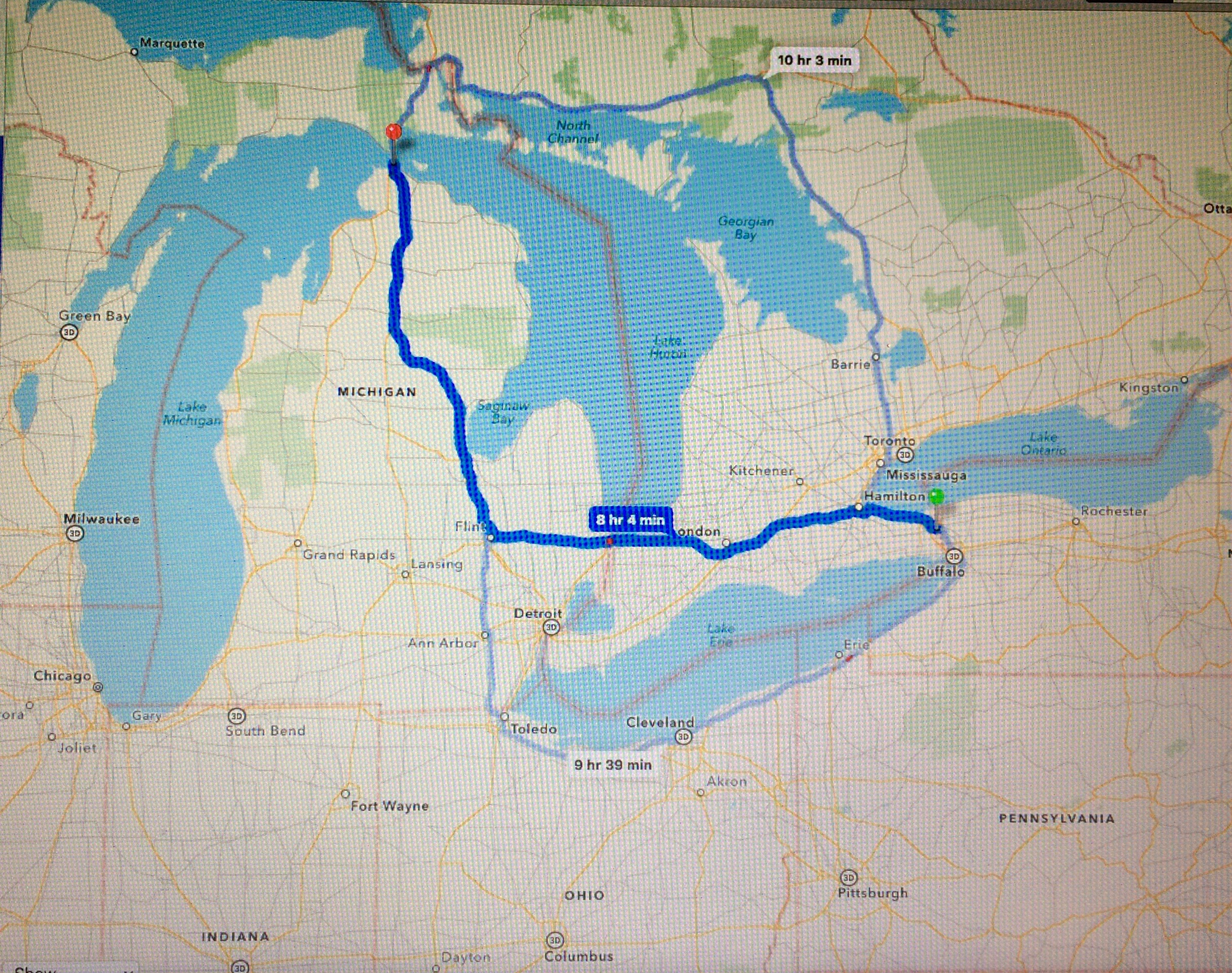 It may seem like a long ways to avoid tolls and Chicago, but wow, was it worth it.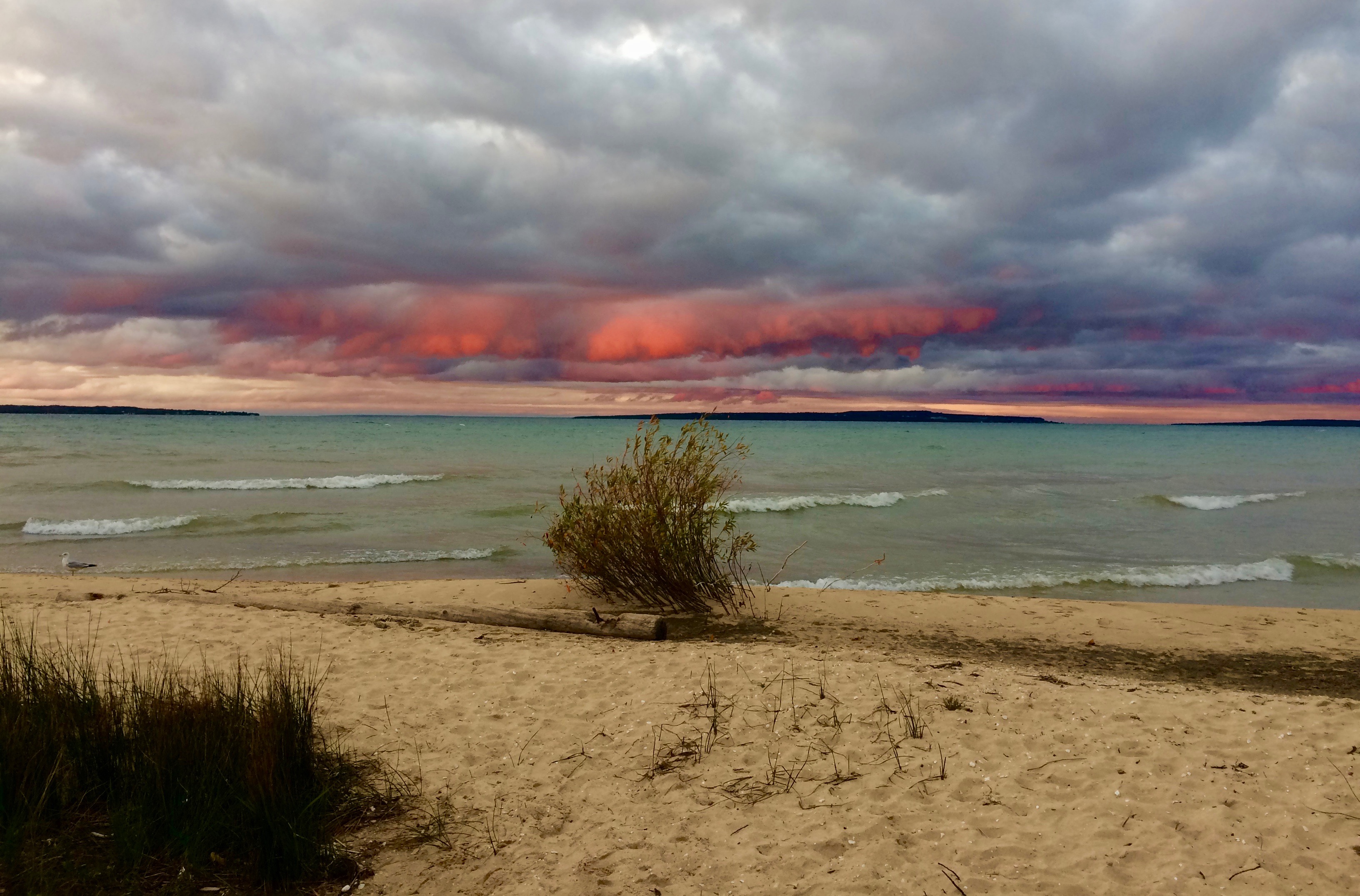 This picture above was taken at the northern most tip of Michigan's lower peninsula in Mackinaw City - ahhhh, it was just beautiful all the way around here!  

The next day we drove the Mackinac Bridge to Michigan's Upper Peninsula.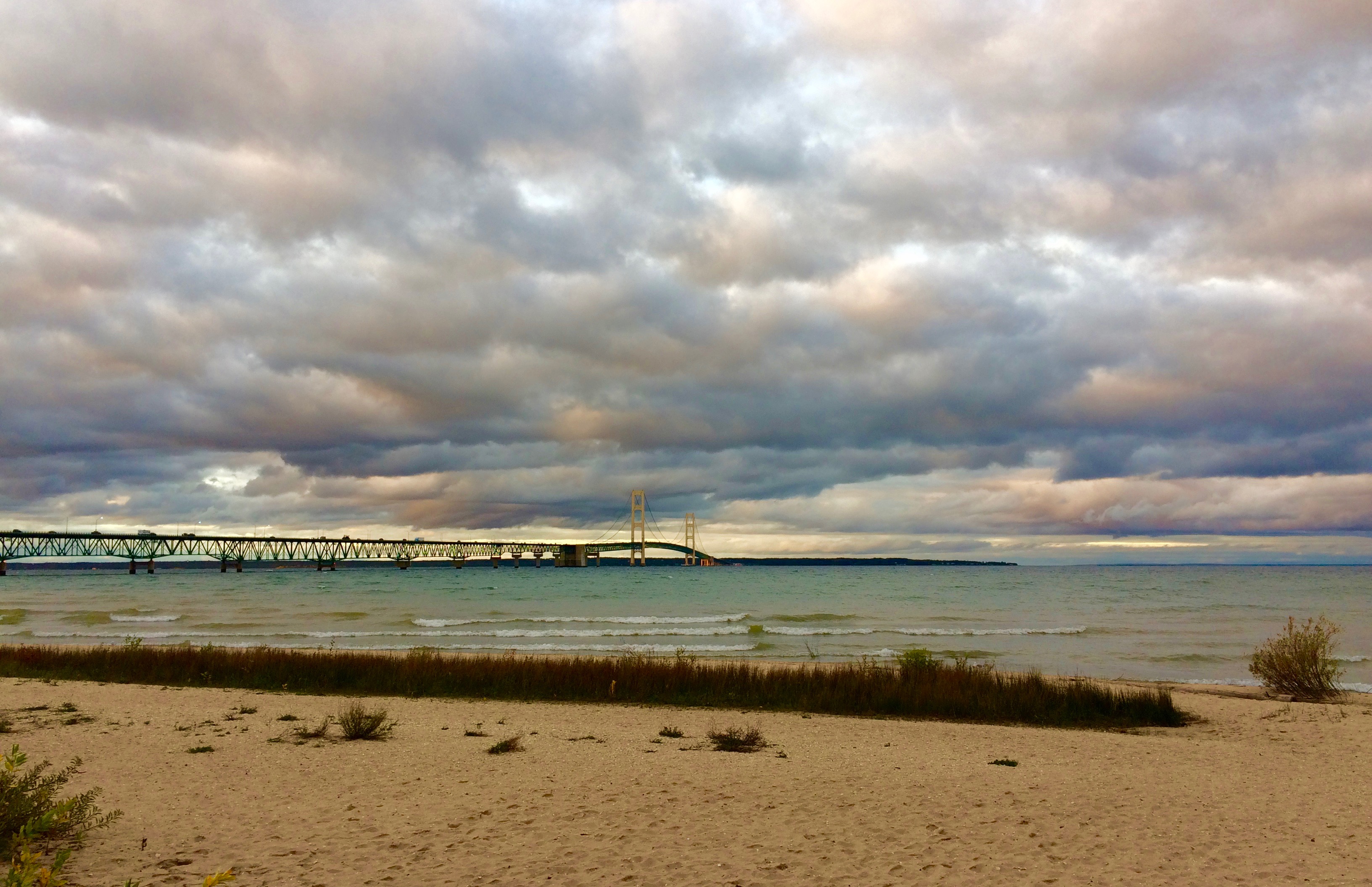 Then across the upper Michigan Peninsula as the sun was rising! No traffic, in fact, more often than not, we had the road to ourselves!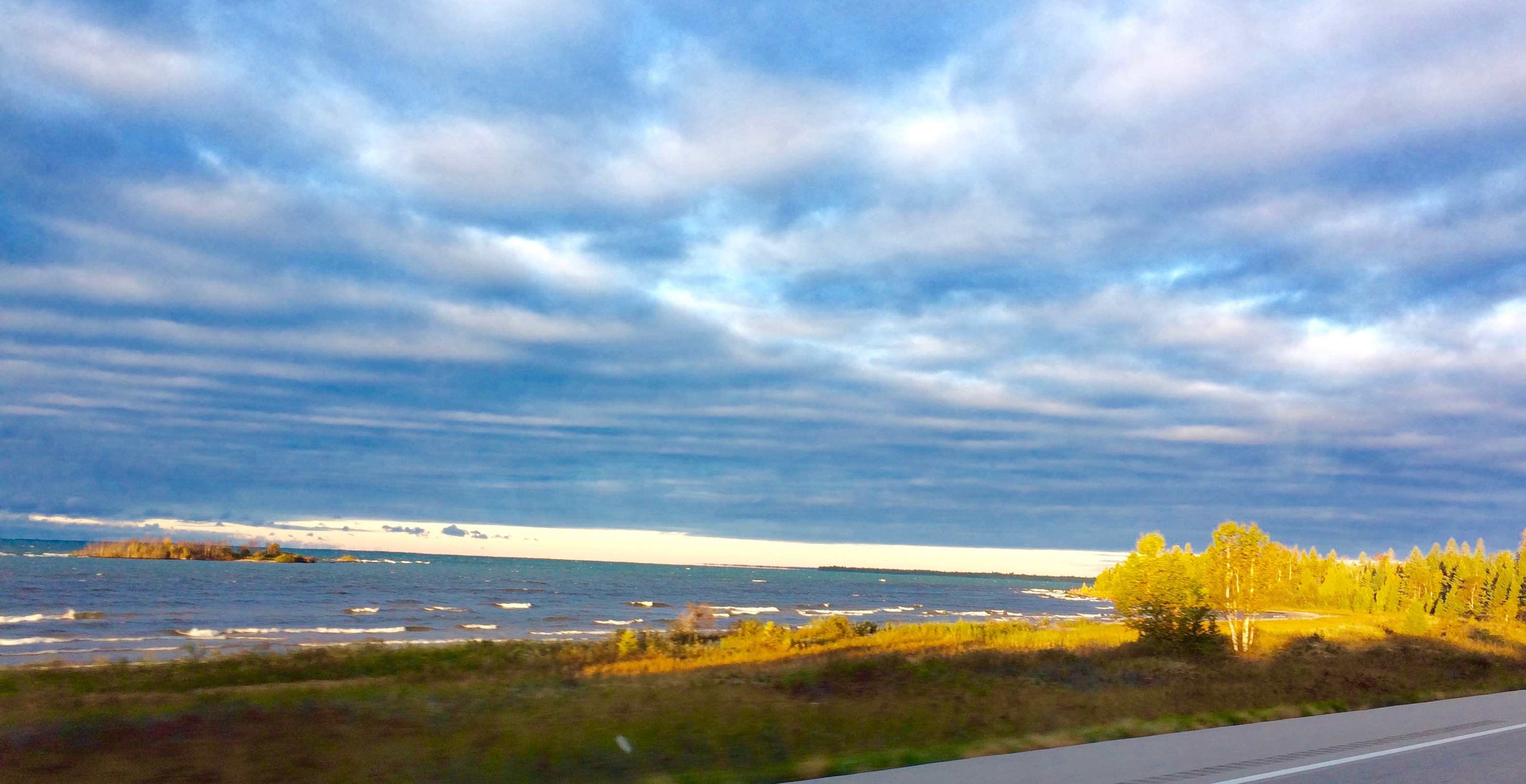 On and on we went, our longest days drive during this whole trip..... on into northern Wisconsin and into Minnesota - land of 10,000 lakes, this route was just beautiful all the way through Minnesota!   "The Road Not Taken" :) ( by most anyway )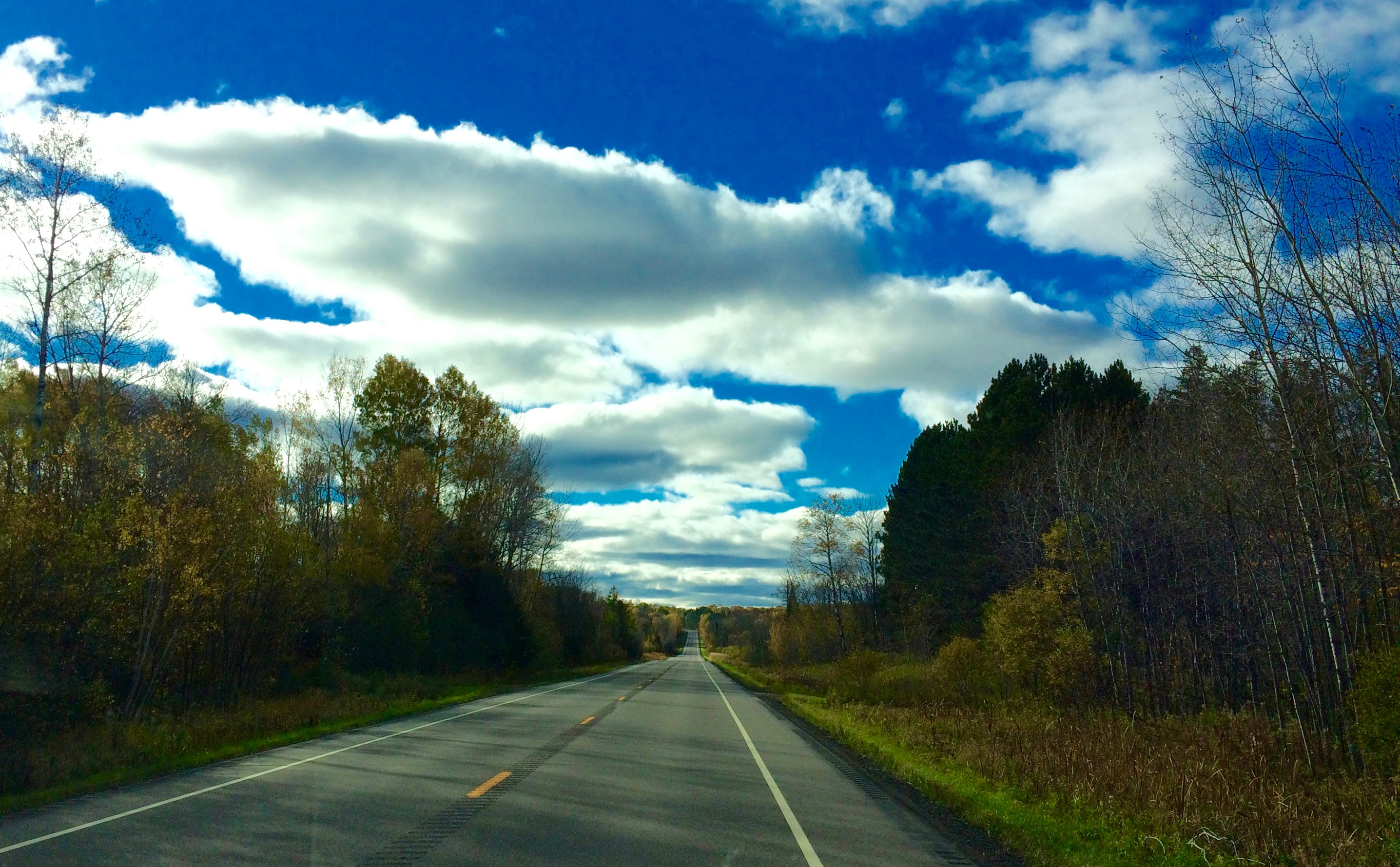 One of the 10,000 lakes in Minnesota!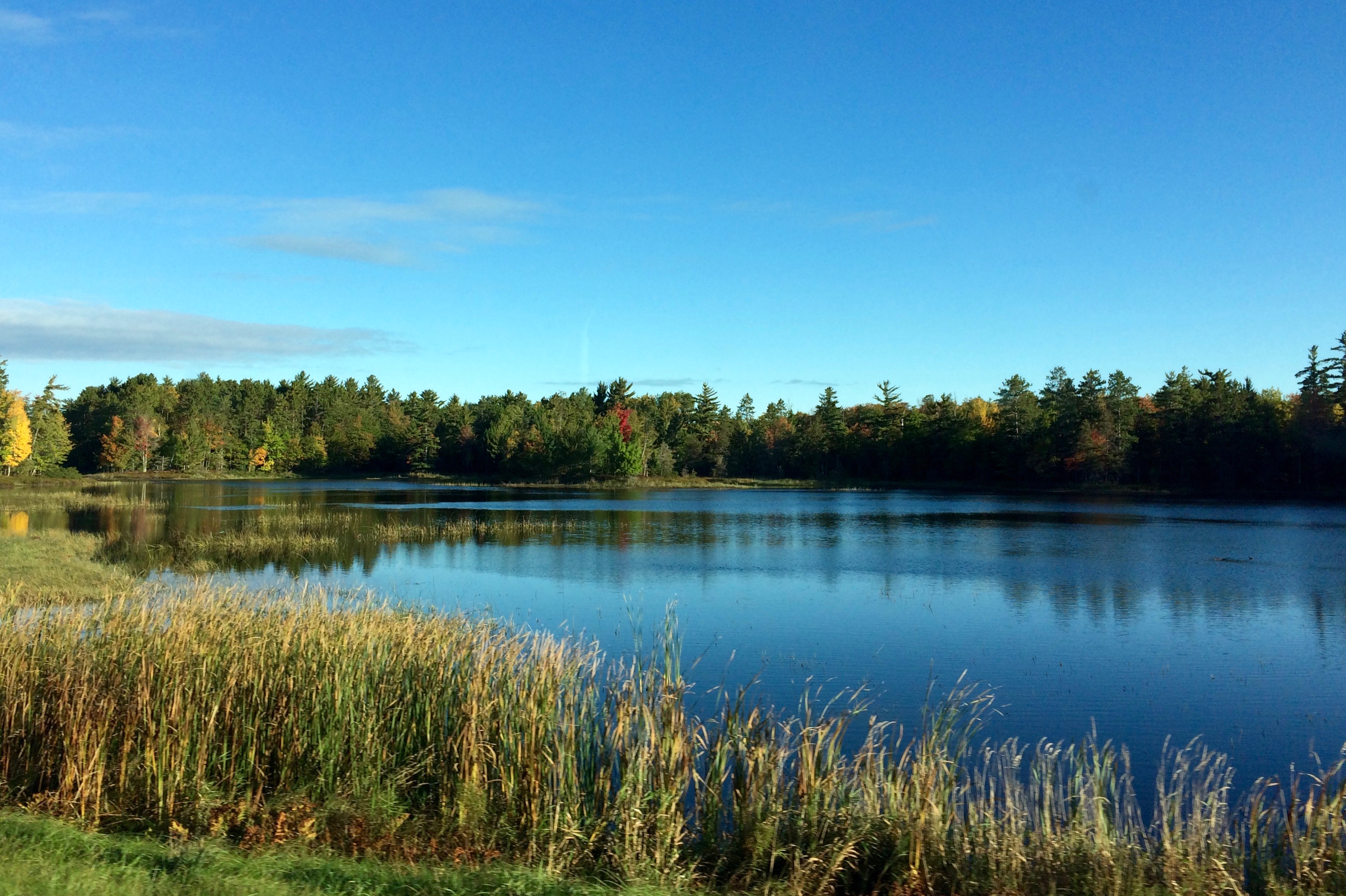 Crossing the Mississippi River In Minnesota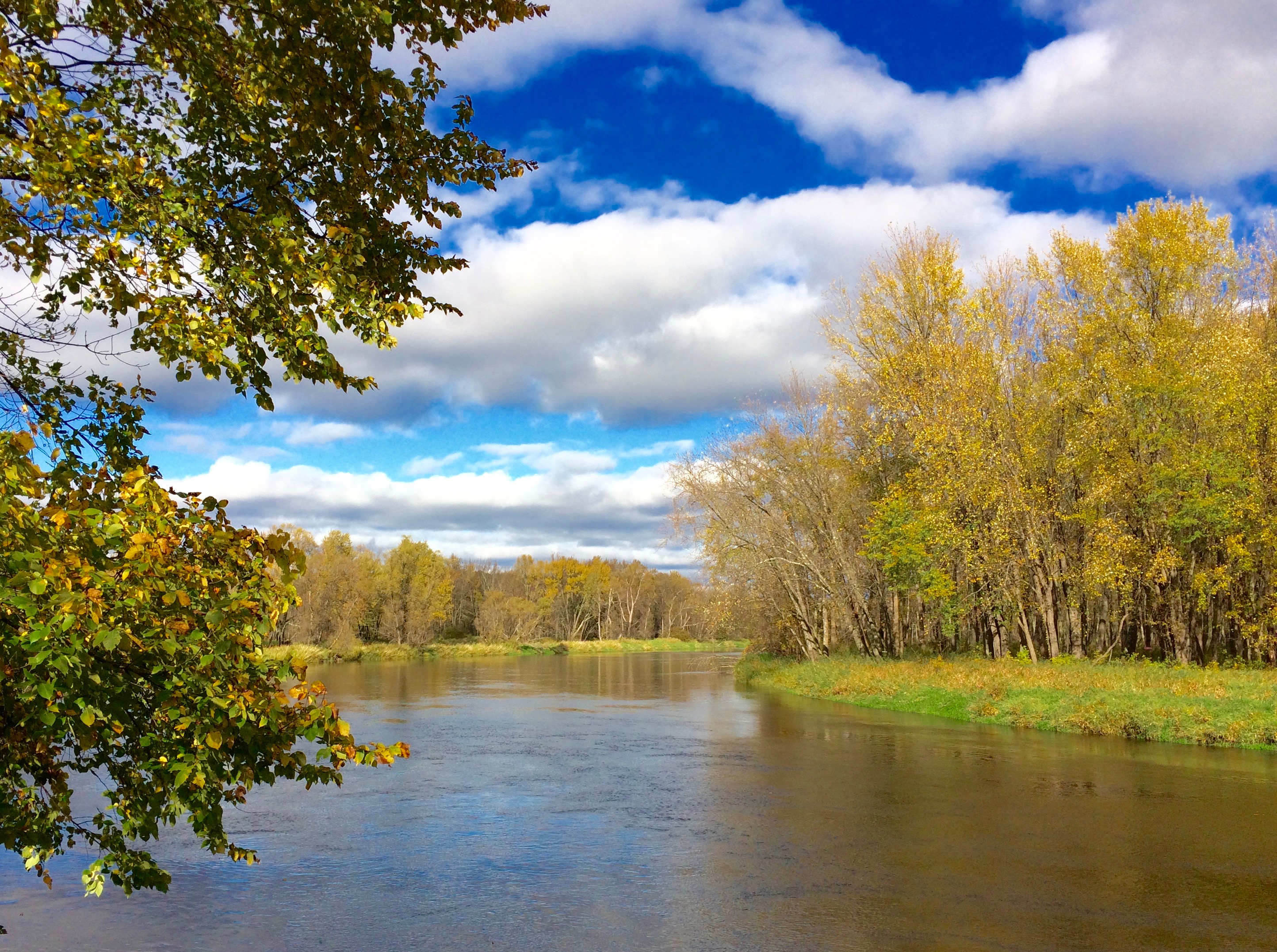 On we go into North Dakota where we had hoped to join up with native americans and all those supporting native americans in their stand to protect their lands @ Standing Rock ND.  

They are also standing up for all of us in trying to bring attention to our most crucial problems in this world regarding the exploitation of the earth through the quest for every more oil & gas, and industrial agriculture all of which destroys our soil, water, air and whole  eco - systems.

At the beginning of our road travels in 2014 - 2015 we met a native american elder in Covelo, CA who told us that indigenous peoples across the world are now uniting for the first time ever in an attempt to reach out to everyone on the planet to join them in helping to stop this environmental destruction and slow down global warming.

He told us that his people & all native people see these changes in ways most of us do not as they have lived off the land for many hundreds if not thousands of years and have passed information on through their stories down thru the ages.  He said they have not forgotten this connection.
The quick changes they see are unlike anything they have seen in their collective histories. 
 
He told us that we, as traveling musicians were in a good position to pass on this message through music and through people we meet on our travels. 

We were in a time crunch to get back to our home town as we passed the turn-off of 1-94 to Standing Rock just last week, so we nodded our heads in respect, acknowledgement & support for our native brothers and sisters and all those who are becoming protectors of the earth. 

Just like most Americans - we are too busy to stop for the most important struggle of our time if not the most important struggle ever in the history of human history.
But, we are passing on his message to those we meet during our travels and also through our music and blog and vow to do more. 

So, further west we see this sign and realize we are home.
The Big West is our real home, not just one place, but the vast western home from Montana, Wyoming, Colorado & New Mexico to the most western states.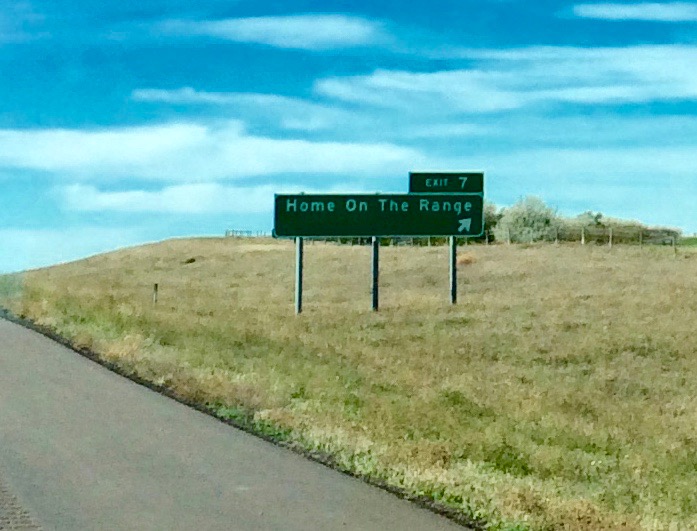 Until we meet again, Music Speaks Volumes, Poetry Sings!